It's likely that you have come across Six Figure Mentors through an email list, on social media or got it recommended by a friend or family member.
Is Six Figure Mentors a scam? Is Six Figure Mentors A pyramid scheme? These are questions you want answers to right, afterall if you're here right now you're highly likely be to skeptical about this opportunity Six Figure Mentors presents.
First and foremost I must commend you for actually doing a bit of extra research before committing to purchasing or joining Six Figure Mentors. For all you could have known, Six Figure Mentors may very well be a scam and rob you of your money so this review could help you find anything peculiar about it.
To be totally transparent with you I haven't used Six Figure Mentors so I can assure you that I will not attempt to sell you on it unless of course it's worth investing in.
What I will aim to do is provide you with an unbiased 3rd party review of Six Figure Mentors that will hopefully help you to make the correct decision in the end.
---
PRODUCT NAME: Six Figure Mentors (SFM)
OWNER/S: Jay Kabassek & Stuart Ross
TYPE OF PRODUCT: High-Ticket Affiliate Marketing / MLM Training + Memebrship
PRICE: $29.95 + upsells that cost upto $20k
SUMMARY: SFM is not a  pyramid scheme or a scam but there are some major issues with it that should make it so you don't invest in it.  The biggest issue by far is the price of the whole course. There just are way too many upsells and services that you'll be kind of forced to purchase because of the roadblocks you'll face if you decide to stop. This obviously means that you need to be willing to invest a sizeable chunk into SFM just to make the most out of the opportunity.
There are a few other issues such as the pay to play affiliate program and the restrictions of the training provided as a whole and even if the courses contents are decent, the price to pay in order to join SFM is just too much to bare in my opinion therfore, I'd suggest you skip this one.
FINAL RATING: 1.5/5
RECOMMENDED: NO


---
WHAT IS SIX FIGURE MENTORS?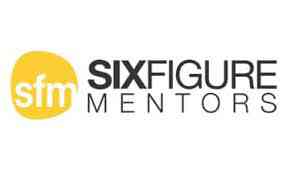 Six Figure Mentors is a high ticket affiliate/MLM that was created by Jay Kabassek & Stuart Ross in 2011 and is essentially a training course that offers Internet marketing training and services to help you to make money online.
Primarily the focus of the owners is to provide step by step training so that you can eventually live the "laptop lifestyle" that everyone is dreams of achieving of achieving nowadays.
The video below briefly breaks down what Jay and Stuart, the co-founders, are aiming to do with SFM.
Due to how, I guess you could say, Jay and Stuart are in the ineternet sphere, I think it's best you get a little bit of backstory on them. Firstly let's talk about Jay, one area from where you may have heard of Jay is through his other business venture known as Carbon Copy Pro.
This was used as a funnel to actually promote another product know as Digital Experts Academy (DEA) which is actually something that SFM also does. So in essence DEA is pretty much the upsell after you've got yourself involved with SFM, which I guess can be regarded as a red flag which I'll explain in detail a little later.
As it stands, what you should be aware of is that SFM isn't the duos first business venture together.
Before getting into SFM a little further, I do want to say that I have reviewed quite a lot of products such as :
So I think I have a pretty good idea on what makes a good or a bad product.
==>Click Here To Access My FREE Make Money Online Guide!<==
---
SIX FIGURE MENTORS MEMBERSHIP AREA
The whole system does seem to cost quite a bit the deeper you get into the system but, initially there are quite a few freebies available to you if you plan on joining.
If you've ever come across one of SFM'S emails, you'll realise that SFM offers you a free 7 day video email course as long as you fill in your basic details.  This course is nice I guess because it is free afterall however, the training is very basic and won't really provide you with much value.
All you'll get is brief introduction on what affiliate marketing is and how it works before Jay and Stuart try to upsell you on the course.
The first upsell is actually the application fee as well as the fee for the first module of the step by step course. This course will set you back $29.95. This course is a more thorough introduction of what affiliate marketing is and covers the following areas :
Introduction of the make money process online 
The different forms of advertising 
The importance of why you need a website 
The importance of why you need to build an email list
And why you should provide high quality content for your readers
Although this module might seem like it provides quite a lot of info for what's being asked for it, in reality this is information you can come by for free if you do a little research yourself. In fact most of this is actually free to access through my #1 Recommendation that also teaches affiliate marketing.
Once you're a member you'll also be assigned a consultant when you've signed up. This person will act as your senior (I guess) who you can ask questions to if you find yourself in a position where you just don't know what to do.
One other thing also worth noting is that this person is probably going to try and upsell you on the other products (probably because it's benefits them) so do be wary if it seems like your personal consultant is being a bit pushy.

---
SIX FIGURE MENTORS UPSELLS
SFM does have a whole lot of upsells and after seeing the the first module, I'm pretty sure it'll be necessary for most folks to actually purchase one of them.
SFM offer 4 different membership levels of which include the following :

Affiliate Access: FREE (You can't access anything much here)
Student Access: $29.95 + $25/month (Optional)
Essential Membership:$297 + $97/month
Elite Membership:$2,500/year + $97/month
The student access is essentially the beginner level however, as you can see the prices you have to pay for the upsells seem to exponentially increase the higher you get in the ranks. The fact you have to pay $97/month along with the extra fees on top genuinely doesn't make it seem worth it to me.
If you've found yourself somewhere inbetween the SFM rabbit hole, you'll probably realise that after completing the initial module, you'll find that information taught is limited and in turn you will likely find yourself at a roadblock.
Of course you wouldn't just want to stay stranded right? That's why you'll also find yourself considering the idea of upgrading and that's exactly what SFM as well as your business coaches hope you do.
But there's more…
Those are just the baseline packages, the real expensive and supposedly "cream of the crop" upsells are actually from the other company that Jay and Stuart own… DEA…
If you somehow find yourself at the end of the first rabbit hole, you'll be drawn into the next one and this one is a helluva lot more costly if you do decide to go for it.
The upsells that DEA sell includes :
DEA Silver: $2,500
DEA Gold: $8,000
DEA Platinum: $11,000
DEA Black: $20,000
Well as you can see the price jump here is exponential, the DEA black is equivalent to the prices for college admission in some places but, unlike actually being able to get a degree after finishing college, there's no guarantee you'll be able to make anything from the training you receive within this upsell.
The good thing here, I guess for members, is that because of how high ticket the upsells are, as an affiliate you do have potential to make a lot. Although the commissions only range from 5%-10%, the potential profit for each sale you make can be quite large especially for the last upsells.
You could potentially make $2k at the top end. This is obviously why most consultants and why you're business consultant is so adamant on having you upgrade. It's because there's a lot of money to be made for them of you do upgrade and honestly, I can't blame them for wanting to make some extra money.
Beyond this upsell, there are also a few other Tools and Services that you may need to purchase, the tools in question include :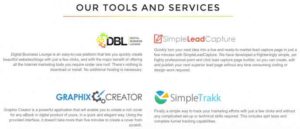 Digital Business Lounge:$37 or $67/month
Simple Lead Capture:$29.95/month
Graphix Creator: $99
SimpleTrakk:$9.95/month
These tools do seem like they have some value and should be pretty useful for building your website and achieving the laptop lifestyle SFM aims to teach you.
From what I've researched, there does seem to be a bit of a lock down situation with these tools meaning once you start using them it'll be a hard task to actually switch to other tools that probably are lot less expensive and offer the same quality if not a better quality service.
Do You Want To Make A Full Time Income Online Just As Many Have Been Doing For Decades, If So Check Out My #1 Recommendation
---
WHAT DO PEOPLE THINK ABOUT SIX FIGURE MENTORS
Of course as I've actually not personally used the product, I can't actually talk about the quality of what's offered but, I did do a bit of research and this is what I found.
The general feeling for SFM is a pretty mixed bag. Within barenakedscams a commenter said that they had spent $3k on the training yet hadn't made any money in the 3 years they was a part of it. They then went on to say how you could only make something through the program if you spent $10k on the training.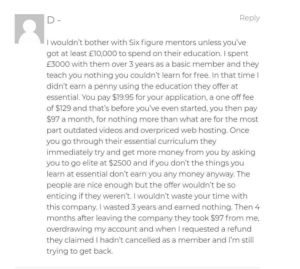 This to me seems completely ridiculous especially when I know of people who've spent far less than $3k, hell even less than $1k and have somehow managed to generate a full time income through affiliate marketing.
Most people also feel that the training, although pretty decent, is also very basic and doesn't provide its customers with enough substance to eventually make money through affiliate marketing.
One crucial negative that a lot of SFM members will experience is the "roadblock" scenario where they'll need to decide if they're going to carry on or stop in their tracks.
Considering how much the upsells cost in order to overcome this roadblock, the price you'll need to pay as member isn't going to just be pocket change.
Do You Want To Make A Full Time Income On Your Laptop? Do You Want The Freedom To Work Whenever You Want Wherever You Want? If That's What You Want My #1 Recommendation Might Just Help You Achieve It!
---
THE NOT SO GOOD THINGS
It's Expensive 
If you want to join SFM, it will be pretty expensive especially if you want to get the information and knowledge that you were hoping for initially.
The initial 30 bucks isn't necessarily the most expensive thing but, it is telling of where the pricing of the training will actually be. If you have to pay that much just for an indroductory course, the amount you'll have to pay for anything further will definitely be a lot more.
So yeah it's very expensive…
The truth of the matter is that there are affiliate training courses out there that cost a lot less whilst also providing you with all the knowledge you need to succeed like this program.
So why spend so much on SFM when there are better alternatives around.
Restricted And Flawed System
When you look at the system as a whole from an outsider's perspective, you'll realise that the basic premise behind what SFM does and the reason for its success is because what most members do within it is promote the system itself and not create their own business with the training provided.
Although SFM do claim you can build a website within any niche, they don't actually provide you with the resources to help you do that, which is going to be a problem if you do decide to pursue a passion based niche.
Because of this constant push for recruitment, you could even say that the whole system is similar to the pyramid structure of an MLM or pyramid scheme even though it's not labelled as one.
On top of this the restrictions and lock down on all the tools it offers could be a problem to.
Constant Roadblocks And Upsells
Once you've completed the introductory course, you'll be left wanting more, you'll be stuck at a roadblock with the only way to access the next part being by paying for the next upsell.
It's likely that you will find yourself in this position a lot and continously needing to upgrade to see what's next or instead, remain at this stuck position felling like you've wasted your money.
The crazy thing here is that the upsells aren't cheap whatsoever, at the highest level, DEA Black, you'd be needing to pay $20k to get access to it…
In what world do you need to pay $20k for training on affiliate marketing?
That's just way too much to ask for in my opinion, especially when significantly cheaper alternatives are out there but, then again I guess this upsells brainwashing is probably due to the next negative point I'm about to mention.
You'll Need To Pay To Become An Affiliate
You'll need to pay to play to be eligible for the commission just like Legendary Marketer or 25 dollar 1up. If you know anything about affiliate marketing, you'll know that most companies don't actually require you to buy their products before being able to recommend it for affiliate commissions.
Well…SFM doesn't follow this train of thinking, although they're essentially a company teaching you and I how to make money through affiliate marketing, they themselves use a pretty underhanded affiliate marketing strategy just so you can promote their programs.
When you consider how the top upsells cost in thousands and tens of thousands, that's a lot of money that you'll need to invest in order to promote everything.
Along with the modest 5%-10% commission which do look good when you assume you make around $2k for every sale on the top end upsell, means that you'll only break even after you've sold 10 of them! I doubt that this will be an easy task to accomplish.
So yeah, remember that if you want to promote SFM, you'll need to be willing to pay a hefty upfront investment.


---
THE GOOD THINGS
Decent Information On Affiliate Marketing
Although there are quite a few red flags that SFM displays, the information they provide as a whole is actually not the worst. There is a lot to be learnt from their courses however, the doesn't mean I recommend you do learn from SFM as there are just too many hiccups in the learning process.
Nonetheless, it's definitely got a good amount of knowledge for beginners to actually know what they should do.
Refund Policy
They do have a refund policy so if you're not happy with the product you've purchased, you can choose to ask for a refund within 30 days. I guess you could say that this is a nice touch on SFM'S part.
==>Click Here To Access My FREE Make Money Online Guide!<==
---
IS SIX FIGURE MENTORS A PYRAMID SCHEME/SCAM?
The good news is that Six Figure Mentors is not a scam or a pyramid scheme however, there are quite a few issues with it that may push you away from joining it.
The biggest issue by far is the price of the whole course. There just are way too many upsells and services that you'll be kind of forced to purchase because of the roadblocks you'll face if you decide to stop. This obviously means that you need to be willing to invest a sizeable chunk into SFM just to make the most out of the opportunity.
The training is decent and the potential commission aren't bad either however, in order to be able to access them, a lot money on your part will be required to purchase them.
For these reasons I can't recommend SFM to you especially when my #1 recommended product actually teaches you how to do everything within SFM for a significantly smaller pricetag and a less restricted experience too.
---
MY PERSONAL RECOMMENDATION
I'd suggest you check out my personal recommendation if you want to make good money online, though I'll warn you right now, it isn't something through which money will come very easy.
It is nonetheless and in my opinion a great business model for the online space.
So what is this method that I'm talking about?
This method I'm talking about is affiliate marketing. 
SFM is also an affiliate marketing based training program however because of it's exuberant price tag and I guess you could say lack of flexibility, it isn't something I'd consider to be the best affiliate marketing course online. The reasons as to why I recommend my personal pick over SFM is because :
– There's a lot of potential to make money through it
– it is a legitimate method that has been working consistently and continues to grow as more businesses want individuals to promote products
– it is a very scalable business
– There is a community full of successful affiliate makers inside
– The tools and services are not upsells, they're simply part of the main package
– and because it is free to start up, no unnecessarily large start up funds needed.
The service I recommend is Wealthy Affiliate. It's free to sign up to and will get you set up and ready to start your affiliate marketing journey within minutes, as it did for me when I begun my journey.


If you have any questions that you would like to ask me regarding SFM, feel free to do so in the comments section below and I will get back to you as soon as I can. If you have your own thoughts about SFM and would like to talk about it, again feel free to do so in the comments below!
Thanks
Amhil