OVERVIEW/RATINGS
Owner: Phil Snipes
Product name: 5 step commissions 
Website URL: http://www.5stepcommissions.com
Price: $17 ( Money back guarantee up to 30 days)

Final ratings: 3/5
Pros:
– A solid baseline to conduct affiliate marketing yourself 
– Great value for money at only $17
– A 30 day money back guarantee 
Cons:
– Not really a major con but sales page could have been better designed 
– Isn't the highest quality affiliate marketing course to study from
Check Out Phils Sales Video If You're Interested


---
Affiliate marketing, it can seem like a very complicated thing once you dip your toes in the pool. What 5 step commissions aims to do is cut out all the fluff involved with affiliate marketing and get staright to the crux of the matter. My job in this 5 step commissions review is to see whether everything it sets out to do is accomplished or if it just falls short of the mark.
WHAT IS 5 STEP COMMISSIONS
The man behind the 5 step commissions program is called Phil snipes, he is a successful affiliate marketer. He has created this 5 steps commission course for the sole purpose of teaching newbie's 5 core components to achieve success within the affiliate marketing business model.
The 5 core principles included within the course are the following:
– How to setup a winning autoresponder and capture page
– How to find offers in any niche that are willing to pay you instant paid commissions
– Teach you about the current free traffic methods with social media and video syndication
– Show you how to use paid traffic that will bring you leads in autopilot daily
– And finally it will discuss leadership training through which you'll learn how to convert leads into sales
Along with these 5 core steps, if you decide to sign up you will gain access to an affiliate rotator and 5 extra bonuses for free.
These bonuses include teaching you how to set up a website in minutes, setting up a Google ad word campaign that will help you convert a lead to a sale, an online marketing 101 guide, 7 ways to grow your business faster guide and to create a list that is responsive from scratch.
This is everything that is offered in the course.
The main resource in the course are the 6 vidoes included within the course, with 1 of the 6 being a welcome video. Each of the other 5 videos will explain in detail how you should implement these 5 steps. The videos all in all will equate to roughly 2-2.5 hours of content.

ARE THE VIDEOS REALLY WORTH THE ASKING PRICE?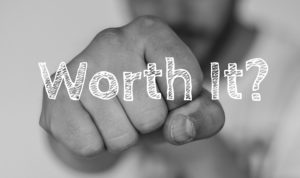 The fact that phill has the credibility of being a successful affiliate himself really helps his case.
This is because delivering the knowledge he has accumulated through the content in the course won't be knowledge he just pulled out of no where, it'll be information delivered from a mentor who has genuinely achieved success himself.
This fact will definitely help his case however but, just because Phil himself is successful doesn't necessarily mean that the content he is trying to sell has sufficient value. So, this begs to ask "are the vidoes really worth it?".
There are a ton of scams out there trying to make a quick buck off of naive individuals on the Internet so there is good reason to be skeptical about any one who claims to be "rich" and teach you how to replicate it.
So does this apply to 5 step commissions?
No it does not…
Thankfully the content within 5 step commissions' course is legitimate and is definitely worth some value. The fact that it manages to succeed in providing valuable information that actually works is nice and the least that should be done whilst the inclusion of the bonuses and the link rotator are a couple of pretty cool ad ons too!
Click This To Check It Out Yourself 
What Is this Link Rotator? 
The link rotator's function is that it rotates your 5 step commissions affiliate link on pages that Phil may be promoting the course on so essentially, it allows you to make sales without doing any work.
Whether or not this may help you to personally make commissions is difficult to answer so all I can tell you is at best it works and you may make commissions from this feature or worst case scenario it's purely a gimmick and you don't make anything from it.
In the end of the day if you're buying the entire product just for the link rotator, I can tell you right now that it definitely is not worth it.
It's also worth mentioning that once you purchase the product at the $17 asking price, there will be absolutely no upsells.
This obviously means that everything that has been discussed within the sales page is precisely what you will get once you've purchased the product.
You will have possession of everything Phil offers, no annoying buy this up sell or buy that course to learn more advanced techniques, everything is available the second you pay the up front cost which is kind of refreshing considering every thing else in the market.


DO I RECOMMEND 5 STEP COMMISSIONS?
Although 5 step commissions has solid content teaching you about profiting through affiliate marketing, I wouldn't personally recommend you buy it.
This is because I actually know of a product which provides significantly better content regard affiliate marketing from another course that's both constantly being updated whilst also providing you with all the necessary tools to start your business.
So what is this product?
WHAT PRODUCT DO I PERSONALLY RECOMMEND?
Even though it seems like 5 step commissions offers a good course, when discussing whether it's the ideal course for any one wanting to create an affiliate marketing website, I'd rather you check out my #1 recommendation instead.
My number one recommended course is wealthy affiliate.
What wealthy affiliate offers to its members is something more than simply a course. It is essentially a one stop shop for everything affiliate marketing related. It teaches you, by using a proven and realistic guide, how to make a successful online business that will eventually generate a full time income.
The reason why wealthy affiliate is a one stop shop for affiliate marketers is because it offers website hosting, constantly updated content on affiliate marketing and online businesses, a community of over 1 million users with thousands of successful wealthy affiliate members with credibility as Phil and so on.
By using this resource I've personally managed to generate $380+ doing affiliate marketing and continue to make extra commissions (all be it small commissions) regularly.
My personal result may not be the most amazing of success stories out there but, it does prove that you can make money through affiliate marketing. To check out my comprehensive review on wealthy affiliate  which also includes the success stories of other members within the community, click here.
If you want to make upwards of £1000 ($1200) in your first month using a method different to affiliate marketing click here. I can 100% guarantee that you can make 1k in your first month if you learn from this service and put in the work?
MY FINAL THOUGHTS, SHOULD YOU STILL CHECK OUT 5 STEP COMMISSIONS?
After everything I've said, would I still recommend that you check out 5 step commissions to study affiliate marketing? Well that honestly depends, although I would say that it isn't my number 1 recommendation out there, it honestly isn't a bad course and can probably provide some value to some one who buys it.
If you're open to learning the success model of another affiliate marketer, it shouldn't be too bad a buy, afterall its only $17 for the whole course but, in my opinion wealthy affiliate offers so much more and if you sign up through my link below within 7 days, you will even be give access to the entire service for only 2 dollars more than Phil's entire course.


In terms of value wealthy affiliate definetly wins however, if you want to have access to a course forever 5 step commissions may very well be the option for you. Ultimately the final decision is up to you
If you have any questions that you would like for me to answer, feel free to leave it in the comments section below and I will be sure to answer your queries as soon as possible!
If you have any feedback you'd like to give me, feel free to leave it down below in the comments section too!
Thanks
Amhil
Sources cited: www.inboundwealth.com