WELCOME TO MILD MATTERS OF MONEY
Welcome to Mild Matters of Money where. On this site my aim is to create content that helps you on your making money journey online and get to grips with what works and what doesn't.
Besides helping you, Mild Matters of Money is also a place through which I can learn and adapt to the changes that the online market may bring, it'll help expand my own knowledge which in turn should benefit you as well!
SO WHO IS AMHIL?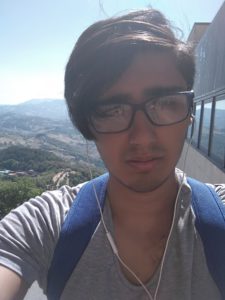 That's me up there taking a picture from the peak of one of San Marino's mountainside tourist attraction, I think…
So yeah, My name's Amhil, I'm a 22 year old university student who's figured out what he wants in life and honestly it's definitely not wanting to be another average person with a degree. That's why finding a way to make money online that'll help me live comfortably in modern society is a major goal of mine.
As cliché as it may sound, making money under my own authority and rules is a major aspiration, a major dream (you probably feel the same way) that's why for a few years now I'd been searching for ways to make this dream of mine a reality.
My first gateway to finding out how it was possible to make income whilst sitting at home, were through videos I found on YouTube. YouTube was (and still is) flooded with a whole plethora of videos with this particular subject in mind so, it made sense to do research through it.
The videos I found showed me how to create a business without needing to spend a lot and in some cases I even learnt how to make money without needing to spend a penny.
I found videos talking about affiliate marketing, which really opened up my eyes. At first it was a little overwhelming to accept, the fact that many of the videos I watched even said that it you're not always required to invest money towards an opportunity and can still possibly get to a stage where you could legitimately be making a full time income outside the nine to five. So after learning about this obscure method I decided to see if it actually worked.
The first time that I used affiliate marketing in an attempt to get commissions was by recommending a service, that I believed in to my friends, after telling them of the benefits it would provide if they signed up. They bought the service through my affiliate link and the next thing I knew, I had actually made some of the easiest money ever in my life and at no point did I have to spend money (besides my initial investment on the product recommended) yet I had a bit more money than I had beforehand.
This tiny bit of success showed me that it was possible for normal people like you and I, without a huge social media following or the option to invest large amounts of money, to actually make money on the internet.
Matched betting is the other thing I've found success through and it has been a decent way for me to make  a part-time income online whilst sitting at home too!
I believe in the last 2 years I've managed to turnover more than £5000 doing it so, what I can say is that it's definitely a decent way to make a bit of part time income.
These small moments of success felt awesome especially when you consider a couple decades ago, making money online like this would have been absolutely inconceivable yet here we are, in the present day littered with a ton of opportunities that the average Joe can follow to start making money on the net, right now, which is CRAZY!
Hopefully having already experienced some success of my own, I can help you guys replicate what I have achieved or even help you do a lot better than I have. I'll also be looking to guide you to further improve and expand your knowledge so that you can succeed, which I know is bound to happen if follow the right strategies and are persistent on your making money online journey.
HOW MILD MATTERS OF MONEY WILL HELP YOU
The whole reason as to why I created this site is to help people like you and anyone who's trying to find a legitimate opportunity, to make money online. I made it to help those who are struggling to develop their brand into a profitable online business and actually turn it into something that earns money, I made this site so that they can quit their job and live the laptop lifestyle.
I've already mentioned Affiliate marketing and matched betting previously, as these are areas that I'm pretty knowledgeable but, besides these two options, my aim and Mild Matters of Money's aim as a whole is to guide and assist you so that you understand other online money making methods as well such as drop shipping and the e commerce business model.
Furthermore, if there are any topics that you may be struggling with or would like to understand better, I will be looking to answer these questions with the best of my knowledge in the form of blog posts or video.
THE GOAL OF MILD MATTERS OF MONEY
Mild Matters of Money has many aspirations and goals it would like to achieve. Firstly It will be looking to pump out high quality and valuable content for its readers on a regular basis that will engage and support them in their struggles.
Secondly through the valuable content provided, it will also be hoping to produce content that will help individuals to pursue a successful business online,  whether it be making some side income through matched betting or creating a blog that manages to make more than enough income, passively to travel around the globe without needing to be cooped up in a small office cubicle to make a living.
Well that's the basic gist of what I'll be looking to do moving forward. If you'd like to ask me any questions that or if you need a hand with any problems you may be facing, leave a comment down below and I will be happy to help you out.
All the best,
Amhil
mildmattersofmoney.com
Contact Us 
Email : amhil23@mildmattersofmoney.com