It's likely that you have come across Avon through an email list, on social media or got it recommended by a friend or family member.
Is Avon a pyramid scheme? Maybe the whole premise behind Avon and it's business opportunity is a scam but, you're still a little intrigued as to what it has to offer. That's pretty much the reason you're here, right now, afterall.
First and foremost I must commend you for actually doing a bit of extra research before committing to purchasing or joining Avon. For all you could have known, Avon may very well be a scam and rob you of your money so this review could help you find anything peculiar about it.
To be totally transparent with you I haven't used Avon so I can assure you that I will not attempt to sell you on it unless of course it's worth investing in.
What I will aim to do is provide you with an unbiased 3rd party review of Avon that will hopefully help you to make the correct decision in the end.
---
PRODUCT NAME: Avon
OWNER/S: David McConnell (current acting CEO of is Sheri McCoy)
TYPE OF PRODUCT: Cosmetics, Skin Care, and Personal Care MLM
PRICE: $10 sign up fee + other optional starter kits
SUMMARY: Avon isn't a scam or a pyramid scheme but there are a few major reasons why you should probably skip it.
The  fact you need to be good at recruiting, the issues with major lawsuits and the really low income potential for most individuals should add a bit of doubt in your mind to join Avon in my opinion.
The fact that the average person makes only $1600 a year should show you how hard it will be to make a good living with Avon. Although it's possible, I just don't think Avon is the best business opportunity to pursue at all in this day and age.
FINAL RATING: 1.7/5
RECOMMENDED: NO


---
WHAT IS AVON?
If you're even ever so slightly familiar network marketing, you should have heard of Avon because it just is that big. In fact it's the second largest MLM in the world just behind another MLM called Amway.
Avon is a cosmetic, skin care and personal care MLM founded by David McConnell way back in 1886 so, it's been around a helluva a long time so I'm just going to briefly go over it.
The company being as old as it is, does have quite abit of history. David McConnell started off as door to door salesman trying to sell his products and over the years actually had a few different name changes due to his partnerships.
It was only in 1932 when the company named itself Avon and has had that name since.  Although David was the founder, he's deceased at this point so the current acting CEO of the company is Sheri McCoy with Avon's head office being located in London.
Being the second largest MLM in the world, it shouldn't surprise you that Avon has 6.5 million active members around the world whilst also generating billions in revenue every year.
==>Click Here To Access My FREE Make Money Online Guide!<==
---
AVON'S PRODUCT LINE
Avon has a pretty large library of products due to their age so first, I'm going to list down the category of products that they have on offer down below.
The categories include :
Makeup
Skincare
Bath & Body
Fragrance
Jewelry
Fashion
Of course their mainline products consist of cosmetics and beauty based products.
Some of Avon's best selling products include :
Avon BASICS : body lotion, lip balm
Avon MOISTURE : hand cream
Avon SKIN : sunscreen lotion
To see the rest of their product line click here 
Are You Tired Of Working For A Boss? If So Why Not Take Your Job Into Your Hands And Work For No One But Yourself… If You Want To Do This Check Out My #1 Recommendation
---
ARE AVON'S PRODUCTS ACTUALLY ANY GOOD?
Although Avon are the second largest MLM in the world, this doesn't guarantee that the line of products they sell are actually any good that's why just so you have a better idea of the products they sell, I did a bit of research and this is what I found.
Within consumer affairs it seems like the overall outlook on Avon's products are a mixed bag. Some people actually like the products on offer and find them to be quite affordable when they are on sale.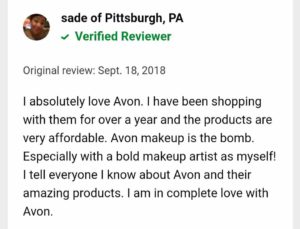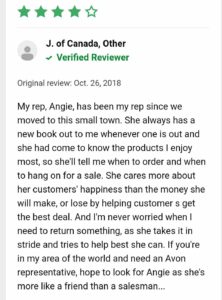 Others just don't find them to be very good, even in some instances, customers who used them suffered side effects.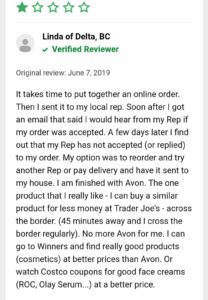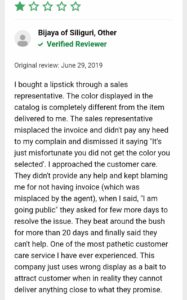 There seems to be a lot of issues regarding the delivery of the products and the overall customer service that most people experienced however, when just looking at the products as a whole, they're not really regarded as bad.
Are they the best around? No but it doesn't seem like they're awful and there are a lot of individuals who do like the product line.

---
HOW DO YOU MAKE MONEY THROUGH AVON?
As is the case with pretty much all MLM businesses there are 2 ways to make money with them, Avon being no exception.
1. The first method is by directly selling the product to other individuals and in return make a commission for the sales
2. You make money through your recruits and downline, by getting residual income by following and meeting certain criteria as well as make money through bonuses and incentives due to meeting company set goals.
---
HOW TO GET STARTED
Getting started with Avon shouldn't be the hardest thing in the world and it's also far from being an expensive MLM to join too. To actually be able to gain commissiona from them you will only need to spend a fee of $10 and afterwards purchase one of their starter kits.
The kits you'll be able to choose from include :
Quick Starter Kit – $25: with products valued at $80
Advanced Starter Kit – $50: with products valued at $140
Premium Starter Kit – $100: with products valued at $400
Purchasing these kit's aren't absolutely necessary because we do live in the internet age and therefore are able to sell online however, if you ever decide you want to host parties to promote Avon's products or just plan on learning about some of the product lines yourself, It may be necessary to do so.
But besides that, Avon is among the cheapest MLM I've reviewed and I've checked out a lot of MLM's such as :
Do You Want To Make A Full Time Income On Your Laptop? Do You Want The Freedom To Work Whenever You Want Wherever You Want? If That's What You Want My #1 Recommendation Might Just Help You Get There!
---
COMPENSATION STRUCTURE
As a MLM company, of course Avon has its own compensation plan and I'm sure you know that it's probably amongst the most important things you should learn if you're serious about joining the company an IBO.
The plan has a few important elements that you should really put your head down and learn if you want to join, at the moment I'll briefly explain to you how the components of the plan work.
Represnative Commissions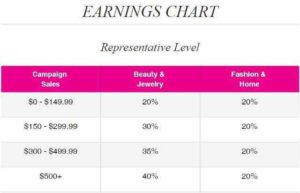 The chart above me basically goes over how these commissions work but from what I gather, it seem like the larger your sales volume within a given month the higher the commissions you make for every sale.
The commission for any sales regarding the fashion and home remain 20% per sale throughout however the jewellery and Beauty products can reach a maximum commission potential of 40% if you achieve $500+ campaign sales a month.
Qualifed Recruit Bonus
If you recruit a member and they purchase $150+ worth of merchandise within their first 2 campaigns, you'll be able to make a bonus of $20.
Promotion Bonus
You'll be paid out a bonus when you achieve certain ranks within Avon.

The image above basically outlines how much you can be paid and the maximum is of course $20k for reaching the executive leader platinum rank. Moving up ranks usually does mean that you will need to recruit a ton which of course isn't going to be very easy.
The bonus is also paid oit in 4 installments basically meaning you will only be fully paid out as long as you maintain your rank so, do keep this in mind.
Generation Bonus
This is where most members make the most money from, it's basically through residual commissions where the higher up in rank you are and the more members you bring into your team, the better your payout.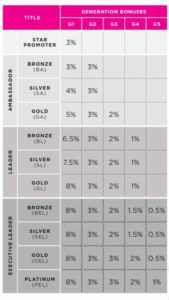 The image shows how the percentage you make per person does increase the higher in rank you get to, capping out at 8% for your first level and 1% for your 5th generation.
If you want a more In depth look at Avon's compensation plan, check out the video below.

---
THE NOT SO GOOD THINGS
You Will Need To Recruit To Succeed
This is pretty typical for MLM's in general so honestly it's not that surprising that Avon requires you to recruit a lot of people if you want to succeed.
The compensation plan makes it clear that you will need to recruit a lot of people to move up in rank so that you can actually make commissions within all the levels and it's only really then when you'll start seeing the potential of Avon. There's a reason why the top 1 or 2% are making most of the money within the company.
And this reason is because they know how to bring people into their downline and make money on autopilot from these referrals.
If you think you're able to bring in all these referrals and if you think you've got the skillset needed to bring in leads, Avon might still be worth giving a shot otherwise, you probably should skip it.
Lawsuits Against Them
Avon is a company that's been around for more than a decade so it's bound to have a couple lawsuits however, 1 major red flag that pops up to me is that they recently had to settle a $6+ million lawsuit, which isn't a small fee by any means.
And more recently they have had to deal with other class action lawsuits from some of their former employees so I, if you're not comfortable getting into a business that's dealt with these kind of lawsuits, you may want to consider looking elsewhere or try out this opportunity instead which is what I would personally recommend.
Most People Are Failing
Alright,I'm not going to lie, this fact isn't very surprising to me especially due to how I've seen so many MLM's with income disclosure statements that unanimously show how most members are failing.
You've got to keep in mind that Avon has 6.5 million members and the fact that the majority of them are failing should be a little concerning especially if you're planning on joining them.
I couldn't really find a income disclosure statement for Avon but there is this document which represents Avon's 2015 annual report that discuss a few figures.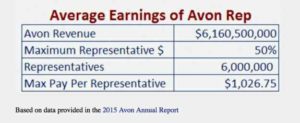 The above shows the average earnings of an Avon rep and from the looks (although it's a little unclear) the average an Avon distributor earns is $1026.75 annually which doesn't even amount to $100 a month. Although the report is 4 years old now, I doubt it's any different now anyways.

As for the amount the average rep earned through leadership bonuses, it's still very low at $590.53. So the total made on avergae is a little over $1600 a year, yeah that's definitely far from great.
Of course this doesn't give you a glimpse of how much each rank makes or even how much more the top 1% or 5% make over the rest but, it definitely isn't a good sign for any newbie thinking about joining that's for sure.


---
THE GOOD THINGS
It's Very Affordable To Join
At only around $10 to basically get started, Avon is among some of the cheapest MLM opportunities you can get involved in so that's a massive plus if you're seriously considering joining.
It's Been Around For Many Many Years
It's well over a century old at this point and approaching 150 years of being around. Avon's longevity is testament to the business as a whole and adds a whole lot of credibility to the company in my opinion.
This fact might also make it quite easy to choose it over so many other MLM's out there.
==>Click Here To Access My FREE Make Money Online Guide!<==
---
Is AVON A PYRAMID SCHEME/SCAM?
No, I don't think Avon is a pyramid scheme or a scam, it's definitely a legitimate MLM company as far as I can tell and it's longevity is testament to this.
However, there are few negative things to consider before you decide to take the plunge and join. The fact you need to be good at recruiting, the issues with major lawsuits and the really low income potential for most individuals should add a bit of doubt in your mind to join Avon in my eyes.
The fact that the average person makes only $1600 a year should show you how hard it will be to make a good living with Avon. Although it's possible, I just don't think Avon is the best business opportunity to pursue at all in this day and age.
I'd personally suggest you skip it but, its cheap costs to start and it's longevity, if you do want to join, does give Avon a fair bit of credibility and it could potentially worth giving a shot.
---
MY PERSONAL RECOMMENDATION
I personally will always recommend against using a MLM business model to make money, not because you can't make money through it (you totally can) but, the system has always seemed shady to myself and is kinda synonymous with the likes of a pyramid scheme or scams (MOBE and Digital altitude).
Instead I prefer working with something created through ones own means and is ultimately dependent on yourself and your work ethic alone.
This method I'm talking about is affiliate marketing. 
The reasons as to why I recommend it over MLM based structures are because
– there is no need to recruit constantly
– it is a legitimate method that has been working consistently and continues to grow as more businesses want individuals to promote products
– and because it is free to start up, no unnecessarily large start up funds needed.
The service I recommend is Wealthy Affiliate. It's free to sign up to and will get you set up and ready to start your affiliate marketing journey within minutes, as it did for me when I begun my journey.


If you have any questions that you would like to ask me regarding Avon, feel free to do so in the comments section below and I will get back to you as soon as I can. If you have your own thoughts about Avon and would like to talk about it, again feel free to do so in the comments below!
Thanks
Amhil