It's likely that you have come across Perfectly Posh through an email list, on social media or got it recommended by a friend or family member.
The question on your mind is probably "is Perfectly Posh A Scam" right? I think that there's more than enough reason for you to be skeptical about another MLM company after all, they are kind of notorious in being difficult to succeed through.
First and foremost I must commend you for actually doing a bit of extra research before committing to purchasing or joining Perfectly Posh. For all you could have known, Perfectly Posh may very well be a scam and rob you of your money so this review could help you find anything peculiar about it.
To be totally transparent with you I haven't used Perfectly Posh so I can assure you that I will not attempt to sell you on it unless of course it's worth investing in.
What I will aim to do is provide you with an unbiased 3rd party review of Perfectly Posh that will hopefully help you to make the correct decision in the end.
---
PRODUCT NAME: Perfectly Posh
OWNER/S: Ann Dalton 2011
TYPE OF PRODUCT: cosmetics MLM
PRICE: $99
SUMMARY: Perfectly Posh is not a pyramid scheme or a scam but, I also don't think it's the greatest of business opportunities out there.
The products prices are expensive relative to the niche it's in, the requirements of needing to recruit in order to succeed, the poor refund policy scheme and the lack of an income disclosure statement showcasing little transparency, probably suggesting you're likely to fail, constitute the reason why it's probably not the best idea to become a consultant.
I'd suggest not joining as there are better online business options out there but if you still want to join, no one's going to stop you.
FINAL RATING: 2/5
RECOMMENDED: NO


---
WHAT IS THIS PERFECTLY POSH?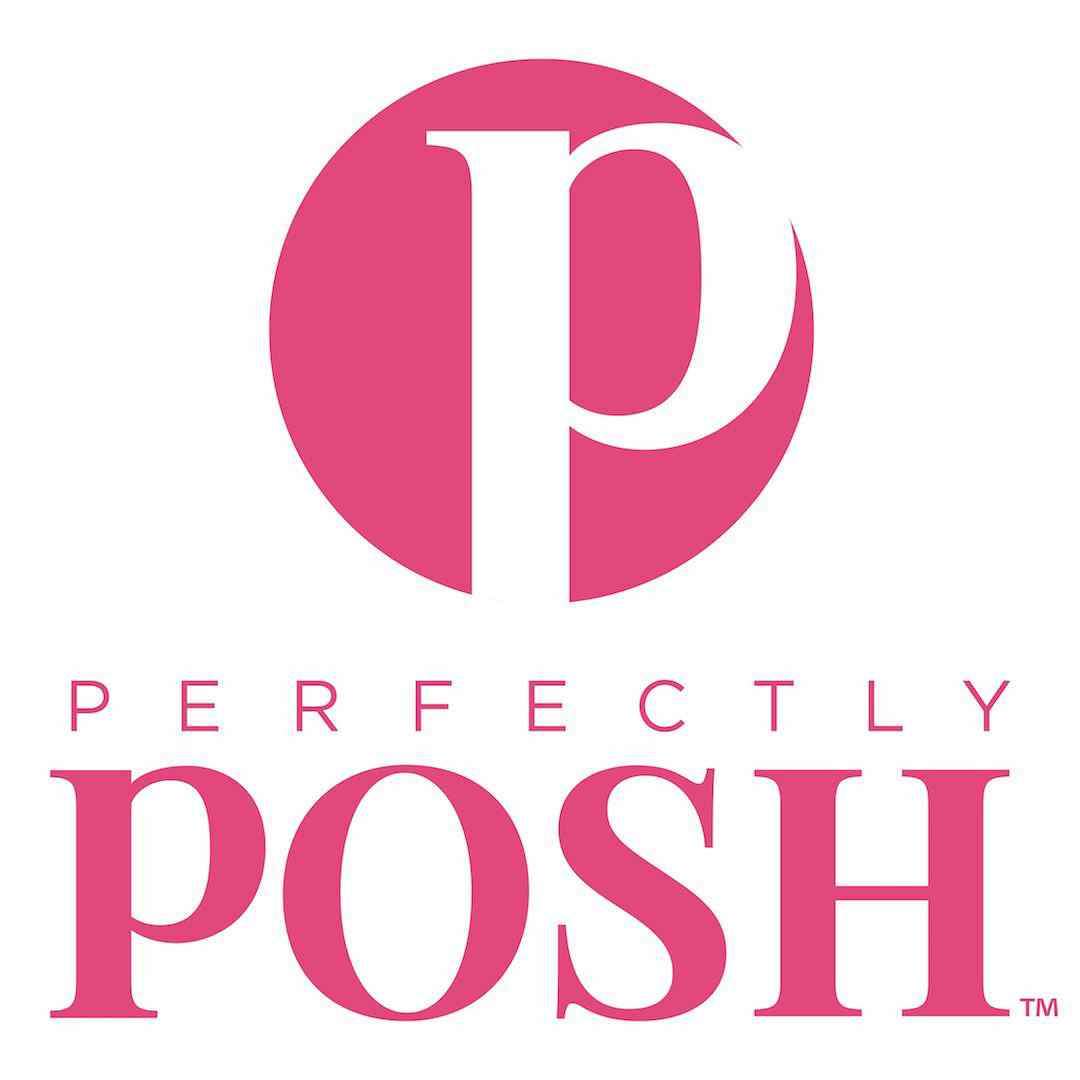 Perfectly Posh is a comestics/health and wellness MLM founded by Ann Dalton. The motto for the company is along the lines of "you deserve to be pampered" and with the pink colour scheme, it's more so marketed for woman.
Of course as it is a MLM company, Perfectly Posh is both a place from which people can shop for cosmetics products to pamper yourself with and also a way through which individuals can make some money too.
==>Click Here To Access My FREE Make Money Online Guide!<==
---
PERFECTLY POSH'S PRODUCT LINE
Perfectly Posh is a beauty and cosmetics based company so it's no surprise that what they sell also correlates with this.
The products that they sell include :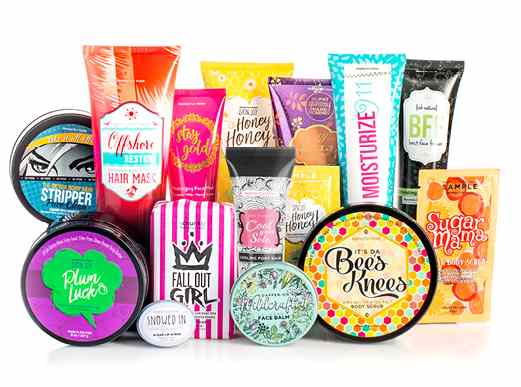 Soaps 
Lotions 
Face Creams 
Hairy Sprays 
Body Butters… 
They sell a large variety of these types of products so if you want to see what else they sell click here.
Much like other cosmetics based companies, Perfectly Posh claim that their products are unique as they use natural ingredients like nuts, flowers, and oils which are all also supposedly cruelty-free meaning that they don't use animal by products such as milk, honey and beeswax.
The products themselves are definitely on the price side of things probably costing 2-5 times their direct competitors, the again I'm not really well versed in women's beauty products as some people do tend to spend a lot for similar products so I might be a little misguided.
A cool touch with Perfectly Posh's products is that the packaging is nice so at the very least you'll have something nice to look at even if your bank balance is looking a little rough…
Do You Want To Make A Full Time Income Just As Many Have Been Doing For Decades, If So Check Out My #1 Recommendation
---
DOES THE PRODUCT ACTUALLY WORK?
As I've actually never tried the products myself (who would've guessed…) I can't really speak for their quality however, I did a little research on people who actually had used some of the products from within the product line and this is what I found.
The overall thoughts on the products are kind of a mixed bag.
Within pissed consumer I found that some people did like the products and actually swear by the quality of the product line even though they're not consultants for Perfectly Posh.
Others haven't had the greatest experiences with the products. One individual in particular suffered an allergic reaction after applying the face cream for 3 minutes where it led to the burning and then swelling of their face.
Some people love certain products but, they tend to get discontinued which annoys them, obviously, and finally the most abundant negative claim about the product line was that they are just way too expensive!
All in all, I don't think that the products that are sold are bad at all but, most individuals just can't accept the somewhat ludicrous prices of most of Perfectly Posh's products and I definitely see where they're coming from.
After all if you can, more or less, get the same product from a supermarket for cheaper, why would you spend 3 times the amount to get it from a brand that'll probably only offer the same quality.
As a distributor the higher prices means you'll get paid a bit more however, it also means that you'll have to work harder to make a sale.

---
HOW DO YOU MAKE MONEY THROUGH PERFECTLY POSH?
As is the case with pretty much all MLM businesses there are 2 ways to make money with them, Perfectly Posh being no exception.
1. The first method is by directly selling the product to other individuals and in return make a commission for the sales
2. You make money through your recruits and downline, by getting residual income by following and meeting certain criteria as well as make money through bonuses and incentives due to meeting company set goals.
---
HOW TO GET STARTED
If you're someone who's actually serious about joining Perfectly Posh, there are a few things you will need to do in order to become an official distributor.
Of course the first thing you'll need to do is sign up to them, which can be done through their websites and afterwards you'll need to purchase one of their starter kits.
These kits will cost you around $99, the kit provides you with the following :
Business tools
Sone products 
Virtual office
Website 
Essentially what you'll be getting are the basic gear to start really any business in todays MLM and to be fair the price to start a Perfectly Posh business isn't even too expensive, especially when you compare it to other MLM's like Kyani, Voxxlife, Life Leadership and even Traverus.
Of course you're probably going to be needing to pay for advertising fees, hosting parties, probably a certain renewal fee to keep your website on air as well travelling fees so in reality the costs will be a fair bit more.
However, $99 is still a very decent cost to pay, at least within the MLM sector that is.
Do You Want To Make A Full Time Income On Your Laptop? Do You Want The Freedom To Work Whenever You Want Wherever You Want? If That's What You Want My #1 Recommendation Might Just Help You Get There!
---
COMPENSATION STRUCTURE
As an MLM, Perfectly Posh obviously has a compensation plan that outlines how consultants or distributors (whatever you want to call them) will be able to make money if they were to join.
If you're serious about joining the company, it's pretty crucial that you learn this plan back to front because it's going to showcase the potential of Perfectly Posh.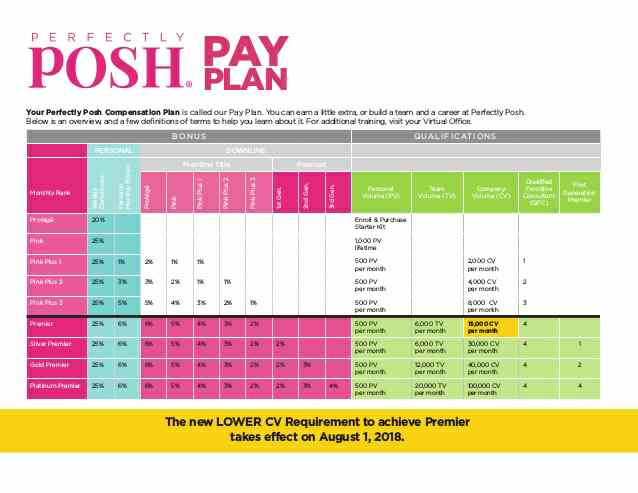 The image above pretty outlines the whole premises behind Perfectly Posh's compensation plan nonetheless, I'll try to break it down for you if you're a little confused.
Retail Sales
As a new consultant, the protege rank, you'll be eligible to make 20% on every sale that you manage to make. This will increase once you've accumulated $1000 in life time sales to a 25% commission.
The problem with retail commissions is that the overall number of products you'll need to sell will have to be pretty darn high in order to really make the most out of being a consultant. $2.50 commission for a sale on every $10 product means that you'll need to sell around 400 products to get to $1000/month. 
And let me tell you now, selling 400 products, especially if it's face to face, is very unlikely to happen.
Team Commission 
These are commission that you'll earn from the accumulated total of your downline team and is also of course where you'll potentially be making most of your money if your team becomes big enough.
You'll be able to qualify for this once you manage to accumalte the required PV, manage to hit the required company sales and also have a certain number of direct sign ups or as Perfectly Posh Like to call them, your QFC.
The percentage for the commissions you'll be able to gain from team commissions range from 1% – 6% with the largest commission obviously requiring you to meet higher qualifying figures.
Besides this, there are other bonuses and incentives that this MLM offers such as vacation trips for reaching a certain rank and so on.
If you want a more indepth look at the compensation plan, check out the video below.

---
THE NOT SO GOOD THINGS
You Need To Recruit To Succeed
The thing with pretty much all MLM's is that you've got to recruit in order to truly become successful with them.
Perfectly Posh isn't really any different from this point of view. The 25% commissions are decent in comparison to other MLM's but, in order to make good money through this particular MLM, where products aren't really high end stuff, making like $5 per sale means you'd need to sell a lot of goods to turnover anything half decent.
Along with that, making a full time sustainable income will be even more difficult. So creating a large downline team, even with a relatively small residual commission at a max of 6% will pay a lot more.
This is obviously because you don't really need to do any extra work after you've signed someone up or your refferals have signed up a refferal. All these commission will essentially be made on autopilot.
Although recruiting is probably the most realistic way to build your income exponentially with Perfectly Posh, there are still a few problems you will likely face :
It's not easy to convince someone to join
It's not easy to find people to convince 
Once they join you can't guarantee that they'll be doing good at selling or making any money 
This in turn means you'll need to recruit a lot more people to make up for the ineffective bunch
Of course if you manage to sign up some very good individuals, they could potentially ramp up the number of people in your downline nevertheless, the thing you should take away from this is that you will need to recruit people in order to succeed so, if you're not good at it, you'll probably struggle as a consultant.
The Products Are Overpriced
Even if the products aren't bad, some may even argue they're good, the prices that are charged for them are still a fair bit more expensive than other brands of the same quality.
I guess the natural resources made will in turn make them more expensive but, if you're trying to make sales, you'll probably try to sell to anyone whether they care for natural ingredients or not and there's no denying that the higher prices will turn off quite a lot of people.
It might not be the biggest problem for some of you but, the number of sales that you'll be able to make, and trust me you'd need to make a lot sales, the income you'll be generating will be miniscule at best.
Refund Policy Is A Mess
The refund policy and return policy isn't the greatest. If you're not happy with a product or it's just horrible quality in your opinion and if you want to return it, you'll need to pay for the shipping costs.
I get why Perfectly Posh do this, they don't want to be wasting money but, as a customer, the fact you'll have to pay shipping costs that sometimes even cost the same as the price of the product purchased, is a lot to ask for especially when what was purchased was bad.
Lack Of Transparency
The lack of transparency to me, shows that Perfectly Posh have something to hid otherwise why wouldn't they let you see their income disclosure statement right?
Judging from other income disclosure statements from other companies, I'm pretty sure that there is likely a less than 5% chance that you'll be able to turnover more than $1k a month using this business model.
Of course, It's possible that there's a better overall chance than this but, having seen how most distributors do in MLM companies, I doubt that Perfectly Posh will steer too far clear from the norm.
Are You Tired Of Working For A Boss? If So Why Not Take Your Job Into Your Hands And Work For No One But Yourself… If You Want To Do This Check Out My #1 Recommendation
---
THE GOOD THINGS
The Products For The Most Part Are Good
Generally most people tend to like what Perfectly Posh put out so making sales shouldn't be as much of hassle as it could've been due to the poor quality of the product line.
The packaging is also pretty nice for most of the products too so, if your clients are into that, it'll be a win for them I guess.
Cheap Starup
At $99 for a starter kit and to ultimately start your business with Perfectly Posh, is actually very cheap when compared to other MLM's in general.
It is pretty much amongst the cheapest MLM businesses to start up just life leadership and enagic.
==>Click Here To Access My FREE Make Money Online Guide!<==
---
IS PERFECTLY POSH A PYRAMID SCHEME/SCAM?
No, Perfectly Posh is neither a pyramid scheme nor a scam, it's a legitimate MLM business that much like most MLM's is going to be difficult to succeed through.
The products prices are expensive relative to the niche it's in, the requirements of needing to recruit in order to succeed, the poor refund policy scheme and the lack of an income disclosure statement showcasing little transparency, probably suggesting you're likely to fail, constitute the reason why it's probably not the best idea to become a consultant.
As far as I can tell and from what I've researched, it's not necessarily a bad company but, due to what I know about MLM companies, I personally cannot recommend joining Perfectly Posh.
Of course if you still really want to become a consultant, I'm not going to stop you.
---
MY PERSONAL RECOMMENDATION
I personally will always recommend against using a MLM business model to make money, not because you can't make money through it (you totally can) but, the system has always seemed shady to myself and is kinda synonymous with the likes of a pyramid scheme or scams (MOBE and Digital altitude).
Instead I prefer working with something created through ones own means and is ultimately dependent on yourself and your work ethic alone.
This method I'm talking about is affiliate marketing. 
The reasons as to why I recommend it over MLM based structures are because
– there is no need to recruit constantly
– it is a legitimate method that has been working consistently and continues to grow as more businesses want individuals to promote products
– and because it is free to start up, no unnecessarily large start up funds needed.
The service I recommend is Wealthy Affiliate. It's free to sign up to and will get you set up and ready to start your affiliate marketing journey within minutes, as it did for me when I begun my journey.


If you have any questions that you would like to ask me regarding Perfectly Posh,  feel free to do so in the comments section below and I will get back to you as soon as I can. If you have your own thoughts about Perfectly Posh and would like to talk about it, again feel free to do so in the comments.
Thanks
Amhil