Welcome to my InfluEarn review!
It's likely that you have come across InfluEarn through an email list, on social media or got it recommended by a friend or family member.
First and foremost I must commend you for actually doing a bit of extra research before committing to purchasing or joining InfluEarn . For all you could have known, InfluEarn may very well be a scam and rob you of your money so this review could help you find anything peculiar about it.
To be totally transparent with you I haven't used InfluEarn so I can assure you that I will not attempt to sell you on it unless of course it's worth investing in.
What I will aim to do is provide you with an unbiased 3rd party review of InfluEarn that will hopefully help you to make the correct decision in the end.
---
PRODUCT NAME: InfluEarn https://www.influearn.com/
OWNER/S: not disclosed
TYPE OF PRODUCT: GPT Site
PRICE: Free
SUMMARY: I personally believe that InfluEarn is 100% a scam and there are quite a number of reasons adding to this conclusion of mine.
The unrealistic claims and fake data, it being a data harvesting scam, the the lack of an owner being disclosed and the factor of InfluEarn essentially being a rehash of multiple other products I've reviewed and exposed make it come off, at least in my eyes, as nothing more than a scam therefore, I don't reccomend you join it.
FINAL RATING: 0/5
RECOMMENDED: NO!!


---
WHAT IS INFLUEARN?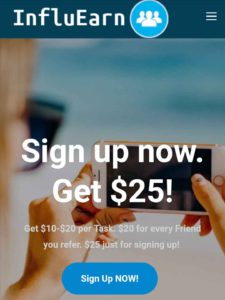 The moment I landed on InfluEarn front page the whole structure with the $25 Sign up bonus as well as the $10 – $20 for every referral you bring in instantly reminded of the layout of some scams I've checked out and reviewed in recent times.
The scam is actually something that I know as a data harvesting scam, the GPT element of it is merely a ploy used so that you can sign up to the company and give them your details which they then can either sell or use for their own benefits.
Essentially the basic premise behind InfluEarn is that it makes you believe it's an easy way to make money, pretty much marketing itself as a get rich quick scheme and even claiming that you can literally get paid $50 bucks for installing apps, I mean come on, how realistic a proposition do you think this is?
So I'm sure you can see where I'm going with this review and just a heads, I'm pretty much going to tell you the reasons why InfluEarn is not worth your time.
Just so you know I know what I'm talking about, I've reviewed multiple good and bad products on this website such as :
Which is why I believe I have a pretty good grasp on what makes a solid system to invest in.
==>Click Here To Get Access To My FREE Make Money Online Guide!<==
---
HOW DOES INFLUEARN WORK?
In the landing page it's claimed that you'll make money by either signing people up through your unique affiliate link or once you've gotten into the members area, you'll be able to complete tasks and earn up to $50 for completing a task.
As I've said, it essentially works like a GPT and a get rich quick GPT at that, it make you believe that just by signing up you'll have made $25 and how so many others are making and cashing out hundreds. Well none of what's being claimed is true and you definitely won't be cashing out anything if you did sign up.
The layout, design and payments are all just a facade and in reality the company is merely a data harvesting scam, as I mentioned previously.
What this means is that when you put your details into the sign up form, as your data is unlikely to be safe InfluEarn will be able to see your password as well as your email address so, they can pretty use these details to hack into your other personal accounts, especially if you're one of the many people who uses the same password for everything.
You definitely won't be making the bucket loads of cash that InfluEarn implies so don't be fooled by it or you could risk having your details being sold.


---
WHO IS INFLUEARN FOR?
I personally don't think that anyone should waste their time on InfluEarn, this is because its shown a lot of red flags that I've seen on so many other similar landing pages.
Nothing within the landing page makes it seem like InfluEarn would even remotely be able to generate you cash from the low quality pages explaining how it works to the really shady claims being made so yes, I don't think InfluEarn is for anyone.
Are You Tired Of Working For A Boss? If So Why Not Take Your Job Into Your Hands And Work For No One But Yourself… If You Want To Do This Check Out My #1 Recommendation
---
THE NOT SO GOOD THINGS
It's Stating Unrealistic Claims
Saying you'll make $25 from signing up or around $50 for completing a task in the members area are all just false words that InfluEarn feeds you and also is something that is very unlikely to lead to a pay out.
Even the factor of getting people into the company through the referral program is unrealistic considering the payments you'd be receiving because no legit company would pay you out around 20 bucks when they don't even sell anything to the customers.

Moreover, the data showing how InfluEarn has paid out over $100 million and has over 300k members are all BS as well, even the aspect of it supposedly being in business for 2 years is wrong too because I did a little background check to see how old the website was and unsurprisingly it's barely a month old.

This factor alone basically proves that InfluEarn is a scam but, there are also quite a few other red flags that add to its illegitimacy, which I'll get into next.
Data Harvesting Scam
The data harvesting aspect of InfluEarn is a red flag because this shows that the company isn't looking to make you money or act in your best interests. Instead it's looking to take as much as they can from you, even possibly selling your data to third parties without your permission.
There is a chance that InfluEarn may not sell your data but if you take into account all the unrealistic things that it's making along with the fact it's not the first GPT site of its kind that I've seen, it's highly unlikely that your email address is going to be kept in good faith.
So, if you've already signed up to them, I would suggest that atleast you change the password for your email and other accounts that have the same password as your InfluEarn account.
The Owner Doesn't Show
The fact the owner doesn't show up and the name of the owner isn't disclosed either proves to me that the person behind the site is aware that nothing that is claimed within it is legitimate.
If it were legitimate I'm sure the owner would be more than willing to show himself to prove that their working for your best and not afraid of backlash but, the fact they don't is a clear indication in my eyes that there's a very small chance InfluEarn live upto any expectations you may have had of it.
It's A Rehash Of Other Scams I've Reviewed
This isn't the first website and opportunity I've reviewed which talks about having you make $10+ per referal or even make $25 from signing up, a few of the other ones I've reviewed and exposed include kids have money, Viralbucks, notion cash, viral pay and I know that there are a lot more just like it but, with a slightly different paint job.
This is obviously a pretty big red flag and a huge reason to avoid InfluEarn because if it pretty much looks exactly like these other scams, it highly unlikely it'll live up to any hype that it creates for itself.

---
THE GOOD THINGS
There is absolutely nothing good I can say about InfluEarn, it's honestly 100% garbage in my eyes and something that you absolutely must avoid.
---
IS INFLUEARN A SCAM?
I personally believe that InfluEarn is 100% a scam and there are quite a number of reasons adding to this conclusion of mine.
The unrealistic claims and fake data, it being a data harvesting scam, the the lack of an owner being disclosed and the factor of InfluEarn essentially being a rehash of multiple other products I've reviewed and exposed make it come off, at least in my eyes, as nothing more than a scam therefore, I don't reccomend you join it.
---
MY PERSONAL RECOMMENDATION
I'd suggest you check out my personal recommendation if you still want to make money online, though I'll warn you right now, it isn't something through which money will come easy.
It is nonetheless a great business model for the online space in my opinion
So what is this method that I'm talking about?
This method I'm talking about is affiliate marketing. 
The reasons as to why I recommend it is because:
– expectations toward success are a lot more grounded
– it is a legitimate method that has been working consistently and continues to grow as more businesses want individuals to promote products
– it is a very scalable business
– and because it is free to start up, no unnecessarily large start up funds needed.
The service I recommend is Wealthy Affiliate. It's free to sign up to and will get you set up and ready to start your affiliate marketing journey within minutes, as it did for me when I begun my journey.


If you have any questions that you would like to ask me regarding InfluEarn, feel free to do so in the comments section below and I will get back to you as soon as I can. If you have your own thoughts about InfluEarn and would like to talk about it, again feel free to do so in the comments below!
Thanks
Amhil