It's likely that you have come across InteleTravel through an email list, on social media or got it recommended by a friend or family member.
Is InteleTravel a scam? The reasons why you're here is because you have want answers right so, that's what I'm going to provide for you within this InteleTravel review.
First and foremost I must commend you for actually doing a bit of extra research before committing to joining InteleTravel. For all you could have known, the product could be a major scam so the fact you're here right now, researching whether or not that's the case is a pretty smart move on your part.
To be fully transparent with you, I am personally not a member of InteleTravel so I can assure you that I will not attempt to sell you it unless of course it's worth investing in.
What I will aim to do is provide you with an unbiased 3rd party look at InteleTravel that will hopefully help you to make the best decision you can in the end.
---
PRODUCT NAME: InteleTravel
OWNER/S: James Fererra
TYPE OF PRODUCT: Travel MLM
PRICE: $179.95 one time fee + $59.90/month
SUMMARY: The good news is that InteleTravel isn't a scam however, there are a quite a few reasons why you may still want to skip out on it.
The fact that recruitment will be essential to your success, the annoying aspect of commission payments taking at least 60 days if not more until you get paid, the problems with the refund policy and the fact most people are failing, are all good reasons to skip out on this MLM.
I personally don't recommend joining InteleTravel but, in the end of the day the final decision is yours to make.
FINAL RATING: 2/5
RECOMMENDED: NO

---
WHAT IS INTELETRAVEL?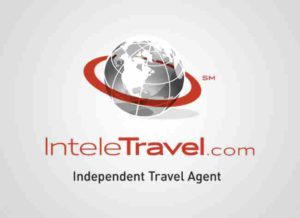 InteleTravel is a MLM that was founded by James Fererra in 1992 and is a company that sells discounted travel tickets to its customers.
The product is very similar to a couple other Travel MLM's I've reviewed called traverus and evolution travel and their goal isn't too different from InteleTravel's either. On top of this the company appears to also be connected to another travel MLM called PlanNet marketing but, according to users that's more so an add-on as opposed to a mandatory purchase necessary to become an affiliate.
InteleTravel has 2 specific goals, it's first goal is to make travelling easier and cheaper for its customers. Certainly a respectable goal but nothing too special.
As for the second goal it is to provide an easy and profitable work from home job that can be full time, part time or just a hobby.
So, it's premise is pretty similar to other MLM's as in it wants to provide people who are looking for a business opportunity, the ability to create one of their own, which if you're here right now is probably something you're actively looking for now right?
Anyhow, if you are interested in becoming an inteletravel, you'd be working as an independent travel agent so you won't need to pay any agent commission fees.
However, even if you are independent, this is still a MLM opportunity so, there will be a lot of other tasks and hurdles you'll need to jump and deal with to succeed here, which is what I'll be covering in more detail throughout the rest of this review.
==>Click Here To Get Access To My FREE Make Money Online Guide!<==
---
INTELETRAVEL'S PRODUCT LINE
InteleTravel don't technically have their own products, they actually partner with different travel agencies and suppliers to supply them with travel packages at a discounted price.
These suppliers Include :
Cruise Lines : Royal Caribbean Cruise Line, Norwegian Cruise Line, Disney Cruise Line, etc…
Airlines : British Airways, American Airways, Delta Airlines, Air France, etc…
Hotels & Resorts : Club Med, Sandals Resorts, Hilton Hotels & Resorts, W Hotels, etc…
Vacation Packages : Travel Impressions, Funjet Vacations, Disney Vacations, etc…
Car Rental Services : Avis, Hertz, Budget
Travel Insurance : Travel Insured
If you decide to become an agent, you'll be given the following benefits :
Exclusive Travel Offers
A personalized Travel Booking website (customers directly book on your site and you earn commissions)
Insider Travel Knowledge
Full customer support from the Company
Competitive Travel Rates to help its agents win customers
As you can see, there are quite a lot of benefits as an agent but, there are still fees that you'll need to consider paying if you want to become a InteleTravel member but, first you're probably curious about how you make money with the company right?

---
HOW DO YOU MAKE MONEY THROUGH INTELETRAVEL?
As is the case with pretty much all MLM businesses there are 2 ways to make money with them, InteleTravel being no exception.
1. The first method is by directly selling the product to other individuals and in return make a commission for the sales
2. You make money through your recruits and downline, by getting residual income by following and meeting certain criteria as well as make money through bonuses and incentives due to meeting company set goals.
---
HOW TO GET STARTED
If you want to join InteleTravel, it will require that you jump through a few hoops, firstly InteleTravel don't actually offer business opportunities through themselves but through another company called planet marketing, which is also a company that the owner, James Fererra, is involved in the corporate management team.
What this means is that if you want to become a InteleTravel member, you'll need to sigh up through planet marketing. It's only after you've signed up there when you'll need to buy one of the following travel agent packages :
InteleTravel Enrollment Fee – $179.95 one-time
Monthly Administrative Fee – $39.95 per month
PlanNet Marketing Administrative Fee – $19.95 per month
In total you'll be paying just under $240 for your first month and a further $60 every month afterwards to remain as an active travel agent.
If we were to calculate the bare minimum you need to pay for the year, you'll be looking to invest just under $900. This is around about how much the average MLM costs to start so it's neither a good or a bad price in my opinion.
Of course I personally think it's a little on the expensive side especially when I take into account how starting your own affiliate marketing business costs around about $400 to run for a year and even has the added benefit of teaching you how to create your own assets instead of relying on a third party like InteleTravel.
It's also got a lot more potential in my perspective but, whether you'd rather do that or become a travel agent for InteleTravel is a decision you'll have to make for yourself.
Are You Tired Of Working For A Boss? If So Why Not Take Your Job Into Your Hands And Work For No One But Yourself… If You Want To Do This Check Out My #1 Recommendation
---
COMPENSATION STRUCTURE
The way in which you'll get paid is as follows. For every product that you manage to sell through InteleTravel, the MLM will generate anywhere from 8 – 16% of the commission from the supplier and from the remaining commission you'll make, around 80% of the commission InteleTravel was paid out.
So let me break this down for you you using numbers. Say for example you sold a $1000 travel package and let's say InteleTravel got a 10% commission as the middleman. This means that InteleTravel would receive a $100 commission and from this commission you'll get 80% so in the end you'll make $80.
Moreover, if instead this $1k was sold by one of your downline members, you'd make a 10% cut from thier sale meaning you'd make $8 through a downlines sales. This is a pretty typical MLM structure.
If you're a little confused on how this works, check out the video below.
You can also make money by recruiting people so if you want to know how that works, check out the video below.

---
THE NOT SO GOOD THINGS
You Will Need To Recruit To Succeed
In order to succeed with InteleTravel you will need to recruit quite a lot of people because that way you'll be able to generate more commission and in turn get closer to achieving the full time income you're aiming for.
Although theoretically you can make a full time income selling the travel packages on your own, the real potential only really starts kicking in once you start recruiting more and more people.
The problem with the recruitment aspect, at least as far as I'm aware, is that you'd be pushed to recruit family or friends which, if you do could potentially strain you relationships.
The bottom line is that if you truly wish to succeed and essentially become the small percentage who actually are making decent money with InteleTravel, you will need to either have the skills to recruit or be willing to learn how to do so.
They Don't Honour Their Refund Policy
The refund policy doesn't seems to be honoured very often. Within bbb I found that people who wanted to cancel their membership or wanted to get their money back through the refund policy weren't able to.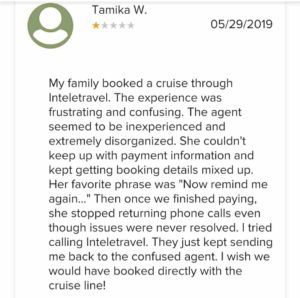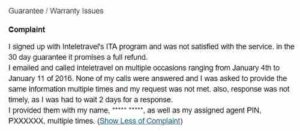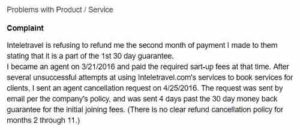 Obviously this could be a little concerning if you joined and wanted your money back or if you wanted to cancel a travel package. Either way if you're planning to buy or sell the packages, this could be a pretty big and annoying problem that you may have to face.
Commissions Are Delayed
The commissions that are meant to be paid out to members seem to always take at least 2 months to be transferred.
In fact the worst part is that you'll only be paid out on the 15th of any given month and because the payment date has to be exactly 60 days, say you made a commission on the 16th of a month, you'd then need to wait another 29 days to get your commission.
This factor doesn't make InteleTravel seem all that great even if the commission are pretty decent, I mean if you have to wait upto 3 months for a commission in some instances, that will become a very annoying thing later down the road especially if you somehow get to the stage where InteleTravel is your main source of income.
Most People Are Failing
This isn't all that surprising to me because of how often other MLM income disclosure statement seem to essentially show the same thing but, yes most people wwill likely fail with InteleTravel.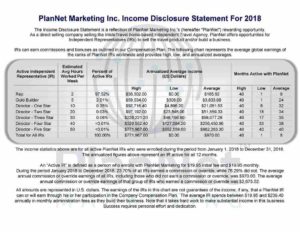 I know that the stats up depict planet marketing's affiliate's earnings but, considering both institutes are linked so closely, I doubt that the overall figures too different between the two.
The fact only 2% of members in 2018 managed to make $3.8k in a year and only 0.35% of all members made roughly a full time income of $2k/month.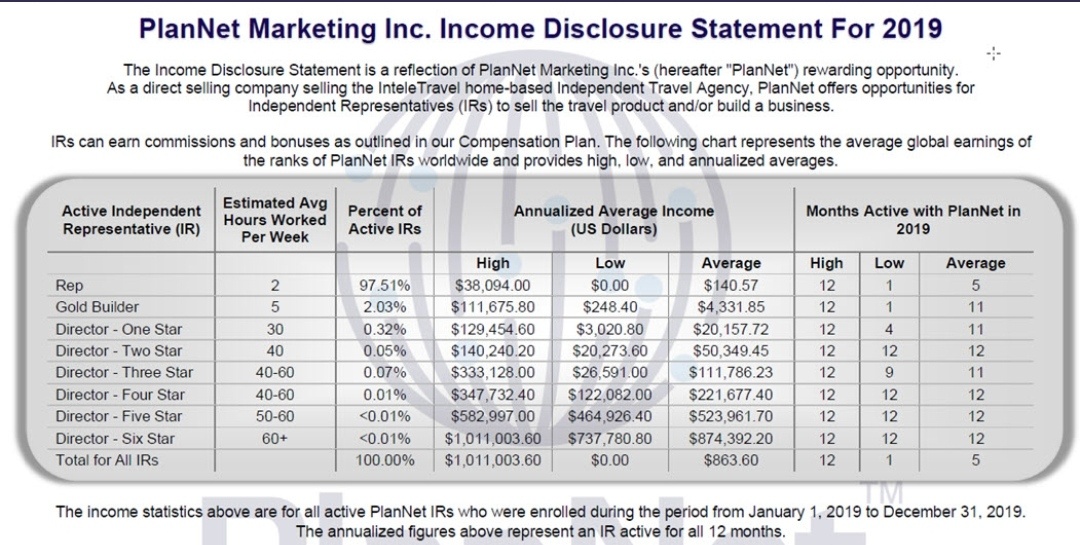 The 2019 statement isn't any different either with only around 0.5% of affiliates roughly making the minimum full time rate (in some of the lower value states that is).
This shows how becoming a travel agent for inteletravel is very unlikely to become a financially fruitful endeavour for you.

---
THE GOOD THINGS
Some Good Perks
The travel agent perks are pretty cool as are the exclusive travel packages and the personal help from the company is a nice perks too but, in order to get these perks you still need to pay around $60/month so you could even argue that its the least you should get.
Nevertheless, the perks are a good thing in my eyes.
It Has Bit Of Credibility
Being around since the early 1990's and having a really high rating of A+ on BBB definitely does add to the credibility of InteleTravel however, there are also a fair few negative elements to it.
==>Click Here To Get Access To My FREE Make Money Online Guide!<==
---
IS INTELETRAVEL A PYRAMID SCHEME/SCAM?
The good news is that InteleTravel isn't a scam or a pyramid scheme however, there are a quite a few reasons why you may still want to skip out on it.
The fact that recruitment will be essential to your success, the annoying aspect of commission payments taking at least 60 days if not more until you get paid, the problems with the refund policy and the fact most people are failing, are all good reasons to skip out on this MLM.
I personally would not recommend joining InteleTravel but, if for some reason you're still sold on it, it'll ultimately be your call.
---
MY PERSONAL RECOMMENDATION
Although MLM's have created its fair share of millionaires over the years, more often than not when it comes to training newbies and teaching them how to succeed in the biz, they tend to be very lacklustre…
This is why so many people tend to fail!
Therefore, personally I would suggest you look into creating your own brand, particularly through a website, whilst ultimately getting involved in my #1 money making method online as a result.
If you're curious as to what my #1 make money online method online is, it's affiliate marketing!
By having your own website and essentially driving targeted traffic to it, not only can you sell whatever MLM product you want, it's also possible to sell other products too without even purchasing stock.
By doing this not only would you make extra commission per sale but you also won't need to worry about fulfilling orders for customers and dealing with their potential complaints!
I've personally made over $100 in a day as a result of implementing affiliate marketing to my online business!

Here's a screenshot of one specific payment
Others have made way more than me but, the fact of the matter is that it works, which is why I would highly recommend you look into it.
If you're intrigued by the potential of affiliate marketing, I've put together a very in-depth guide diving into what affiliate marketing is, how long it takes to make your first bit of income along with how to effectively grow your online business and maintain its income.
==>Click Here To Gain Access To My Free Affiliates Marketing <==
If you have any questions that you would like to ask me regarding InteleTravel, feel free to do so in the comments section below and I will get back to you as soon as I can. If you have your own thoughts about InteleTravel and would like to talk about it, again feel free to do so in the comments.
Thanks
Amhil