Welcome to my Daily Profits review!
It's likely that you have come across Daily Profits through an email list, on social media or got it recommended by a friend or family member.
First and foremost I must commend you for actually doing a bit of extra research before committing to purchasing or joining Daily Profits. For all you could have known, Daily Profits may very well be a scam and rob you of your money so this review could help you find anything peculiar about it.
To be totally transparent with you I haven't used Daily Profits so I can assure you that I will not attempt to sell you on it unless of course it's worth investing in.
What I will aim to do is provide you with an unbiased 3rd party review of Daily Profits that will hopefully help you to make the correct decision in the end.
---
PRODUCT NAME: Daily Profits (DP)
OWNER/S: Gary Jenkins
TYPE OF PRODUCT: Dropshipping Course
PRICE: $7 + upsells
SUMMARY: Daily Profits is 100% a scam and is something that you should absolutely avoid if you're thinking about learning dropshipping or just a making money online opportunity in general.
This is because it has a bunch of clear red flags such as the overhyped and unrealistic claims, the elements of false scarcity, the fake testimonials and the fact we don't ever get to see who Gary Jenkins, this make it a clear scam in my opinion.
Therefore, I definitely do not recommend it and highly recommend you skip out on buying DP.
FINAL RATING: 0/5
RECOMMENDED: NO!!


---
WHAT IS DAILY PROFITS?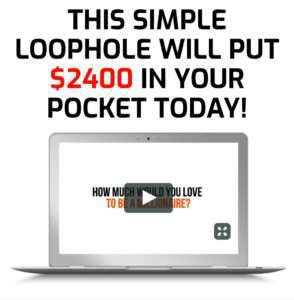 The moment that I landed on Daily Profits' sales page, it instantly reminded me of the multiple scams that I've reviewed on this site. The first thing that popped out to me was the headline. When I saw how the headline said "This simple loophole will put $2.4k in your pocket today", it became super clear that DP's intentions was to sell you on get rich quick scheme.
Of course to clarify my thoughts on DP, I decided to dig a little deeper into what the product was trying to offer. Of course I decided to give the sales pitch a listen and boy oh boy did it solidify my outlook on DP.
The first aspect the spokesperson, Gary Jenkins talks about, is how he can teach you to make at least $2.4k a day by using a little loophole, before explaining to you how he managed to make $3.4 million last year. If this isn't a get rich scheme trying to sell you a dream then I honestly don't know what is.
Anyways after that you're shown some quite clearly fake testimonials (which I'll expose a little later in the review) which claim to be making lots of money through Gary's method.
How exactly can you make these ridiculous amounts of money according to Gary?
Well… All he says is that you need to follow these 3 steps :
Have a computer or a mobile phone
Have acess to the Internet
Have the drive to succeed…
This is just a generic thing so many scams tend to say and it's further expanded by Gary saying that you only need to work 2 hours a day to get results…
Yeah… That's definitely realistic and legit…
I've reviewed a lot of products on this website such as
Which is why I believe I have a pretty good grasp on what makes a good or a bad product.
==>Click Here To Get Access To My FREE Make Money Online Guide!<==
---
HOW DOES DAILY PROFITS WORK?
The truth is that DP is only designed to line the vendor's pocket with cash and not at all to help you make money. I know that $7 to get acess to the program is very cheap but, it's highly likely that what you'll find on the other side is some outdated Pdf files or videos (possibly stolen form YouTube) that won't help you out in the slightest.
As for what the course claims to the teach you, it's dropshipping. First and foremost I do want to say that it is possible to make money through dropshipping and many people have made a profitable dropshipping/ecommerce business over the years however, the number of people who've made $2.4k, as a newbie, on their first day is probably zero or very close to that.
If you don't know what dropshipping is, it's basically the act of of selling items on an online store that you've built, usually through shopify, on a niche that you feel is profitable, like wolf mugs or lion accessories.
What you do next is source these goods from third party retailers like alibaba, aliexpress, etc. and basically sell them on your store at a higher pricetag and keep the difference in profits everytime you make a sale. That's just the basic explanation and I know it may be confusing to a few of you so, if you want a clearer explanation on dropshipping, check out the video below.
The biggest problem that I have with DP is that it doesn't give off a very realistic outlook on what you should expect to achieve within dropshipping, it makes a bunch of outlandish and get rich scheme like claims about how you can make make an insane amount of money with just 2 hours of work.
The truth is that although it probably is possible to make money through dropshipping with just 2 hours of work, it just isn't realistic to expect it from someone who's wet behind the ears (a beginner), in fact it's still unlikely tk expect quick results by more experienced dropshippers so telling people they can make $2k daily pretty easily isn't cool in my opinion.
Dropshipping has a lot of components to it such as as sourcing products, learning how to use advertising effectively, dealing with customer service, building a website and so on. There's actually a lot of time and money that you need to put in to the business in order to maybe make a full time income around 6 or so months later.
The Upsells
The main reason as to why the front end package is only $7 is because the vendor wants to first get you into his sales funnel before selling you on his really expensive products.

Although I couldn't find the exact upsells that Gary will be selling you in the members area, the above image shows that affiliates can make upto $400 at a 75% commission rate. If just do a little math it shows that the total value of all of the products found within DP amount to around $530.
That's pretty expensive and probably the main goal DP and Gary has anyways, as in to get you to buy all the upsells.


---
WHO IS DAILY PROFITS FOR?
I personally don't think anyone should get involved with DP as it clearly aims to sell itself as a get rich scheme and as you know, get rich schemes usually don't deliver on their promises and turn out to be scams in the end.
There are also a bunch of other red flags that DP displays too such as the false scarcity, fake testimonials etc. which I'll go into more detail in a bit. So yeah, definitely do not buy into the dreams that Gary is selling you because I'm certain that they aren't true and in the end you'll be left disappointed.
Are You Tired Of Working For A Boss? If So Why Not Take Your Job Into Your Hands And Work For No One But Yourself… If You Want To Do This Check Out My #1 Recommendation 
---
THE NOT SO GOOD THINGS
Overhyped And Unrealistic Claims
The claims of being able to make $2k+ a day and the claims of it being super easy to do so, only taking 2 hours a day , is severely overhyping the potential that Gary and his course has.
Why would a product that can supposedly make you $2k a day only cost you $7?
Does that even make sense? I mean wouldn't make more sense to charge more than $7 for something that can literally generate what most consider full time wages in a single day?
Of course the upsells add to the overall costs in the end but, the false bravado that it feeds you of the $7 front end package being able to solve your monetary problems is way to unrealistic a prospect.
Overhype and the unrealistic claims of DP being a get rich quick scheme is a pretty clear red flag in my eyes.
False Scarcity
Gary also tries to make you believe that there are only 8 copies available, making it seem like the opportunity that DP is offering is very scarce.

Obviously this is not true but, funnily enough it is a tactic that probably has worked in the past for the vendors and will continue to fool some of the more naive individuals who come across DP.
I don't think it's as big of a red flag as the overhyped section but, it's definitely worth mentioning.
Fake Testimonials
This probably is the nail on the head in terms of considering DP as legitimate and guessing from the fact that the testimonials used are of people from fiverr just reading a script, it's highly unlikely to be a legitimate product.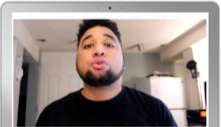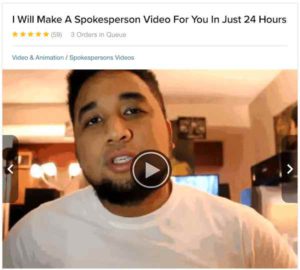 As you can see the person is clearly not a real customer who's made his fortune through DP, he's a paid for actor. Fake testimonials are actually very common amongst scams so it's not hard for me to label DP as one because it literally uses the same shady fake testimonials as other scams.
Who Is Gary Jenkins? 
We're told Gray's name in the video but we're never actually able to see his face and make out who exactly he is. This is a pretty major issue for me because because if the vendor himself isn't willing to show up and associate himself with his product, why should you trust anything he says?
I feel that the reason why the vendor is hiding behind his voice and a fake pen name (most likely) makes its really hard to trust DP and what it has to offer, even at the reasonably priced $7 front end package.
Usually when vendors don't show up within a video, it tends be because they know their product is far from great therefore, this is a another red flag that DP showcases.

---
THE GOOD THINGS
Honestly there's nothing good about DP that I can say apart from the fact that it uses a legitimate online money making method in dropshipping. Besides that, there really isn't any redeeming qualities that DP displays.
==>Click Here To Get Access To My FREE Make Money Online Guide!<==
---
IS DAILY PROFITS A SCAM?
Daily Profits is 100% a scam and is something that you should absolutely avoid if you're thinking about learning dropshipping or just learning of a method to make money online.
This is because it has a bunch of clear red flags such as the overhyped and unrealistic claims, the elements of false scarcity, the fake testimonials and the fact we don't ever get to see who Gary Jenkins is make it a clear scam in my opinion.
Therefore, I definitely do not recommend it and highly suggest you skip out on buying it.
---
MY PERSONAL RECOMMENDATION
I'd suggest you check out my personal recommendation if you still want to make money online, though I'll warn you right now, it isn't something through which money will come easy.
It is nonetheless a great business model for the online space in my opinion
So what is this method that I'm talking about?
This method I'm talking about is affiliate marketing. 
The reasons as to why I recommend it is because:
– expectations toward success are a lot more grounded
– it is a legitimate method that has been working consistently and continues to grow as more businesses want individuals to promote products
– it is a very scalable business
– and because it is free to start up, no unnecessarily large start up funds needed.
The service I recommend is Wealthy Affiliate. It's free to sign up to and will get you set up and ready to start your affiliate marketing journey within minutes, as it did for me when I begun my journey.


If you have any questions that you would like to ask me regarding DP , feel free to do so in the comments section below and I will get back to you as soon as I can. If you have your own thoughts about DP and would like to talk about it, again feel free to do so in the comments below!
Thanks
Amhil