Welcome to my Auto Chat Profits review!
It's likely that you have come across Auto Chat Profits through an email list, on social media or got it recommended by a friend or family member.
First and foremost I must commend you for actually doing a bit of extra research before committing to purchasing or using Auto Chat Profits. For all you could have know, Auto Chat Profits may very well be a scam and rob you of your money so this review could help you to figure out anything peculiar about it.
To be totally transparent with you I don't own Auto Chat Profits so I can assure you that I will not attempt to sell you this product unless of course it's worth investing in.
What I will aim to do is provide you with an unbiased 3rd party review of Auto Chat Profits that will hopefully help you to make the correct decision in the end.
---
PRODUCT NAME: Auto Chat Profits
OWNER/S: Samantha Smith??
TYPE OF PRODUCT: Affiliate marketing Chatbots software
PRICE: $37 + upsells
SUMMARY : Well this depends on what you consider to be a scam, at the very least ACP actually does have a "working software" so the product itself is real however, there are quite a few issues with it that do jump out as red flags.
The overhyped nature of the sales page, the hidden identity of the vendor, the fact you don't own the website you create, the expensive upsells that you'll be bombarded with and the lack of any training to actually get traffic to your website to me, suggests that ACP isn't really the greatest of products.
That's why I would skip it if I were you.
FINAL RATING: 1/5
RECOMMENDED: NO


---
WHAT IS AUTO CHAT PROFITS?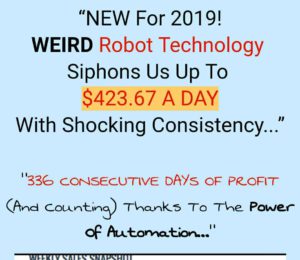 The first thing you'll notice when you get into Auto Chat Profits sales page is the really very basic layout that's akin of a scam and the bold claim of being able to siphon $423.67 a day using this "wierd robot technology".
This is also already quite a big red flag because if you're able to do that, you'll be making over $10k a month and the use of a wierd robot technique and consistency in the same sentence is kind of an obscure way to describe your product.
Anyways, the first impression regarding ACP aren't the greatest for me but, It's worth checking out the sales pitch to see if the product is actually a lot better than it looks.
From the sales page, the lady behind the mic, Samantha, says how this robot technology on offer can create a done for you website in less than "6 minutes and 14 clicks" through which you can make "consistent money" using affiliate marketing.
One positive I can take away from this is that affiliate marketing is a legitimate way to make money so ACP's method of making money, affiliate marketing, does have quite a lot of potential.
However, this set and forget method and the supposed ease in making lots of money with barely any upfront work is always very suspicious and a cause for skepticism, with ACP being no exception.
But, unlike so many other softwares and products out there, ACP actually shows you how the system works and what you'll actually be getting inside the membership area, this definitely makes it stand out from the crowd.
I've reviewed many products and services on this website such as :
So I believe I have a pretty solid grasp on what makes a good or a bad product.
Are You Tired Of Working For A Boss? If So Why Not Take Your Job Into Your Hands And Work For No One But Yourself… If You Want To Do This Check Out My #1 Recommendation
---
AUTO CHAT PROFITS' SOFTWARE
In the sales pitch you're shown how you can create a website within 6 minutes and how then you can use this done for you website to make affiliate sales through.
This is done by using ACP's robot chatbot software. How this chatbot works is that whenever you get individuals to visit your website, the chatbot will talk to them and try to convince these visitors to purchase a clickbank product that suits their requirements.
So if these visitors purchase the product recommended by the chatbot software through your affiliate link, you'll make a commission.
Beyond just this software that is sold with ACP, there are also a bunch of upsells that you may be bombarded with when you get into the members area.

As you can see there are 3 upsells that are also sold on top of the front end ACP software. These upsells total upto another $473 and with the 75% commission rate, a lot of people are likely going to buy them just because of the potential of making commissions that it has.
The high commission, to me, suggests that Samantha or whoever is the vendor behind the product, doesn't really believe in the quality of the upsells that they're selling.
At most, if a vendor thinks their products are good, I'd think they would only offer around a 50% cut but, three quarters of the whole price tag is definitely very suspicious.
---
DOES THE AUTO CHAT PROFITS ACTUALLY WORK?
Well I guess you could say that the software does have some potential however, there are quite a number of things that make it a lot less appealing, especially if you're trying to create a sustainable business through it.
The first big thing about the software is that the done for you website isn't a website that you own and because it's basically a duplicate website that pretty much everyone else is going to make if they join, the website won't rank on Google.
This means that you will need to invest a lot of money on traffic, whether it be through PPC ads or through social media. It's very possible that you could be spending hundreds if not thousands and see no leads convert into affiliate commissions.
Of course ACP doesn't provide you with any training on PPC ads so you'll have to pay for some other training or do a lot of research yourself to figure out how to create successful campaigns.
The other issue is that Clickbank isn't exactly known for having products that are always legitimate on their website therefore, there likely will be scenarios where the chat bot recommends a product to a visitor that is possibly a scam. This means that you'll be using unethical means to get commissions, which is something that I refrain from endorsing.
The problem with recommending scams, even if it's actually the software doing the job and not you, is that it could potentially hurt your brand or image in the future and you may be classified as a fraud and not a very reliable person to learn from.
So regarding the software and if it works, we'll I guess you could say it does but, there are way too many issues with it that could be concerning if you do take the plunge and purchase the software.

---
THE NOT SO GOOD THINGS
Overhyped Sales Page
The sales page, in my perspective is definitely overhyped. The claims of being able to make over $400 a day with little to no work, basically a set and go method, is clearly a sales tactic that overhypes the software that ACP is trying to sell.
Moreover, the inclusion of multiple screenshots of how much the vendor or anyone for that matter, are earning 3 or 4 figures a day is as overhyped as it gets, even though Samantha in the video says that they're not over hyping the product at all.
At least ACP haven't used fake video testimonials to make the software even more shady but, the huge paychecks are usually a cause for concern and is something that I generally do regard as a red flag, especially when there are a ton of them in one sales video.
Although, if a product actually says it isn't easy to achieve high figure incomes, I don't mind the paycheck screenshots, of course ACP does say it's easy and simple therefore I'm pretty comfortable calling it an overhyped product.
Who Is Samantha Smith?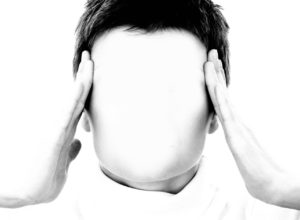 The person giving the sales talk in the video calls herself Samantha Smith however, we don't ever get to see the face behind the product.
The lack of a face behind a product is also in most cases a big red flag because if the vendors are too afraid to let their customers know who they are, it's quite likely the product or software they're trying to sell isn't very good.
Even if you did try to do some research to find out who Samantha Smith is, considering how generic the name is, you'll be hard pressed to find out who the vendor is or even if Samantha Smith actually is the vendors true name.
The Software Uses Unethical Means To Make Sales 
The software essentially talks to the visitors and depending on what they are looking for, suggests the best clickbank product for them.
However, as the software itself can't distinguish what a good or a bad product is, it probably will recommend stuff that are potential scams.
You Don't Own The Websites Meaning You Will Need To Pay For Traffic
When you create your website within the members area you don't actually own the website and on top of that the website is also likely a duplicate website meaning you can't even have it rank on Google. This means that you will need to learn how to use paid ads to bring traffic to your website.
Of course you will need to have a fair bit of money that you're willing to invest to do this. On top of that you've probably got to purchase other training to show you how to create successful campaigns for getting leads using ads and what not.
Basically what this means is that you will be spending a lot more money than just the upfront $37 to make the most of what the software has on offer.
Bombarded With Upsells
Last but not least, ACP has a few upsells that you will be bombarded with once you get into the members area. These upsells total $473 and I would guess that it's also the main money making machine for Samantha. They'll also lead you to believe it's a good place to make money for yourself considering the 75% commission per sale.
They don't really seem worth the investment so I definitely recommend you avoid these upsells although, I doubt if you've read up till now that you'll even consider purchasing the front end package let alone the upsells


---
THE GOOD THINGS
It Uses Affiliate Marketing
Affiliate marketing is very much a real way to make money online so at the very least, I can say that ACP isn't trying to sell you on an idea that just doesn't work.
Money Back Guarantee
As it's also a product you can find on clickbank, you should also be able to get your money back if you don't like what's being offered so, I guess that's another nice touch.
==>Click Here To Access My FREE Make Money Online Guide!<==
---
IS AUTO CHAT PROFITS A SCAM?
Well this depends on what you consider to be a scam, at the very least ACP actually does have a "working software" so the product itself is real however, there are quite a few issues with it that do jump out as red flags.
The overhyped nature of the sales page, the hidden identity of the vendor, the fact you don't own the website you create, the expensive upsells that you'll be bombarded with and the lack of any training to actually get traffic to your website to me, suggests that ACP isn't really the greatest of products.
I personally would recommend you avoid ACP. However, if you actually want a legitimate and a sustainable method to make money online, I suggest checking out my #1 Recommendation.
---
MY PERSONAL RECOMMENDATION
I'd suggest you check out my personal recommendation if you still want to make money online, though I'll warn you right now, it isn't something through which money will come easy.
It is nonetheless a great business model for the online space in my opinion
So what is this method that I'm talking about?
This method I'm talking about is affiliate marketing.affiliate marketing.
ACP does mention affiliate marketing but it doesn't necessarily show you how to create a sustainable business through it or the benefits of it. The reasons as to why I recommend it is because:
– expectations toward success are a lot more grounded
– it is a legitimate method that has been working consistently and continues to grow as more businesses want individuals to promote products
– it is a very scalable business
– and because it is free to start up, no unnecessarily large start up funds needed.
The service I recommend is Wealthy Affiliate. It's free to sign up to and will get you set up and ready to start your affiliate marketing journey within minutes, as it did for me when I begun my journey.


If you have any questions that you would like to ask me regarding ACP , feel free to do so in the comments section below and I will get back to you as soon as I can. If you have your own thoughts about ACP and would like to talk about it, again feel free to do so in the comments below!
Thanks
Amhil