Welcome to my Super Affiliate Secrets X review!
It's likely that you have come across Super Affiliate Secrets X through an email list, on social media or got it recommended by a friend or family member.
First and foremost I must commend you for actually doing a bit of extra research before committing to purchasing or joining Super Affiliate Secrets X. For all you could have known, Super Affiliate Secrets X may very well be a scam and rob you of your money so this review could help you find anything peculiar about it.
To be totally transparent with you I haven't used Super Affiliate Secrets X so I can assure you that I will not attempt to sell you on it unless of course it's worth investing in.
What I will aim to do is provide you with an unbiased 3rd party review of Super Affiliate Secrets X that will hopefully help you to make the correct decision in the end.
---
PRODUCT NAME: Super Affiliate Secrets X (SAS)
OWNER/S: Misha Wilson
TYPE OF PRODUCT: Affiliate program
PRICE: $47 + upsells
SUMMARY: I personally do think that SAS is a scam because of all the misleading tactics used by it and just the way in which the main product, SAN comes across as.
The overhyped claims, the use of unethical and misleading marketing tactics, the low income potential, the fact that the actual program SAS is a pay to play affiliate program and that SAN is essentially a done for you system are all major red flags and the reasons why I consider SAS a scam and the reasons why you should 100% avoid it.
FINAL RATING: 1/5
RECOMMENDED: NO


---
WHAT IS SUPER AFFILIATE SECRETS X?
The moment that I landed on Super Affiliate Secrets X's sales page it instantly reminded of the layout of the multiple scans that I've reviewed before.
The headline alone really tries to stick out and grab your attention using the term "weird commission loophole" before revealing the supposedly really high income potential of $1k/day.
I've seen many products use a similar headline in their sales pages revealing the potential that they have yet, when you dive into the sales pitch, everything just becomes too good to be true. Of course SAS isn't any different from most scams I've reviewed.
The beginning of the video starts off with some testimonials which come off as fake especially because it just sounds so monotonous and really weird. Then the spokesperson Keysha goes on to talk about all the things she's been able to after discovering this controversial secret.
She explains how she's made lot of money using this system and how you can do it too risk free…
Products like this that claim to be able to make you get rich quick tend to be schemes that are too good to be true and as the famous saying goes, if something is too good to be true, it usually is.
I've reviewed a lot of products on this website, both good and bad such as :
That is why I do believe I have a pretty solid grasp on what makes a good or a bad product.
==>Click Here To Access My FREE Make Money Online Guide!<==
---
HOW DOES SUPER AFFILIATE SECRETS X WORK?
After doing a little bit of research on the product I found out that the SAS's sales page is actually a landing page for another product created by Misha Wilson called the Super Affiliate Network.
The sales page as a whole doesn't seem very trustworthy at all so the fact that this individual named Misha is actually attaching his name to it is a little weird in my opinion.
Anyways, you're probably a little curious about how his Super Affiliate Network (SAN) works right? Well firstly it's actually a high ticket affiliate program /course that has a primary goal of having you recruit members into your team in order to make money off of them once they purchase a program within the system.
One thing that's a major red flag here is that you actually need to purchase all of the high ticket items yourself before you'll be eligible to make a commission through a sale meaning, you'll need to invest a very large amount before you can even think about making the most of out of the system.
The reason why I consider this a red flag is because companies like MOBE and digital altitude, whom actually used this pay to play system, were shut down by the FTC and flagged as pyramid schemes.
SAN uses a very similar shady model so you should definitely be wary of it.
Anyways, I'm sure you're wondering how exactly you're taught to promote SAN?
As it turns out, Misha actually recommends that you use his very misleading sales pages just like SAS to hopefully entice individuals in buying into SAN and eventually get roped into the cycle of buying all his thousands of dollars worth of uspsells.
This is a strategy that I really don't like and even though it has proven to be profitable for some companies out there, I'm highly against using misleading and false information to promote a product even if it can make you good money.


---
WHO IS SUPER AFFILIATE SECRETS X FOR?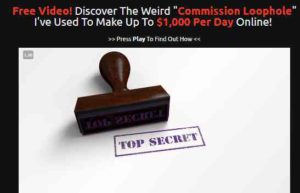 I personally don't think anyone should get involved in SAS or SAN because of how shady the methods they use to promote the program are. SAS isn't the first misleading landing page that Misha has advised his members to use and likely won't be last.
There are a lot of red flags present within the sales page and within the actual product as well which I'm going to mention down below.
Are You Tired Of Working For A Boss? If So Why Not Take Your Job Into Your Hands And Work For No One But Yourself… If You Want To Do This Check Out My #1 Recommendation
---
THE NOT SO GOOD THINGS
Overhyped Claims
The sales pitch seems to really overhype the potential of the system in question, which is something that is actually quite common with a lot of products that eventually turn out to be scams.
The use of multiple "testimonials" in the beginning of the video kind of add to this overhyped nature of SAS. Within the sales video Keysha only tells you what you want to hear and not what's realistic for the majority.
I mean come on, do you really think makeling $1k a day is possible especially for a newbie?
Yeah me neither.
Although technically speaking affiliate marketing as a business model does have the potential to make that kind of money, in reality it's just very very unlikely that most people will achieve huge results like that when starting out.
This one red flag is definitely worth taking into consideration before spending your hard earned money.
SAS Is A Landing Page For Another Product
SAS actually isn't even the main product being offered within the sales page, the actual product is another program called Super Affiliate Network which is, as I've said already, a high ticket affiliate program.
The use of this misleading marketing tactic (you know the use of a a false name) isn't something that makes SAS seem like a very trustworthy product to get involved with.
Even within the disclosure, the product seems to be using yet another name, this time being called Profit Short Cuts. The problem here is that SAN and Misha actually encourages his members to use these misleading marketing tactics to drive people to his system, which is definitely not a very ethical way to promote a product, in my opinion at least.
There could be some potential in SAN but, the use of a false landing page seems to me like it's only done to avoid any attachment with criticism that SAN has received from others in the past.
Of course this is another pretty major red flag regarding Misha's product.
It's A Done For You System
Done for you system tend to be very poor products so, the fact that SAN is a done for you system, that has the aim of teaching you how to promote SAN itself and not help you create your own sustainable business, doesn't really make it the most appealing of opportunities, in my opinion, to recommend.
Don't get me wrong, not all done for you systems are bad but, when a system is completely focused on only promoting itself over actually providing you with a skill set to create something sustainable, it doesn't tend be a very good prospect to look into.
If for example SAN were to go under and you were solely reliant on it, without any tools to help you make it by promoting other products or services, you'd be left dead in your tracks, more than likely needing to spend more money to find something that actually does teach you a skill set and not spoon feed you something that isn't a completely sustainable online model.
That's just my 2 cents, you might think differently so take this point as you will.
Pay To Play System
It's a pay to play system meaning you actually need to spend money on all of the courses with SAN, which incidentally adds up to thousands, before you can start making money off of everything that the system has to offer.
I'm not really comfortable recommending something that has a pay to play system purely because it's something that's been associated with pyramid schemes like Mobe.
I personally consider this to be a red flag especially when the products that you may be persuaded to buy are worth thousands of dollars.
Low Income Potential
At the bottom of the sales page there's actually a income disclosure statement that shows how well the members of SAN are doing and we'll. .. It's not looking very positive.

As you can see in the income statement shows how less than 1% of all members are making any money at all which means that it's highly unlikely that you'll not be making anything either.
Obviously the low income potential means that taking on the opportunity is going to be a major risk.

---
THE GOOD THINGS
There's honestly nothing good about SAS as it's merely a front for another product which also isn't all that a great system either. I guess you could say that affiliate marketing is a legit way to make money and that it has a 30 day refund policy but, besides those two elements, there's nothing good going for SAS at all.
==>Click Here To Access My FREE Make Money Online Guide!<==
---
IS SUPER AFFILIATE SECRETS X A SCAM?
I personally do think that SAS is a scam because of all the misleading tactics used by it and just the way in which the main product, SAN comes across as.
The overhyped claims, the use of unethical and misleading marketing tactics, the low income potential, the fact that the actual program SAS is a pay to play affiliate program and that SAN is essentially a done for you system are all major red flags and the reasons why I consider SAS a scam and the reasons why you should 100% avoid it.
---
MY PERSONAL RECOMMENDATION
I'd suggest you check out my personal recommendation if you still want to make money online, though I'll warn you right now, it isn't something through which money will come easy.
It is nonetheless a great business model for the online space in my opinion
So what is this method that I'm talking about?
This method I'm talking about is affiliate marketing. 
I know that SAS's wholesale-jewelry business model revolves around affiliate marketing but, as I said, it doesn't teach you how to create a sustainable business unlike my #1 recommendation. The reasons as to why I recommend it is because:
– expectations toward success are a lot more grounded
– it is a legitimate method that has been working consistently and continues to grow as more businesses want individuals to promote products
– it is a very scalable business
– and because it is free to start up, no unnecessarily large start up funds needed.
The service I recommend is Wealthy Affiliate. It's free to sign up to and will get you set up and ready to start your affiliate marketing journey within minutes, as it did for me when I begun my journey.


If you have any questions that you would like to ask me regarding SAS , feel free to do so in the comments section below and I will get back to you as soon as I can. If you have your own thoughts about SAS and would like to talk about it, again feel free to do so in the comments below!
Thanks
Amhil