Welcome to my Easy Cash Club review!
It's likely that you have come across Easy Cash Club through an email list, on social media or got it recommended by a friend or family member.
First and foremost I must commend you for actually doing a bit of extra research before committing to purchasing or joining Easy Cash Club . For all you could have known, Easy Cash Club may very well be a scam and rob you of your money so this review could help you find anything peculiar about it.
To be totally transparent with you I haven't used Easy Cash Club so I can assure you that I will not attempt to sell you on it unless of course it's worth investing in.
What I will aim to do is provide you with an unbiased 3rd party review of Easy Cash Club that will hopefully help you to make the correct decision in the end.
---
PRODUCT NAME: Easy Cash Club (ECC)
OWNER/S: "Steve"
TYPE OF PRODUCT: Video generating software
PRICE: $37 + upsells
SUMMARY:I personally do not think that ECC is a scam but, I can see why some people may think it is. The reason I don't believe it to be a scam is because there is actually a legitimate product on the other side of the payment.
The red flags that may deter you from buying the software include the overhyped claims, the false scarcity, the fake testimonials, the fact we don't even know who Steve is and that ECC makes YouTube seem easy when in reality it's a lot harder than it looks even with the software.
I would suggest you avoid ECC but, the final decision is yours to make.
FINAL RATING: 1.5/5
RECOMMENDED: NO


---
WHAT IS EASY CASH CLUB?
The moment I landed on Easy Cash Club's sales page, it instantly gave off vibes of being a not so trustworthy looking product but, I still dived a little deeper into what the sales video was trying to sell.
In the video we find out that the creator of the product is some fellow called Steve who is a supposed programmer and multi millionaire as well as some one who generates over $2k/day using this software of his.
He claims that this software is so easy that even your 70 year old grandma can use it. At that point of the video I did start getting a little suspicious as scams tend to promote their products in this way.
Steve then goes on to explain how his life has gotten so much better since he became a "multimillionaire" and that now he literally only works 30 minutes a day, using his automated software, to generate thousands on a daily basis.
So what is this automated software that ECC is trying to sell you. Well… It's actually a software that allows users to create automated videos for YouTube so that you can make money through views and other avenues within YouTube's algorithm.
Using YouTube is definitely a very legitimate way to make lots of money online, I'm sure you know that there are quite a few individuals on YouTube who make 8 figures a year so it is very lucrative however, to me, it does seem as if Steve is only really telling you what you want to hear and what is realistic.
I've reviewed a lot of products on this website such as :
That's why I believe I have a pretty solid grasp on what makes a good or bad product.
==>Click Here To Access My FREE Make Money Online Guide!<==
---
HOW DOES EASY CASH CLUB WORK?
In the sales pitch Steve says that his program doesn't require you to actually be in front of the camera or even use your own voice over to talk over the images, instead his software actually reads a script that you've written out and essentially acts as the voice for the content you want to make into a video.
As for the images that you want, you just stick them into the software too and it'll organsie them to fit in with the video.
After that you just download the video and you should be good to go. Of course you'll still need to create a YouTube channel and you'll also need to mess around with the tags and the description in which you can place any affiliate links for products that you're recommending
I'm sure you've come across some of these videos on YouTube, probably in a top ten list or something along those lines and seen that they've generated thousands of views.
So what this means is that these kinds of videos do have a lot of potential but, due to YouTube updating certain aspects of their criteria, making hundreds. or even thousands doing this right off the bat, as Steve suggests, is just not going to happen, especially with the adsense aspect of it.
This recent update requires that a channel must have 1000 subscribers and 4000 hours watch time, at the very least, to be eligible for adsense.
Of course the affiliate marketing aspect of the system does mean you could still make some decent money using the software, although not to the thousands on a daily basis kind of numbers.
The truth is that video marketing is a very profitable endeavour to get into but, like most things out there, it requires a lot time investment before you'll actually start to bear the the fruits of your labour.
Nothing that promises you can get rich quick, especially claims that suggest that you can make thousands today, tend to be very legitimate.
The Upsells
Along with the up front software, ECC has a few other upsells on offer. This is a pretty normal thing to expect so it's not really very surprising that Steve has other products on offer worth a few times more than the front end package as upsells.

As the image above shows, the first upsell costs $97 + $17/month afterwards, the second one costs $77 and the final one costs $47. All of these packages are more expensive than the front end package and add up to over $200.
Admittedly ECC doesn't have the most expensive of upsells available but, I'm pretty sure that a lot of the more valuable information is going to be found within them.


---
WHO IS EASY CASH CLUB FOR?
This does depend on you but, in my perspective there are quite a few red flags which may not make ECC a very appealing software to purchase.
Although it does seem like a tool that could possibly help you make good money, the fact that it's so overhyped and the lack of a few other elements which I'm going to mention below, make it hard for me to absolutely recommend it.
The idea behind the software in nevertheless quite nice but, if it's worth buying is debateable.
Are You Tired Of Working For A Boss? If So Why Not Take Your Job Into Your Hands And Work For No One But Yourself… If You Want To Do This Check Out My #1 Recommendation
---
THE NOT SO GOOD THINGS
Overhyped Claims
The video pitch definitely does overhype the potential and the sales page also adds fuel to the fire by claiming it's possible to make $379 per day using the software.
Steve makes it seem as if you can start generating money really quickly, even going as far as to say it's the quickest way to generate money online, these claims to me, just don't make the software in question the most trustworthy of things.
Whenever something suggests that it's possible to make money quickly, like a get rich scheme, the product in question tends to not be very reliable because in my experience and from others who have actually found success doing whatever they're doing online, have taken a year or more before they genuinely start making good money.
I'm not saying that's how long it'll take you but, it will take a lot of work and effort on a consistent basis before you'll reach success.
That's just my two cents.
False Scarcity
Near the end of the video Steve says that he only has a limited number of licences available for his software, this is said to try and entice some off the more naive or gullible individuals to jump at the idea of buying the product in fear of missing out.
Obviously this scarcity thing isn't true, it's just a way to get more sales, which I'm pretty sure is Steve's ultimate goal anyways.
Fake Testimonials
In order to see if the testimonials on the sales page were actually real, I did a little bit of research on the images used and what I found was that they were actually images that have been used for multiple other websites.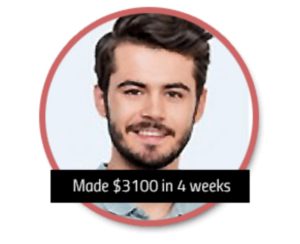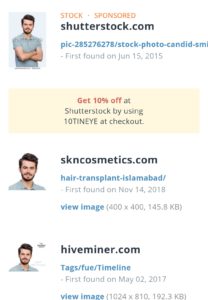 This to me kind of shows that the testimonials are highly unlikely to be real and even if they are real, the fact the image is something that's been used within multiple websites, the same image that is, doesn't really make the testimonial all that reliable.
Who Is Steve?? 
In the sales page we're told that the name of the narrator is Steve however, the problem here is that the name Steve doesn't really tell us very much about who the vendor is. The fact we're not even shown an image or even the full name of the vendor strikes me as a red flag.
Usually when a product is legitimate, the creator is more than happy to attach their face to the software or product in question and even accept any negative backlash that comes their way.
The fact we're not shown a face here is a red flag in my opinion because this means the vendor doesn't have to worry about being exposed or anything along those lines if they run away with your money.
Of course there's a chance that the vendor is a good guy but, it's still not a good look for ECC that the creator isn't even willing to show their face.
YouTube Isn't As Easy As It Looks
Last but not least, as of most recently due to the the minimum requirements to get accepted for adsense being at a minimum of 1000 subscribers and 4000 hours of watch time, making money through just views isn't going to be very easy.
Yes the strategy of creating videos on a regular basis can help but, as is the case with anything that you're going to grow organically, you'll still need to put in quite a lot of work to make any kind of money.
You'll need to find niche topics to delve into and you've got to produce content on a very regular basis if not everyday if you want success.
Although Steve says it takes 60 seconds to be up and running, the core element for the video, which is the script, will take time to write down, which means you've got to do research on topics you want to talk about anyways so, in reality it'll take a lot more than 60 seconds to get a video done.
In short it's a lot harder than it looks so do keep this in mind if you decide to buy ECC's software.

---
THE GOOD THINGS
Using YouTube Video Marketing Is Genuinely Profitable
Video marketing is definitely a very profitable endeavour. You don't need to be one of the biggest channel on the platform to be making lots of money, in fact you could definitely achieve $10k a month if not more with smaller channels.
In the end of the day YouTube is the second biggest search engine in the world, just behind Google, so there is a lot of untapped potential in it if you do decide to try and make it work.
You just need to find the right startegy that is consistent in the amount of views and money it generates.
==>Click Here To Access My FREE Make Money Online Guide!<==
---
IS EASY CASH CLUB A SCAM?
I personally do not think that ECC is a scam but, I can see why some people may think it is. The reason I don't believe it to be a scam is because there is actually a legitimate product on the other side of the payment although I can't tell you if it's very good because I've not used it myself.
The red flags that may deter you from buying the software include the overhyped claims, the false scarcity, the fake testimonials, the fact we don't even know who Steve is and that ECC makes YouTube seem easy when in reality it's a lot harder than it looks, even with the software.
Of course video marketing and YouTube as a whole is a still a very profitable endeavour however, whether the software is worth your money is an entirely different ball game.
I personally would recommend you skip ECC but, in the end of the day the final decision is yours to make.
---
MY PERSONAL RECOMMENDATION
I'd suggest you check out my personal recommendation if you still want to make money online, though I'll warn you right now, it isn't something through which money will come easy.
It is nonetheless a great business model for the online space in my opinion
So what is this method that I'm talking about?
This method I'm talking about is affiliate marketing. 
The reasons as to why I recommend it is because:
– expectations toward success are a lot more grounded
– it is a legitimate method that has been working consistently and continues to grow as more businesses want individuals to promote products
– it is a very scalable business
– and because it is free to start up, no unnecessarily large start up funds needed.
The service I recommend is Wealthy Affiliate. It's free to sign up to and will get you set up and ready to start your affiliate marketing journey within minutes, as it did for me when I begun my journey.


If you have any questions that you would like to ask me regarding ECC , feel free to do so in the comments section below and I will get back to you as soon as I can. If you have your own thoughts about ECC and would like to talk about it, again feel free to do so in the comments below!
Thanks
Amhil