It's likely that you have come across Stream Energy through an email list, on social media or got it recommended by a friend or family member.
Is Stream Energy a scam? Is it just another energy based pyramid scheme? There's every reason to be skeptical because MLM companies don't have the best reputation in terms of the business opportunity that they tend to have on offer and honestly, I can see why you'd be skeptical about Stream Energy too!
First and foremost I must commend you for actually doing a bit of extra research before committing to purchasing or joining Stream Energy. For all you could have known, Stream Energy may very well be a scam and rob you of your money so this review could help you find anything peculiar about it.
To be totally transparent with you I haven't used Stream Energy so I can assure you that I will not attempt to sell you on it unless of course it's worth investing in.
What I will aim to do is provide you with an unbiased 3rd party review of Stream Energy that will hopefully help you to make the correct decision in the end.
---
PRODUCT NAME: Stream Energy
OWNER/S: Mark Schiro
TYPE OF PRODUCT: Energy provider MLM
PRICE: $329 + $29/Month
SUMMARY: Stream Energy Is neither a pyramid scheme nor a scam but it's also not the best company in terms of the opportunity they provide. The services they have on offer are fairly solid however, the low chance of making anything decent or making a full time income being way less than 5% according to their income statement, probably means you'll fail with Stream Energy toom
It's a fairly good company but the high likelihood of failure just doesn't make it one of the top opportunities, in my opinion, to make money from whether it be offline or online. I'd suggest giving it a pass but if you think you have the skillset to make it work, the stage is all yours.
FINAL RATING: 1.8/5
RECOMMENDED: NO


---
WHAT IS STREAM ENERGY?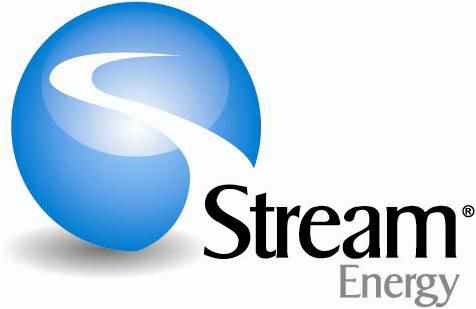 Stream Energy is an MLM company that focuses on the aspect of providing energy for their clients whether it be natural gas, electricity or both. It was founded by Mark Schiro in 2005 and has been around for a fair while, pretty much crossing the 14 year mark this year.
Due to how long Stream Energy has been in the market, they've also added more products /services to their line and are a pretty big company to boot.
==>Click Here To Access My FREE Make Money Online Guide!<==
---
STREAM ENERGY'S PRODUCT LINE
Stream energy provide a variety of services for there customers whether they decide to join to save money for the energy based services or as an initiation of sorts to become one of their members.
The services they provide include :
Energy : This includes savings plans for both electricity and natural gas supplies. Unfortunately this service isn't available in every US state 
Phone Plans : Stream offers cell phone plans with Wi-Fi and data coverage for both individual and shared plans. The phone services are available all across the United States 
Protective : This is an all-round protection service, which includes the likes of roadside assist, credit monitoring and medical cover.
Home Services : This includes digital voice services, the ability to access your home from anywhere with smart safety alerts, as well as a smart thermostat for energy savings.
These are fairly typical services for most energy based MLM's, in fact ACN and Ambit more or less offer the same services to their customers.
Of course the reason why most people will change providers is to save money and that's what Stream aim to do, in terms of the prices, the amount you pay will vary depending on where you're located however, the one constant is that the payments will be done in a monthly format.
If You'd Rather Spend Less And Make A Full Time Income My #1 Recommendation Is Probably The Best Way To Go So Why Not Check It Out! 
---
DOES THE PRODUCT ACTUALLY WORK?
In order to see if the services are actually any good I did a bit of research on what others thought of the quality of service offered by stream and this is what I found…
In BBB, for the most part, people who have actually used the services haven't really had any bad experiences with the provision of the energy. Dale T said that it wasn't necessarily the cheapest option out there but for him, it was definitely a lot more reliable than the services provided by other companies.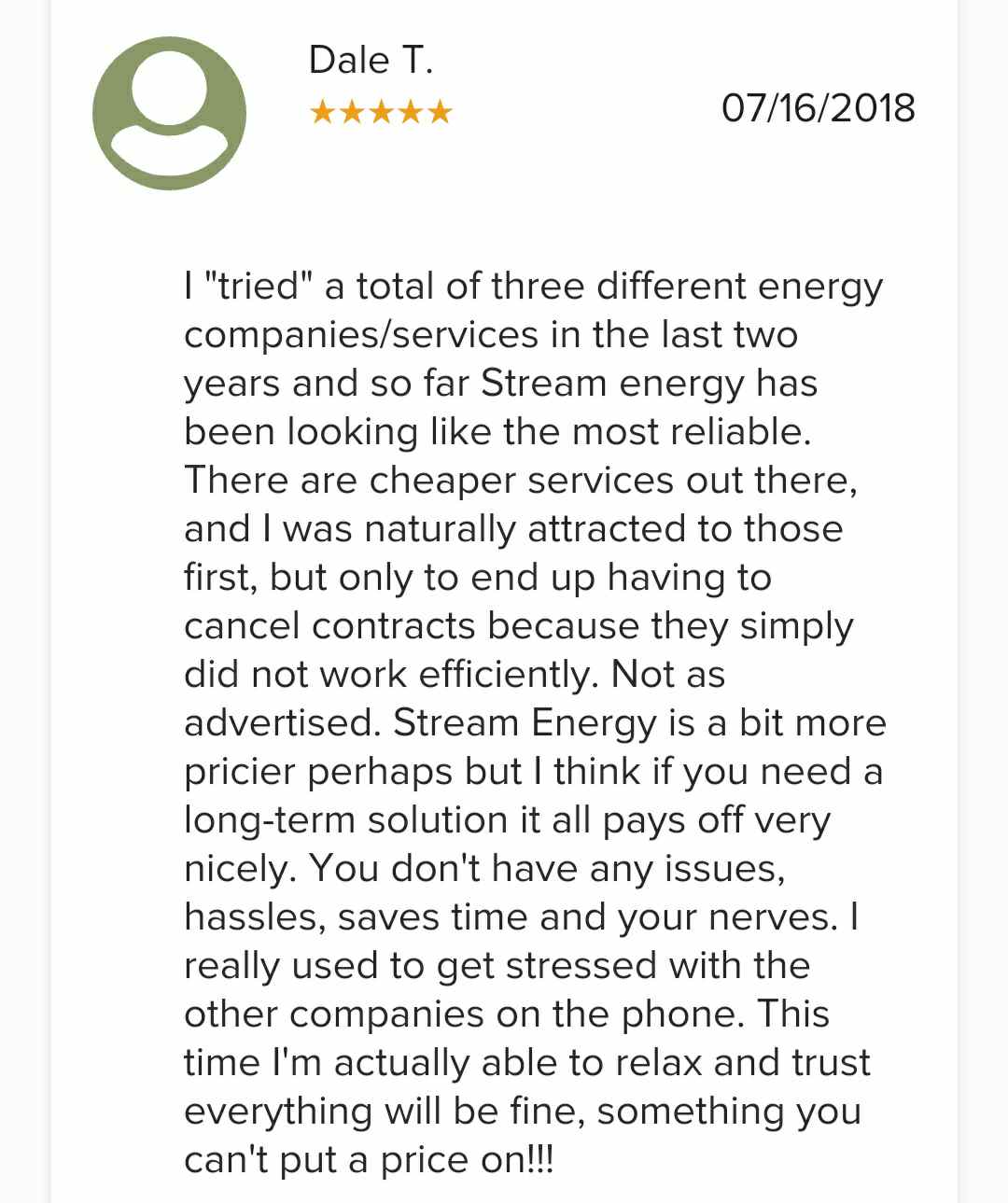 Some customers have had issues with miscommunication which caused some issues regarding the increase in the amount for their bills in the end of the month.
In general Stream Energy seem to be a reliable energy provider so if you're planning on promoting the company but were worried about the quality, the quality as it turns out is pretty top notch so, there's nothing really to worry about.

---
HOW DO YOU MAKE MONEY THROUGH STREAM ENERGY?
As is the case with pretty much all MLM businesses there are 2 ways to make money with them, Stream Energy being no exception.
1. The first method is by directly selling the product to other individuals and in return make a commission for the sales
2. You make money through your recruits and downline, by getting residual income by following and meeting certain criteria as well as make money through bonuses and incentives due to meeting company set goals.
---
HOW TO GET STARTED
If you're serious about joining, there are a few things that you will need to do in order to become an official Stream Energy sales associate.
Of course the first thing you'll need to do is sign up for the company, this is something that you should be able to accomplish through their website. Afterwards you'll need to pay a couple of fees.
The first fee is the registration fee and this is going to set you back a steep $329…
Then after this you will need to pay another $29/month for you account administration. 
So in total, not including any advertising, any mandatory commission requirements or other miscellaneous fees, you'll not only be paying a steep $329 just to set up your account but you'll also be paying a further $348 because of the administration fee over the time frame of a year.
Although when compared to so many other MLM's like Forever Living or Nerium, the overall price from Stream isn't all too bad however, this doesn't mean that a minimum of $677 a year is cheap, it's just about acceptable in my eyes.
Do You Want To Make A Full Time Income Just As Many Have Been Doing For Decades, If So Check Out My #1 Recommendation
---
COMPENSATION STRUCTURE
All MLM's have a compensation plan so it shouldn't be too surprising that Stream Energy has one too. In order to be eligible for commissions within Stream Energy, you will need to enrol at least 3 people. I'm not going to lie, this task could be pretty difficult.
If your family and friends are cool with switching energy providers, this may not be hardest of tasks but, if they don't want to switch, you've got to find some other way of doing this whether it be finding people face to face or online.
The compensation plan has a few ways through which you'll be able to make money through Stream Energy.
Personal Customer Bonus
This is basically a bonus that you'll receive when ever you reach certain recruitment and ranking goals. For example if you manage to sign up 10 people personally into Steam's eco system you'll receive a bonus of $500. The bonuses for these goals only last for 120 days and can earn a maximum amount of $1200.
Team Customer Bonus
This is a bonus that you'll receive everytime one of your personally sponsored refferal manages to sign up 3 people under them. As long as you're a qualified director or above, you should be able to make $100 everytime this happens.
You can also earn team customers bonuses for reaching certain leadership and sales commitments as well. The image below basically explains the bonuses.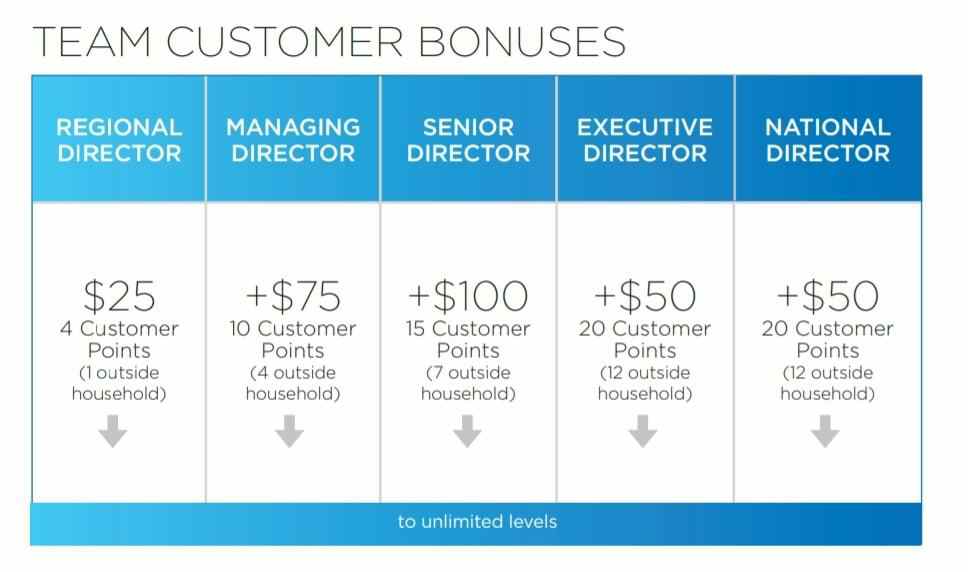 Monthly Earned Income
This is the income you'll earn from every person who is actively using Stream Energy's services. This amount is paid out on a monthly basis.
There are also other bonuses and incentives that you can be eligible for if you reach ranking criteria. These can be anything from getting a 12 month lease on a Mercedes or other monetary stuff.
I do think that the compensation structure is a little hard to get your head around but, there's no question about it, in order to make it with Stream Energy you will need to learn it.
If you want a more In depth look at the compensation plan click here or check out the video below.

---
THE NOT SO GOOD THINGS
You Need To Be Good At recruitment To Succeed
This is pretty typical for most MLM's, the only way to really make the most money is through recruiting. Of course in this case the best way to make money would be through getting people to sign up for the energy services however, if you can't recruit at least 3 people, you won't be able to make any money at all.
So in order to even get access to the ability to earn you will need to recruit at least 3 people and if you're no good at that, you're going to struggle.
The fact of the matter is that you won't really make much from just your direct referrals or as a qualified director. In order to make the most money you will need to recruit a lot of people just so you can be eligible to earn up till the 5th level and in turn have the most potential to make money.
Direct customers will only be making you around $0.25 and the amounts become a lot more generous the further in levels your downline gets.
How do you think you'll be able to get to the 5the level in this structure?
That's right, by recruitment and I can tell for sure that recruiting isn't going to be something that is easily going to be accomplished.
Confusing Compensation Structure
I'm not going to lie, getting your head around this compensation plan isn't going to be easy whatsoever. In reality the whole plan itself is actually very short, there aren't too many different areas to learn however, the important and arguably the area with most monetary potential (The Monthly Earned Income) is not the easiest thing to wrap your head around.
So yeah, I think the whole plan is a little confusing, you might think differently.
Most People Are Failing
This isn't the most surprising of things, at least to me as I've seen many MLM's like Melaleuca, Youngevity, Xyngular and Usana which all pretty much show the low success rates for most associates. Stream Energy's income disclosure statement doesn't really really stray very far at all from the norm.

As you can see here no rank within Stream Energy besides the top actually has a minimum income, the rest show that at least one person within any of the ranks within Stream Energy are making money.
The other thing that may surprise you is that only 1.43% of people are doing alright with this company making $3548.06 a year. This is enough to make a little bit of sideincome but definitely not enough to make a sustainable living.
It's once you've reached the top 2 ranks where the average income you make will be sufficient to make a full time living but, only 0.1% of all members are able to reach those ranks. 
I'm sure that you realise now that it definitely isn't going to be easy to make it to that level as only a tenth of a percent were able to crawl their way up to it.
Of course I'm not saying it's impossible to do it but it sure as hell ain't going to be even slightly easy to do.
Do You Want To Learn How To Make A Full Time Income Online From A Community Full Of 1000's Of Experts? If You Do Want To Check Out My #1 Recommendation
---
THE GOOD THINGS
The Customers Feel That Stream Energy Provide A Reliable Service
The energy services that Stream Energy provide for their customers, for the most part seem to be reliable and generally affordable too.
There are instances where some customers weren't too happy about the communication or even the aspect of being to cancel but, theses issues aren't really common occurrences.
It's Been Around A While
Being around for essentially 14 years isn't a feat many companies can achieve so the fact that stream energy has managed to do so definitely gives quite a bit of credibility to it, for certain more so than other younger MLM's out there.
==>Click Here To Access My FREE Make Money Online Guide!<==
---
IS STREAM ENERGY A PYRAMID SCHEME/SCAM?
No, Stream Energy is not a pyramid scheme or a scam, it's a legitimate MLM that much like all other MLM's has a few underlying problems that most network marketing companies tend to have.
Firstly the things that are good about Stream is that they do have a fairly reliable energy service and the fact that it's been around for 14 years does give it a a fair bit of credibility however, in my opinion the problems that plague it are going to be a bigger reason as to why you should avoid joining.
You will need to be good at recruiting and getting customers as that's the only way to really make the most out of Stream however, because of how small the monthly recurring commissions are, you'll probably need to recruit even more aggressively than you would need to in other MLM's.
This necessity to recruit so many people is also why the success rate is abysmally low with only the top 0.1% making anything worth taking note of in terms of the average income per individual.
Yes the company has produced a few millionaires and it's quite possible you may reach the same heights yourself however, you've got to ask yourself, do you realistically thing you'll be able to reach the second highest rank (at the very least) and do you think you've got enough skill to recruit lots and lots of people?
If you've got the skill set in place or if you're willing to dedicate most of your time learning sales strategies, using the Internet to accumalte leads and really just getting stuck in, Stream Energy may just be worth a shot. If you're not up for doing this, I'd advise that you look elsewhere.
Stream Energy in my opinion isn't a bad company but, for what I've seen within the income statement, it's definitely among the hardest MLM's that you'll be able to make work.
---
MY PERSONAL RECOMMENDATION
I personally will always recommend against using a MLM business model to make money, not because you can't make money through it (you totally can) but, the system has always seemed shady to myself and is kinda synonymous with the likes of a pyramid scheme or scams (MOBE and Digital altitude).
Instead I prefer working with something created through ones own means and is ultimately dependent on yourself and your work ethic alone.
This method I'm talking about is affiliate marketing. 
The reasons as to why I recommend it over MLM based structures are because
– there is no need to recruit constantly
– it is a legitimate method that has been working consistently and continues to grow as more businesses want individuals to promote products
– and because it is free to start up, no unnecessarily large start up funds needed.
The service I recommend is Wealthy Affiliate. It's free to sign up to and will get you set up and ready to start your affiliate marketing journey within minutes, as it did for me when I begun my journey.


If you have any questions that you would like to ask me regarding Stream Energy , feel free to do so in the comments section below and will get back to you as soon as I can. If you have your own thoughts about Stream Energy and would like to talk about it, again feel free to do so in the comments.
Thanks
Amhil