It's likely that you have come across ACN through an email list, on social media or got it recommended by a friend or family member.
Is ACN a pyramid scheme?
They may have told you how it's possible for you to make money everytime someone just calls using a phone, watches TV or even everytime they top up their gas as long as you manag to sign them up.
It seems appealing right, afterall everyone needs gas or uses the internet, joining  ACN would be a no brainer right? Well… I don't know about that…
First and foremost I must commend you for actually doing a bit of extra research before committing to buying into ACN. For all you could have known, the product line and it's entire money making could be a scam so I commend you putting yout head down and doing some research of your own.
To be completely transparent with you, I am not personally associated with ACN so I can assure you that I won't attempt to sell you anything, unless of course it's worth investing in.
What I do aim to do is provide you with an unbiased 3rd party look at ACN that will hopefully help you make the correct decision in the end.
---
PRODUCT NAME: ACN, LLC (formerly ACN, Inc.)
OWNER/S: Robert Stevanovski, Greg Provenzano, and twin brothers Anthony and Michael Cupisz (Founded in 1993)
TYPE OF PRODUCT: Telecommunication MLM Company
PRICE: $499 to start + $39.99/month + $149/year
SUMMARY: ACN is a decent MLM company, above average in fact however, it has a few major flaws, (mainly it's small commissions) that makes it hard to recommend. I won't deny in saying it's better than the majority of MLM companies in the eco system but even if that is the case I still recommend you not to become an ACN member.
FINAL RATING: 2.3/5
RECOMMENDED: NO
---
WHAT IS ACN?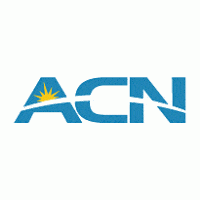 ACN or "American Communications Network" is a MLM company that is involved in the telecommunications sector of business.  It was first established in 1993, 25 years ago which is actually older than even I am which must mean that the owners must be doing something right.
At the moment it is among the top telecommunications service providers in North America and has also expanded across the world, it's fair to say that ACN is a huge company.
So what services do ACN actually offer to it's consumers then?
==>Click Here To Access My FREE Make Money Online Guide!<==
---
WHAT SERVICES DO ACN PROVIDE?
They provide a variety of services, as can be seen in the image below they seem to have the whole 9 mile covered with all the amenities they provide.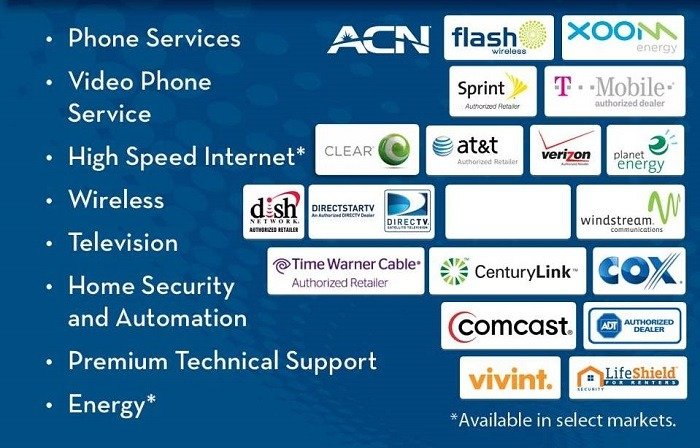 As can be seen in the image they provide phones services, act as a internet provider and even deal with home security and energy for homes.
Unlike normal product based MLM's Like Isagenix, Nucerity and even LuLaroe, ACN seems to have it's fingers dipped in what you could say are more useful services to people similar to another MLM that I've reviewed called Ambit Energy.
---
ARE THE SERVICES ANY GOOD?
As ACN is a service provider and not a product seller, they will of course have their fair share of problems regarding the service that certain customers are receiving in specified areas.
So that should also mean that they will also have to deal with a few problems here and there regarding their service.
Within this website I found that individual says that he has had a very good experience with ACN as his service provider for the last year so in general, reviews regarding the services provided, are positive.
There are a few people who have found that the Internet isn't working for them and a few others who just generally had a bad experience with their services but, I feel like that just is the natural thing to be happening for big businesses anyways so to me, It's not the biggest of problems, for you it may be a little different.
All in all I can't really knock ACN's services. Now regarding the company as whole, it's probably a going to be different story for you.

---
HOW DO YOU MAKE MONEY THROUGH THE PRODUCT
As is the case with pretty much all MLM companies out there, ACN being no exception, there are 2 ways to make money.
1. You make retail sales and garner a commission for every sale you make
2. You make commissions through recruitments and other incentives and bonuses within the structure
---
HOW TO GET STARTED
To join ACN you'll need to go through a few things beforehand. The first thing you'll need to do is become one of their Independent Business Owners (IBO). However, surprise surprise, trying to become one will certainly put a pretty little dent in your wallet…
A $499 dent… 
At least this fee is only a one time fee but, there's no denying that it's a lot of money to part with especially when joining an MLM company, in fact from what I have seen in terms of one time fees, ACN's is quite a bit more than most.
By becoming an IBO you'll be given access to one of the websites that they create for you to sell the ACN services through.
Moreover, if you want to continue to remain an IBO, you will need to part with another $149 annually which is supposedly meant to cover the servicing fees on the website (I call BS)
But that's not the end of it, on top of those 2 fees you'll also need to pay ACN a further $39.99 every month to learn from their Your Business Assistant program.
That's a little crazy isn't, even after all the money you'll be parting with, ACN still have the nerve to say they won't be teaching you everything, instead they're pushing you to purchase their monthly upsell that probably won't make much of difference on how much you'll make anyways.
Beyond this you'll need to pay an additional $10 per week for online meetings as well as another $159, not including food and drinks, to attend ACN's periodic training events per year.
So yeah…there's no denying that becoming an ACN member won't be a cheap endevour.
Learn How To Make A Full Time Income Online Using This Proven Method! 
---
COMPENSATION STRUCTURE
If after hearing about the joining and other miscellaneous fees you continue to remain interested in ACN, the next step you'll need to take is learning about their compensation plan.
There are 3 ways through which you can earn money through ACN
1. Customers Residual Commission
This works much like retail sales except within ACN if you manage to sign up people to their services, as an IBO member you will be eligible for 1-10% in recurring commissions from the individual you signed up.
The amount you get depends on how many points you've built up due to recruitment.
1 – 29 Personal Points = 1% Commissions 
30 – 39 Personal Points = 3% Commissions 
40 – 59 Personal Points = 5% Commissions 
60+ Personal Points = 10% Commissions 
2. Leveraged Income 
This is commissions you'll receive from individuals who are within your downline. You'll recieve commissions from the overall earnings that these recruits make from their website.
Levels 1-3 = 0.25% 
Level 4 = 0.5%
Level 5 = 3%
Level 6 = 5%
Level 7= 8%
In order to have access to all 7 levels you'll also need atleast 60 personal points as is the case with your personal commissions from customers enrolled through you.
These numbers do look appealing but, the fact of the matter is that it will not be easy to recruit up till the 7h level, hell it'd be pretty hard to find enough recruits that'll get you to the 4th level let alone the 7th.
If you didn't already know this, it's hella difficult to make money within MLM's, the highly appealing compensation plans aren't going to take anything away from that.
3. Expansion Bonuses 
This third method involves you helping other ACN stores to be set up and running, you'll receive bonuses for every customer you bring in to ACN but the amount you receive will depend on your rank and the number of personal points you have.
If you want clearer take on ACN's compensation plan check out this video but bare in mind that she's more on the line of trying to sell you the idea to join so juat ignore her enthusiasm and just take in the information.


THE NOT SO GOOD THINGS
Expensive Upkeep 
This is something that has and probably will tuen off a lot of you thinking about joining ACN. it's darn expensive to keep things running especially when most will consider ACN to be more like a side hustle.
Let's say you purchased everything that ACN recommends you buy including the monthly subscription to your business assistant. If you decide to invest in all of these areas you'll be looking to put in somewhere in the region of $1650+ in your first year.
That's a crazy big investment to make especially if you don't know if you'll make any of it back within the first year. The subsequent years will obviously be cheaper but even then you'll still need to invest $1000+ for the upkeep. 
I feel like there's better and more trustworthy business models out there that also cost a lot less so spending over $1k just doesn't look appealing what so ever to me.
Appealing Compensation Plan But Hard To Execute 
The compensation plan on surface value looks pretty appealing, the option of an infinite number of people who are in your downline contributing small percentages in commissions to you does seem nice however, the process to maximise everything isn't as easy as it's made out to be. 
As a starting point you'll be able to make 1% in commission which is obviously very low, this means for every $30 monthly customer you'll only be making $0.30. This is an abysmally small amount when you consider there are affiliate programs that offer a lot more in commissions for the same effort applied.
Yes the compensation plan explains that it's possible to make up to 10% but do you think it's really that easy to get the 60+ points required to get to that point?
Yeah… Probably not…
No Income Disclosure Statement 
ACN do not have an income disclosure statement meaning we can't state for certain if it's possible for you to make good money from ACN if you started today.
Although I can't say anything without a doubt, I have reviewed other MLM programs and in those where an income disclosure statement was shown, the success rate or the making a minimum of $1000+ rate were almost always ridiculously low, we're talking less than 5% and in some cases even less then 1%.
Yes you could argue that the fact ACN has been around for 25 years means that a lot of individuals are making decent money, ACN has probably produced millionaires. All of this may be true but from what I have seen unless you're amazing at recruiting, I don't see much hope for you and most people in general within the MLM sector.


---
THE GOOD THINGS
The Services They Provide Are Useful
ACN genuinely provides services that you and I use everyday meaning that the market that they're involved is worth tons and tons of money.
In general, the outlook regarding people's experiences with ACN are good so that means that ACN are doing a good job in providing for these amenities we take for granted.
Overall the services are useful for their customer and are in turn pretty good for what they need too.
Been Around For 25 Years 
You know what's crazy, how long ACN have been around. 25 years is an insanely long period of time for any business to be running as successfully as it is. It's arguably the biggest telecommunications service provider in North America (self-proclaimed as far as I know).
The fact that it's been around as long as it has definitely adds a lot more credibilty to the business and its application of the MLM model.
==>Click Here To Access My FREE Make Money Online Guide!<==
---
IS THE PRODUCT A PYRAMID SCHEME/SCAM
No ACN is neither a scam nor a pyramid scheme, it is a legit company that has been around for a while but operates within a structure in the form of an MLM that I don't like seeing within any company at all.
ACN seems to have a good set of services that it provides for it's customers and is a company that has most definitely developed and evolved over the years to get to where it is right now.
However, due to the weak commissions within the compensation plan, the ridiculously high upkeep fees as well as the high likelihood of failure in an MLM structured business, I'd recommend you avoid ACN and maybe look into something a little less unreliable.
---
MY PERSONAL RECOMMENDATION
I personally will always recommend against using a MLM business model to make money, not because you can't make money through it (you totally can) but, the system has always seemed shady to myself and is kinda synonymous with the likes of a pyramid scheme or scams (MOBE and Digital altitude).
Instead I prefer working with something created through ones own means and is ultimately dependent on yourself and your work ethic alone.
This method I'm talking about is affiliate marketing. 
The reasons as to why I recommend it over MLM based structures are because
– there is no need to recruit constantly
– it is a legitimate method that has been working consistently and continues to grow as more businesses want individuals to promote products
– and because it is free to start up, no unnecessarily large start up funds needed.
The service I recommend is Wealthy Affiliate. It's free to sign up to and will get you set up and ready to start your affiliate marketing journey within minutes, as it did for me when I begun my journey.


If you have any questions that you would like to ask me regarding ACN, feel free to do so in the comments section below and I will get back to you as soon as I can. If you have your own thoughts about ACN and would like to talk about it, again feel free to do so in the comments below!
Thanks
Amhil