It's likely that you have come across Max International through an email list, on social media or got it recommended by a friend or family member.
You probably have a feeling that Max International is a scam which is why you're on this review right? It is quite possible that Max International is a scam or a pyramid scheme so it's definitely a smart move, on your part, coming here.
First and foremost I must commend you for actually doing a bit of extra research before committing to buying into Max International. For all you could have known, the product line and it's entire money making could be a scam so I commend you putting yout head down and doing some research of your own.
To be completely transparent with you, I am not personally associated with Max International so I can assure you that I won't attempt to sell you anything, unless of course it's worth investing in.
What I do aim to do is provide you with an unbiased 3rd party look at Max International that will hopefully help you make the correct decision in the end.
---
PRODUCT NAME: Max International
OWNER/S:  Steven K. Scott, Fred Ninow, and Gregory Fullerton ( Steven is the only ine left currently)
TYPE OF PRODUCT: Health & Wellness MLM Company
PRICE: $49 to get started + monthly autoship + $25 annual renewal fee
SUMMARY: Max International isn't a pyramid scheme or a scam but it's also not what I would consider a great opportunity too.
They've actually dealt with a lawsuit where they paid $1.2 million which kind of makes you question Max International's sustainability, it'll cost you around $1200+ just to qualify for the commissions and probably even more to maintain everything else but, most importantly if you do go through in joining the company, there's roughly a 2% chance that you'll actually make anything decent with Max International, decent being $1000+.
This is why I recommend against joining Max International. In the end of the day the final decision's still up to you.
FINAL RATING: 1.5/5
RECOMMENDED: NO
---
WHAT IS MAX INTERNATIONAL?

Max International is a multilevel marketing (MLM) that focuses on distributing health and wellness products through their members/distributors. It's based in Utah and was founded by Steven K. Scott, Fred Ninow, and Gregory Fullerton in 2007 however, currently only Steven actively remains a part of the company.
Max International's motto is "Empower people to build a legacy of significant change in their lives and the lives of others". Honestly I do like the motto, it's grandiose and looks pretty nice on the surface, of course it's only something that'll probably be very to hard to execute although I guess it's cool to reach for the stars.
Moreover, Max International also refer to themselves as The Glutathione Company because most of their product line have glutathione within them. In fact they actually are leaders and innovators within the glutathione field. This is due to their research and development to fight free radical damage through the use of glutathione nutrient.
==>Click Here To Access My FREE Make Money Online Guide!<==
---
MAX INTERNATIONAL PRODUCT LINE
As glutathione is major component within a large majority of Max International's products, I guess it's best to briefly list the benefits of it.
The benefits include :
Antioxidant defense
Metabolism regulation
Cellular regulation
Anti-aging
Detoxification
Reduces inflammation
Accelerates recovery
Promotes endurance stamina
Increased immunity and protection against disease
As you can see, glutathione has a lot of benefits to it and it makes sense why Max International decided to make it a key factor when deciding on creating supplements.
So now you probably want to know what Max International's product line is right? The product line consists of:
Cellgevity (Cell Nutrition) – $97 for a 30 day supply
Max ATP (Performance Drink) – $85 for a pack of 15 single-serve drinks
MaxN Fuze (Cellular Defense) – $92 for a 30 day supply
Max One (Immune System) – $92 for a 30 day supply
Meta-Switch (Weight Loss) – $89 for a 30 day supply
Visible Solutions (Skincare) – $239 for a Visible Solutions "System" (replenishing cream, "youth recovery" serum and "one minute wonder" cream)
All the products have their own function whether it be weight loss, skincare and so on. There is no denying that they do cost a pretty hefty sum with $85 being the minimum price. 
I get that most of them offer a 30 day supply but that doesn't mean that they'll necessarily be worth the price tag, who knows maybe they're of terrible quality, so in order to find out if they're actually any good its probably a good idea to see what opinions others who have used Max International's supplements don't you think?

---
HOW DO YOU MAKE MONEY THROUGH MAX INTERNATIONAL?
There are 2 ways through which you can make money with Max International, in fact these 2 ways are what I consider to be the universal method to make money with MLM's :
1. The first method is by directly selling the product to other individuals and in return make a commission for the sales
2. You make money through your recruits and downline, by getting residual income by following and meeting certain criteria as well as make money through bonuses and incentives due to meeting company set goals.
---
HOW TO GET STARTED
The first thing you'll need to do is to apply to Max International through the application form. Once you've submitted the form the next you'll need to do is pay a few mandatory fees.
The first fee is a one time fee and will cost $49. Within the pricetag you'll also be given a Max Starter kit that includes a few things such as a few brochures a usb and some sales materials to get you started with the business.
Beyond that fee you'll also need to pay another $25 annually to keep your virtual office active. The third thing you'll need to do is purchase one of their enrollment packages, there are 3 in total.
Personal Pack: $150
Professional Pack: $549
Premiere Pack: $999
These packages aren't cheap so they will put a minor dent in your wallet but they still aren't what I'd call the most expensive element of getting started with Max International.
The last thing that you'll need accumulate or pay out of your pocket is the 100pv monthly fee to be eligible for commissions from their compensation plan (I'll get to that in a bit). 1 PV translates to roughly $1 dollar so you'll need to spend at least $100 a month or be subscribed to an autoship system that buys you the products on a monthly basis.
The total minimum expenditure within your first year will add up to a minimum of…
$1324.00…
That's a pretty hefty sum to be paying just to be eligible to sell Max International's product line for a commission and is honestly better spent on other less expensive business models in my opinion.
Do You Want To Make Money Online Without All these Expensive Start Up Costs? If So Check Out My #1 Recommendation
---
COMPENSATION STRUCTURE
Now for one of the most crucial elements of any MLM business, the compensation plan. Max International uses a binary structure within their company which is quite similar to a few other MLM's I've reviewed such as Isagenix, Ds Domination etc.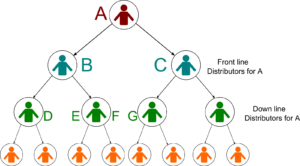 Max International actually have three different categories for their compensation plan which include the following
Residual Income
Bridge Income
Customer Income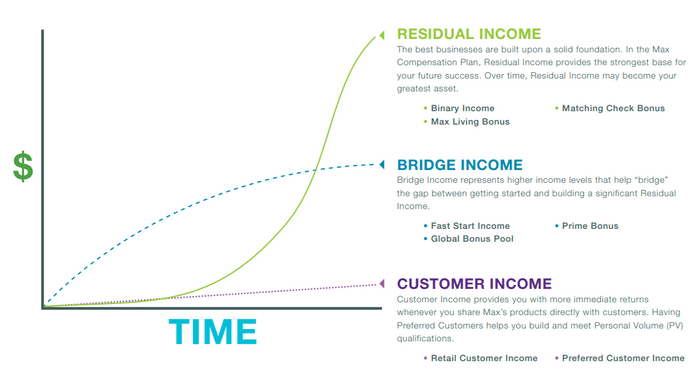 The residual income is of course the more passive form of income within Max International and is ultimately where you want to get to further down the line within Max International if you can (it won't be easy I tell you)
The second form is bridge income. This is income you'll get access to a little further down the line and is the sector of earning that is supposedly meant to help you "bridge the gap" between getting started and making your way towards the ultimate goal of residual passive income.
The final category and essentially the starting blocks for every new member is the customer income category. Within this category you'll have the ability to earn commissions through direct sales.
As mentioned previously you'll need 100 PV to be eligible for this form of income but, once you manage to overcome that initial barrier you should be able to make some decent money with Max International, of course doing that won't be easily accomplished.
The areas that you'll have access to within the compensation plan include the following:
Customer Income – You essentially purchase products at the wholesale price and resell them at retail price. 
Fast Start Income – Commissions you make for any Enrollment Pack sales within your first 60 days of enrolling
Prime Bonus (3 Levels) – These are special commissions you earn by maintaining a required amount of autoship purchases from your preferred customer and/or downlines
Binary Team Income –Monthly residual commissions dependant on the performance (sales volume) of your left and right legs in the binary tree
Global Bonus Pool – You make a 1% profit share from 1% of Max International's entire global sales volume ( to qualify for this you need to make 1000 more in sales volume than your previous month's sales volume)
Matching Check Bonus – You get rewarded for being a leader and helping your downlines succeed within Max International too. 
Max Living Bonus –Leadership incentives for Platinum Associates and above
New Business Center – Build a new binary leg once you achieve the rank of Crown Diamond in order for you to make more residual income. 
As you can see the compensation structure is reasonably large and based on the focus on categories, I'd also assume that it's hard to get to the higher levels. This isn't really a surprise because MLM's usually have a high barrier of entry and generally require you to recruit lots of people to really truly make anything decent with them.
It's no surprise, at least to me, that Max International also requires you to recruit a lot to really succeed.
If you want a more in depth look at Max Internationals compensation plan check out this video below

---
THE NOT SO GOOD THINGS
Stockpiling
This could become a very problematic for you considering you're required to spend $100 minimum to remain eligible for the benefits within the compensation plan.
If you're purely buying the supplements to stay eligible for the commissions and just can't seem to make sales, the products will eventually start stacking up.
Max International actually encourages its distributors to purchase as much stock as they can in the beginning, this is also likely what your up line will also encourage you to do so that they can make more money.
If you do this, you're liable to be in a position where you'll have products that just don't sell in turn meaning you're making nothing.
Of course to avoid this you can also sell products online and make a commissions from sales that way but, once again the online shop will also take a while to build up and become something to monetize through.
In the end of the day both ways are hard but, if you only follow the first option of buying the products wholesale, you'll probably find yourself in position of too much stock on hold and not enough customers who are willing to but through you.
Lawsuits
This is a very serious matter to consider when deciding to join any company so knowing that Max International has been involved in a major lawsuit could negatively affect your decision in joining them.
They've been involved in a couple lawsuits but, probably their most high profile case was against another MLM company named Melaleuca. They were sued and agreed to settle the case for a lump sum of $1.2 million. 
That's a lot of money that they dropped to solve that issue and the reason why it came into action was because Max International were supposedly poaching members from Melaleuca's sales force.
A pretty shady thing to do from a company as big as Max International don't you think. Once again this is probably at the top of the list as to why most people should avoid Max International, it's definitely amongst the top in my case too.
Expensive Upkeep 
In order to actually run a Max International account and make money through it, you're expected to part with at least $100 every month, this means that you'll have to pay at least $1200 just to be able to make  money with Max International. 
That's honestly not a surprising thing as many MLM expect these kind of requirements from you just to be eligible to profit form the system. I don't like how it's done and unless you're making more than $100 a month, you'll be in a very tough position.
Most People Are Failing! 
This is a MAJOR reason to avoid Max International, within their income disclosure form, it's clear as day that most members that join aren't actually profiting.
In reality most distributors aren't even making enough to pay for their mandatory upkeep fees.


You can see how the majority of the members fall within the silver rank and below, around 97%. And within the silver rank most people are averaging around $324.16 which isn't particularly great.
If you want to make anything half decent with Max International, decent being $1000+, you'd need to work your way upto around the gold and platinum ranks.
As a gold distributor you'll likely average $806 a month whilst as a platinum member you'll be looking to make around $3131. Admittedly as a platinum member you'll be making what most call a decent full time income however, as the statement shows, you only really have 0.5% of doing so. 
I'm sure you can agree that achieving such a goal is abysmally small, even the gold level has just over a 2% chance in being met.
*This income disclosure statement is actually from 2011 but I'm sure it paints the picture of how large your chances of hitting it big with Max International really are

---
THE GOOD THINGS
Products Are Clinically Tested 
Max International have conducted a ton of studies on their products which in my opinion puts it's product line on a much higher pedestal than a lot of other MLM's within the health and wellness niche.
This is unlike Zija International, Nucerity or Senegence and actually similar to how Scentsy is DSA approved.
To get a more detailed look at the studies they've conducted click here.
30 Day Money Back Guarantee 
This is a positive thing to have within any company so the fact that Max International has the money back guarantee policy in place at least gives you leeway with any negative experiences a customer has.
As in if they don't like the products and want to return it, as long as it's within the 30 day period they should be fine. I can't personally say that their 30 day guarantee system is the best out there but, at least you'll have some peace of mind in knowing that if it ever came to it, you could get a full refund.
==>Click Here To Access My FREE Make Money Online Guide!<==
---
IS MAX INTERNATIONAL A PYRAMID SCHEME/SCAM?
Max International is neither a pyramid scheme nor a scam, it is in fact a legitimate MLM company that seems to have a few major problems that stop it from being as good as some might say.
Firstly the upkeep isn't very cheap, you'll be looking to spend around $1200+ every year just to maintain the business and this doesn't account for any other costs that being a distributor might add-on on top.
You'll likely end up stockpiling a lot and be left with a lot of dead stock in your home due to the mandatory purchases you need to make to be eligible for commissions and last but not least, there's a 99% chance that you won't be making anything decent with the company, decent being in the region of $1000+ a month.
If you still want to go for it even after these issues I've stated, be my guest. The truth is that there are people out there who are making good money with Max International however, you've got to remember that these distributors also have a huge team under them that generate residual income on their behalf.
Having a downline doing the same for you would take years and when you consider the lawsuits Max International have dealt with, is it really worth investing in a company that has done shady things in the past and even been prosecuted for it?
I'd personally recommend you avoid Max International but in the end of the day the ball's in your court.
---
MY PERSONAL RECOMMENDATION
I personally will always recommend against using a MLM business model to make money, not because you can't make money through it (you totally can) but, the system has always seemed shady to myself and is kinda synonymous with the likes of a pyramid scheme or scams (MOBE and Digital altitude).
Instead I prefer working with something created through ones own means and is ultimately dependent on yourself and your work ethic alone.
This method I'm talking about is affiliate marketing. 
The reasons as to why I recommend it over MLM based structures are because
– there is no need to recruit constantly
– it is a legitimate method that has been working consistently and continues to grow as more businesses want individuals to promote products
– and because it is free to start up, no unnecessarily large start up funds needed.
The service I recommend is Wealthy Affiliate. It's free to sign up to and will get you set up and ready to start your affiliate marketing journey within minutes, as it did for me when I begun my journey.

If you have any questions that you would like to ask me regarding Max International , feel free to do so in the comments section below and I will get back to you as soon as I can. If you have your own thoughts about Max International and would like to talk about it, again feel free to do so in the comments below!
Thanks
Amhil