It's likely that you have come across Senegence International through an email list, on social media or got it recommended by a friend or family member.
Is Senegence a scam?
Maybe if you're already into beauty products and genuinely enjoy using them, you believe that Senegence with its business potential might go together with your hobby.
Who knows, it may be possible to make money with the MLM strategies found within Senegence, may be it's true that it's not like all the other MLM companies and is in fact the best way to make money right now…
First and foremost I must commend you for actually doing a bit of extra research before committing to joining Senegence International. For all you could have known, the product could be a major scam so the fact you're here right now, researching whether or not that's the case is a pretty smart move on your part.
To be fully transparent with you, I am personally not a member of Senegence International so I can assure you that I will not attempt to sell you it unless of course it's worth investing in.
What I will aim to do is provide you with an unbiased 3rd party look at Senegence International that will hopefully help you to make the best decision you can in the end.
---
PRODUCT NAME: Senegence International
OWNER/S: Joni Rogers – Kante (founded 1999)
TYPE OF PRODUCT: MLM Company That Deals With Beauty And Care Products
PRICE: $55 for Distributor Membership Fee + $75 for LIPS Kit + 295 for Glamour Demo Kit + Optional: $550 for Distributor Training Package
SUMMARY: I do not recommend Senegence as it has a lot of issues. They've had issues with their stock and their products have also caused customers major side effects such as lips burning or breaking out with pimples. This isn't even mentioning the fact that it's expensive to upkeep this business. You'd be looking to pay around $4000 every year just to run your Senegence business, I don't honestly see many people coming out with a profit considering how much you'll need to pay to run it. That's why I'd recommend you avoid Senegence and look elsewhere.
FINAL RATING: 1.5/5
RECOMMENDED:No
---
WHAT IS SENEGENCE INTERNATIONAL?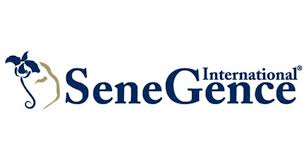 Senegence International is an MLM company that is focused in the area of beauty and care products and was founded by Joni Rodgers – Kante in 1999.
This means that's it's a company that has been going on for almost 20 years which is undoubtedly a huge milestone for any business. The aim of the company is to essentially empower women and give them the opportunity to both use their products and potentially make income through the business model found within Senegence.
It's a pretty standard approach for any MLM business that is within this sector of the field, a similar thing could be said for another MLM I reviewed (LuLaroe) focused on this approach and I can't say that it really means much.
Anyways I'd argue that the most important thing for a business selling beauty products is the type and quality of product they provide don't you think.
So first let's look at Senegence's product line…
==>Click Here To Access My FREE Make Money Online Guide!<==
---
WHAT IS INCLUDED IN SENEGENCE INTERNATIONAL'S PRODUCT LINE?
As you know, Senegence sells beauty and care products, the types that they sell are the following: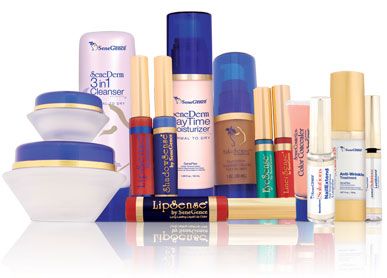 1. Face
2. Eyes 
3. Lips
4. Anti-aging 
5. Skincare 
6. Body
They actually also have a flagship product that they like to sell called LipSense which I'm sure you could guess is a lip based product. Senegence have a fairly extensive number of categories that they delve into and it definitely makes sense that they are involved in all the mentioned products.
Something I believe is worth noting is that Senegence claims that the products they produce:
– Are not tested on animals 
– Use no animal biproducts
– Use naturally reoccurring ingredients 
– Are formulated with FDA approved ingredients 
– Are made under a "Pharmaceutical Grade" rated manufacturing facility
– Are produced in the USA for stringent quality control
– Are Gluten and GMO-free (well most of their products are…)
– Especially LipSense doesn't contain wax
All these are pretty bold on Senegence's part and I'd say it's pretty hard to discern whether what they say is true but if it is, it's definitely a good look for Senegence and a sense of relief for everyone else out there.
I'm sure you wouldn't want to be involved in a company that tests their products on animals afterall, it's a pretty darn immoral thing to do especially in this day and age.
==>Check Out The Best Method To Make Money Online <==
---
DOES THE PRODUCT ACTUALLY WORK?
It's all well and good that Senegence have products that aren't tested on animals however, what we all really want to know is if the products are actually any good, do they have any side effects or are they legitimately great for the consumer.
Well in my research I found out that quite a few people disliked the products Senegence International produce.
I found a few reviews regarding the products in sitejabber saying that they had quite a few problems with the products.
First of all a lot of these people complaining said the prices of the products were way too high, fair enough but the fact that they also complained about the quality at such a high price point also negatively impacted their views on Senegence's products.
An individual called Sandy k compared the quality of the products to a dollar store brand and even had a horrible reaction to the flagship LipSense product. She suffererd rash's, pimples and her skin shedding after applying it, yeah… That's clearly a pretty bad look…
Another individual named Gina M found the lip gloss burned when applied and eventually resulted in her lips being chapped and flakey. Once again this isn't what you should expect when purchasing from a 'solid' company.
The burning lips isn't even a one time issue as another individual, Betsy R found that it was also burning and chapping her lips.
Moreover, Shelley B found the products to be pretty unsafe with the lack of labels, instructions and poor packaging.
In general quite a few people found that the flagship LipSense worked generally well and a lot of people genuinely like it but, most of the other products aren't up to par.
Schume N discovered that a lot of customers were breaking out using the skin products and of course if a make up product makes you break out, it definitely isn't worth endorsing.
In general what I have found out about Senegence International is that their LipSense flagship is pretty good and a lot individuals do like it however, it's fairly apparent that the other products are not up to the same level ; the fact that the products are pretty expensive also puts a negative light on them.

---
HOW DO YOU MAKE MONEY THROUGH THE PRODUCT
As is the case with all MLM companies there is generally 2 ways through which you can make money
1. You can earn commission through direct sales of the product line
2. You recruit people and have them make money for you through your downline as well as be eligible for rewards and bonuses from Senegence International due to the recruiting.
---
HOW TO GET STARTED
In order to get started with Senegence International and in turn become a distributor, you will first need to sign up through their website.
Usually to sign up as a distributor it is necessary for you to use an already existing members Senegence Id number which may be hard to find if you're the first person to have discovered this MLM but, if you've heard of Senegence through an already existing member this shouldn't be too hard to do.
Once that is done there will also be a mandatory sign up fee you'll need to pay at $55 which will be a recurring yearly fee as well as purchase a starter kit. The cheapest of the kits being the Lips Pack which will set you back $75.
Beyond this kit you may also want to purchase their training just so you know where to start, that'll set you back around $550.
Obviously it's not necessary to buy that but if you're really serious about this business model it'll probably be a good idea to do so.
The training you'll receive if you decide to buy the kit is the following:
Weekly Online Training
SeneGence Website ($300/year renewal) 
Seminar General Seating
SeneU Event Registration
PIT Stop Registration
SeneMedia Collection
SeneLibrary Training Materials
MSF Donation
Launch Demo. 
At $550 for the training package I'd say that's a pretty darn high fee and as I've already said it's not absolutely necessary to get it but if you do decide to get it along with mandatory fees you'll be looking at a fee of $680, without the training package you'll be investing $130.
I don't that this is too expensive a cost to start up if you don't get the training package however, there are also other upkeep costs you have gotta accomplish too to be eligible for the commissions and that's where you'll begin to see your bank account depleting.
You Can Get Started For FREE Using My #1 Recommendation 
---
COMPENSATION STRUCTURE
The compensation structure for Senegence is a little complicated but I'll try to explain it as best as I can.
Unlike Isagenix or LuLaroe or even Nucerity, Senegence doesn't use a binary based MLM structure in which basically you have 2 different downlines that work for you.
Senegence International usues a unilevel compensation structure which is slightly different in a sense that your recruits are distributed into levels.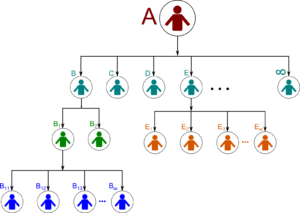 This basically means that your direct referrals are the first level, their direct referrals are your second level and so on. Theoretically it's possible to have an infinite number of levels however Senegence caps the maximum pay out threshold at the 5th level meaning that you won't make any money below the fifth level.
Retail Sales
I'm not quite sure the percentage you'll make from you personal sales but I'm assuming it'll be anywhere from 10-50% for every product you sell, I may be wrong on this matter so take it as a grain of salt.
Downline Commissions
This is the second way through which you can make money through Senegence International and in order to qualify for it you'll need to purchase 100pv's worth of products.
I believe 1 PV is equivalent to $1 which means you'll need to purchase 100 dollars in product every month to qualify for the downline commissions.
As Senegence caps the levels you are eligible for a bonus at the 5th level, this means you'll only be make money from Senegence International up till the fifth level.
Okay so from what I have learnt these commission are only eligible for every 100pv's your recruits get within each level. The downline commission is also only capped at 100pv too.
Each level has a different percentage in commissions that you'll actually receive:
– The first level has a 10% commission (hard cap at $10)
– The second level recruits will have a 20% commission (hard cap $20)
– The third level will have 30% commissions (hard cap at $30)
– The Fourth level will have 5% commissions (hard cap at $5)
– The fifth level will have 5% commissions (hard cap at $5)
The downline commission you can make is essentially infinite for every person that is a recruited and falls within the first 5 levels but is also hard capped at the following amounts.
This is where the second residual income method should be checked out.
Group Sales Volume Bonus
This is where all the other money is available but it also a lot harder to qualify for. The first thing you'll need to do to qualify for the group sales bonus is purchase 300pv of products yourself.
The next part, which is also probably the most difficult part, is that you'll also need to have atleast 5 people within each level who have also purchased 300pv worth of products.
I don't know about you but that's a helluva a lot products that'll need to be bought in order to qualify.
As was the case with the downline commissions, the group sales also has a different percentage for commissions within each level however unlike the downline commission the income potential isn't capped.
– In the first level you will get 10% in commissions
– In the second you will get 6% in commissions
– In the third level you will get 4% in commissions
– In the fourth level you get 3% in commissions
– In the fifth level you get 2% in commissions
Honestly it's not the most confusing of compensation structures out there but as you can see it'll be pretty darn difficult to make the kind of money you really want to in the short or even in the long term.
In order to even upkeep and be eligible for both types of commissions you would need to spend atleast $300 a month. That's a lot of money to part with in order to only have a chance at making some money especially as a newbie.
Of course I don't think it's necessary to pay this kind of money if you're only planning on making direct sales but in order to really maximise your money potential, there's no doubt you will be paying a lot for the upkeep.
For a little bit more info on the compensation structure check out this video.

---
THE NOT SO GOOD THINGS
No Income Disclosure Statement
As should be the case with most MLM companies, they should show exactly how well their distributors are performing and what you're likely to be getting if you decide to join.
The lack of one within Senegence means that they might be afraid to show their status to the world. I don't think it takes a rocket scientist to believe that most MLM's have a pretty low return on investment and therefore a high failure rate which makes sense.
In reality you shouldn't really expect most people to succeed but the fact Senegence International is actually trying to hide it distributors average income means that they're trying to con you into believing a lot if not most people will succeed or maybe they're trying to hide the abysmally high failure rate of their distributors.
Either way the lack of transparency in my eyes is definitely not a good thing on Senegence's part.
Stock Issues
Through conducting my research I found out that the company is fairly poor at handling their stock issues and in turn have hurt their distributors along with their sales.
As a business as big and as aged as Senegence International, they really should be on top of these kind of issues so the fact that they aren't might make being a distributor a nightmare within the company especially if you're doing pretty well.
At the very least Senegence should really get better at handling their stock issues as it could potentially have major negative consequences in the future for the business as a whole if it does not get fixed.
==>Don't Want To Be Dealing With Stock Issues? Try This Method Instead<==
Instances Of Side Effects
As I've already discussed in the do Senegence International's products work section, I found out that people have been suffering some mild side effects when using the products.
Some people have found that the lip gloss has a burning sensation on the lip when applied whilst others found that after applying the beauty products they suffered break outs whether it be pimples or rash's
I'm sure you and I can agree that a beauty product, especially products that are being more or less mass produced should be up to par. Maybe only a few people are suffering from such side effects but even if it is a few, I still feel that Senegence should at least attempt fix these issues.
I know it probably won't be easy to do however, for a consumer and even as a distributor, why exactly would you promote products that have such side effects, I mean if you found out a makeup product may give you pimples or rash's, would you buy it?
It's definitely something worth keeping in mind if you do decide to become a distributor.
Expensive Upkeep And Costs 
I mentioned most of this above but if you didn't already know Senegence is a pretty big investment. The start up fee and the Lipskit isn't too expensive and would only really set you back about 130 bucks.
However, to get access to all the bonuses as well as the training provided within the company you'd be looking of spending somewhere in the region of  $4000-4500 per year.
That's a helluva a lot of money just to keep the business running. If you're good at the job and are one of these individuals who have 5 fully working levels, you'd probably be more than capable of covering these amounts ; as a newbie getting into Senegence, well to be perfectly honest there's essentially no chance that you'll even break even within your first year.
Paying such a high price to upkeep your business is just too much of a burden in my opinion.
I'm sure if you really wanted to you could cut corners and pay a lot less but in order to make the most out of Senegence International, you'll probably be looking at paying around $4000 a year.
Products Are Too Expensive 
This is obviously a problem, the fact the products are too expensive may turn off a lot of people and in turn make it a lot harder to sell stock.
The fact that there are also stock issues and other issues involving negative side effects will probably futher dampen your ability to sell.
Then again, as I've heard from many people in the online selling space it's equally as hard to sell something that is cheap as it is to sell something expensive.
You just have to take that as you will and ultimately decide on whether you're fine with selling overpriced beauty products that are also apparently fairly average in quality.

---
THE GOOD THINGS
It's Been Around For Nearly 20 Years
The fact that Senegence International is a company that ha been on the market since 1999 must mean that they're doing something right.
It adds a lot more weight and credibility to their business and is probably a good reason as to why you'd pick this MLM business over another.
19 years is no joke so I guess that's that.
LipSense Is Good
A lot of people who have tried the flagship LipSense product have said that they really liked it. That obviously isn't the case with all the other products and the complaints of side effects from them.
I guess it makes sense that this product is their flagship as it's genuinely good so I've got to give them props on that…
This means that if you do decide to join Senegence, you probably shouldn't feel too bad trying to sell the LipSense kit, even if it might be a little expensive…
==>Click Here To Access My FREE Make Money Online Guide!<==
---
IS SENEGENCE INTERNATIONAL A PYRAMID SCHEME/SCAM?
No Senegence International is neither a pyramid scheme nor a  scam, it is infact a legitimatel MLM company that just has it's fair share of problems.
Yes it's products are a mixed bag and yes the upkeep for the business is… Well a lot but as a company that has been around for nearly 2 decades I don't believe it is a scam.
Even still I also don't think that it is something that you should invest in, I definitely don't see a lot of potential from it, in general I'm just against MLM companies even if they are a legit company.
If you're serious about making money online, I'd advise you to look elsewhere where the upkeep is cheaper and the process is a lot less hectic (though admittedly it still is a little hectic…).
---
MY PERSONAL RECOMMENDATION
I personally will always recommend against using a MLM business model to make money, not because you can't make money through it (you totally can) but, the system has always seemed shady to myself and is kinda synonymous with the likes of a pyramid scheme or scams (MOBE and Digital altitude).
Instead I prefer working with something created through ones own means and is ultimately dependent on yourself and your work ethic alone.
This method I'm talking about is affiliate marketing.
The reasons as to why I recommend it over MLM based structures are because
– there is no need to recruit constantly
– it is a legitimate method that has been working consistently and continues to grow as more businesses want individuals to promote products
– and because it is free to start up, no unnecessarily large start up funds needed.
The service I recommend is Wealthy Affiliate. It's free to sign up to and will get you set up and ready to start your affiliate marketing journey within minutes, as it did for me when I begun my journey.

If you have any questions that you would like to ask me regarding Senegence International, feel free to do so in the comments section below and I will get back to you as soon as I can. If you have your own thoughts about Senegence International and would like to talk about it, again feel free to do so in the comments below!
Thanks
Amhil