It's likely that you have come across Enagic Kangen Water through an email list, on social media or got it recommended by a friend or family member.
Is Enagic Kangen Water a scam?
First and foremost I must commend you for actually doing a bit of extra research before committing to joining Enagic Kangen Water. For all you could have known, the product could be a major scam so the fact you're here right now, researching whether or not that's the case is a pretty smart move on your part.
To be fully transparent with you, I am personally not a member of Enagic Kangen Water so I can assure you that I will not attempt to sell you it unless of course it's worth investing in.
What I will aim to do is provide you with an unbiased 3rd party look at Enagic Kangen Water that will hopefully help you to make the best decision you can in the end.
---
PRODUCT NAME: Enagic Kangen Water
OWNER/S: Hironari Oshiro
TYPE OF PRODUCT: Water Selling MLM Company
PRICE: Free to join & get started
SUMMARY: Enagic Kangen Water is a pretty decent MLM company and I can say with certainty that the scheme run within this MLM isn't a scam.
They have a decent product line and are free to join if you want get started. This combination definitely makes it worthy of trying out the distributor role. However, in the end of the day it is still a MLM and in order to succeed in a MLM you need to be very good at recruiting. If you're not good at that, it's unlikely you'll succeed through Enagic.
Overall I do think it's decent and if it's at all possible to follow a different model such as the model taught within my #1 recommendation, to promote the machines, it may be worth trying to make commissions by selling Enagic's filtration machines through that method.
FINAL RATING: 2.4/5
RECOMMENDED: NO
---
WHAT IS ENAGIC KANGEN WATER?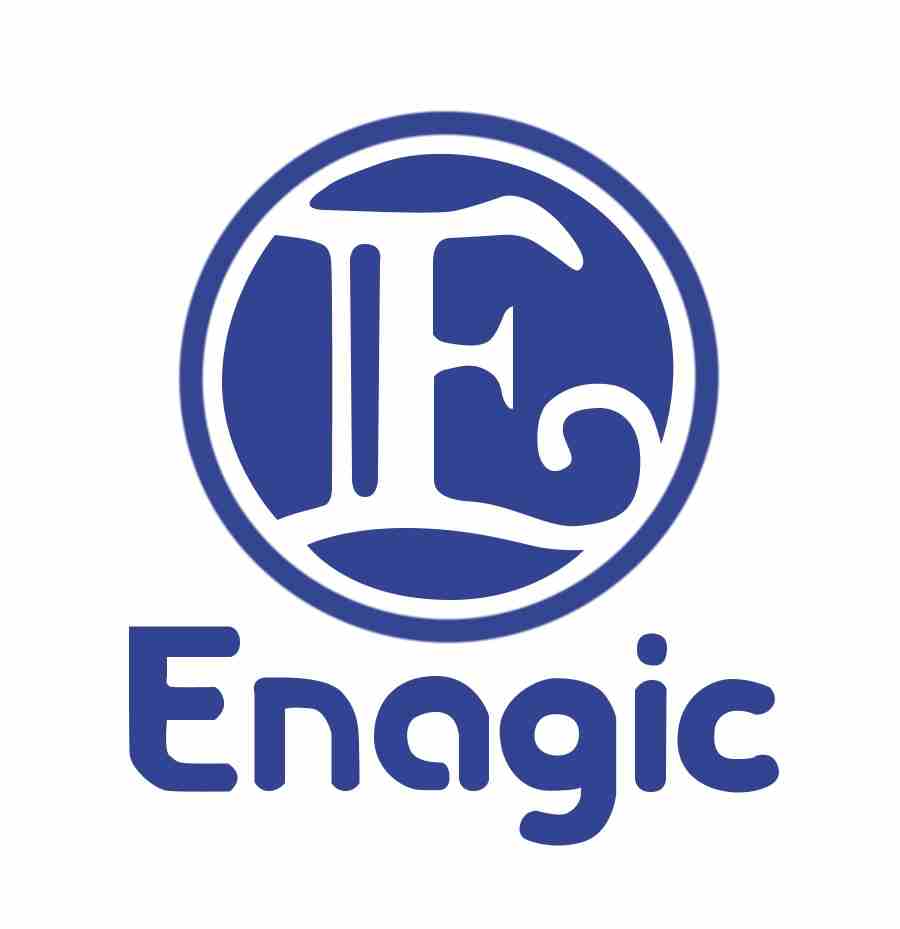 Enagic is a MLM company that was founded by Hironari Oshiro in 1974 and focuses on selling water as well as filtration and ionisation machines. These machines are designed to create better and more healthier water for its consumers.
Although it's a MLM company now, Enagic wasn't always one. It is only since 2003 when they created the Enagic USA name is when they officially adopted the model.
At the moment Enagic is actually one of the leading manufacturers for alkaline ionizers and water filtration machines.
Enagic Kangen Water's purpose through the use of their products is to improve your health by neutralising the acidity within your body by consuming water that has a higher alkaline dosage. This is done so that your body's ability to absorb nutrients will improve and in turn improve your health.
As their slogan says "change your life by changing the water you drink". This is ultimately what Enagic say they want to achieve for their consumers.
==>Click Here To Access My FREE Make Money Online Guide!<==
---
ENAGIC KANGEN WATER'S PRODUCT LINE
As has already been mentioned a few times, what Enagic is selling are filtration machines that help to filter the tap water you drink into a more ideal form.
They have quite a few machines within their store, the machines that they sell include: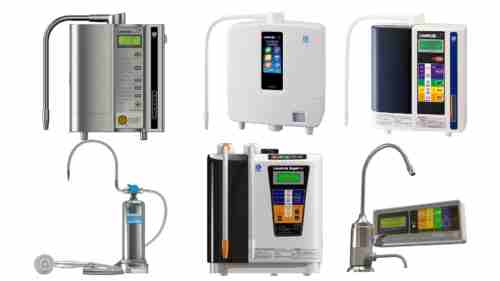 SUNUS – $1,280
Leveluk JRII – $2,380
ANESPA – $2,390
Leveluk DXII – $3,280
Leveluk SD501 – $3,980(their flagship machine which represents 90% of their global sales)
Leveluk SD501 Platinum – $4,280
Leveluk SD501U – $4,980 – Their newest machine.
Leveluk SUPER 501 – $5,980
Yeah… As you can see the machines are anything but cheap, I guess it's to be expected because most things that are designed to benefit your health usually don't come cheap. Of course spending an amount similar to purchasing a fairly decent car isn't anything to scoff at.
I don't think I'd be able to part with that kind of money, then again I'm sure that the machines are only really designed for a niche audience so I can't speak for them.
There may also be cheaer alternatives out there that are possibly of superior quality over Enagic's machines but, I can't say for sure because Enagic is a 44 year old company that has had 44 years to prefect their craft.
Are You Tired Of Working For A Boss? If So Why Not Take Your Job Into Your Hands And Work For No One But Yourself… If You Want To Do This Check Out My #1 Recommendation
---
DOES THE PRODUCT ACTUALLY WORK?
Considering the price you'll be paying for any one of these water filtration machines, it's undoubtedly very important that they live up to their expectations and get the job done effectively.
As I don't own any products myself I've had to do a little bit of research on the them and get the opinions of the quality of the machines from others who have had the chance to use them, this is what I found…
These are ones I found within bbb and for the most part the customers experience with the machines were positive.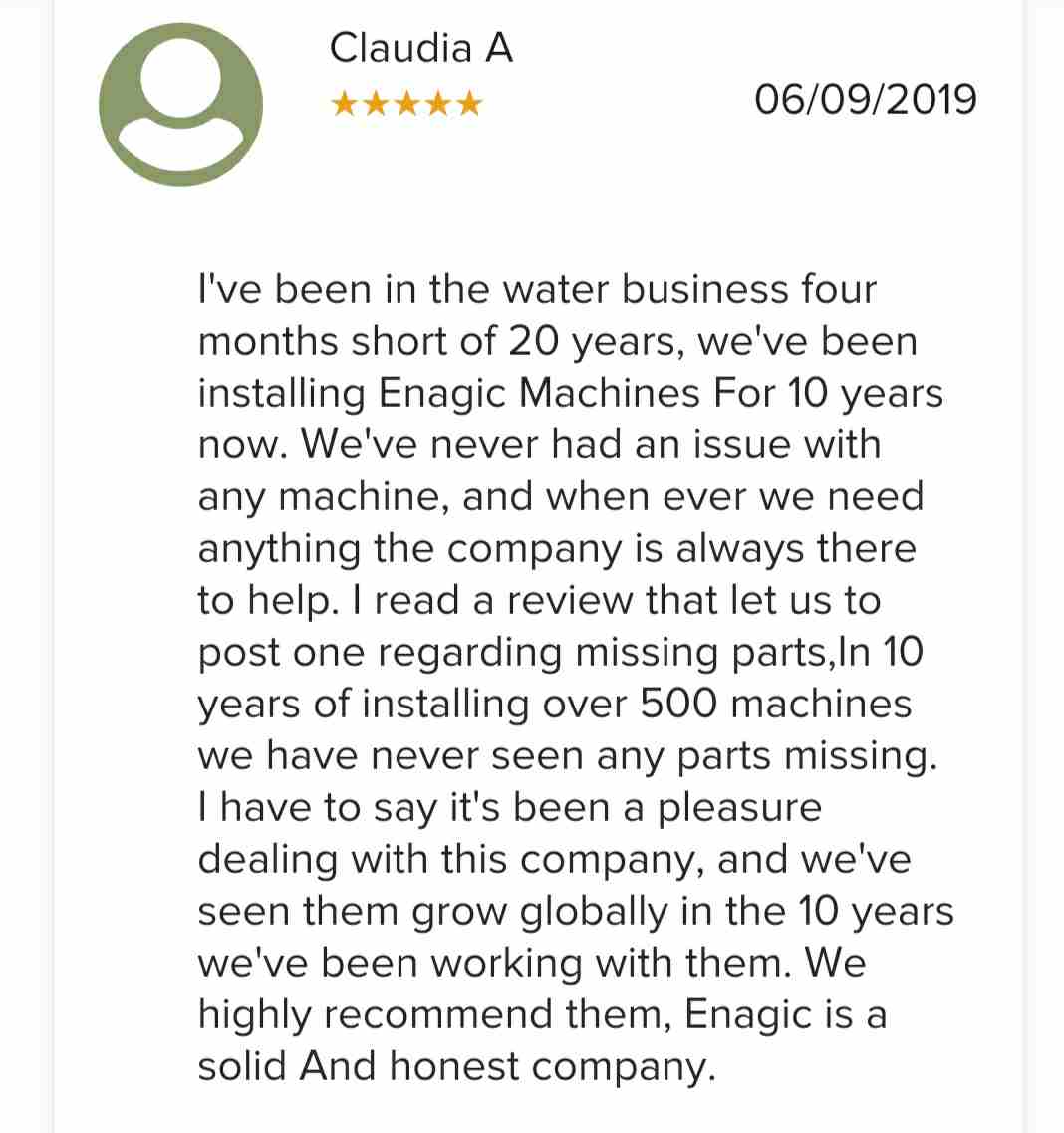 There are a few people who have had a few problems trying to send the machines back for repair but in general their experiences with the devices are solid.
I know for sure that trying to sell one of these alkaline filtration machines isn't going to be an easy sell at the $1000+ price tag but if someone does decide to buy them, they should function perfectly well.

---
HOW DO YOU MAKE MONEY ENAGIC KANGEN WATER?
As is the case with most MLM's there are 2 ways to make money with them, Enagic being no exception.
1. The first method is by directly selling the product to other individuals and in return make a commission for the sales
2. You make money through your recruits and downline, by getting residual income by following and meeting certain criteria as well as make money through bonuses and incentives due to meeting company set goals.
---
HOW TO GET STARTED
A good thing about Enagic is that you aren't required to pay any fees to join unlike most MLM's out there. All you need to do is find an already existing distributor.
Once you've managed to find a sponsor you sign up and you're good to go.
But… There's a catch…
If you're really serious about becoming a distributor and planning on selling the machines to customers, there's a possibility they might ask you about your personal experience with machines but, of course you won't have any because you decided to just sign up for free.
On the surface yes it isn't necessary for you to actually buy a machine for yourself but, if you want to be more transparent and genuine with your customers, forking out at least $1280 for the cheapest model might be something you'll need to do.
Then again how you approach it will be dependant on you, after all you could also just thoroughly research each machine and learn what the good and bad points are about them.
There's a few other beneficial things worth noting too:
– No autoship plans or monthly qualifications needed
– Everything can be sold online so no need to keep stock within your home 
– There's no annual renewal fees, this makes sense as you not required to pay anything at all in the first place so it's cool that Enagic are staying true to their guns
– You're also not required to make a specific amount of sales to remain active and be eligible for commissions which is a nice touch, quite a lot of MLM companies seem to force you to make a certain amount of sales or purchases to actually be able to make money with them, the fact Enagic doesn't require the same is definitely appreciated. 
==>Find Out How 100's Of People Are Making A Full Time Living Using This Proven Method!<== 
---
COMPENSATION STRUCTURE
Enagic use a unilevel structure similar to a few other MLM's I've reviewed, the likes of which include Xyngular, iMarketslive, Senegence etc.
An unilevel structure is divided into levels and within each level you have the ability to have an infinitely wide number of people within them. Enagic actually only goes 6 levels deep meaning that you will only potentially be able to make money through the compensation plan up till the 6th level.
Enagic uses a compensation plan of which they call the basic 8 point commission structure.
These are the following areas through which you can actually make money through Enagic:
Direct Sales Commission
Override Commission
Educational Allowance
Monthly Incentive
Quarterly Incentive
Title Incentive
Global Leadership Incentive
To qualify for the maximum level incentives up till the 6th level you'll need to have sold at least 100 enagic machines.
For a more thorough look at the compensation plan check out the video below.

---
THE NOT SO GOOD THINGS
The Machines Are Well… Expensive… 
Starting at $1280 and going up wards from there, isn't something an average person would recognise as cheap.
Of course the filtration machines in and of themselves are niche in nature so naturally most people would not think about getting them but, the fact they are so expensive will also make it a lot harder to make sales in person.
If you've got an online presence or have a decent size email list, it may be easier to find people who would buy the machines however, to do that you'd also need to find some training to get you on your way.
Otherwise I'm pretty sure it'll be hard to sell something like Enagic's machine to people especially at the high price tag that they're being sold at.
You could argue the reason why they're so expensive is because the machines are of superior quality to other brands but, at the same time an expensive product is still an expensive product.
Need To Constantly Recruit And Sell 
In order to make the most out of this MLM and be eligible for all the perks and commission levels, you'll need to sell at least 100 units. If you do the math that equates to a minimum of $128000 in sales to be eligible up to maximum potential commission structure.
In order to get to this level you need have a whole lot of prospects to communicate the opportunity to and join under you. Once they've joined you, it may even be likely that they don't purchase a unit so you don't actually make any sales to work your way up to 100 sales.
Usually in the recruitment stage of an MLM company you'd start off trying to recruit your friends, family co workers and so which means that eventually you'll run out of prospects to recruit.
Once this happens you've definitely got to learn how to market in other ways which means you'd need to spend more money to learn such strategies.
In the end of the day the maximum potential for Enagic is through it's recruiting so if you really want to excel in this business you've got to get good at it and let me tell you, it definitely isn't a walk in the park to get good at that!
No Income Disclosure Statement 
In my research I was unable to find a income disclosure statement which means that I wasn't able to find out how well Enagic's distributors are doing.
This just leads me to believe that in general most people are failing with this business model.
I've reviewed multiple other MLM companies such as Xyngular, LuLaroe, Nucerity, Isagenix and within the ones that I could find an income disclosure statement in, most of them were showing how atleast 95% were failing or not breaking even whilst generally only 1% were making anything half decent, decent being $1000+.
Going off of these MLM businesses, I'd have to assume a similar pattern for Enagic although unlike the other companies Enagic doesn't actually require any upfront costs and fees from you personally so you don't really lose any money when you start up as a distributor.
Of course you'll probably need to pay for website costs or email list costs to actually find more prospects so that's an area where you may be paying something but, in general the costs will be very minimal on your part.
A Customer Won't Be Purchasing Multiple Machines
As the filtration machines are expensive and are meant to be used for long periods of time, after all the warranty is for 5 years, it's unlikely that you'll be getting any repeat customers.
This means that in order to make sales you will nearly always need to fund some new prospects to make sales to which will of course not be an easy task to be accomplished (I guess it never really was to begin with anyways).
A lot of health and wellness company tend to have an autoship scheme in place that on a monthly basis restocks certain items for customers which would mean that you'd be making more consistent sales on a monthly basis.
As there is no autoship in place with Enagic as people generally only want 1 unit per household, you're less likely to be making anywhere near as many consistent sales as a distributor for Enagic's business.
---
THE GOOD THINGS
Free To Get Started
I like that Enagic doesn't require you to pay them anything to get started with their model so, unlike other MLM's out there it makes joining Enagic in my opinion a lot less of a risk.
In the long run you may need to spend some money on one of their products to see how they work and be more true to yourself but in general, the lack of startup fees and compulsory monthly autoship fees and what not, shows to me that it's a decent opportunity that anyone willing could have a punt at.
They've Been Around A While
Enagic Kangen Water has been around a while being 44 years old and all. This must mean that they have been doing something right and are amongst the leaders in the water filtration machine sector.
On the other hand it's only been an MLM for 15 years too so on both fronts, whether it be just as a normal business or an MLM side, they seem to be doing something right to be around foe as long as they have.
At the very least this adds a bit more credibility to Enagic as a whole.
Great Support 
When you sign up and become an official distributor, you'll be given access to some pretty cool support features. The features included are:
Prospecting tools
Advertising campaign tools
Email templates
Business Stats
Business Training Library
Product Education Resources
The fact that they're free really adds to the benefits they'll provide you when it comes to it, of course the fact that the features are free probably also means that they're not the most in depth of resources but it's definitely a nice edition.
The Products Are Great
People seem to genuinely like the units too meaning that although they're expensive at least you won't be trying to sell customers shady and a frankly useless machines.
Yeah they're on the more expensive side and it's probably possible to find something cheaper if you look hard enough but, that problem wouldn't be on your head anyways, it'll be on the customers.
A truly successful MLM business needs to have solid products and it appears that Enagic has that element covered.
==>Click Here To Access My FREE Make Money Online Guide!<==
---
IS THE ENAGIC KANGEN WATER A PYRAMID SCHEME/SCAM?
The good news is that Enagic Kangen Water is neither a pyramid scheme or a scam. It is a legitimate MLM company that appears to be functioning pretty well.
It has solid products, the ability to join them for free and the fact that it has been around for over 40 years means that it must be doing something right to still be standing.
There are a few things hat could still be problematic I feel, such as the need to recruit to actually make the most profit from Enagic or worse yet trying to sell the $1000+ machines to people.
Moreover, being an MLM company also implies from what I have learnt through other MLM's is that it's likely you'll fail and not make anything half decent.
That being said I do think Enagic is definitely amongst the better MLM's out there, it certainly has a lower amount of risk associated with joining them. Nonetheless, the MLM structure in general is something I wouldn't say is the best model to get into even if the siad coming using it is decent.
If it's possible to make direct sales via an affiliate commission deal, then I do think it may be better to do that over the recruitment commissions by using the training taught within my personal recommendation.
Otherwise if you're good at recruiting and would rather go that route, Enagic's scheme is definitely worth a shot as it is essentially free to become a distributor with no extra fees needed (necessarily).
---
MY PERSONAL RECOMMENDATION
I personally will always recommend against using a MLM business model to make money, not because you can't make money through it (you totally can) but, the system has always seemed shady to myself and is kinda synonymous with the likes of a pyramid scheme or scams (MOBE and Digital altitude).
Instead I prefer working with something created through ones own means and is ultimately dependent on yourself and your work ethic alone.
This method I'm talking about is affiliate marketing. 
The reasons as to why I recommend it over MLM based structures are because
– there is no need to recruit constantly
– it is a legitimate method that has been working consistently and continues to grow as more businesses want individuals to promote products
– and because it is free to start up, no unnecessarily large start up funds needed.
The service I recommend is Wealthy Affiliate. It's free to sign up to and will get you set up and ready to start your affiliate marketing journey within minutes, as it did for me when I begun my journey.

If you have any questions that you would like to ask me regarding Enagic Kangen Water, feel free to do so in the comments section below and I will get back to you as soon as I can. If you have your own thoughts about Enagic Kangen Water and would like to talk about it, again feel free to do so in the comments.
Thanks
Amhil