It's likely that you have come across Yoli through an email list, on social media or got it recommended by a friend or family member.  
Is Yoli a scam? The reasons why you're here is because you have want answers right so, that's what I'm going to provide for you within this Yoli review.
First and foremost I must commend you for actually doing a bit of extra research before committing to purchasing or joining Yoli. For all you could have known, Yoli may very well be a scam and rob you of your money so this review could help you find anything peculiar about it.
To be totally transparent with you I haven't used Yoli so I can assure you that I will not attempt to sell you on it unless of course it's worth investing in.
What I will aim to do is provide you with an unbiased 3rd party review of Yoli that will hopefully help you to make the correct decision in the end.
---
PRODUCT NAME: Yoli
OWNER/S: Robby Fender, Corey Citron, Daren Falter, Bobby Jones and Michael Prichard in 2009
TYPE OF PRODUCT: Health And Wellness MLM
PRICE: $39.95 +$9.95/month + $70 – $80 monthly autoship
SUMMARY:. The good news is that Yoli is neither a pyramid scheme nor a scam, it's a legitimate MLM company but, with a fair few problems that may make you want to skip out on it.
The fact you need to be really good at recruitment to succeed, the expensive upkeep costs, the expensive products on offer and the lack of an income disclosure statement all to me, suggest that Yoli probably isn't the greatest of business opportunities to pursue.
This is personally why I don't recommend it however, if you fell like it's to your liking, I'm not gonna stop you from joining.
FINAL RATING: 1.5/5
RECOMMENDED: NO


---
WHAT IS YOLI?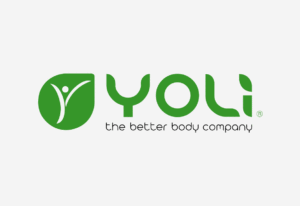 Yoli is a health and wellness MLM founded by Robby Fender, Corey Citron, Daren Falter, Bobby Jones and Michael Prichard in 2009. Yoli's aim is a pretty straightforward and common mission that many MLM's I've seen tend to have, with their mission being to help you financially, physically and emotionally if you decide to become a member.
How exactly do they plan on accomplishing these 3 elements of their mission?
The physical aspect just requires that you use their supposed line of all natural nutritional supplements that'll help you with losing weight, in turn becoming more fit and felling better "physically" overall.
As for helping you out emotionally, Yoli say that they have a very good support system to take care of you as well as help you out with your self confidence, if you lack it.
The final element is the financial aspect of their mission. Of course if you're here right now you're probably looking at it more so for this element alone right? In order to benefit from Yoli financially, you can use their compensation plan that shows you how to make more money with the company through selling, recruiting and so on.
Honestly, I doubt most people will achieve these goals that Yoli sets out to accomplish because MLM's are a lot more crafty than they come off in the beginning, the reason why I say this is because I've reviewed a lot of MLM's on this website such as :
Which is why I do believe I have a solid on grasp on what makes a good or a bad MLM company.
==>Click Here To Get Access To My FREE Make Money Online Guide!<==
---
YOLI'S PRODUCT LINE
Yoli has a very large number of products within their line up however, in order to make it a lot simpler for you and other consumers to get involved, they offer 3 packages that you can look at getting instead :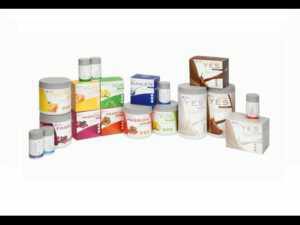 Better Body System  : This is Yoli's flagship program. It looks at 5 different areas of your health. These 5 areas are pH balance, weight management, healthy metabolism, total nutrition and structural support so that you health can benefit to the highest degree.
Transformation Kits : This package is named the transformation kit because its main goal is to help people lose weight quickly, enhance their physical energy, and improve overall health with the ultimate goal of transforming your body's physical shape into something you're proud of. Whether or not it works will depend on each individual.
Lifestyle Kits : This product line focuses on specific needs that people have, such as weight management kits, energy kits, alkalinity kits etc. For any other kind of health issue you want to tackle, Yoli even gives you the option to create you own kit.
If you want to look at what Yoli have in their shop, click here.
Do You Want To Make A Full Time Income Online Just As Many Have Been Doing For Decades, If So Check Out My #1 Recommendation
---
WHAT DO PEOPLE THINK ABOUT YOLI'S PRODUCTS?
As I've never used any of their products I can't tell you from personal experience if Yoli's products are actually any good but,  I did do a bit of research to see what actual consumers thought and this is what I found.
On dietspotlight it appears as if people really do enjoy the products, well at least the body system kit that is.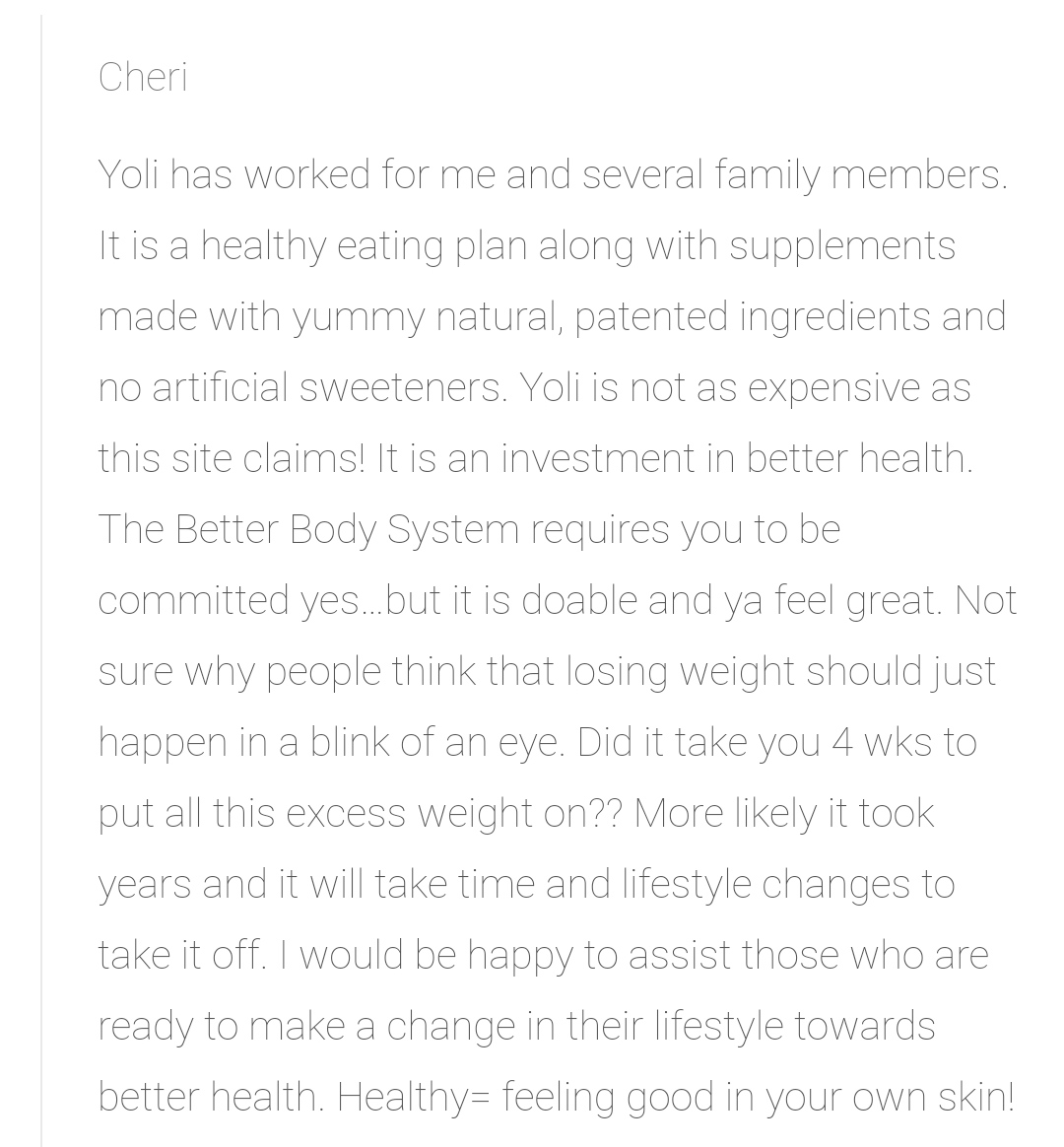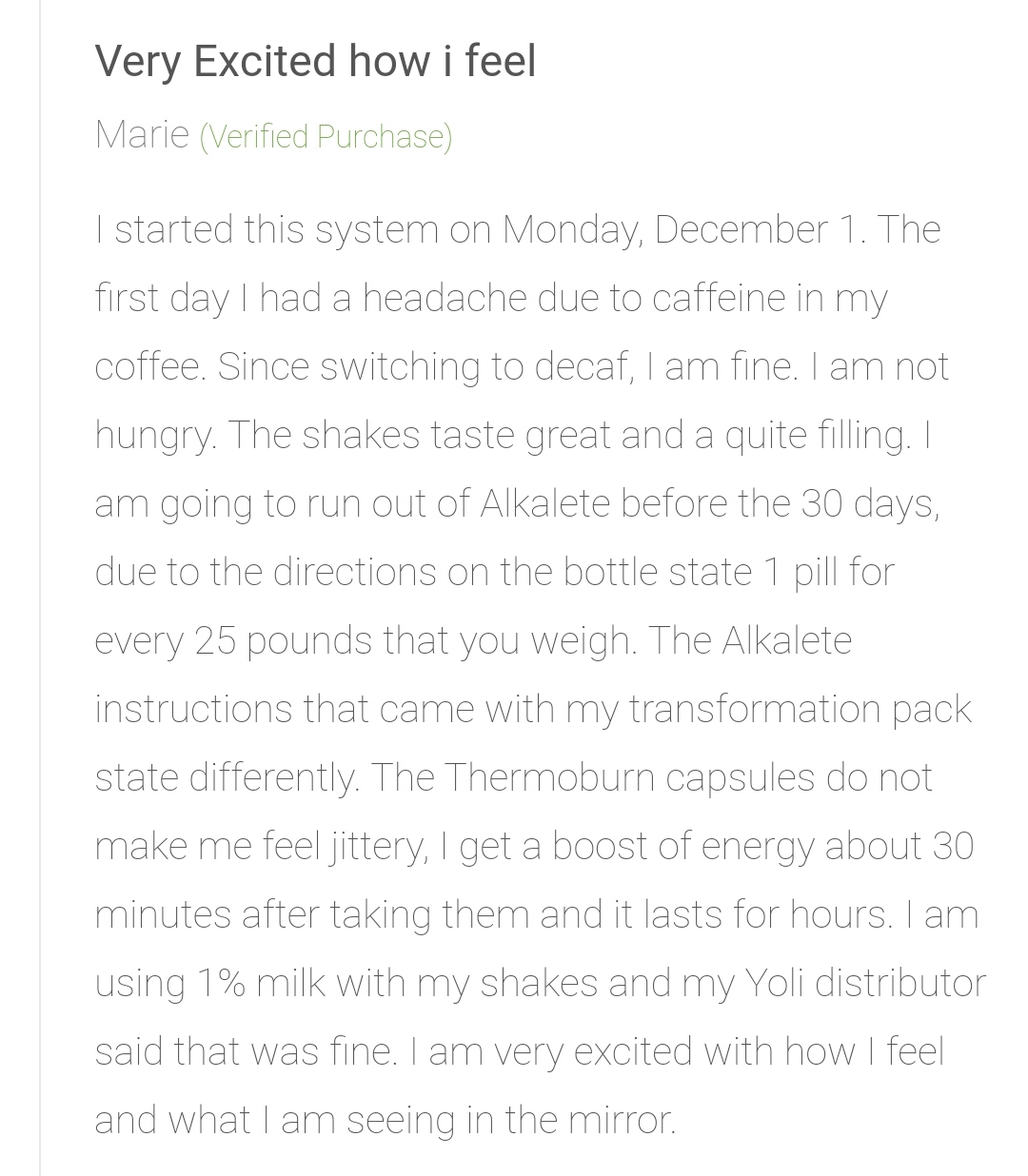 However, even though the products do work and have helped customers lose weight, there are some customers who experienced side effects such as pain in their wrist or headaches when consuming them.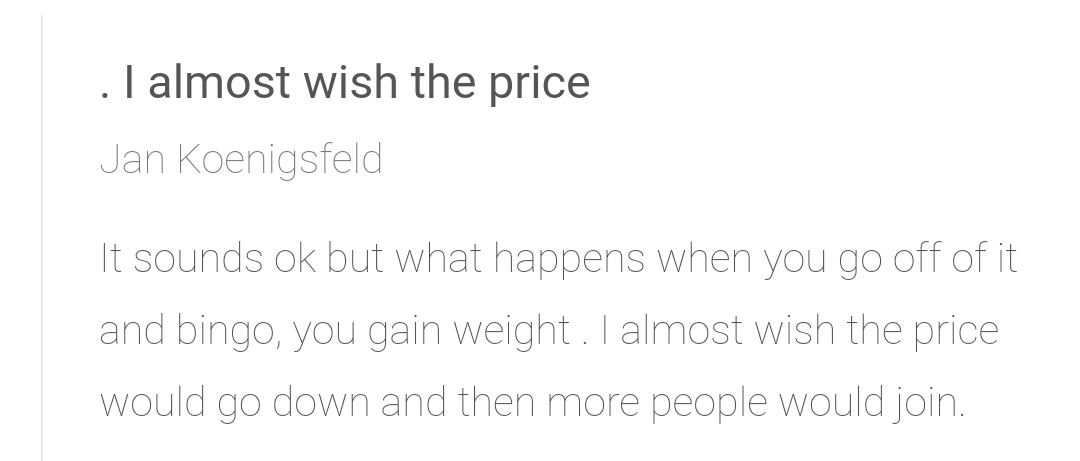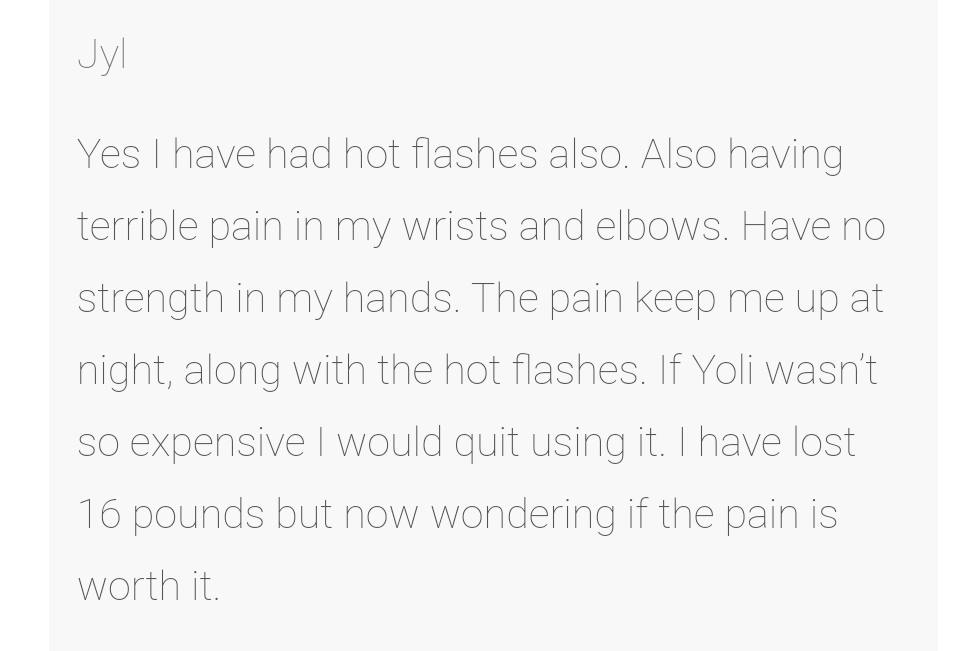 All in all people have had a good experience with products but, one thing that a large majority did not like was the fact the products are way too expensive.

---
HOW DO YOU MAKE MONEY THROUGH YOLI?
As is the case with pretty much all MLM businesses there are 2 ways to make money with them, Yoli being no exception.
1. The first method is by directly selling the product to other individuals and in return make a commission for the sales
2. You make money through your recruits and downline, by getting residual income by following and meeting certain criteria as well as make money through bonuses and incentives due to meeting company set goals.
---
HOW TO GET STARTED
If you want to become an active distributor for Yoli, there are a few things that you will need to pay foe. The first is a $39.95 enrolment pack free, the second is a $20 yearly renewal fee and the third is a $9.95 a month for your virtual back office.
At that point the whole sign up process does seem very tame however, it's actually not the end of what you need to pay.
You'll also need to maintain a further $70 – $80 monthly autoship fee. 
However, this still isn't the end of it…
On top of all of the other payments and ultimately be eligible to earn from the compensation plan you'll also need to recruit atleast 2 affiliatea in your downline who also pay the monthly autoship fees.
In my findings on MLM's this is a very common and honestly, I it's among my least favourite aspects of opportunities like Yoli.
Anyways, as for what your total fee for the year will be if you join Yoli, it'll add up to be…
Anywhere from $1019.35 to $1139.35!
That's quite a heavy financial commitment to make!
Although I can say that $1k+ for a year is pretty much the average amount that MLM's cost to to be maintained, it still doesn't mean it's worth getting into, especially when there are opportunities out there which cost half of the amount of Yoli yet can offer an even more lucrative online business opportunity.
So, in short Yoli is an expensive online businesses to join and not something I'd go out of my way to tell you to join.
Are You Tired Of Working For A Boss? If So Why Not Take Your Job Into Your Hands And Work For No One But Yourself… If You Want To Do This Check Out My #1 Recommendation
---
COMPENSATION STRUCTURE
Yoli uses a pretty unique compensation plan which is actually a hybrid of both a binary and a unilevel structure.
Although this kind of plan is very unique, by using both structures it also make the compensation a lot more complicated to understand too.
There are 11 different elements to the compensation plan which I'll break down for you briefly :
Retail Profits :  This is a  commission that you earn for selling Yoli's products to customers and earn the difference between the wholesale and retail price. For example, if you bought a product at wholesale for $50 and sold it at a retail price of $70, you'll make a $20 retail profit
Rebate Bonus Program : This is designed to reward active distributors, with bonus commissions, who manage to enroll preferred customers and retail customers.
Fast Start Bonus :  You'll make a 20% bonus commission when you enroll new members into Yoli.
Refer 3, Get It Free : Yoli will give you products for free if you manage to enroll 3 members and/or preferred customers within a four-week period.
Break Even Bonus (BEB) : It's basically the credits These are credits that you earn from the autoship of your downline members. Once you've earned these credits you'll be able to use them for your own products.
Binary Team Commission: This is autopilot or residual income that you can earn depending on how well your binary downline teams perform.
Unilevel Executive Matching Bonus : This is the unilevel commission you'll earn based on the performance of your personally enrolled members. The depth of the unilevel commissions will depend on how highly you rank within the company.
Global Bonus Pool : This is the company's profit sharing bonus that is given out to the top ranking leaders within Yoli. This bonus only applies to members who are Diamond rank and above.
Multiple Business Centers : This is for Yoli leaders who have managed to max out their binary structure in order to build another leg/downline to qualify for "multiple binary commissions".
Travel Incentives : Every year Yoli will give qualified members the opportunity to travel to some of the most exotic places in the world.
Luxury Car Program : Yoli will give you up to $600 every 4 weeks for your car payments if you qualify for this incentive.
If you want a more In depth look at the compensation plan I'd suggest checking out the video below.

---
THE NOT SO GOOD THINGS
Recruiting In Necessary To Succeed
This isn't very surprising but it is definitely a problem that I can see a lot of people having with Yoli. In fact in order to even start making money with Yoli, you'll need to have at least 2 downline members who are active on their membership below.
That's just to get started, in order to make enough to break-even or even make a good part time or full time income, recruitment is going to play a major and crucial part in your success.
Normally you'd think to go and ask your family or friends to join you right? Well I definitely suggest against doing that because if you do bring them and if they join because they feel a little sorry for you, once they find out that the costs of the business and how they also need to recruit to succeed with the company, I doubt they'd be all too happy.
This is the route most new MLM distributors tend to follow and it more often then not, messes up their relationships with family or friend.
That is why instead of recruiting people who feel sorry for you or want to believe in you due to your relationship with them, developing the right skills to recruit people who are actually interested instead, as in a targeted audience, is what I would recommend most new people to this biz do.
So, unless you're willing to learn how to recruit through one on one methods or already have the skill set in place, it's probably not going to be worth pursing the opportunity offered by Yoli.
It's Expensive To Upkeep
With around $80 – 90 monthly autoship that you'll need to pay after you've paid all the initial startup fees, you've got to admit that it's not the most affordable of opportunities to pursue. In the end of the year you will have invested over $1k and honestly, are unlikely to show to much in return for your efforts.
In this day and age when you can start an online business for a third of the cost yet have a likely more lucrative business model to on hand, I personally don't think paying $1k+ to upkeep a Yoli business is quite worth it.
The Products Are Really Expensive
The products that Yoli sell are actually very expensive with the Transformation kit actually costing you upto $340/month.
That's a ludicrous amount to pay for any kind of nutritional products or supplements and is obviously going to be pretty hard to sell to your customers. I guess the only good thing about it is that you'll be able to make larger commissions for every sale but, being as expensive as they are, it makes it a helluva a lot harder to make sales anyways.
The Compensation Plan Is Complicated
The compensation plan is long and complicated but, it's also necessary that you learn it if you're serious about becoming a distributor. Although this isn't really the worst thing about Yoli, I do think it's still worth a mention because of how important MLM compensation plans are for their distributors.
No Income Disclosure Statement
Unfortunately I couldn't find a income disclosure statement for Yoli stating how much money distributors actually make however, as I have seem many income statements from other MLM's like xyngular, arbonne, nucerity etc. I do actually have a pretty solid idea on what is likely to be the financial situation for most Yoli distributors.
Going off of what these other statements show, it is highly likely that only around 5% of members will be making around $1k/month whilst only around 1% – 2% are making a full time income so, the results are highly unlikely to be great for you.
Do keep this rough estimates in mind if you decide to join Yoli.

---
THE GOOD THINGS
It's Been Around For 10 Years
When you take into account how most companies tend to fail within the 5-10 years of being around, the fact that Yoli is still holding strong at this point is definitely a good thing and adds a fair bit to the companies credibility.
==>Click Here To Get Access To My FREE Make Money Online Guide!<==
---
IS YOLI A PYRAMID SCHEME/SCAM?
The good news is that Yoli is neither a pyramid scheme nor a scam, it's a legitimate MLM company but, with a fair few problems that may make you want to skip out on it.
The fact you need to be really good at recruitment to succeed, the expensive upkeep costs, the expensive products on offer and the lack of an income disclosure statement all to me, suggest that Yoli probably isn't the greatest of business opportunities to pursue.
This is personally why I don't recommend it however, if you fell like it's to your liking, I'm not gonna stop you from joining.
---
HOW I MAKE MONEY ONLINE
Although MLM's have created its fair share of millionaires over the years, more often than not when it comes to training newbies and teaching them how to succeed in the biz, they tend to be very lacklustre…
This is why so many people tend to fail!
Therefore, personally I would suggest you look into creating your own brand, particularly through a website, whilst ultimately getting involved in my #1 money making method online as a result.
If you're curious as to what my #1 make money online method online is, it's affiliate marketing!
By having your own website and essentially driving targeted traffic to it, not only can you sell whatever MLM product you want, it's also possible to sell other products too without even purchasing stock.
By doing this not only would you make extra commission per sale but you also won't need to worry about fulfilling orders for customers and dealing with their potential complaints!
I've personally made over $100 in a day as a result of implementing affiliate marketing to my online business!

Here's a screenshot of one specific payment
Others have made way more than me but, the fact of the matter is that it works, which is why I would highly recommend you look into it.
If you're intrigued by the potential of affiliate marketing, I've put together a very in-depth guide diving into what affiliate marketing is, how long it takes to make your first bit of income along with how to effectively grow your online business and maintain its income.
==>Click Here To Gain Access To My Free Affiliates Marketing <==
If you have any questions that you would like to ask me regarding Yoli , feel free to do so in the comments section below and I will get back to you as soon as I can. If you have your own thoughts about Yoli and would like to talk about it, again feel free to do so in the comments below!
Thanks
Amhil