It's likely that you have come across Organo Gold through an email list, on social media or got it recommended by a friend or family member.
Is Organo Gold a scam? The reasons why you're here is because you have want answers right so, that's what I'm going to provide for you within this Organo Gold review.
First and foremost I must commend you for actually doing a bit of extra research before committing to purchasing or joining Organo Gold. For all you could have known, Organo Gold may very well be a scam and rob you of your money so this review could help you find anything peculiar about it.
To be totally transparent with you I haven't used Organo Gold so I can assure you that I will not attempt to sell you on it unless of course it's worth investing in.
What I will aim to do is provide you with an unbiased 3rd party review of Organo Gold that will hopefully help you to make the correct decision in the end.
---
PRODUCT NAME: Organo Gold
OWNER/S: Bernardo Chua & Shane Morand in 2008
TYPE OF PRODUCT: A coffee selling MLM
PRICE: $49.95 + $150 + $50/month
SUMMARY: No, I don't believe that Organo Gold is a pyramid scheme or a scam, I'd say that it is actually a legitimate MLM business considering how it's products are real, positively reinforced by consumers and the fact it's been around for 10 years adds to its credibility too.
However, as a business opportunity there are a lot of things that I think is holding it back from being worth your while.
The issues regarding the Ganoderma, the fact you've got to recruit a lot to succeed, the concern of stockpiling products because you need to purchase on autoship and the really low earnings potential are all major points to take into account before joining.
I recommend that you skip this because of all the negative points I've mentioned but, in the end of the day the final decisions up to you.
FINAL RATING: 2/5
RECOMMENDED: NO


---
WHAT IS ORGANO GOLD?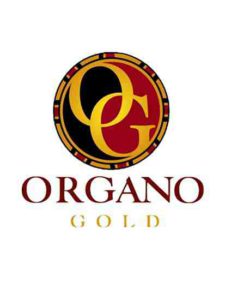 Organo Gold is an MLM founded by Bernardo Chua & Shane Morand in 2008 and basically is a business opportunity for individuals who like coffee. It is a pretty large company that has over 500k independent distributors across 50 different countries.
Their slogan is "Bringing the treasures of the earth to the people of the world", I think its a pretty wierd slogan but, when you take into account the popularity of coffee in recent times, I'm sure there's atleast a couple individuals in the world who consider coffee beans to be "treasure".
Of course normal coffee beans as a whole don't make Organo seem like a very unique prospect and considering how you'll likely be paying more for these coffee beans over ones you can buy from supermarkets, Organo Gold should at least have something unique about them and as far as the marketing goes, it does seem that it does.
I've reviewed a lot of MLM's like :
So I do think I have a good grasp on what a MLM is and the positives and negatives elements that they tend to show.
So How Does Organo Gold Differentiate Itself From Its Competitors?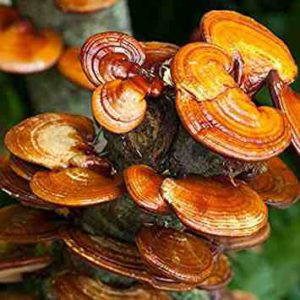 They do this by infusing this unique mushroom powder called Ganoderma Lucidum. This is said to provide quite a few health benefits to consumers, benefits that :
Enhance the immune system
Prevent or slow down cancerous tumors
Regulate blood pressure
Alleviate allergies
Decrease inflammation
Aid in digestion, etc…
So these elements do make the coffee beans stand out from the crowd and it definitely adds a bit of uniqueness and quality to the products. However, these coffee beans aren't meant to be consumed for extended periods of time (more than 3 – 6 months) as there are instances where individuals have suffered upset stomachs, rashes, nose bleeding and so on.
This one ingredient, although separating the MLM from the pack, also does come with its own problem and is actually quite a controversial ingredient that shouldn't be taken on a whim.
Just to be safe, it's probably best to get the advice of a doctor to make sure it's suitable for you as it could prove detrimental to your health if you're not compatible with it.
I guess the next thing worth learning about is what exactly Organo Gold's product line is so I'll move onto that now.
==>Click Here To Access My FREE Make Money Online Guide!<==
---
ORGANO GOLD'S PRODUCT LINE
Besides just coffee beans, Organo Gold also sell a bunch of other products although, the one constant within all of these products is the use of the Ganoderma ingredient.
As for what the products are within the MLM, the products sold include:
Gourmet Black Coffee : Classic coffee with regular beans & Ganoderma lucidum
King of Coffee : Finest organic beans with Ganoderma lucidum
Cafe Latte : Blended with cream, sugar and of course Ganoderma 
Cafe Mocha : Black coffee + Cocoa + Ganoderma
Cafe Supreme : Creamy coffee + ginseng + Ganoderma
Hot Chocolate : Regular hot chocolate with Ganoderma
Green Tea : Organic green tea + Ganoderma
Black Ice : Refreshing iced black tea with pure & natural honey + Ganoderma
Enzyme : Natural enzyme complex with probiotics. Helps with your digestive system, energy, health, vitality and balanced function of your entire body. 
If you want to check the products out for yourself, click here.
As for how much they cost, according to amazon they cost anywhere from $20 – $30 for a package with 15 – 30 sachets in them. The inclusion of their "special ingredient" is likely why the coffee beans are 2-5 times more expensive than store bought brands so, if you're trying to sell them as a distributor, it might be hard to do?
Do You Want To Make A Full Time Income Online Just As Many Have Been Doing For Decades, If So Check Out My #1 Recommendation
---
WHAT CONSUMERS THINK OF THE PRODUCTS ?
I've not tried any of Organo's products so I can't really tell you how they are but, I did do a little bit of research on what actual consumers thought and this is what I found.
It seems that for the most part, at least within amazon people who've tried their coffee generally really like the taste. The cafe mocha line in amazon is especially liked, getting a lot of positive feedback.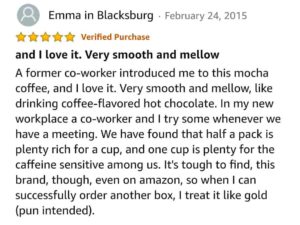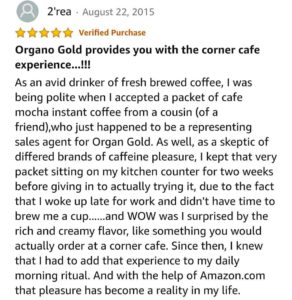 There other products seem to be generally liked by consumers as well and the only problem I saw was regarding the delivery of the products.
Of course the ingredient that they use, Ganoderma lucidum, although having some health benefits (not all scientifically proven), is also a potentially risky ingredient for people with a genuinely weak immune system or for pregnant individuals.
Besides these concerns, the product line as a whole seem to be appreciated and mostly liked by consumers.


---
HOW DO YOU MAKE MONEY THROUGH ORGANO GOLD?
As is the case with pretty much all MLM businesses there are 2 ways to make money with them, Organo Gold being no exception.
1. The first method is by directly selling the product to other individuals and in return make a commission for the sales
2. You make money through your recruits and downline, by getting residual income by following and meeting certain criteria as well as make money through bonuses and incentives due to meeting company set goals.
---
HOW TO GET STARTED
Now if you want to actually get started with Organo's business opportunity, there are a few things that you will need to do, or more like purchase if you want to be become a distributor.
There are 4 different levels packages that you can purchase, each providing you with different benefits if you decide to go for them. The most basic level package is the Business Entry kit which will cost you $49.95. There are a few important resources provided in this kit of which include :
Distributor Binder
Brochures & Applications
Coffee Samples
Access to wholesale purchases
A Pro Replicated Website (you will need to renew the website every year) 
If you want access to just the basics, this kit is probably going to be sufficient however, if your intention is to make the most out of this opportunity and make more in commissions per sale, the other kits might be more to you liking.
These other kits include :
Bronze Pack ($150): You'll be able to make a 10% commission from the compensation plan as long you purchase this kit and maintain a $50/month autoship.
Silver Pack ($450) : You'll be able to make a 15% commission from the compensation plan as long you purchase this kit and maintain a $100/month autoship.
Gold Pack ($1300) : You'll be able to make a 20% commission from the compensation plan as long you purchase this kit and maintain a $100/month autoship.
As I said, the initial starter kit can get you started with the basics but, if you want to make the most out of being a independent distributor for Organo, it will be necessary that you purchase one of these kits as well as maintain the monthly autoship.
It's safe to say that if you follow through with the more "premium kits", you'll be stuck investing quite a lot of money. This also isn't mentioning all the other tools that Organo Gold suggests you invest in too.
The amount it costs to actually remain an active member within this company can vary from a somewhat modest start up for an MLM company at a little over $800 if you go with the bronze package and go as high as $2.5 – $2.6k if you go for the maxed out option.
If you include all the marketing costs and likely some extra investment in resources, it's possible that you'll be spending around $1k/year at the very minimum to run this business.
Will this actually be worth it?
Well that depends on your own actions to be honest but, I'll show you ehat the success rate is regarding Organo a little later so you know what your odds succeeding will be.
Are You Tired Of Working For A Boss? If So Why Not Take Your Job Into Your Hands And Work For No One But Yourself… If You Want To Do This Check Out My #1 Recommendation
---
COMPENSATION STRUCTURE
The compensation plan is fairly indepth for Organo. It should go without saying that if you're serious about this business opportunity it's imperative that you learn exactly how the plan works. Organo Gold uses the very popular binary structure for it's compensation structure.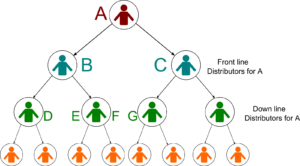 I'm only going to go over it briefly so I would suggest that you actually go over it a few time before delving any deeper if you're serious about the business opportunity on offer. There are actually 7 different ways that you can earn money through the compensation plan, all of which include :
Retail Profit: Earn up to 50% profit when you sell a retail product for Organo 
Fast Track Bonus: Earn $20 – $120 on each Organo Promotional Product Pack sold, with no limit on the number of packs you can sell and money you can make. 
Dual Team Bonus: As you build your two main downline teams, once it becomes big enough you can earn up to $75,000 which of course, less than 1% of members will ever reach. 
Unilevel Bonus: Receive bonuses from product orders and re-orders generated in your group, up to nine levels deep.
Unilevel Matching Bonus: You'll make a percentage of the Unilevel Bonus earned through your Personally Sponsored Distributors, up to 4 levels deep. 
Generational Bonus: Additional bonuses for Organo leaders
Global Bonus Pool: Once you reach a certain level, you can qualify in getting a 3% share of the Total Worldwide Unilevel Commissionable Volume.
If you want a more indepth look at the compensation plan check out the video below.

---
THE NOT SO GOOD THINGS
Recruitment Plays A Crucial Part On Whether You Succeed Or Not
Any and pretty much every MLM follows this principle or at least it's implied that recruitment is probably the best way to succeed within them, Organo Gold isn't any different in this instance either.
The problem with recruiting is that if you don't do it, you will be left to deal with all your maintenance fees and really start raking up the bills so, if you're really shy or don't know how to generate leads for your downline, making a lot of money with Organo will be nothing more than a dream.
Of course it's theoretically possible to make decent money just selling the products directly however, considering they aren't worth a lot and that the commissions aren't necessarily the highest out there, you'll likely need to sell a hundred or double that to make decent money.
The compensation plan seems to reward distributors who can bring in a lot of recruits with some great perks that's why, unless you're willing to dedicate everything you can in learning the skill set to become an exceptional recruiter (if you aren't already), it's probably not worth pursuing Organo Gold or any MLM opportunity in my opinion.
The Main Trademark Ingredient Ganoderma Lucidum Is Problematic 
I disscused this in the beginning of the post so you should know that along with having potential positive health benefits this Ganoderma mushroom can also potentially result in negative side effects if consumed for more than 3-6 months.
Considering how coffee is something that's definitely going to be consumed for extended periods of time and the overwhelming positive reviews on the quality of the coffee beans as a whole, this could potentially turn very sour.
I don't really know if the coffee could completely mess some ones body up but, it's definitely something that you should have your customers consult doctor about so that they can make sure drinking coffee made by Organo isn't going to be too harmful for them.
The Start Up And Upkeep Costs Can Get Expensive
The start up expenditure is definitely going to pretty large if you're planning to pursue this opportunity presented by Organo.
The minimum amount of around $800+ a year is actually relatively modest for an MLM company but it's also got the lowest income potential for distributors therefore, it's quite likely you'll be investing in the other 2 package.
The other 2 are significantly more pricier and will run you down atleast $1.65k+ a year and a further $1.2k for every other year, at the very minimum.
At that price tag, you'd have to be dedicated to actually making it work, I'm not talking minimal hours a week, I'm saying more in the ball park of at least 15 to 20 hours weekly, especially in the beginning.
If you're not up for putting in this kind of work as a newbie with little to no experience in network marketing, this heavy financial burden definitely doesn't seem worth it considering how there are other online money making opportunities out there costing a lot less for arguably more monetary potential.
The Possibility Of Stockpiling
As you will need to pay for an autoship to remain eligible for the compensation plans commissions, if you're not fast enough in making sales or even in consuming the coffee, your home might basically turn into a storage space for any extra coffee beans you couldn't seem to he rid of.
This might become a problem for you if you're not able to sort your strategies out to make being an Organo Gold distributor work.
Most People Are Failing
This isn't really that surprising because most MLM's tend to have low income potential and in general don't seem to break even so, Organo being amongst these others MLM's is far from a shock.

The income disclosure statement above shows how 94% of distributors are making less than $600! That's not even breaking even with the startup and upkeep costs for the year.
The active distributors within the leadership ranks only consist of the 6% so ,this means that 6% are making over $600 which obviously isn't much.
So the figures are very low, less than 2% of all members overall are making decent money to a full time income. If you do decide to join Organo Gold and become one of their distributors, keep in mind that the odds are definitely not in your favour.

---
THE GOOD THINGS
Alot Of People Seem To Really Like The Products
A positive about Organo is that people genuinely seem to like what's on offer so in terms of the quality and flavour of the coffee, it seems to be pretty solid.
So besides the potential issue with the special ingredient, Organo do create quality coffee
It's Been Around A While
At the current moment Organo Gold has been around a little more than 10 years. When you take into account how most companies tend to fail within 10, the fact Organo is still going strong gives alot of credibility to it.
Organo Gold Participates In Charitable Causes
It's usually a rare sight to behold when a massive MLM company liek Organo actually participates in charity so the fact that Organo does do this most certainly puts a positive light on it.
I think it's nice that they actually are a charitable organisation and I guess you could class this as positive too.
==>Click Here To Access My FREE Make Money Online Guide!<==
---
IS ORGANO GOLD A PYRAMID SCHEME/SCAM?
No, I don't believe that Organo Gold is a pyramid scheme or a scam, I'd say that it is actually a legitimate MLM business considering how it's products are both real and positively reinforced by consumers. The fact it's been around for 10 years adds to its credibility too.
However, as a business opportunity there are a lot of things that I think is holding it back from being worth your while.
The issues regarding the Ganoderma, the fact you've got to recruit a lot to succeed, the concern of stockpiling products because you need to purchase on autoship and the really low earnings potential are all major reasons to take into account before joining.
Personally all these reasons mean that I don't think it's the best business opportunity to pursue and is something I suggest you skip however, the final decision is up to you so whatever you do isn't going to be a problem for me.
---
MY PERSONAL RECOMMENDATION
I personally will always recommend against using a MLM business model to make money, not because you can't make money through it (you totally can) but, the system has always seemed shady to myself and is kinda synonymous with the likes of a pyramid scheme or scams (MOBE and Digital altitude).
Instead I prefer working with something created through ones own means and is ultimately dependent on yourself and your work ethic alone.
This method I'm talking about is affiliate marketing. 
The reasons as to why I recommend it over MLM based structures are because
– there is no need to recruit constantly
– it is a legitimate method that has been working consistently and continues to grow as more businesses want individuals to promote products
– and because it is free to start up, no unnecessarily large start up funds needed.
The service I recommend is Wealthy Affiliate. It's free to sign up to and will get you set up and ready to start your affiliate marketing journey within minutes, as it did for me when I begun my journey.


If you have any questions that you would like to ask me regarding Organo Gold, feel free to do so in the comments section below and I will get back to you as soon as I can. If you have your own thoughts about Organo Gold and would like to talk about it, again feel free to do so in the comments below!
Thanks
Amhil