It's likely that you have come across PlanNet Marketing through an email list, on social media or got it recommended by a friend or family member.
Is PlanNet Marketing a scam? The reasons why you're here is because you have want answers right so, that's what I'm going to provide for you within this PlanNet Marketing review.
First and foremost I must commend you for actually doing a bit of extra research before committing to joining PlanNet Marketing. For all you could have known, the product could be a major scam so the fact you're here right now, researching whether or not that's the case is a pretty smart move on your part.
To be fully transparent with you, I am personally not a member of PlanNet Marketing so I can assure you that I will not attempt to sell you it unless of course it's worth investing in.
What I will aim to do is provide you with an unbiased 3rd party look at PlanNet Marketing that will hopefully help you to make the best decision you can in the end.
---
PRODUCT NAME: PlanNet Marketing (PM)
OWNER/S: Don Bradley and Andy Cauthen
TYPE OF PRODUCT: travel based MLM
PRICE: $19.95/ month
SUMMARY:
FINAL RATING: 2/5
RECOMMENDED: No

---
WHAT IS PLANNET MARKETING?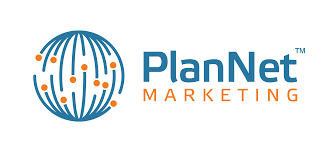 PM is a travel based MLM company founded by two individuals, namely Don Bradley and Andy Cauthen. This actually isn't the first travel based MLM I've reviewed, others include the likes of traverus, ibuumerang, Goodlife USA and inteletravel.
In fact it seems like PM are partnered up with InteleTravel where they pretty much act as a subsidiary to them as PM reps are asked to sell inteletravel's travel based services and membership to others.
In regards to the owners of the company, it does seem like they have a good knowledge of the MLM scene. In the past Don was actually the VP of another travel based company called paycation.
And before becoming the VP of paycation he worked in another travel based company called Pro Travel Network so, it's safe to say he knows how travel based MLM's work.
Andy similarly has a lot of experience in the MLM scene where he became the CEO of this one company called YTB International. This company was notorious for being a shady company so it doesn't add a whole lot of credibility for Andy but he did leave it in 2014 probably do to these problems.
PM is also a travel based MLM and both owners  seem to be quite knowledgeable in the niche is based on so, there is hope on it being a solid company however, if it's a good business for normal folk to join us another matter entirely.
==>Click Here To Get Access To My FREE Make Money Online Guide!<==
---
PLANNET MARKETING PRODUCTS
As I've mentioned above, PM are partnered up with inteletravel so the first way to make money with the company is to promote InteleTravel's services and membership. The second method is to promote PM's memberships.
On their website they state that there are 2 methods to earn, which include the following :
The PlanNet Marketing Rep who sells the InteleTravel home-based Independent Travel Agency ("ITA") business and earns a direct sales commission.
The PlanNet Marketing Rep who, in addition to selling the ITA business opportunity, also chooses to build a PlanNet Rep organization and earn override commissions on Reps in their organization who do the same.
So in simple terms it seem like PM is simply an extra add on on top of InteleTravel meaning you'll basically be promoting InteleTravel's compensation plan.
What that means is every time you sell one of inteletravel's packages you'll make a commission whilst you can also choose to promote PM to others and make more money in that regard.
However, trying to sell individuals on the idea of joining inteletravel won't be easy. For someone to join they'd need to spend $179.95 plus $30/month.
So in short, PM use inteletravel to sell travel deals and products to would be customers.

---
HOW DO YOU MAKE MONEY WITH PLANNET MARKETING?
As is the case with pretty much all MLM businesses there are 2 ways to make money with them, PM being no exception.
1. The first method is by directly selling the product to other individuals and in return make a commission for the sales
2. You make money through your recruits and downline, by getting residual income by following and meeting certain criteria as well as make money through bonuses and incentives due to meeting company set goals.
---
HOW TO GET STARTED
If you want to become a PM member, I believe it will cost you $19.95 per month to do making it quite affordable to join the company.
Discover How I Made $173 Through A Single Sale Using This Online Business Model, Click Here To Read My Full Money Making Guide On How I Did It! 
---
COMPENSATION STRUCTURE
This is probably the most important document for any would be PM affiliates therefore, you should go over this multiple to understand how the company's payment structure works. I'll briefly be covering it here but, you should get your hands on the plan if you're planning on joining PM.
Firstly, there are 7 ranks within PM, which include the following :
Rep
Gold Builder
Director – One Star
Director – Two Stars
Director – Three Stars
Director – Four Stars
Director – Five Stars
Considering there are this many ranks within PM, it'd make sense that the top ranks are where the money is at however,  achieving them will be a lot easier said than done.
Retail Commissions
I believe that as an ITA you'll be eligible to make 70 – 80% in commissions from every package you sell whilst every time you recruit an ITA that purchases the starter kit for $179.95 + $30/Month, you'll earn a further $50 commission.
50% Matching Bonus
This is a matched bonus you'll receive whenever one of your personal recruits manages to sign someone else up for an ITA package. If this is accomplished, PM will match 50% of the recruitment package that the new recruit would make for the sale. This means you'll receive a $25 commission.
Gold Bulider Bonus
Once you've become a Gold builder member, you'll become eligible for this bonus. By achieving the rank you'll be able to receive a $10 bonus for every ITA sale that is made in your downline, provided there aren't any other Gold builder members below you
This is because the bonus is paid out to the first person ranked as a Gold Builder in the up line for every ITA sale made in the downline. The bonus also follows a unilevel structure so there could theoretically be an infinite number of members within your downline, with multiple different levels.
So, worst case scenario you'll only be eligible to earn this bonus from your direct referrals whilst in better situations, as long as a personal recruit of yours isn't a Gold builder and they bring in another member, provided this personal recruit isn't a Gold builder, you'll earn both the 50% bonus and $10 on top.
Matrix Commissions
PM uses a 3×9 matrix through which it pays members residually. This simply means that each member in your team will be able to recruit 3 people and the vertical depth till when you can earn from the matrix stops at level 9. Once you reach the minimal requirement of 9 people in your team (which obviously will not be easy to do) you'll be able to earn via this method.
After you've met this criteria you'll be able to earn $4 a month in residual commissions.
There are various other bonuses such as their director bonus and the rank achievement bonus, but I won't be covering it here because it's not something that'll be useful for you when you start out anyways.
But, If you want a more in depth look at the plan, click here or watch the video below.


---
THE NOT SO GOOD THINGS
You'll Need To Be Good AT Recruiting To Succeed
Recruiting is likely where you'll make the majority of your Income and this is purely due to the fact travelling is generally a very seasonal thing.
Don't get me wrong, it definitely is possible to make sales on certain travel deals in the winter periods but, for the most part it'll be very tough to do therefore, I would think in such a case recruitment will play a huge role in how much an affiliate for PM will make with the company.
My position on this is further influenced by the fact a lot of the earring elements within the compensation plan are heavily reliant on either you or your downline team bringing in more recruits or remaining monthly paying members.
Which is why I'm pretty sure the only members who'll succeed with PM are those that are already good at recruiting or are willing to put in the hours and other investments to get good at it.
The Services Are Really Expensive
Convincing someone to not only pay $180 but also a further $30/month won't be easy to do, which is why I believe it'll be really hard to recruit someone into the company.
Of course if you're already good at recruitment There's a good chance you'll be asking a lot of people therefore, the numbers game will play in your favour however, the majority of affiliates will struggle to sell the membership which is why this might be a big enough reason to skip out on the company.
Most People Are Failing
According to PM's income disclosure statement, the majority of individuals do appear to be failing and honestly, I'm really not all that surprised.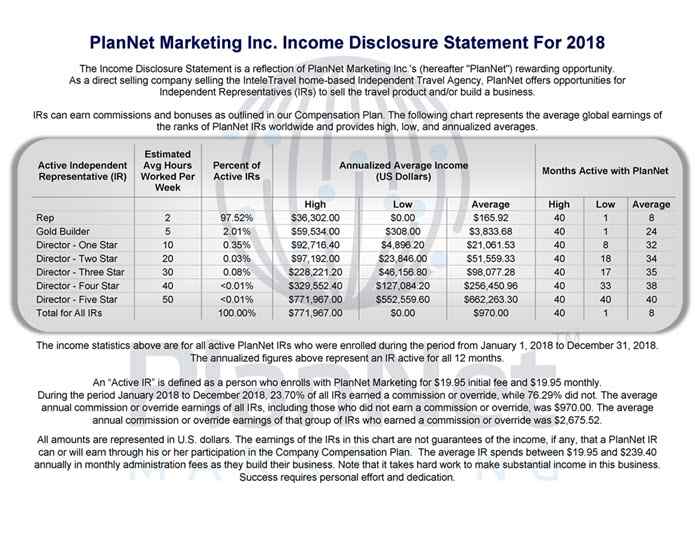 The majority of members within the company, which make up 97.2% of all members only average an income of $165.92 per year.
That's low even among other MLM companies. Of course at the very top end, we're talking the really high director ranked members, they probably are making a full time income but the percentage that are achieving around $2k+ month equate to less than 0.5% of all members.
So definitely take these numbers into consideration before joining PM

---
THE GOOD THINGS
The joining fees for PM are pretty reasonable at $19.95/month whilst the company also has a pretty good reputation among reps. Moreover the owners are pretty well versed in the travel based MLM sector so, the company itself does have a fair few good things going for it.
==>Click Here To Get Access To My FREE Make Money Online Guide!<==
---
IS PLANNET MARKETING A PYRAMID SCHEME/SCAM?
PM is neither a pyramid scheme or a scam, its a legitimate MLM company that works with another legit company to promote deals and of course, it not all that expensively to join and the owners are also very experienced in travel field (which is reassuring for sure) however, this does not mean I'd recommend anyone join it.
The heavy emphasis on recruitment to succeed and of course the abysmal success rate (we're talking less than a 0.5% chance) are two big enough reasons to skip out on PM.
---
MY PERSONAL RECOMMENDATION
I personally will always recommend against using a MLM business model to make money, not because you can't make money through it (you totally can) but, the system has always seemed shady to myself and is kinda synonymous with the likes of a pyramid scheme or scams (MOBE and Digital altitude).
Instead I prefer working with something created through ones own means and is ultimately dependent on yourself and your work ethic alone.
This method I'm talking about is affiliate marketing.
The reasons as to why I recommend it over MLM based structures are because
– there is no need to recruit constantly
– it is a legitimate method that has been working consistently and continues to grow as more businesses want individuals to promote products
– and because it is free to start up, no unnecessarily large start up funds needed.
The service I recommend is Wealthy Affiliate. It's free to sign up to and will get you set up and ready to start your affiliate marketing journey within minutes, as it did for me when I begun my journey.

If you have any questions that you would like to ask me regarding PM , feel free to do so in the comments section below and I will get back to you as soon as I can. If you have your own thoughts about PM and would like to talk about it, again feel free to do so in the comments below!
Thanks
Amhil