It's likely that you have come across Nikken through an email list, on social media or got it recommended by a friend or family member.
What is Nikken? Is Nikken a 40 year old pyramid scheme or a scam? You've likely heard about the magnets Nikken sell that are supposedly able to help with your health. It's likely that you know that Nikken is a well established company therefore you think it must be a decent opportunity right?
Well the fact that you're here right now probably means you're still skeptical about this opportunity and honestly I believe you have good reason to be so.
For all you could have known, Nikken may very well be a scam or something completely illegitimate like a pyramid scheme or a complete scam so taking your time to do an extra bit of research can save you from quite a bit of financial heart ache.
To be transparent with you I am not a member of Nikken so I can assure you that I will not attempt to sell you this product unless of course it's worth investing in.
What I will aim to do is provide you with an unbiased 3rd party look at this system that will hopefully help you make the correct decision in the end.
---
PRODUCT NAME: Nikken Global inc.
OWNER/S: Isamu Masuda
TYPE OF PRODUCT: Health & Wellness MLM
PRICE: $99 to start + Monthly Autoship
SUMMARY: Nikken is not a scam or a pyramid scheme, considering it's 40 years old it makes sense but, the age of the company in my opinion doesn't necessarily mean it's a good opportunity. For 1 you need to be really good at recruiting to succeed, it's a very expensive upkeep on a yearly basis at around $1200+ a year and most importantly most people are failing with really only 0.57% of members making a sustainable and another 1.31% making what I'd call decent income at around $1000-1500 a month. Now in terms of the rest of the consultants, most aren't even covering their yearly expenditure fees. That's why I'd recommend you skip Nikken
FINAL RATING: 1.5/5
RECOMMENDED: NO


---
WHAT IS NIKKEN?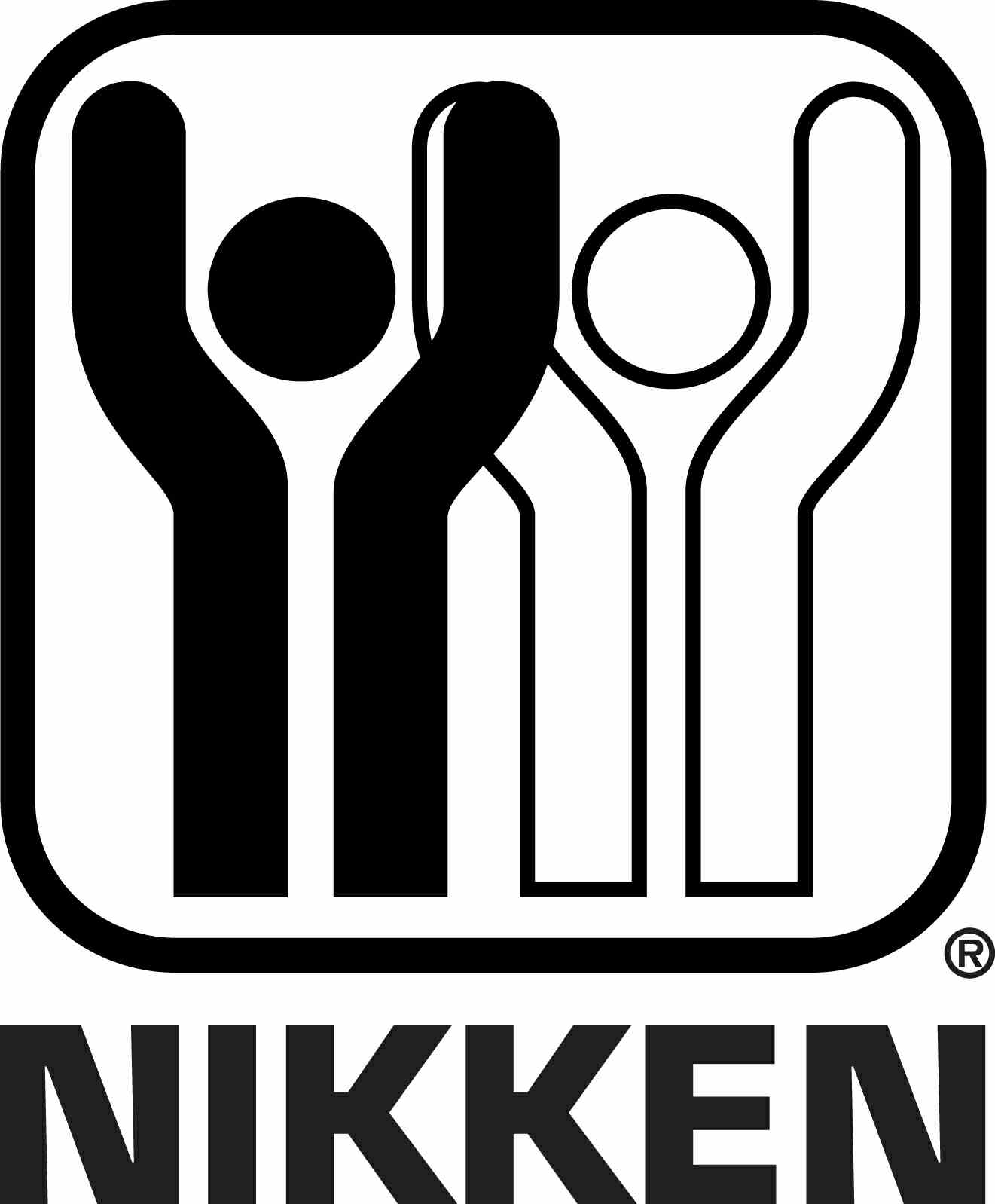 Nikken is a health and wellness MLM company founded by Isamu Masuda back in 1975, so you can see it's been around the block a couple times considering how long it's been around.
It was initially found in Japan but moved in 1988 and is now situated in the United States, currently residing within California, in fact it's also expanded within 40 different countries and is undoubtedly a very large company.
The health and wellness niche within MLM's is definitely very saturated market but I guess there's good reason for that being the case considering how huge and evergreen per se the industry is.
Anyways Nikken is also self proclaimed to be a "research and development company" that have invested more than 40 years studying methods to make the best product for individuals to live their best life and this in essence is to maintain a balance in the 5 pillars that Isamu claims are essential for a healthy life.
Isamu claims that these 5 pillars of health are:
Healthy Body
Healthy Finances
Healthy Family
Healthy Society
Healthy Mind
==>Click Here To Access My FREE Make Money Online Guide!<==
---
NIKKEN'S PRODUCT LINE
The 5 pillars are considered to be the 5 most essential components for any individuals happiness and I can see why Isamu considers them to be the pillars.
Of course as they are the 5 health pillars, the product line reflects them.
In order to reflect the ambition Nikken have, they decided to create their own unique component that is included within their products called "Magnetic Technology" 
Basically what the magnetic technology aims to do is correct imbalances within each individual that may be regarded as unhealthy, by fixing these problems through Nikkens magnetic technology, you should ideally be inching towards the optimum health that you desire.
They've got a few different products they sell which implement this magnetic technology. A few of their more popular products include :
Magstep Magnetic Insloe: This is actually the first product created by Nikken and is an insole that aims to alleviate pains occurring to the feet
KenkoTouch ($199) – A deep-tissue magnetic massage machine. It's also been patented by Nikken 
Kalki Watch ($123.75) – A uique watch that has built-in magnets to both show you the time and improve your health for the better
Milana Set ($97.50) – Cord necklace & earrings infused with crystals and most importantly their "Kenko Magnetic Technology"
Of course this is just a small part of what Nikken offers, considering the fact that they've around for as long as they have, shouldn't surprise you that they have a fair few other products. If you want to check out the rest of the product line click here.
I can't honestly say much about magnetic technology or it's benefits but I do think that it's a pretty interesting technology. One thing that I am sure of is that the products are quite expensive. However, whether or not the products actually work and are worth the pricetag is a different matter entirely so that's what I'm going to check out next for you.
Do You Want To Make A Full Time Income Just As Many Have Been Doing For Decades, If So Check Out My #1 Recommendation! 
---
IS NIKKEN'S PRODUCT LINE ANY GOOD?
Firstly as I haven't ever owned or tried a Nikken product, I won't be speaking from personal experience but hopefully the research I've done should give you a rough idea of the effectiveness of the magnetic technology.
In terms of whether the products actually work and the magnetic technology is real is I'd say that it is dependant on the consumer who's using them, in othere words it's either a hit or a miss.
Nonetheless, the reviews that I did find within pissed consumer suggests to me that people aren't really having a good time with Nikken's products. For example one individual found that the magnetic inserts in his leg actually increased the pain he was feeling as opposed to decreasing it.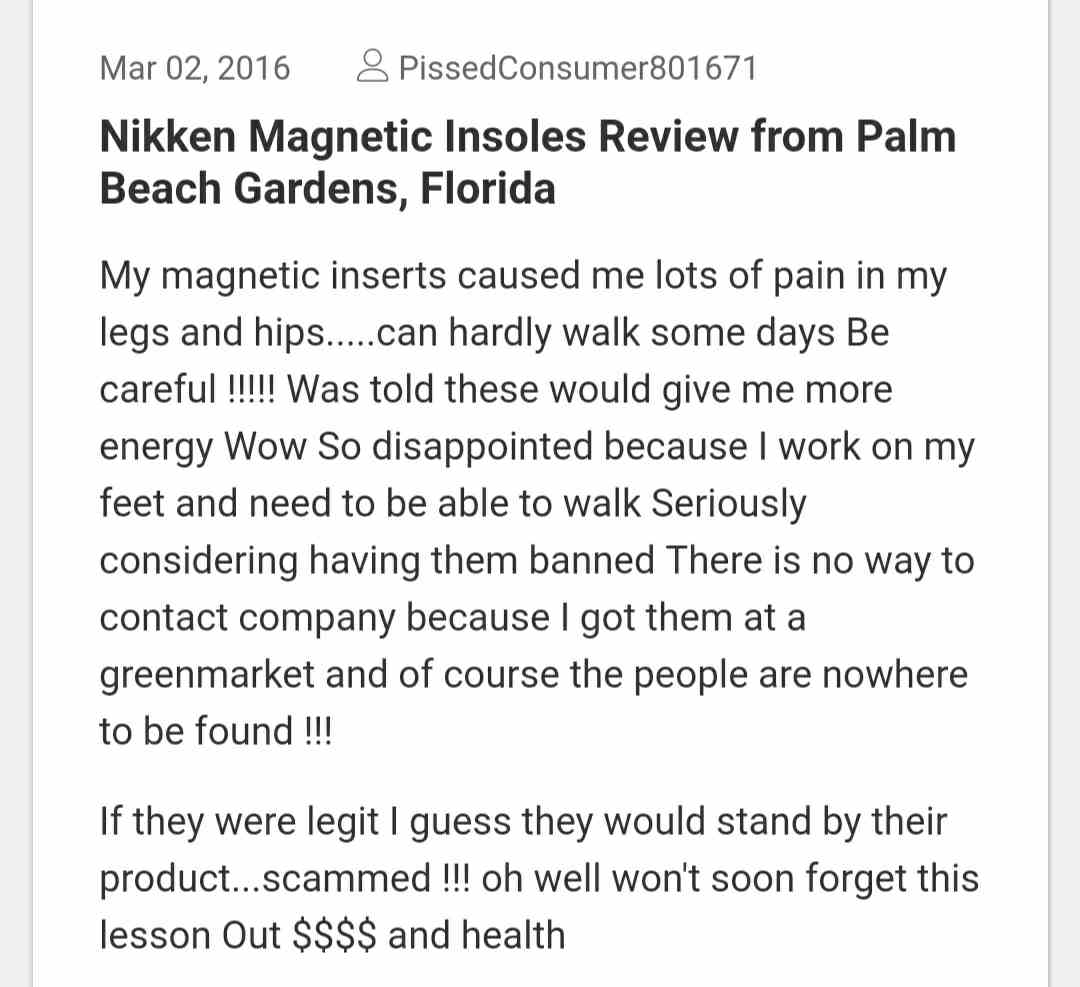 Another individual found that the magnets disintegrated into becoming useless.
From what I did manage to find about Nikken, it looks like people aren't having too great an experience with the products offered however, considering the fact Nikken is a very aged company I do have to give it the benefit of doubt in the sense that there are probably people who do benefit from the magnetic technology.
Even so, that does not excuse the fact that most of the products are definitely really expensive and therefore probably not worth it.

---
HOW DO YOU MAKE MONEY THROUGH NIKKEN?
As is the case with pretty much all MLM businesses there are 2 ways to make money with them, Nikken being no exception.
1. The first method is by directly selling the product to other individuals and in return make a commission for the sales
2. You make money through your recruits and downline, by getting residual income by following and meeting certain criteria as well as make money through bonuses and incentives due to meeting company set goals.
---
HOW TO GET STARTED
Nikken is a reasonably cheap MLM to get started with. Of course the first thing you'll need to do is fill in an application form but once that's been completed you'll only need to pay for their "Business Success Suite" which will set you back a one time fee of $99.
Compared to Traverus and ACN where you'll need to pay double or triple this for your start up fee, the business success suite is relatively cheap in my opinion.
Within the the starter product you'll receive a personalized website, a complete support system and eligibility to start earning retail commission.
However, the starter product isn't really where the fees stack up, they actually stack up due to the mandatory autoship fee. In order to remain active and eligible for Nikken's commissions you'll need to accumulate 100 ppv every month which is, I believe, roughly equivalent to an autoship that'll be around $100-$150.
If you total all the fees for a single year, at the bare minimum it's likely that you will be spending around $1300. That's a lot of money to be investing in a business don't you think as well as a pretty large financial burden on you.
Are You Tired Of Working For A Boss? If So Why Not Take Your Job Into Your Hands And Work For No One But Yourself… If You Want To Do This Check Out My #1 Recommendation 
---
COMPENSATION STRUCTURE
Nikken has fairly comparable compensation structure.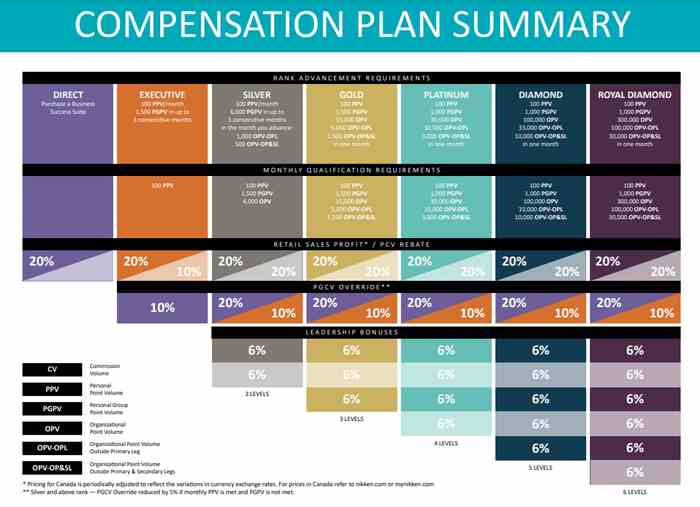 This image basically breaks down how you qualify for thr commission but just to make the point clearer basically there are 7 different ranks within the company.
In the beginning you will be regarded as a direct consultant and will only be eligible for 20% commissions on all retail sales you make as long as you qualify to receive them.
To qualify you need to achiev 100ppv a month as discussed earlier, which is roughly around $100-$150 monthly. Unfortunately when you purchase the starter product, all you'll be elligible for is the 20% commissions.
In order to qualify for all of the other benefits, you have to recruit tons of people as well as meet other criteria for consecutive months.
This obviously shows Nikken is very reliant on recruiting by the consultants. If you know anything about recruitment, you'll understand that it's not an easy thing to do.
For a better look at the compensation plan check out the video but keep in mind that it's coming from the perspective of someone wanting to sell you the idea of joining


---
THE NOT SO GOOD THINGS
Recruitment Is Essential For Success Within Nikken
This is pretty important for more or less all MLM companies whether it be Enagic or Life Leadership, they all require you to have good recruitment skills so that you can make the most out of being a consultant/distributor within them.
Of course Nikken isn't any different, I'd even go as far as to saying that it's probably pushed a lot more within it than with the other 2 MLM's mentioned.
The reality is that you probably won't make a lot of money just selling through direct methods and commissions unless you have a good sales tactic or are really good at using ads or marketing through a website where you can generate leads and sales without putting an insane amount of effort.
I doubt that many people are able to do these things to a proficient enough level therefore the next best course of action would be to recruit and create a big downline under you.
In this manner you'll be able to unlock many more elements of Nikken's compensation structure and in turn find it a lot easier to make money with them.
Of course the reality is that recruitment isn't really something that can be easily accomplished, especially when you're trying to recommend an MLM company where people tend to assume the worst.
Moreover, every individual that you recruit into your downline isn't always going to be as good as you (if you actually are good at recruiting that is) so you should expect to do a lot more recruiting to account for all of those consultants in your downline who quit early.
All in all there's no denying that recruiting within Nikken is pretty much compulsory to succeed as a consultant within the business so, if you're not good at it, it's probably not worth your time in my opinion.
Expense Upkeep
Yep Nikken is a pretty expensive business to upkeep. I guess you can argue that the startup fee are relatively cheap at only 99 bucks but, these cost don't really describe the whole picture.
In reality you'll need to have a monthly autoship plan that is equivalent to around $100 a month to be eligible for the commisions Nikken offer.
This in turn will mean that you'll be spending a lot more than just $99 to run a business and act as consultant within the company. In actuality, if you plan to remain a consultant within Nikken for at least a year, you'll probably be investing more in the region of $1200.
There's a possibility that you may even need to spend more than this in order to pay for marketing fees and other other miscellaneous costs such as hosting parties or travelling for the sake of your business.
So yeah, the running costs are definitely not cheap. I guess you could argue that this is more or less the average cost to run any MLM business however, that doesn't mean it's still not expensive, I know for a fact that there are significantly cheaper online businesses that you could run, for less than half the capital Nikken requires and with more potential to boot.
The Products Seem To Not Work
I've already discussed this a little bit previously and as you have probably seen, the magnetic technology doesn't seem to work that well, in some cases it even makes the pain worse.
It's hard to judge if the magnetic technology is any good to begin with anyways, it's possible that the benefits that the product line provide are a placebo effect, meaning the reason as to why people think it works is because the products are marketed well enough to have individuals believe that they can actually help with your health.
I don't know, maybe they do work for some people but from what I have researched, it doesn't seem like Nikken's products work so it'd probably be pretty difficult to sell them knowing that's the case.
Most People Are Failing
This is likely going to be the biggest reason as to why you should avoid Nikken, if most people are failing within the company, don't you think that it's unlikely that you'll be one of the lucky few who'll actually come out on top?
The income disclosure statement shows quite a lot of consultants really aren't making much with Nikken.

As you can see only Royal Diamond ranks are making a good yearly salary at $102625 in a year whilst the second highest rank in the form of Diamond rank are making a pretty solid income too at $18322.
Infact less than 7.5% of the members are actually profiting through Nikken. Every other consultant will ultimately lose out by the end of a year or possibly just barely breakeven.
I generally consider $1000+ a month with an MLM company to be a decent amount of money being made and as it appears within Nikken, a little less than 6% of all members qualify for this figure.
Of course the figure is probably even fewer as the higher earners within the diamond and Royal diamond ranks are bringing the average up nonetheless, it's pretty to clear that for most people Nikken consultants aren't really making much.


---
THE GOOD THINGS
It's An Establish Company
One good thing about Nikken is the fact that it's a company that has been around for 43 years. It's ability to stick around in the business world for as long as it has surely means that it must be doing something right afterall.
It probably also gives it some form of credibility over it's competitors to a degree too.
---
IS NIKKEN A PYRAMID SCHEME/SCAM?
The good news is that Nikken is neither a scam nor a pyramid scheme, in fact I'd say that it's a legitimate MLM company however, it's not perfect and definetly has quite a few things wrong with it that probably will be major turn offs for you and probably most others.
The company has a heavy emphasis on recruitment from its consultants so unless you're good at recruiting and in turn able to move up the ranks within, you'll probably have a tough time with them.
The products seem to not function as they are advertised to, the upkeep fees will cost a fair bit at $1200+ to run your Nikken business and finally but most importantly, only around 2% of the members are actually making decent money through Nikken whilst just under 7.5% of all members are making a little bit of profit. The rest aren't even able to break even.
These are all reasons as to why I'd recommend you avoid this MLM even if it is a company that is well established globally.
==>Click Here To Access My FREE Make Money Online Guide!<==
---
MY PERSONAL RECOMMENDATION
I personally will always recommend against using a MLM business model to make money, not because you can't make money through it (you totally can) but, the system has always seemed shady to myself and is kinda synonymous with the likes of a pyramid scheme or scams (MOBE and Digital altitude).
Instead I prefer working with something created through ones own means and is ultimately dependent on yourself and your work ethic alone.
This method I'm talking about is affiliate marketing. 
The reasons as to why I recommend it over MLM based structures are because
– there is no need to recruit constantly
– it is a legitimate method that has been working consistently and continues to grow as more businesses want individuals to promote products
– and because it is free to start up, no unnecessarily large start up funds needed.
The service I recommend is Wealthy Affiliate. It's free to sign up to and will get you set up and ready to start your affiliate marketing journey within minutes, as it did for me when I begun my journey.


If you have any questions that you would like to ask me regarding Nikken , feel free to do so in the comments section below and will get back to you as soon as I can. If you have your own thoughts about Nikken and would like to talk about it, again feel free to do so in the comments.
Thanks
Amhil