It's likely that you have come across Kyani through an email list, on social media or got it recommended by a friend or family member.
Is Kyani a pyramid scheme? Is Kyani another MLM scam?
Maybe you've heard of Kyani's potential and how the products they supply are pretty good.
Of course there's a reason why you're here right now, you're skeptical of that being the case right?
First and foremost I must commend you for actually doing a bit of extra research before committing to joining Kyani. For all you could have known, the product could be a major scam so the fact you're here right now, researching whether or not that's the case is a pretty smart move on your part.
To be fully transparent with you, I am personally not a member of Kyani so I can assure you that I will not attempt to sell you it unless of course it's worth investing in.
What I will aim to do is provide you with an unbiased 3rd party look at Kyani that will hopefully help you to make the best decision you can in the end.
---
PRODUCT NAME: Kyani
OWNER/S: Kirk Hansen, Dick Powell and Carl Taylor
TYPE OF PRODUCT: Health and Wellness MLM
PRICE: $89 for the Kyani Welcome Kit + $210 for monthly Auto-Ship. Business packs ($399 to $1299)
SUMMARY: Kyani is a legitimate MLM company and isn't a scam or pyramid scheme as far as I can tell. However, there are still reasons that may negate your choice in joining if you have been seriously considering. Firstly, there's a little less than a 3% chance of Kyani members making decent money with them, decent being at the $1000+ mark which to me is kind of a failing state when you consider how you'll probably be spending around $2700+ to start up and maintain your business. Although the products are described as being pretty good, the overall business model in my opinion is a little lacking and at the expensive price to upkeep Kyani, I'd recommend giving this opportunity a pass.
FINAL RATING: 2/5
RECOMMENDED: NO


---
WHAT IS KYANI?
Kyani is a health and wellness MLM founded by Kirk Hansen, Dick Powell and Carl Taylor in 2005. It's actually more so a family based MLM but there's no denying that it's fighting within a pretty popular MLM niche in health and wellness.
A few other health and wellness MLM's include Javita, Senegence, Isagenix, waiora, Zija etc.
Considering it's a health and wellness MLM you're probably wondering what their product line is right? I'll move on to that now.
==>Click Here To Access My FREE Make Money Online Guide!<==
---
KYANI'S PRODUCT LINE
Kyani actually have a very small number of products present within their product line with there only being 3 products within it.
These 3 products include :
1. Kyani Sunset 
This product is meant to be taken at night (the name should be a clue as to why "sunset" ) and contains a blend of tocotrienols, Beta Carotene, Vitamin D, and Omega-3. All these nutrients and vitamins are designed to assist with the cardiovascular system.
Beyond this, Kyani Sunset also assist individuals by providing the following benefits :
Reduction of inflammation in the body
Boosts skin and hair health
Helps to maintain healthy cholesterol levels
Helps to maintain blood sugar levels
Improves your cognitive functions
2. Kyani Sunrise 
Once again, the products name obviously suggest this supplement is meant to be taken in the morning. The ingredients included within this product include 16 different superfoods with red raspberry, pomegranate, Panax ginseng, and amla berry acting as the main ingredients.
wild Alaskan blueberry is also present within kyani sunrise which is actually a superfood that is meant to have 5x more antioxidants than normal berries so, in turn it's a pretty nutrition berry.
Beyond this, Kyani sunrise provides the following benefit :
Helps you to maintain a healthy heart
Boosts the effectiveness of the immune system
Improves digestion
Supports your cognitive functions
Increases mental health
Promotes joint flexibility
Increases energy levels
3. Kyani Nitro
The third and final type of product within Kyani's line is kyani nitro. This is a liquid based product that aims to boost your nitric oxide production. Doing so will help with your metabolism and supposedly increase your endurance performance in general including your sexual performance (I guess a nice little perk if you're into that).
There are a couple different variations of the kyani Nitro line :
Kyani nitro FX : this is a noni-fruit extract which is a Southeast Asian fruit that contains anti-inflammatory properties.
Kyani nitro extreme : This is the other varioution of the product in which it aims to provide you with 33% of your daily vitamin B intake and in turn further boosts your nitric oxide production.
All in all these products seem to be pretty decent in paper value. It does appear as if there are quite a few benefits that may be useful to individuals if they were to use them. However, it's pretty hard to gauge if the effects will be decent in real world use and value.
So I guess you'll probably want to know if they're any good as well as if they actually work right?

---
IS KYANI'S PRODUCT LINE ANY GOOD?
Firstly, as I do not own any of Kyani's products and have also not tried them personally, I can't speak from personal experience however, what I can do is find out other individuals experiences with the product and by doing so this is what I found.
Within bbb It appears that the products do have some positive impact in a lot of peoples opinions and the products do seem to do the job described on the tin such as the increase in energy and endurance etc.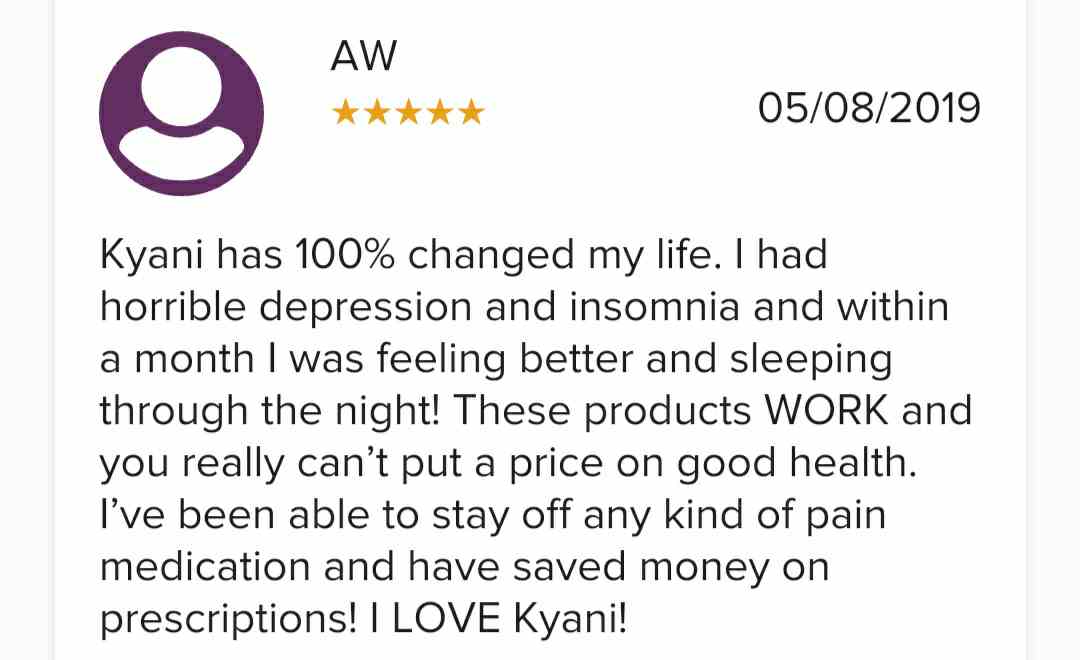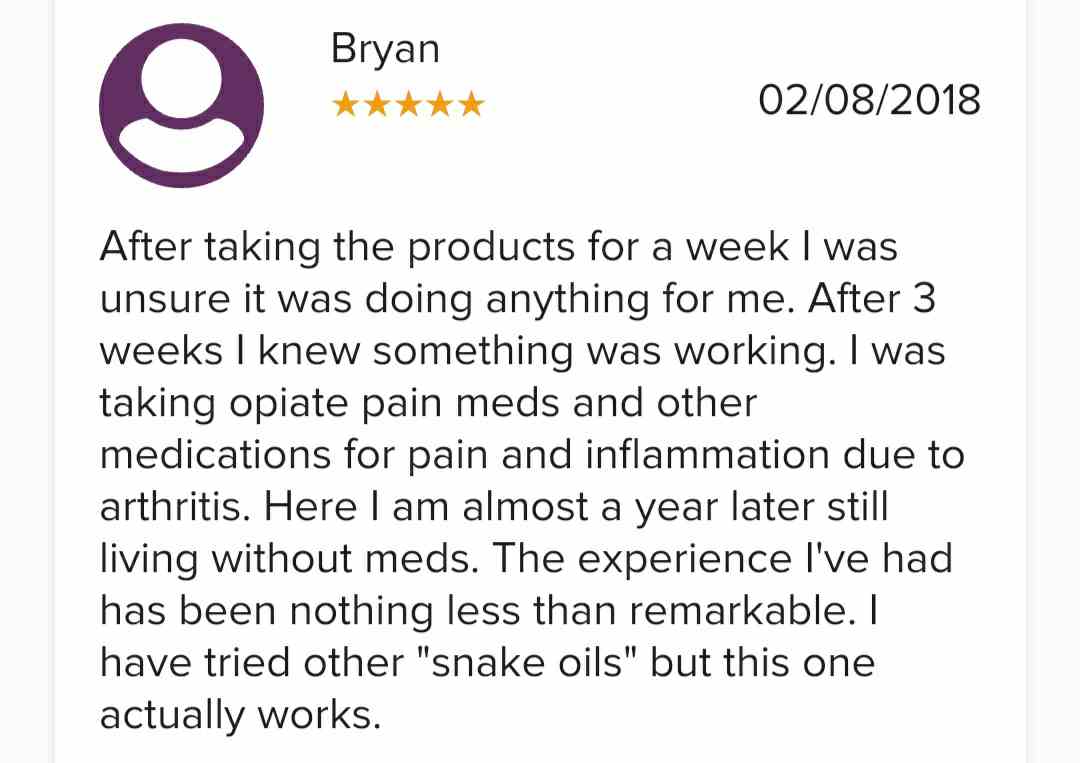 Of course people do also have negative experiences with supplement products such in general including Kyani's line because everyone is different meaning every persons body will react differently to the supplements.
There are also instances where individuals have suffered lightheadedness and fatigue although I do feel that this is par for the course for most supplements out there, besides these aren't what I'd deem hugely negative and in turn are side effects I would consider as somewhat acceptable.
All in all I feel Kyani's products are just liken any other MLM company that hasn't had a huge negative effect on anyone. The products may not be anything special but, they aren't necessarily bad or harmful for the most part.
Do You Want To Make A Full Time Income Just As Many Have Been Doing For Decades, If So Check Out My #1 Recommendation
---
HOW DO YOU MAKE MONEY THROUGH THE KYANI
As is the case with pretty much all MLM businesses there are 2 ways to make money with them, Kyani being no exception.
1. The first method is by directly selling the product to other individuals and in return make a commission for the sales
2. You make money through your recruits and downline, by getting residual income by following and meeting certain criteria as well as make money through bonuses and incentives due to meeting company set goals.
---
HOW TO GET STARTED
There are a few fees that you will be required to pay in order to be eligible to become a Kyani distributor.  The first fee you'll need to pay is a minimum of a $89 fee for the the Kyani starter kit. This will make you eligible for selling the products through direct resale.
However, to be eligible for commisions through online sales you'll need to accumulate 150QV on a monthly basis which is roughly equivalent to $210. This is probably the fee that'll break the bank the most even though it's not absolutely necessary on your part to make money with Kyani.
The Kyani Starter Kit has the following things included :
Kyani New Distributor Folder
Access to Digital Suite
There are a couple other kits that you could invest in if you feel like doing so but, they are a little expensive :
Regular Builder Pack ($499) 
You'll get 1 of each of the following products in this pack :
Kyani Sunrise 30 oz bottle
Kyani Sunset (Packets) 30ct
Kyani Sunset gel caps 90ct
Nitro FX 56ml
Nitro FX (8 pack) 15ml
Nitro Xtreme (8 pack) 15ml
5 trial packs, various brochures, 1-year access to their webtools and finally a registration kit.
Premium Builder Pack ($999)
You'll get 2 of each of the following products :
Kyani Sunrise 30 oz bottle
Kyani Sunset (Packets) 30ct
Kyani Sunset gel caps 90ct
Nitro FX 56ml
Nitro FX (8 pack) 15ml
Nitro Xtreme (8 pack) 15ml
Nitro Xtreme 56ml
15 trial packs, various brochures, 1-year access to their webtools and finally a registration kit.
Although you only need to purchase the starter kit to officially become a Kyani distributor, unless you're capable of paying the 150QV baseline to be eligible for the online (affiliate) commissions on the product line, it's likely you'll need to purchase a regular builder pack too.
This will mean that you'll at the very least need to spend $588 to get started with this business. If you want to also be eligible for the online commissions, you'll need to spend a further $210 a month.
Let's say the builder pack purchase qualifies you for the online commissions for the first month and say if you wanted to be a Kyani distributor for a 1 year period, you'd need to spend around…
$2898 with the builder pack in the first month or $2609 without it. 
Either way you'll be paying upwards of $2000 a year to keep your business afloat. It's certainly not cheap by any means and in my opinion not the best choice of MLM's or online business model either.
Do You Want To Make Money Online Without All these Expensive Start Up Costs? If So Check Out My #1 Recommendation
---
COMPENSATION STRUCTURE
Kyani offer compensation plan that is reasonably robust.
It has quite a few different elements to it which include a multitude of ways that you can actually earn through Kyani.
These methods include
Retail profit bonus

Customer bonus
Customer one time CV bonus
Customer pool
Team bonus
Sponsor bonus 
Fast start bonus 
Other bonuses and incentives (car bonus) 
Retail Profit Bonus
These are profits you make when deducting the wholesale price from the retail price. This means that if you were to buy a batch of products at wholesale price for $100 and sold it at a retail price of $120, you'd make a profit of $20.
To be eligible for this you need to move around 25QV of products every month so, if you can't do this you're out of luck.
Team Bonus
This is a bonus you receive every time your team enrols a new member, the percentage payout is dependant on what rank you are within the company.
There are 12 ranks in total within Kyani meaning it's one big ladder you've got to climb in order to get to the top. Anyways the commission you receive depends on how highly you rank.
The lowest rank distributors will only get a 15% differential team bonus whilst the highest ranking get a 100% differential team bonus. It seems too good to be true for the highest ranking members right?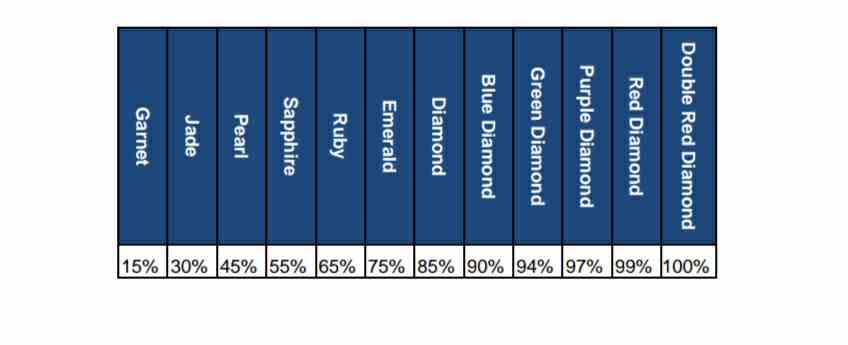 Well yeah it actually is, even though technically the highest ranking member does get 100% of the bonus, it is only the remaining amount of bonus left over before reaching them in the upline.
For example let's say that your direct downline was the lowest rank member, they'd first deduct a 15% commissions from the overall bonus. As there is now 85% of the principle left, you'll only receive the 85% remaining in full, if there was only 50% of the principle remaining, you'd receive only 50%, make sense?
Anyways it's a bit confusing maybe this breakdown may help.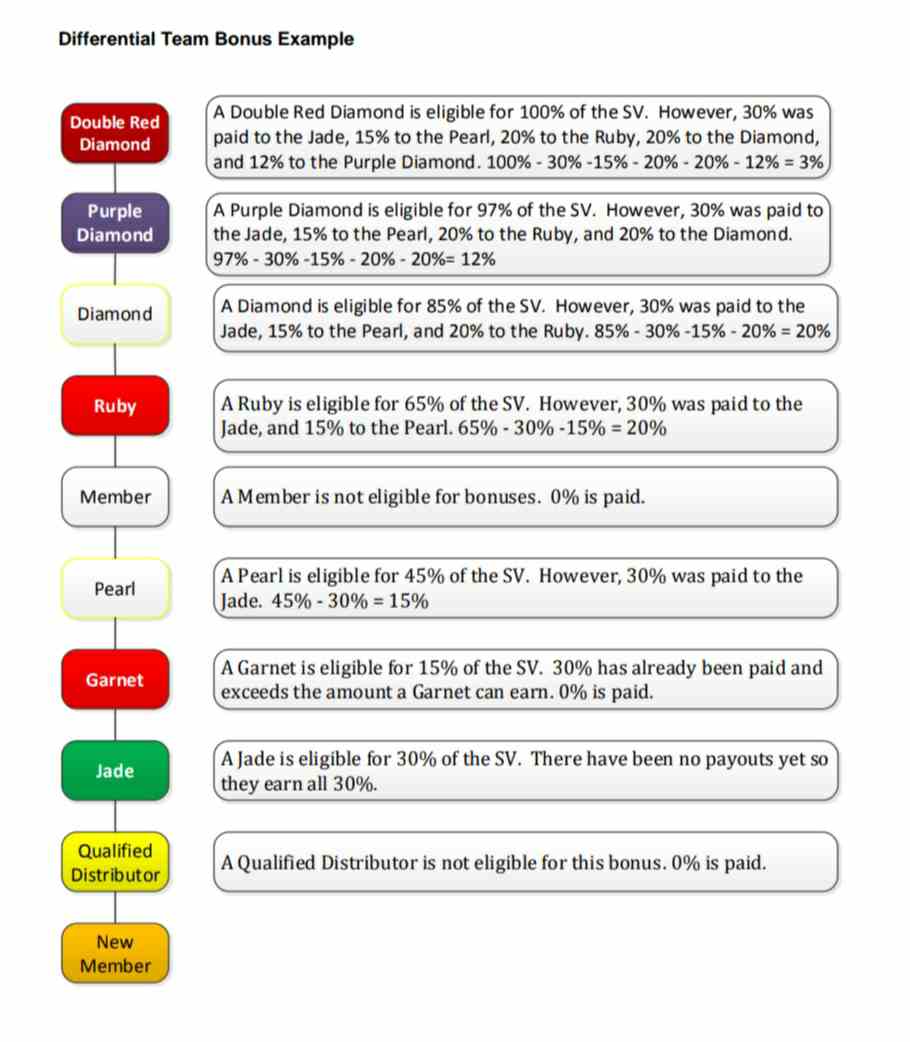 These are the two more important elements of Kyani's compensation plan I feel hence why I've covered them but, if you want a more in depth look at the rest of the plan, check out the video below.

---
THE NOT SO GOOD THINGS
Compensation Plan's A little Confusing
I don't know how you feel after reading the compensation plan but I can tell you that Kyani's plan is definitely a little confusing. In the end I do somewhat understand it but, I can't say for certain how exactly everything works especially the team bonus system.
If you know anything about MLM's, you'd know that the team and residual income is where the money is at so it should come as no surprise that knowing how it works is very important.
I can't say it's the worst thing about Kyani, it's arguably a minor matter however, I do think that for some it may be a valid reason to avoid Kyani.
It Costs A Lot To Start Up
To start with Kyani, you're pretty much guaranteed in needing to spend around $600. This is a very steep fee for anyone to pay for any service, Kyani being no exception.
On top of that if the builder pack is $499 and there's a fair chance that you'll get a 25% return on investment, to make around $1000 you'd need to buy and sell a 8 whole regular builder packs in a month.
Moreover, the other $210 onwards to be eligible for online commission is another factor to consider when joining Kyani. If you can overlook these expenses as well as are able to profit afterwards, Kyani may be a decent shot for you however, for most people out there, such a scenario is amongst the least likely things to happen.
In the end of the day I personally think the startup costs are very expensive and I'm sure you probably think the same.
Minor Side Effects
Besides the generally positive look on Kyani's Product line, there have been instances of some mild negative effects on individuals when they've taken some of the supplements.
These symptoms generally were light headedness or fatigue, nothing necessarily bad. You could even say that these are the norm for any supplement out there after all, you're bound to have some people experiencing negative side effects.
Although I don't believe that these effects are necessarily turn offs, it's still worth a mention.and may be a turn off for you.
Most people are failing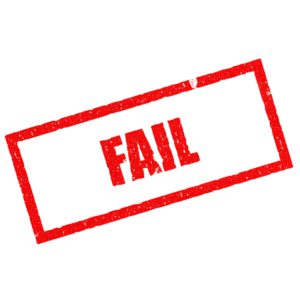 This doesn't really suprise me but, as it turns out most people are actually failing as distributors for Kyani. Kyani does seem to have a better overall looking income disclosure than most MLM's but, the figures represented shouldn't all be accepted at face value.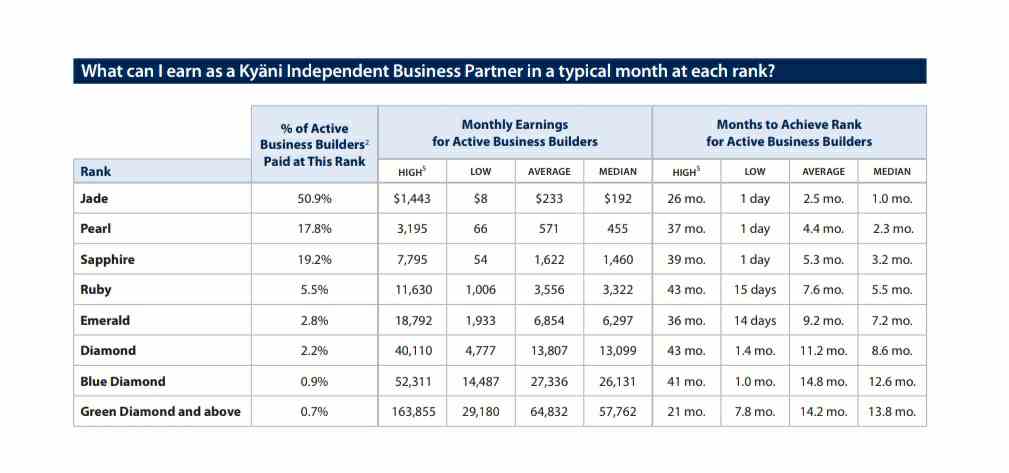 If you want to make decent income with Kyani you'd need to atleast be ranked as a sapphire distributors. These distributors appear to make, on average, $1561 gross income on a monthly basis. On average the time taken to achieve this rank is 3.7 months, which to most people seems decent right?
But to reach that level it's likely individuals had to work a 9-5 on top of there 9-5 to make ends meet. That's the only way I see it being even remotely possible to reach the sapphire level.
All these numbers may seem impressive but, you have got to admit, if it was so easy why aren't there more than just 2% of all distributors falling under this rank?
This must mean that although on surface value it appears easy to reach the sapphire rank,  most people still fail to reach it.
I do think that Kyani does have potential, afterall people wouldn't be making $10k+ otherwise nonetheless, even with the supposed ability to, on average, reach the sapphire rank in a little under 4 months, most don't even make it there.
You could possibly come out on top but you've also got to understand that some people have taken multiple years to reach the sapphire rank, what's stopping the same scenario happening to you?

---
THE GOOD THINGS
It's Been Around For More Than 10 Years
The fact it's been around for 13 years to me means that they've been doing something right. After all there's no way a company will last for as long as Kyani has without being decent.
In my opinion this definitely adds a bit of credibility to Kyani as a whole.
The Products Are Decent
People who've used the products, overall seem to like what Kyani is offering. It makes sense why because Kyani really only focus on 3 different products which implies that they really put in the work to make them good for customers.
If you do decide to join Kyani, at least you can jump in comfortably knowing that the product line is actually pretty decent.
==>Click Here To Access My FREE Make Money Online Guide!<==
---
IS KYANI A PYRAMID SCHEME/SCAM?
Well the good news is that Kyani is neither a pyramid scheme nor a scam, in fact is is a legitimate MLM business with a few minor and major flaws, that I personally see as deal breakers in joining Kyani.
Firstly the startup costs are very expensive, they can appear fairly modest considering you don't need to purchase anything but the starter kit to start but, in order to actually make money you need to either purchase a regular builder kit at wholesale price or spend $210 in some other way to satisfy the qualifying QV to be eligible for the affiliate commissions.
Either way you'll be looking to spend a lot of money. Although the income disclosure statement shows that it's fairly easy to reach the sapphire rank and potentially make a decent income of $1000+, the fact that around 98% of members still fail to become sapphire is also telling of how most people still fail within Kyani.
There are other small things such as minor side effects and a slightly confusing compensation plan but, overall even though Kyani's products are pretty good, I don't think it's among the best online or offline business opportunities out there.
Of course if you like Kyani and want to give it a chance, be my guest but I'd personally recommend passing on it.
---
MY PERSONAL RECOMMENDATION
I personally will always recommend against using a MLM business model to make money, not because you can't make money through it (you totally can) but, the system has always seemed shady to myself and is kinda synonymous with the likes of a pyramid scheme or scams (MOBE and Digital altitude).
Instead I prefer working with something created through ones own means and is ultimately dependent on yourself and your work ethic alone.
This method I'm talking about is affiliate marketing.
The reasons as to why I recommend it over MLM based structures are because
– there is no need to recruit constantly
– it is a legitimate method that has been working consistently and continues to grow as more businesses want individuals to promote products
– and because it is free to start up, no unnecessarily large start up funds needed.
The service I recommend is Wealthy Affiliate. It's free to sign up to and will get you set up and ready to start your affiliate marketing journey within minutes, as it did for me when I begun my journey.

If you have any questions that you would like to ask me regarding Kyani , feel free to do so in the comments section below and I will get back to you as soon as I can. If you have your own thoughts about Kyani and would like to talk about it, again feel free to do so in the comments.
Thanks
Amhil