It's likely that you have come across doTERRA through an email list, on social media or got it recommended by a friend or family member.
Is doTERRA a scam? The reasons why you're here is because you have want answers right so, that's what I'm going to provide for you within this doTERRA review.
First and foremost I must commend you for actually doing a bit of extra research before committing to purchasing or joining doTERRA. For all you could have known, doTERRA may very well be a scam and rob you of your money so this review could help you find anything peculiar about it.
To be totally transparent with you I haven't used doTERRA so I can assure you that I will not attempt to sell you on it unless of course it's worth investing in.
What I will aim to do is provide you with an unbiased 3rd party review of doTERRA that will hopefully help you to make the correct decision in the end.
---
PRODUCT NAME: doTERRA
OWNER/S: David Stirling
TYPE OF PRODUCT: Health and wellness MLM
PRICE: $35 + autoship
SUMMARY: I don't believe that doTERRA is a pyramid scheme or a scam, I actually do think it's a legitimate MLM company but I also don't believe that it may not be worth investing in due to a few common issues that all MLM's have.
The necessity of being really good at recruitment to succeed, the expensive upkeep costs, the inappropriate marketing tactics that distributors have used and the fact that the majority of individuals are failing are all big reasons as to why you should consider avoiding doTERRA and why I personally don't recommend that you join.
Nevetheless, in the end of the day the final decision is on your head.
FINAL RATING: 2/5
RECOMMENDED: NO


---
WHAT IS DOTERRA?

dotTERRA is a health and wellness MLM (with its main focus being on essential oils) founded in 2008 by David Stirling. doTERRA is a actually a Latin word and when directly translated it means "gift of the earth".
An interesting fact regarding the founder, David Stirling, is that he was actually a member and executive of doTERRA's major competitor, young living, before starting up his own company.
This could mean that a lot of the ideas that doTERRA represents could be similar to what Young Living does. Anyways, the company isn't new in the market and can be considered somewhat established. It's headquarters currently resides in Utah, a pretty popular spot many major MLM companies seem to be located in.
I've reviewed a lot of MLM's on this website such as :
Which is why I believe I have a solid grasp on what makes a good or a bad MLM opportunity.
==>Click Here To Get Access To My FREE Make Money Online Guide!<==
---
DOTERRA'S PRODUCT LINE
doTERRA's mainline products are essential oils as that is how they initially started however, since starting up they've expanded the number of categories present in their store to areas around supplements, weight loss products, personal care stuff and so on.
As for the categories present in the store, they include :
Essential Oils : Include both Single Oils & Proprietary Blends.
doTERRA On Guard Series : This category includes hand wash, laundry detergent, toothpaste etc.
doTERRA Breathe Series : This category helps people with respiratory issues breath better using products such as respiratory drops, vapor stick etc.
DigestZen : This category provides essential oils and supplements for people who suffer with digestive issues
Personal Care : Skincare, body care, hair care products, just your typical kind fo personal care products.
Supplements : Daily fruits & vegetables, daily vitality, women's supplements and so on.
Weight Loss : Meal replacement shakes, metabolic gum, soft gels, etc…
Some other products that doTERRA sell include essential oil diffusers and gadgets/accessories.
As you can see doTERRA do have a very large library of products which are also apparently Certified Pure Therapeutic Grade (CPTG).
This is just one of doTERRA's marketing claims which isn't actually backed by official authorities so, whether or not you decide to believe them may or may not make the essential oils seem more impressive for you.
If you want to check out the products for yourself click here.
Do You Want To Make A Full Time Income Online Just As Many Have Been Doing For Decades, If So Check Out My #1 Recommendation
---
DO DOTERRA'S PRODUCTS ACTUALLY WORK?
As I've never personally used any of doTERRA's products, I can't speak for their quality but, I did to some research to see what others thought of the product line and this is what I found.
I found that on bbb, a lot of customers had a mixed experience with the products. Some found them to be good whilst others just didn't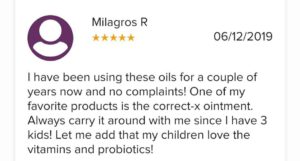 One major problem that customers had was regarding the expensive price tag.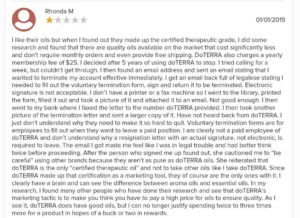 All in all the products were a mixed bag with some complaints regarding the fake claims and the somewhat overpriced essential oils.


---
HOW DO YOU MAKE MONEY THROUGH DOTERRA?
As is the case with pretty much all MLM businesses there are 2 ways to make money with them, doTERRA being no exception.
1. The first method is by directly selling the product to other individuals and in return make a commission for the sales
2. You make money through your recruits and downline, by getting residual income by following and meeting certain criteria as well as make money through bonuses and incentives due to meeting company set goals.
---
HOW TO GET STARTED
In order to get started as a distributor for doTERRA there are two things that you'll need to pay for. The first is the registration fee which will cost you only $35.
The second is a monthly reccuring fee otherwise know as the autoship fee that you'll need to part with on a so that you can qualify for the compensation plan.
This autoship is actually fairly expensive, requiring you to spend a minimum of $100 a month. So if you're to calculate the amount needed to be paid in order to start up and upkeep your doTERRA business, at the very least you'll need to spend $1235 within your first year.
Now, to be honest with you, having seen so many MLM business opportunities, this is just around the average amount a MLM needs in order to be functional for a year which means it's not really a horrible amount to pay (for an MLM) but I can say that it's definitely not cheap by any stretch of the imagination.
Are You Tired Of Working For A Boss? If So Why Not Take Your Job Into Your Hands And Work For No One But Yourself… If You Want To Do This Check Out My #1 Recommendation 
---
COMPENSATION STRUCTURE
Of course, being a MLM, doTERRA also has its own compensation plan that you will need to learn if you're serious about joining the business.
As for the structure of doTERRA, it follows the unilevel format meaning you can recruit as much as you can as long as it remains within the limitations of levels the compensation plan allows.
There are 4 main ways to make money described in its plan, which I'll briefly go over :
Retail Bonus : You make a 25% commission on all of the sales that you directly make.
Fast Start Bonus : You'll have access to the fast start bonus for the first 60 days, the bonus lets new distributors make a higher percentage in commissions from their first 3 levels of downlines with Level 1 allowing 20%, Level 2, 10% and  Level  3, 5%.
Power of Three Bonus : There are also other cash bonuses you can receive when you and/or your downline members are successfully able to recruit 3 downlines and meet the specified requirements set by doTERRA. These cash bonus range from $50, $250 and $1,500.
Unilevel Bonus : You'll make a percentage of your downlines' overrides which goes down 7 levels deep. This essentially means you'll make more residual income the larger you downline gets and the higher the earning potential for distributors. Another thing that encourages members is that the deeper your downline, the higher commission percentage so, level 7 has the largest percentage.
If you want to get a more In depth look at the compensation plan, click here or check our the video below.

---
THE NOT SO GOOD THINGS
You Will Need To Recruit To Succeed
As doTERRA is afterall an MLM, the best way to succeed with the company is through recruitment so, if you're no good at that aspect of a MLM business, you probably won't do very well as a sales representative.
I'm sure you know of a few family members that may have gotten into a MLM company and how they constantly try to recruit you to join, telling you how awesome the products are or how awesome the business opportunity is right?
How do you feel when they try to persuade you to join, you feel a little awkward right? The problem that most people have when they get involved in MLM's is that they don't know how to recruit new members so they go to their family or friends instead.
I would highly recommend not doing this because it could potentially ruin your relationship with them so, unless you know of a way to maybe promote being a member on the Internet or just to people who are more interested in it over people who feel bad for you and join (family and friends), you will struggle with this company.
Of course you could aim to make money through direct sales but, that's not going to be anywhere near as profitable as building a large downline that essentially makes you residual income on autopilot.
So, you should definitely take this factor into account when joining because it's very possible that all you'll be doing is wasting your time and money, especially if you're not committed to finding a way to make it work.
It's An Expensive Business To Partake In
It's not expensive when compared to actual brick and mortar companies where you need multiple thousands to start up but, when you consider there are so many significantly cheaper online business opportunities out there, the fact that you need to pay $1.2k at the very minimum, to participate in this opportunity is a bit much in my opinion.
What I do, affiliate marketing, can actually be started at less than half that amount, you can probably get to a level where you're making 4 figures a month within a year if you know what you're doing and it can technically be done for free although, with the right training and tools, it'll cost around $400 for a year.
That's still a lot cheaper than how much it costs to maintain a doTERRA business, that's why I consider it expensive although it's pretty much the average amount to maintain an MLM.
Inappropriate Marketing Tactics
As recruitment is an essential part of doTERRA's business plan, there have been instances where some of the members have over exaggerated the effectiveness of the products.
In 2014, FDA found out that doTERRA members had made claims suggesting that the products can help cure cancer, ebola, autism. They even sent a letter warning doTERRA regarding these practices.
This is obviously dependent on the desperation of individual trying to con people and not how doTERRA wants their distributors to act but, it does show how MLM's cause certain members to feed BS to customers to have them buy inventory.
Most People Are Failing
At first glance of doTERRA's income disclosure, it does seem that the members are doing good.

62% of members making $27k a year is definitely very good number however, this statement does not take into account any of the memberships below the silver rank. There's actually 6 different ranks below silver rank namely Wellness Advocate, Manager, Director, Executive, Elite and Premier.
So, the statement is very misleading because even doTERRA acknowledge the fact that only 1% of all members reach silver rank above.
So theoretically only around 1% of all members are making a full time income whilst probably around 5% make like $1k/month. The bottom line here is that most people will not succeed through doTERRA which, honestly isn't very surprising at all to me.

---
THE GOOD THINGS
It's Been Around A While
The fact doTERRA has been around since 2008 means it's over 10 years old at this point. When you consider how most companies fail within 10 years, the fact doTERRA is still standing gives it a fair bit of credibility in my book.
==>Click Here To Get Access To My FREE Make Money Online Guide!<==
---
IS DOTERRA A PYRAMID SCHEME/SCAM?
I don't believe that doTERRA is a pyramid scheme or a scam, I actually do thinks it's a legitimate MLM company but it may not be worth investing in due to a few common issues that all MLM's have.
The necessity of being really good at recruitment to succeed, the expensive upkeep costs, the inappropriate marketing tactics that distributors have used and the fact that the majority of individuals are failing are all big reasons as to why you should consider avoiding doTERRA and why I personally don't recommend that you join.
Nevertheless, in the end of the day the final decision is on your head.
---
MY PERSONAL RECOMMENDATION
I personally will always recommend against using a MLM business model to make money, not because you can't make money through it (you totally can) but, the system has always seemed shady to myself and is kinda synonymous with the likes of a pyramid scheme or scams (MOBE and Digital altitude).
Instead I prefer working with something created through ones own means and is ultimately dependent on yourself and your work ethic alone.
This method I'm talking about is affiliate marketing. 
The reasons as to why I recommend it over MLM based structures are because
– there is no need to recruit constantly
– it is a legitimate method that has been working consistently and continues to grow as more businesses want individuals to promote products
– and because it is free to start up, no unnecessarily large start up funds needed.
The service I recommend is Wealthy Affiliate. It's free to sign up to and will get you set up and ready to start your affiliate marketing journey within minutes, as it did for me when I begun my journey.


If you have any questions that you would like to ask me regarding doTERRA , feel free to do so in the comments section below and I will get back to you as soon as I can. If you have your own thoughts about doTERRA and would like to talk about it, again feel free to do so in the comments below!
Thanks
Amhil