PooIt's likely that you have come across Karatbars through an email list, on social media or got it recommended by a friend or family member.
Is Karatbars a pyramid scheme? Is it worth investing in this business opportunity or is it another overhyped scam?
First and foremost I must commend you for actually doing a bit of extra research before committing to purchasing or joining Karatbars. For all you could have known, Karatbars may very well be a scam and rob you of your money so this review could help you find anything peculiar about it.
To be totally transparent with you I haven't used Karatbars so I can assure you that I will not attempt to sell you on it unless of course it's worth investing in.
What I will aim to do is provide you with an unbiased 3rd party review of Karatbars that will hopefully help you to make the correct decision in the end.
---
PRODUCT NAME: Karatbars
OWNER/S: Harald Seiz
TYPE OF PRODUCT: Gold investment MLM
PRICE: $135 +
SUMMARY: Karatbars is a legitimate MLM company and isn't a scam or a pyramid scheme as far as I can tell however, besides it's nice packaging for the gold, that's also authentic gold, there's not many things about it that make Karatbars worth joining.
The need to constantly recruit, the accusations of it being a fraudulent company by Canada and Netherlands, the overpriced products and the lack of transparency regarding the earnings of its distributors are all sign that just don't make becoming a Karatbars distributor all that appealing to me.
Because of the reasons mentioned above, I recommend that you skip this business opportunity.
FINAL RATING: 1.3/5
RECOMMENDED: NO


---
WHAT IS KARATBARS?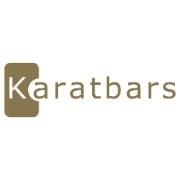 Karatbars is a gold investment MLM founded by Harald Seiz in 2011.
Although the primary thing that they sell is gold for the most part, the company deals with other precious metals as well. The headquarters is currently located in Stuggart, Germany and in terms of it's growth, Karatbars is present in over 70 countries and has the ambition to expand into 194 countries in total.
So its definitely a business with a vision anyways, let's move on to the product line on offer.
==>Click Here To Access My FREE Make Money Online Guide!<==
---
KARATBARS' PRODUCT LINE
Karatbars mainline of products are obviously gold as the name of the company would suggest and the variations that the gold comes in are dependant on how pure you want the it to be. They can vary from 24 ct upto 999.9 for pure gold Atakulche bars. 
One thing that makes Karatbars gold more appealing is that the amount you can purchase is quite flexible. If you want to, you can purchase a small amount of 1 gram or as large as 30 grams. Along with the varied amounts, the packaging is also quite unique.
Each piece of packaged gold contains the assayer's signature an stamped with a valid seal. It's also essentially pressed into the shape of a credit card which is protected by UV film to add the finishing touches. The back of the gold also has a holographic acorn like design which is both a security measure and makes the gold look a little more appealing.
As for the prices that you'll be needing to pay, to purchase 1 gram will cost you around $ 67 which is nearly twice the price of market value gold.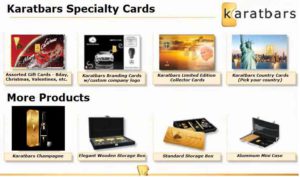 So basically what you're doing is paying an extra 30 bucks for the credit card design. This definitely doesn't seem worth your money especially if the only reason your purchasing the gold is for the value it will have in the future.
Do You Want To Make A Full Time Income Online Just As Many Have Been Doing For Decades, If So Check Out My #1 Recommendation
---
HOW DO YOU MAKE MONEY THROUGH KARATBARS?
As is the case with pretty much all MLM businesses there are 2 ways to make money with them, Karatbars being no exception.
1. The first method is by directly selling the product to other individuals and in return make a commission for the sales
2. You make money through your recruits and downline, by getting residual income by following and meeting certain criteria as well as make money through bonuses and incentives due to meeting company set goals.

---
HOW TO GET STARTED
If you want get started with Karatbars and officially become a distributor for them, you will need to purchase one of their 3  starter kits although, if you just want to become a member it's actually free.
The packages themselves aren't actually called starter kits but, I'll just call them that anyways. As for what's on offer, there are 3 main ones :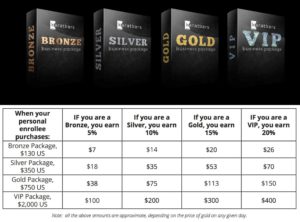 Bronze Package – $135
Silver Package – $350
Gold Package – $800
There is also a VIP package where you'll actually be looking to pay $2100 but, it also does provide the best commission rates and I guess, value for money if you're serious about joining the company.
Either way, to get started with Karatbars you will, at the very least, need to spend $135 so it's far from having the most expensive of start up costs that I've seen. Nevertheless, your up line will probably suggest that you buy one of the more expensive packages because they'll benefit from it too so do be aware of this.
Are You Tired Of Working For A Boss? If So Why Not Take Your Job Into Your Hands And Work For No One But Yourself… If You Want To Do This Check Out My #1 Recommendation 
---
COMPENSATION STRUCTURE
Karatbars compensation plan is pretty long and complicated but it's also essential that you actually learn it because without it, you won't understand how to make money as a Karatbars distributor. The structure that they use for their plan is a binary structure, a pretty common structure in the MLM industry.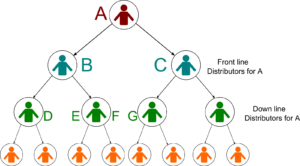 Anyways I'll try to break it down for you briefly :
Direct Commissions : You can earn up to 20% in direct sales depending on which level of package you decide to purchase. 
Unilevel Generational Bonus : Depending on your rank within the company you can earn anywhere from 0.5% – 6% in commissions from the total of all the products sold within your downline. 
Package Bonus : You'll earn a set bonus for any package you mange to sell for the bronze, silver, gold or vip packages. You can earn up to 20% in commission for each package you manage to sell. 
Dual Team Bonus : This one's a little confusing but from what I've gathered you basically get paid out on 2 different amounts depending on how well each of you downline legs do. 
Worldwide Turnover Bonus : I couldn't quite understand this one either but, it seem that for every gram of gold sold, $0.95 goes in to a worldwide pool that eventually gets distributed amongst qualified affiliates. Don't hold me to this because I'm still a little confused trying to understand it. 
Gold Pool : This is where 1% of all the lump sum that's generated by the sale of the gold goes. This is later divided amongst some of the qualified distributors. 
As I said the plan is very complicated so you probably will need to go over it quite a few times just to understand what's going on. You can check out the plan by clicking here on just check out the video below.

---
THE NOT SO GOOD THINGS
Recruitment Is Pretty Much Essential To Succeed
You will need to know how to recruit and even know how to sell face to face if you want to be able to succeed with Karatbars.
The generational unilevel bonus and the dual team bonus both show how the larger your team is the better chance you have in making more sales and in turn the larger your paycheck will be in the end of the month.
The thing is, you probably need to atleast recruit 2 members, within your left and your right legs in order to actually gain full access to the compensation plan and if right now you're thinking of asking family members or friends to recruit into your team, I suggest you don't.
The reason why is because if they join and are essentially failing, they'll probably blame you for roping them in and wasting their time and money. It's quite possible that by getting them involved, you could really strain you relationships with them if everything goes south for them which is why you should look elsewhere when it comes to recruitment.
Of course it's not that easy to get strangers to join right? If you don't have the slightest idea on how to recruit people or even sell the gold to random people, you'll probably struggle quite a lot.
This means you've either got to dedicate a lot of your resources trying to figure out how to recruit, whether it be through online methods or networking events. That's why unless you already have the skill set in place or if you're really willing to put in the work to make it work, I'd suggest you look elsewhere.
The Compensation Plan Is Very Complicated
I tried to breakdown the compensation plan as best as I could but, the plan still isn't a very easy text to understand. This is a pretty big deal considering you will need to know how the money system actually works just so you don't get done over by companies incompetence in paying you.
It's not the worst thing about Karatbars but, it definitely is massive annoyance trying to learn it back to front.
It's Been Regarded As A Fraudulent Company In Some Countries
Some countries have outlined Karatbars as being a fraudulent company. Authorities such as Canada Scam detecting company called Autorité des marchés financiers (AMF) and similar authorities in the Netherlands have put Karatbars under fire for being a potential scam and ponzi scheme.
Of course it's not yet been called out as a pyramid scheme but, it's definitely worth being a bit wary about Karatbars business operations if you do decide to join them.
The Price Of Gold Is Almost 2 Times Market Value! 
To purchase 1 gram of gold within Karatbars will cost you $67 but, if you just bought it at the normal market price, at the writing of this review, 1 gram of gold actually will cost you a little as $41.
This means that Karatbars is essentially charging you an  extra $26 just for the over the top packaging. Although gold is valuable, it definitely isn't worth spending this much extra on it that's for sure.
If you still want to buy gold, you'll be better off just buying it at market value and not from Karatbars
Lack Of Transparency
Karatbars aren't very transparent with their income disclosure statements because I couldn't find them however, I doubt it's a very fruitful endeavour to pursue anyways.
Going off what I've seen in other income disclosure statements from MLM's like Xyngular, Avon, Max International, Ariix and Jeunesse, the likelihood of making any decent money is actually pretty limited.
In pretty much all of these MLM's, it seems that only the top 5% are making anything half decent at $1k/month and around the top 1% are making a full time income.
Although there isn't any concrete proof that this is exactly the case with Karatbars, I honestly doubt that it's anything too far off.
So do keep this point in mind if you're considering becoming a Karatbars distributor.


---
THE GOOD THINGS
The Gold Being Sold Is Actually Real Gold
So if you're concerned about the quality and the authenticity of the products in question, you don't need to be because it actually is real gold. Nevertheless, it's still way to expensive and I wouldn't recommend you buy any but, it's real so the product itself isn't a scam.
==>Click Here To Access My FREE Make Money Online Guide!<==
---
IS KARATBARS A PYRAMID SCHEME/SCAM?
As far as I can tell, it doesn't seem like Karatbars is a pyramid scheme or a scam. In fact you can say that this MLM company is legitimate.
However, besides the authentic gold that they sell, the rest of what's offered by the company just doesn't make it a very appealing business opportunity, in my opinion, to pursue.
The need to constantly recruit, the accusations of it being a fraudulent company by Canada and Netherlands, the overpriced products and the lack of transparency regarding the earnings of its distributors are all signs that just don't make becoming a Karatbars distributor all that appealing to me.
Maybe the packaging is good too but, unless you really want to become a distributor for some reason, I recommend you skip this MLM company.
---
MY PERSONAL RECOMMENDATION
I personally will always recommend against using a MLM business model to make money, not because you can't make money through it (you totally can) but, the system has always seemed shady to myself and is kinda synonymous with the likes of a pyramid scheme or scams (MOBE and Digital altitude).
Instead I prefer working with something created through ones own means and is ultimately dependent on yourself and your work ethic alone.
This method I'm talking about is affiliate marketing.
The reasons as to why I recommend it over MLM based structures are because
– there is no need to recruit constantly
– it is a legitimate method that has been working consistently and continues to grow as more businesses want individuals to promote products
– and because it is free to start up, no unnecessarily large start up funds needed.
The service I recommend is Wealthy Affiliate. It's free to sign up to and will get you set up and ready to start your affiliate marketing journey within minutes, as it did for me when I begun my journey.


If you have any questions that you would like to ask me regarding Karatbars, feel free to do so in the comments section below and will I get back to you as soon as I can. If you have your own thoughts about Karatbars and would like to talk about it, again feel free to do so in the comments below!
Thanks
Amhil