It's likely that you have come across Kannaway through an email list, on social media or got it recommended by a friend or family member.
Is Kannaway a scam? Maybe Kannaway is a pyramid scheme and of course the reason why you're here is because you want to make sure that this opportunity is legit right? That's why, through my honest full review, you'll be able to make up your mind on joining on or not
First and foremost I must commend you for actually doing a bit of extra research before committing to purchasing or joining Kannaway. For all you could have known, Kannaway may very well be a scam and rob you of your money so this review could help you find anything peculiar about it.
To be totally transparent with you I haven't used Kannaway so I can assure you that I will not attempt to sell you on it unless of course it's worth investing in.
What I will aim to do is provide you with an unbiased 3rd party review of Kannaway that will hopefully help you to make the correct decision in the end.
---
PRODUCT NAME: Kannaway
OWNER/S: Christopher Hussey and Jeff Rogers
TYPE OF PRODUCT: Hemp /health and wellness MLM
PRICE: $54.98/ year + autoship
SUMMARY: The good news is that Kannaway isn't a pyramid scheme or a scam, it's a legitimate MLM company that has some potential because of its unique product line and relatively cheap start up cost.
However, the fact you need to be good at recruiting and face to face selling,, the fact that the products are expensive and the likelihood that there is really only a 5% chance that you'll be making a decent of income of $1k/month with Kannaway, in my opinion, doesn't it make it the most appealing of business opportunities to pursue.
It may still be worth giving it a shot if you're really adamant in joining but, if I were you I'd personally skip it.
FINAL RATING: 1.5/5
RECOMMENDED: NO


---
WHAT IS KANNAWAY?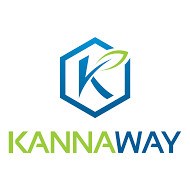 Kannaway is a hemp/health and well based MLM founded in 2014 by Christopher Hussey and Jeff Rogers. Hemp is most commonly associated with the cannabis plant however, the type of products created aren't really going to get you high.
The CBD oils aren't the element that get people high, it's actually THC. Kannaway actually claim to be the first company to have created a fully THC free Hemp based CBD product so, that's pretty much their selling point from what I've noticed.
I guess since the US has allowed for cannabis to become a legal substance, quite a lot of companies have been started on that premise. Of course Kannaway also decided to jump on the bandwagon and for a short while, it was growing rapidly. Now however, it's growth has been declining.
Anyways before getting into detail about whether it's worth joining Kannaway, let's first check out the product line on offer.
==>Click Here To Access My FREE Make Money Online Guide!<==
---
KANNAWAY'S PRODUCT LINE
Kannaway's products consist of Hemp based products and it seems like they have a few different categories too, all of which include :
Kannaway : this is just their CBD oil based products, oral applicators, travel packs, essential oils etc. 
Kannaway Merchandise 
Kannaway Pets : Products for pets, food, chew toys etc. 
Rev!ve 
Defined : This is the beauty and cosmetic line, it includes products like exfoliants, toners, cleansers etc. 
Hempy's : This is the clothing line and includes beanies, caps, shirts etc. 
Kannactive
HempVAP : This is the Vape line of products 
Kannaway also have a few starter packs, these start at $298.80 and go as high as $2268.99. The product line in general is very expensive, then again as Hemp is a pretty new niche most people will be kind of abusing the pricing and Kannaway isn't any different in this case.
If you want to check out all the products for yourself, click here.
Do You Want To Make A Full Time Income Online Just As Many Have Been Doing For Decades, If So Check Out My #1 Recommendation
---
ARE KANNAWAY'S PRODUCTS ACTUALLY ANY GOOD?
You probably want to know if the products are actually any good right? However, I can't actually tell you how my personal experience with the products are therefore I did a bit of research to see what real consumers of the products thought and this is what I found.
Within CBD oil review, it seems as if for the most part, individuals who are suffering from insomnia and chronic pain of any sorts did manage to find some relief from their problems :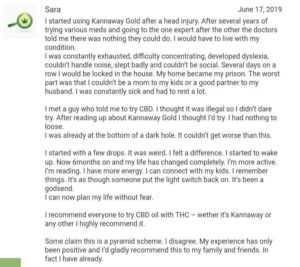 On the other hand, some people didn't experience anything from the intake of the oils.

So to me, it seems like the effectiveness of the products will depend on each individual and the resistance or what not to the CBD oils. There doesn't seem to be any negative side effects from Kannaway's products either so at the very least, the product line isn't harmful.
As for whether it's good and genuinely works, that'll be more dependent on a case by case scenario as far as I can tell.

---
HOW DO YOU MAKE MONEY THROUGH KANNAWAY?
As is the case with pretty much all MLM businesses there are 2 ways to make money with them, Kannaway being no exception.
1. The first method is by directly selling the product to other individuals and in return make a commission for the sales
2. You make money through your recruits and downline, by getting residual income by following and meeting certain criteria as well as make money through bonuses and incentives due to meeting company set goals.
---
HOW TO GET STARTED
To get started with Kannaway and become one of their distributors, there are a few things that you will need to do. To become one of their "brand ambassador's" you will need to pay two different fees.
The first fee is a recurring annual membership fee of $54.98 and the second fee is a minimum autoship requirement if you want to remain eligible to profit from Kannaway's compensation plan.
The minimum requirement is dependant on what rank you are. You will need to accumalte sales or purchase products yourself to maintain the minimum PBV for your rank.
Of course this amount will vary and yes the higher your rank is the better your opportunity with Kannaway so, if you're in a position where you haven't managed to accumulate the minimum PBV through customer sales, you will be required to purchase the products yourself.
This will add up over time and the amount of money you'll be spending could potentially be a lot more than you bargained for.
So do keep this in mind!
Are You Tired Of Working For A Boss? If So Why Not Take Your Job Into Your Hands And Work For No One But Yourself… If You Want To Do This Check Out My #1 Recommendation 
---
COMPENSATION STRUCTURE
Kannaway has a fairly robust compensation plan that follows a unilevel structure that is 9 levels deep.
There is quite a lot of information on what Kannaway has within it's compensation plan so I'll just briefly breakdown what's on offer :
Direct Sales Bonus : Brand Ambassadors get a 30% commission on purchases from their downline for sales or for personal use.
Triple Direct Sales Bonus : Brand Ambassadors earn direct sales commissions paid on all Kannaway Value Packs at triple the initial rate. 
50% DSB Check Match : Brand Ambassadors get paid the DSB Matching Bonus at a 50% check match on all direct sales bonuses, and is paid out to the entire team.
Residual Team Override Commissions : These are commissions that are paid out through a potential of 9 levels dependant on your rank with Kannaway. You can earn up to 11% in commission bonuses through this bonus. 
Ranked Infinity Bonus : This is a bonus that is paid to individuals who've achieved a rank of Executive Director and upwards, 1% in commissions on all qualified sales earned within the 6th level to infinity on their downline. 
Coded Infinity Bonus : This is a bonus paid out on Executive Directors and above. 
Lifestyle Bonus : This is a bonus you start receiving once you achieve the Area Director rank and upwards and also maintain that rank. You'll make $500 if you remain an Area Director and can make up to $10k if you manage to do the same at the highest rank. This is paid every 3 months and is actually earned on a monthly basis as long as you maintain your rank. 
Rank Advancement Bonus : This is paid out as long as individuals manage to maintain a specific rank and also maintain the necessary PBV. 
If you want a more detailed look at Kannaway's compensation plan, click here or check out the video below

---
THE NOT SO GOOD THINGS
You Will Need To Be Good At Face To Face Selling And Recruiting.
This is par for the course when it comes to MLM companies, you do need to be a very good recruiter and a face to face seller to make ends meet, Kannaway of course isn't an exception to this rule.
It's clearly seen within the compensation plan that the higher in rank you get the better your profits with the company and it's also clear that in order to maintain a higher rank you need to make more sales or buy more products.
This obviously means that as a distributor for Kannaway you will need to recruit a lot so that the can cover the minimum PBV for the month and also make a lot more money.
You could argue that the system is somewhat like a pyramid scheme because you're essentially trying to recruit other so that they buy products to maintain they're own ranks which inadvertently also helps you maintain your own rank.
So, to actually make the most out of Kannaway you will need to recruit a ton, which means you either need to already be good at generating leads or be willing to invest a lot of time to learn how.
You will also need to be a competent face to face seller.
It's a lot of work, without a doubt,  needed on your part, if you're not willing to put in the work for Kannaway as well as the investment in cash, you should probably skip it.
Hemp Is Restricted In A Lot Of Places
Hemp isn't legal everywhere in the world therefore, the number of individuals who'll actually be able to use the products will be quite restricted.
This of course means only a select group of people will realistically be able to start up their own Kannaway business ultimately resulting in fewer prospects.
I won't say that this is the biggest of deals but, it does show a bit of a limitation for distributors within the company as a whole.
The Products Are Very Expensive
The products are very expensive starting at around 50 bucks and generally being $100+ for a single product. I guess this is to be expected considering CBD oils are a relatively new niche product but, that doesn't mean the prices are acceptable.
The only positive with the higher prices is that you'll be able to make a larger commission per sale nevertheless, the prices are definitely extremely high so making sales may be a little harder than you would've initially planned.
No Transparency 
I couldn't find a an income disclosure statement by Kannaway showing how much distributor were. aking with Kannaway but, having seen many income disclosure statements from MLM's like Jeunesse, Xyngular, Usana, Ariix, 4 corners Alliance group and Avon, in all of these MLM's most distributors are failing.
In fact only around 5% of members make $1k a month whilst generally less than 1% – 2% of members are making a full time income. 
Although there's no concrete proof that Kannaway's success rate is similar or better than this, I honestly don't think it's too far off.


---
THE GOOD THINGS
They Sell Unique Products
The CBD line of products are unique so there is a newer more fresher spin to the typical health and wellness MLM's that are a overly saturated market in the MLM sphere.
The products are actually available in all 50 states but the opportunity is still only limited to the US, as far as I know.
It's Relatively Cheap To Start Up
The start up cost is relatively cheap being only $54.98/year to become an official distributor for Kannaway. I guess the other fees such as the potential products you'll need to maintain the minimum PBV per month or advertising costs will add to the  obeerall upkeep nevertheless it's still a relatively cheap MLM to get into.
==>Click Here To Access My FREE Make Money Online Guide!<==
---
IS KANNAWAY A PYRAMID SCHEME/SCAM?
The good news is that Kannaway isn't a pyramid scheme or a scam, it's a legitimate MLM company that has some potential because of its unique product line and relatively cheap start up costs.
However, the fact you need to be good at recruiting and face to face selling,, the fact that the products are expensive and the likelihood that there is really only a 5% chance that you'll be making a decent income of $1k/month with Kannaway, in my opinion, doesn't it make it the most appealing of business opportunities to pursue.
It may still be worth giving it a shot if you're really adamant in joining but, if I were you I'd avoid it.
---
MY PERSONAL RECOMMENDATION
I personally will always recommend against using a MLM business model to make money, not because you can't make money through it (you totally can) but, the system has always seemed shady to myself and is kinda synonymous with the likes of a pyramid scheme or scams (MOBE and Digital altitude).
Instead I prefer working with something created through ones own means and is ultimately dependent on yourself and your work ethic alone.
This method I'm talking about is affiliate marketing. 
The reasons as to why I recommend it over MLM based structures are because
– there is no need to recruit constantly
– it is a legitimate method that has been working consistently and continues to grow as more businesses want individuals to promote products
– and because it is free to start up, no unnecessarily large start up funds needed.
The service I recommend is Wealthy Affiliate. It's free to sign up to and will get you set up and ready to start your affiliate marketing journey within minutes, as it did for me when I begun my journey.


If you have any questions that you would like to ask me regarding Kannaway , feel free to do so in the comments section below and will get back to you as soon as I can. If you have your own thoughts about Kannaway and would like to talk about it, again feel free to do so in the comments.
Thanks
Amhil