It's likely that you have come across 4 Corners Alliance Group through an email list, on social media or got it recommended by a friend or family member.
Is 4 Corners Alliance Group a scam? You're here right now probably wanting to know if it's actually possible to make good money through this MLM right? However, you're skeptical and don't want to take the risk before doing a bit of research, which in my opinion is the right call.
First and foremost I must commend you for actually doing a bit of extra research before committing to purchasing or joining 4 Corners Alliance Group. For all you could have known, 4 Corners Alliance Group may very well be a scam and rob you of your money so this review could help you find anything peculiar about it.
To be totally transparent with you I haven't used 4 Corners Alliance Group so I can assure you that I will not attempt to sell you on it unless of course it's worth investing in.
What I will aim to do is provide you with an unbiased 3rd party review of 4 Corners Alliance Group that will hopefully help you to make the correct decision in the end.
---
PRODUCT NAME:  4 Corners Alliance Group (4CAG)
OWNER/S: David Harrison
TYPE OF PRODUCT: Books and Financial Literacy Training MLM
PRICE: $67 to get into the program + optional $545 for upsells
SUMMARY: 4CAG is not a pyramid scheme or a scam, in general, at the writing of this review but I do think that there's a case to be made that it actually is. The compensation plan seems to put a heavy emphasis on recruitment and the product doesn't really add much substance either, both points of which coincide with a pyramid scheme structure.
Even if it is actually a legitimate MLM, the low income potential should be another reason to avoid the company as well.
FINAL RATING: 1/5
RECOMMENDED: NO


---
WHAT IS 4 CORNERS ALLIANCE GROUP?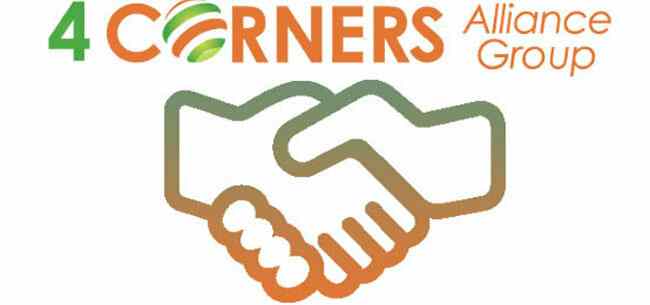 4 Corners Alliance Group is a MLM founded in 2013 by David Harrison that sells products that aim to provide cutsomers with information books on topics "created by experts" on topics such as finance, marketing and business.
The company's headquarters is located in Las Vegas, Nevada.
4CAG's aim is to provide its customers with " a safe and secure place where a life changing income can be built fast".
The use of the wordsblife changing income can be built "fast" should switch on some light bulbs about 4CAG's legitimacy as no life changing income is ever built fast but, we'll just have to wait and see if their claims are plausible.
==>Click Here To Access My FREE Make Money Online Guide!<==
---
4 CORNERS ALLIANCE GROUP'S PRODUCT LINE
4CAG's selection isn't really anything groundbreaking. What they offer are just a bunch of ebooks teaching people how to do certain things or just learn different topics in general.
Something that is worth noting is that 4CAG doesn't actually sell books that they created themselves, pretty much everything they do sell is outsourced although, this fact probably isn't as important as the quality of information provided in the ebooks I guess.
Anyways, 4CAG have 6 different levels of products that they sell, with the higher levels being more expensive. These level include the following products within them :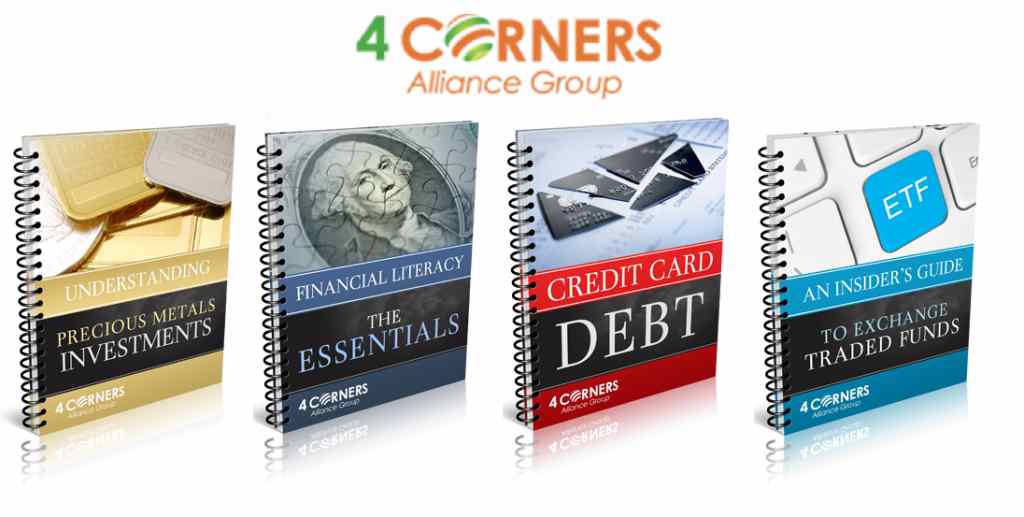 Level 1 ($10) : 1 Book on understanding metal investments along with another 2 additional books. 
Level 2 ($10) : 2 Books on Binary Options and Bitcoins 
Level 3 ($25) : 3 Books on Credit card debt, Economics and Exchange traded funds

Level 4 ($60) : 6 Books covering Binary Options, Multiple Income Streams, Hedge funds, swing trading and debt.
Level 5 ($150) : 8 Books on Real estate, Forex trading, American Depository Receipts and Momentum trading.
Level 6 ($300) :27 Books covering a range of topics like different kinds of investments, REITs, ETF trading, Options trading, Forex trading etc.
As you can see, most of these levels seem to cover topics around finance and probably tactics on how to implement the strategies that are taught in the real world.
Relatively speaking, I don't think all the levels are too expensive, especially when you break down the value per book but, I also think that if you buy one of the higher levels, it's almost like you're taking a punt and hoping you'll get a couple of gems in their.
It's also pretty unlikely that many people would want to buy so many books anyways so I reckon it's also going to be pretty hard to sell the more expensive products as an associate for 4CAG.
Do You Want To Make A Full Time Income Just As Many Have Been Doing For Decades, If So Check Out My #1 Recommendation
---
DOES THE PRODUCT ACTUALLY WORK?
This point will entirely depend on the content that the books provide as well as the actions you take after reading the books, the speed of implementation and hopefully the positive results in the end.
Of course as I've not read any of 4CAG's books personally, I can't speak for their quality but, what I can say is that it's highly unlikely that anyone will be willing to spend a lot of money just so that they can potentially learn something useful.
The other problem with the books sold is that they're just books which means that there's no videos included within the packages to visually learn from. Considering how most individuals prefer to watch how to do something instead of reading due to how much easier it is to understand, the pdf only format will be a major turn off for most.
Also the fact the majority of individuals don't even read books or just stop halfway also adds to the difficulty of actually persuading someone to buy into 4CAG's collection.
If a person actually wanted to learn certain finance topic such as forex trading, crypto currencies and so on, wouldn't it make more sense for that individual to learn for something more focused on those topics as opposed to purchasing a bunch of ebooks from arguably questionable sources?
All in all it's hard to gauge the quality of the books so, if an individual does buy one of the levels, there's no guarantee the content will be good enough mostly because it's not focused on any particular area.

---
HOW DO YOU MAKE MONEY 4 CORNERS ALLIANCE GROUP?
As is the case with pretty much all MLM businesses there are 2 ways to make money with them, 4 Corners Alliance Group being no exception.
1. The first method is by directly selling the product to other individuals and in return make a commission for the sales
2. You make money through your recruits and downline, by getting residual income by following and meeting certain criteria as well as make money through bonuses and incentives due to meeting company set goals.
---
HOW TO GET STARTED
To become a member for 4CAG you will need to do a few things. These are the following things you will need to purchase in order to become an official member of the MLM:
$18 for membership fee (one-time)
$10 for the Level 1 e-books
$8 for the enrolment fee (one-time
$4 for your sponsor (I have no idea why you need this but I guess you do… )
$27 for the newsletter
All if these together brings your total up to $67 just do get started. You may also need to purchase the other levels to read and get to know the content on offer which will bring your total up a bit further to $545. Of course it is just optional to go that far but to get ahead in this business, it might be necessary to invest in them.
You probably will also need to purchase their course called Starien which aims to teach you how to promote 4CAG's products. This is of course optional again but, it will be pretty important if you decide you want to promote the products. This will cost you a further $47/month
Overall the startup costs are fairly miniscule if you do decide to join the company. However, if you do decide to go all in and learn about everything that is sold, it will start to add up so, do keep this is mind.
Do You Want To Make A Full Time Income On Your Laptop? Do You Want The Freedom To Work Whenever You Want Wherever You Want? If That's What You Want My #1 Recommendation Might Just Help You Get There!
---
COMPENSATION STRUCTURE
4CAG's compensation structure is actually quite tricky to understand but, I'll try to give you a rough breakdown on it and hopefully it makes some sense.
Instant commissions : These are commissions you can earn everytime you sell products from level 1 to 6 as long as you you qualify to be a distributor. 
100% Match Commission : You'll make a 100% matched commission when one of your personally signed members receive a commission from a member within their downline.
Newsletter Commissions : When any of your recruits subscribe to the $29.95 newsletter you will also get a commission for the subscription.  
This image kind of breaks down the the matrix that 4CAG uses.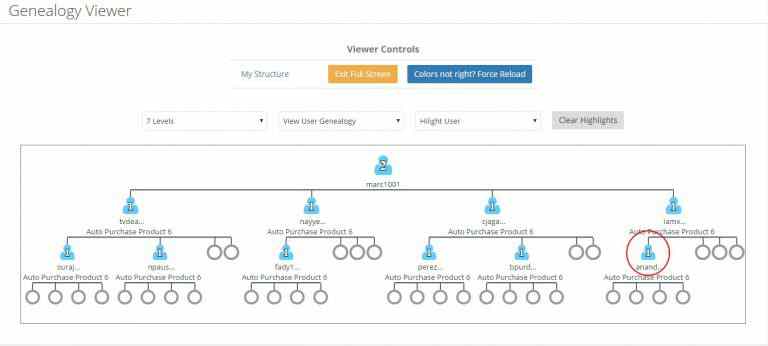 There's a lot of red flags that I can see from the compensation plan such as how the recruitment is heavily pushed by the company, the fact that you'll be able to make a 100% matched bonus if your recruits recruit makes a purchase is pretty red flag like to me but I dunno, it may just be a cool perk as well.
If you want a more In depth look at 4CAG's compensation plan click here or check out the video below

---
THE NOT SO GOOD THINGS
A Pyramid Scheme In Disguise!?
Just going off of what's being offered and exactly how 4CAG does its compensation plan, it would appear as if the core focus for the MLM company is to have its members recruit more so over actually selling the products themselves.
Yes the company do sell stuff but, the fact the items are only digital really adds to the potential of it being a pyramid scheme.
The matching 100% commission from your second level referrals may look great from the outside but, what this is doing is actually making associates realise that without having your direct refferals recruit more people, the lower your chance of making this opportunity work.
Of course the recruitment thing is pretty much necessary in every MLM whether it be Nikken, Global Domains International, Sisel, Avisae, Opulence etc. Recruiting is definitely the main way through which most individuals will benefit from a MLM company but, these companies also have physical products which 4CAG lacks.
Digital Altitude and Mobe both had digital products and in the end they were deemed a pyramid scheme by the FTC. Although it's not yet happened, I think it's possible that 4CAG may very well be a pyramid scheme in disguise so be vary of it.
It's Just Books
The product line is pretty lacklustre and is something you could purchase anywhere really. Well not the specific books themselves but pretty the same content from different authors.
If videos were included along with the books, it may have been worth checking out what 4CAG offered however, the lack of videos and of anything original just doesn't make what the company sells very appealing.
It also makes it a lot harder to sell a person on the idea of buying the books as they're not really anything special.
Most People Are Failing 
This honestly isn't surprising but yeah, most of 4CAG's associates are failing or at the very least making a very small income.
According to 4CAG's income statement most of their independent business owners are making between $500-$2000 a year which definitely isn't anything to write home about.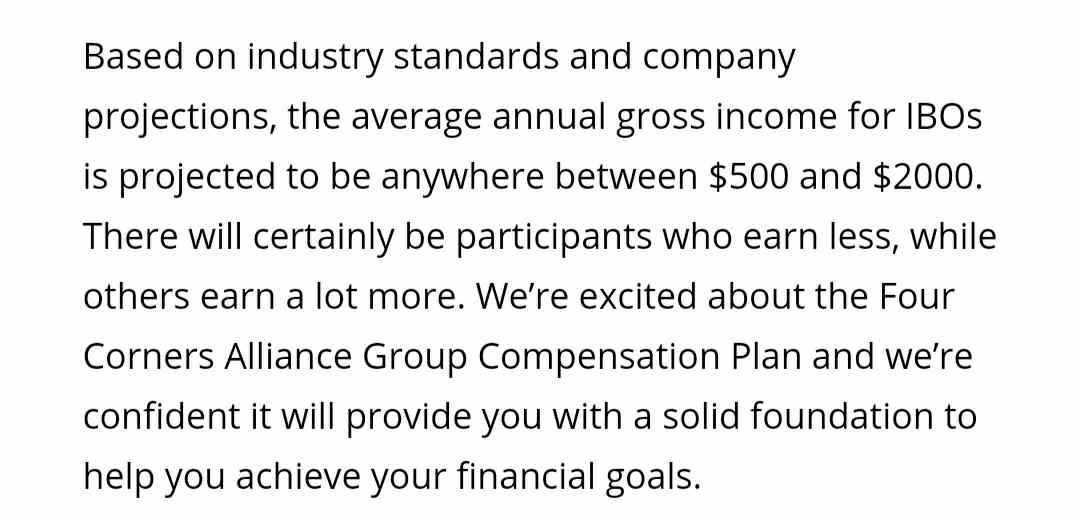 The prospect of an MLM that only sells ebooks is already a hard thing to convince people to buy into so, the small income potential is still a lot better than I initially thought you'd be able to do.
Of course this means that 4CAG is definitely not worth joining but, in the end of the day the choice is yours.


---
THE GOOD THINGS
Not Too Expensive To Start Up
At only $67, it's not necessarily the most expensive MLM's to start up but, if you do purchase all the other books it could add up. Of course that's not necessary on your part so in general the starting costs are pretty miniscule.
==>Click Here To Access My FREE Make Money Online Guide!<==
---
IS 4 CORNERS ALLIANCE GROUP A PYRAMID SCHEME/SCAM?
Although for the meanwhile 4CAG isn't a scam or a pyramid scheme, I do think that there's potential for it being one.
Pyramid schemes are generally companies that don't have products with value and instead the main way to make money with them is through recruitment.
This is kind of the impression that I get off of 4CAG and even though it has been around for 5 or so years, the compensation plan kind of seems like it's main money making route for the company. And even if it doesn't ever turn out to be a pyramid scheme, the low income potential is also a reason as to why you should avoid 4CAG too.
---
MY PERSONAL RECOMMENDATION
I personally will always recommend against using a MLM business model to make money, not because you can't make money through it (you totally can) but, the system has always seemed shady to myself and is kinda synonymous with the likes of a pyramid scheme or scams (MOBE and Digital altitude).
Instead I prefer working with something created through ones own means and is ultimately dependent on yourself and your work ethic alone.
This method I'm talking about is affiliate marketing. 
The reasons as to why I recommend it over MLM based structures are because
– there is no need to recruit constantly
– it is a legitimate method that has been working consistently and continues to grow as more businesses want individuals to promote products
– and because it is free to start up, no unnecessarily large start up funds needed.
The service I recommend is Wealthy Affiliate. It's free to sign up to and will get you set up and ready to start your affiliate marketing journey within minutes, as it did for me when I begun my journey.


If you have any questions that you would like to ask me regarding 4 Corners Alliance Group , feel free to do so in the comments section below and I will get back to you as soon as I can. If you have your own thoughts about 4 Corners Alliance Group and would like to talk about it, again feel free to do so in the comments.
Thanks
Amhil