It's likely that you have come across Changing The Future Outcome through an email list, on social media or got it recommended by a friend or family member.
Is Changing The Future Outcome a scam? Maybe it's a pyramid scheme and you're a little worried that it might be delving into the wrong business opportunity. So all I can say is smart move in finding this Changing The Future Outcome review.
First and foremost I must commend you for actually doing a bit of extra research before committing to purchasing or joining Changing The Future Outcome. For all you could have known, Changing The Future Outcome may very well be a scam and rob you of your money so this review could help you find anything peculiar about it.
To be totally transparent with you I haven't used Changing The Future Outcome so I can assure you that I will not attempt to sell you on it unless of course it's worth investing in.
What I will aim to do is provide you with an unbiased 3rd party review of Changing The Future Outcome that will hopefully help you to make the correct decision in the end.
---
PRODUCT NAME: Changing The Future Outcome (CTFO)
OWNER/S: Stuart and Steve Finger
TYPE OF PRODUCT: Hemp infused health and wellness MLM
PRICE: Free (for retailers) or Subscribe to $47.47 monthly autoship to get into MLM program
SUMMARY: CTFO is not a scam or a pyramid scheme, it's a legitimate MLM with a few things that will stop quite a lot of you from actually joining. You will need to recruit to succeed through it and if you decide to join, the restriction of the products that they have on offer will also make it harder to actually makes sales and generate a good income.
CTFO does seem to have good products judging from the opinions of people who've used them but, the limitations and the difficulty in actually finding success with the MLM business model does mean that I personally can't recommend you join CTFO.
FINAL RATING: 2/5
RECOMMENDED: NO


---
WHAT IS CHANGING THE FUTURE OUTCOME?

Changing The Future Outcome is a MLM company founded by Stuart and Steve Fingers. The company itself initially started off under a different name, "Chew The Fat Off" but since has had a rebranding of its name, I believe in early 2018, which was done in order to move the MLM company in a different direction (to a degree…)
The company as whole, before the name change, actually launched back in late 2015 pretty much since the legalisation of hemp or marjuanna as most people call it. It's definitely a very new MLM.
The company has added a few different line of products to their arsenal nevertheless, what CTFO is known for is actually the hemp infused products they sell.
The owners are also somewhat veterans of the MLM industry being within the MLM scene since 1996 so, it's likely they have a decent bit of knowledge on this business model.
==>Click Here To Access My FREE Make Money Online Guide!<==
---
CHANGING THE FUTURE OUTCOME'S PRODUCT LINE
The name change doesn't mean the product line that CTFO sell is actually going to change, the rebranding was instigated with the purpose of moving the companies ambitions forward along with adding a few other flagship products to their line.
The new line includes their CBD line which is of course is their new product that uses the extract from the hemp plant. They claim that it has a plethora of health benefits such as better energy levels, the ability to manage anxiety and so on.
They have a ton of different categories available within their product along with the CBD products which include the likes of :
Weightloss products 
Beauty products 
Skin care products 
If you want a more complete look at the product line click here. 
Do You Want To Make A Full Time Income Just As Many Have Been Doing For Decades, If So Check Out My #1 Recommendation
---
ARE THE PRODUCTS ACTUALLY ANY GOOD?
As I've not used the product myself, I not able to tell you if it's any good but I did do a little bit of research and this is what I found…
On BBB it seems like most people who use the products genuinely seem to like them and it seems as if the effects of the CBD oils are actually good and quite affordable to them.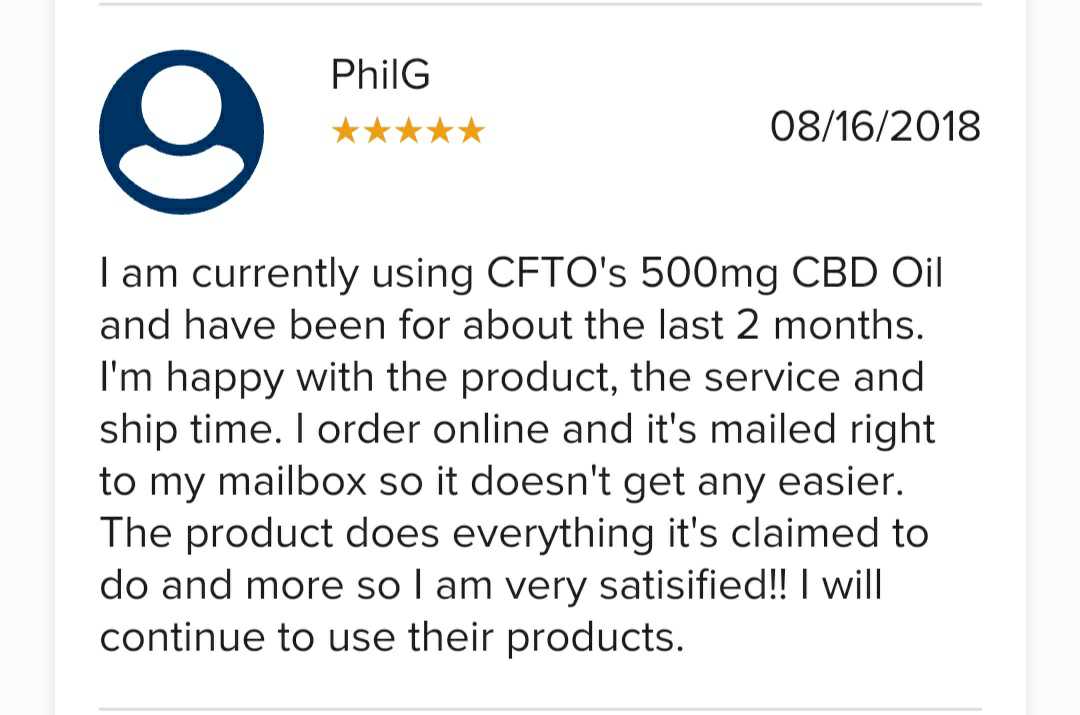 I'm no expert on CBD oils but it does seem like most individuals are enjoying the benefits of the products on offer so I guess if you do intend to pursue this business opportunity, the quality or even pricing of the product line shouldn't be the main reason as to why you fail or succeed in the end.

---
HOW DO YOU MAKE MONEY THROUGH CHANGING THE FUTURE OUTCOME?
As is the case with pretty much all MLM businesses there are 2 ways to make money with them, CTFO being no exception.
1. The first method is by directly selling the product to other individuals and in return make a commission for the sales
2. You make money through your recruits and downline, by getting residual income by following and meeting certain criteria as well as make money through bonuses and incentives due to meeting company set goals.
---
HOW TO GET STARTED
If you intend to become one of CTFO's distributors, you will need to do a few things. The most basic one of course will be to fill in an application form and after that you'll have to start dealing with some fees.
Firstly if you actually want to become one of CTFO's distributors, you don't really need to pay anything as it is free to actually become one however, you will need to be on a monthly auto ship plan of $47.47 if you want to benefit the most from the compensation plan.
So from the looks of it, CTFO does seem like a relatively cheap MLM to join although this doesn't include any other miscellaneous fees such as advertising, hosting parties in order to sell the products and so on.
Nevertheless, getting started with this MLM is definitely a lot cheaper than most other MLM's that I've checked out.
Do You Want To Make A Full Time Income On Your Laptop? Do You Want The Freedom To Work Whenever You Want Wherever You Want? If That's What You Want My #1 Recommendation Might Just Help You Get There!
---
COMPENSATION STRUCTURE
CTFO uses a unilevel structure for its compensation structure which is a pretty common MLM structure. With these kind of structures, you will have infinite potential for money if you're good at recruiting and what not.
Anyways, as for what are the details of the compensation plan, these are the following things through which you'll be able to get paid through CTFO :
Direct Retail Commissions : as an affiliate you'll get 20% off on all orders from CTFO meaning when you sell the products you purchaseed at their retail value, you'll make a bit of money. For example if you purchased a $20 product with a discount included, you'll be buying the product for $16 which means you can make $4 dollar in profit from it if you decide to make a sale 
Unilevel Pay : You'll be able to make commissions from your level 1 recruits. There's no limit to the number of recruits that you can have within any given level which means that you can potentially build a huge down line team and earn decent commissions from these recruits of yours. 
Regenerating Matrix Pay : You will be able to earn roughly 1% in commissions from each of your levels. This is where it gets interesting. You can only earn from 3 of your level 1 personally enrolled recruits, you'll be able to earn from 9 of your second level recruits, from 27 of your level 3 members and so on until you've reached the limit for the structures vertical levels. This of course suggests that the more recruits you have the easier it should be to make money. 
If you want a more indpeth look at the compensation plan, check out the video below


---
THE NOT SO GOOD THINGS
Heavy Emphasis On Recruitment To Succeed Through CTFO
This isn't really that shocking a thing but there definitely is a lot of truth to the fact that you will need to do a lot of recruitment to succeed through CTFO.
Although it is possible to make decent money through just the retail commissions if your able to sell tons of products on a regular basis, it's still harder to make a full time income through it than by recruiting people.
The recruitment aspect is therefore the only realistic way to make good money through CTFO. The matrix commissions also put a heavy emphasis on getting new members who are actually somewhat decent at recruitment themselves so that they can recruit for you and increase you potential for commissions.
The weird thing about the matrix style commissions is that you'll only be able to make commissions from 3 of your direct referrals, which is going to be quite annoying as it's unlikely that you'll find someone good at recruitment within that bunch of 3.
This means you'll need to recruit people who won't even be making you any money just so you can find a few people who are able to get people to join so that you can actually make some residual income through your downline.
Of course the bigger your downline vertically, the more potential you'll have with CTFO and this is also why you will need to be good at recruiting to succeed with this business.
The Business Opportunity Is Very Restricted
CBD oil is extracts from hemp or whats commonly known as the weed plant. Hemp is a restricted or banned plant in many countries and even some states within the USA, which means that the potential with the company is also a lot more limited that other more legalised products.
Technically speaking the stuff that makes you high, THC, is only found in very small amounts within the products but, it is because of the THC that hemp based substances are restricted in most countries and states in the US.
CTFO do have other products but, the flagship products that they offer won't really be that accessible for most people therefore, your potential profits and recruits will probably be a lot less than you initially thought possible.
No Transparency
The lack of transparency isn't a great thing because without it it's hard to gauge CTFO's potential nevertheless, having reviewed many other MLM's and having seen their income disclosure statements, I'm pretty sure that the potential is probably not that great.
Companies like Xyngular, Lularoe, Usana, and Scentsy all show that the potential that CTFO has, in terms of the money you can make from it, is very limited. Generally speaking less than 5% tend to make around $1k+ a month whilst less that 1% (in most cases) make sustainable full time incomes.
Although it's not gospel that CTFO does the same numbers, the fact it was launched in 2015 and the fact that most MLM's have a very low success rate for their distributors, I wouldn't be surprised if CTFO isn't any different.


---
THE GOOD THINGS
People Like The Products
In general it appears as if people who've actually used the products do like them so I guess this isnone less thing to worry about if you do decide to become a distributor.
60 Day Refund Policy
It's nice that CTFO actually have a refund policy so if you're unhappy with a product, you'll at least have the option to return it for a refund. Although I don't know if it's the best of policies, it's nice that it actually is available to customers.
==>Click Here To Access My FREE Make Money Online Guide!<==
---
IS CHANGING THE FUTURE OUTCOME A PYRAMID SCHEME/SCAM?
As far as I can tell no, changing the future outcome is neither a pyramid scheme or a scam, it's actually a legitimate MLM company that actually sell real physical products unlike certain MLM's that have products with no substance and only want their members to recruit others.
The main probelms with the company is that you will need to recruit a lot of people to succeed, the hemp is a very niche product line that is restricted in most countries which makes it pretty hard to operate as a distributor in most countries.
The lack of transparency also is another thing indicates that the potential with this business is probably very limited, much like other MLM's where generally less than 5% are making a decent $1k+ in profit every month.
The products themselves seem to be liked and the refund policy is a nice touch too but, the limitations in place really just doesn't make CTFO seem like a good online business opportunity to pursue at all in my opinion.
---
MY PERSONAL RECOMMENDATION
I personally will always recommend against using a MLM business model to make money, not because you can't make money through it (you totally can) but, the system has always seemed shady to myself and is kinda synonymous with the likes of a pyramid scheme or scams (MOBE and Digital altitude).
Instead I prefer working with something created through ones own means and is ultimately dependent on yourself and your work ethic alone.
This method I'm talking about is affiliate marketing. 
The reasons as to why I recommend it over MLM based structures are because
– there is no need to recruit constantly
– it is a legitimate method that has been working consistently and continues to grow as more businesses want individuals to promote products
– and because it is free to start up, no unnecessarily large start up funds needed.
The service I recommend is Wealthy Affiliate. It's free to sign up to and will get you set up and ready to start your affiliate marketing journey within minutes, as it did for me when I begun my journey.


If you have any questions that you would like to ask me regarding CTFO , feel free to do so in the comments section below and I will get back to you as soon as I can. If you have your own thoughts about CTFO and would like to talk about it, again feel free to do so in the comments.
Thanks
Amhil