It's likely that you have come across Real Profits Online through an email list, on social media or got it recommended by a friend or family member.
The reason you're here is probably because you're curious right? What is Real Profits Online? Can you make money through it or is it just another run of the mill scam?
You're skeptical and to be honest with you, you have every reason to be. This Real Profits Online review will definitely help you to find some answers for at least a few things you're concerned about so do continue reading.
First and foremost I must commend you for actually doing a bit of extra research before committing to purchasing Real Profits Online. For all you could have known, Real Profits Online may very well be a scam and rob you of your money so this review could help you find anything peculiar about it.
To be totally transparent with you I haven't used Real Profits Online so I can assure you that I will not attempt to sell you on it unless of course it's worth investing in.
What I will aim to do is provide you with an unbiased 3rd party review of Real Profits Online that will hopefully help you to make the correct decision in the end.
---
PRODUCT NAME: Real Profits Online (RPO)
OWNER/S: Mark??
TYPE OF PRODUCT: Affiliate marketing platform
PRICE:  $47 signup fee + $700 upsells
SUMMARY: Real Profits Online is 100% a scam and should be avoided at all costs. It has a multitude of red flags such as the unrealistic expectation of making a lot of money with little work as a newbies as well as fake articles and testimonials promoting it. You should avoid it at all costs!
FINAL RATING: 0/5
RECOMMENDED: NO!
---
WHAT IS REAL PROFITS ONLINE?
Real Profits Online is supposedly an affiliate marketing course created by this individual named Mark, who is aiming to teach you how to effectively do affiliate marketing.
The basic premise of the course doesn't seem too bad as there isn't anything wrong with affiliate marketing and how it works but, RPO is far from being convincing on how they'll teach you how to make money through their sales video.
The sales video goes into all this detail on how one day the narrator, Mark, saw that his friend was making a lot of money on amazon using this one weird trick.
His friend, who's called Tim in the video, supposedly showed Mark exactly how he was making a full time income with a beer in one hand and a mouse in the other (totally relatable right…) by using a done for you website.
So essentially what RPO is selling you is a one click system. I've reviewed a fair few products on mildmattersofmoney, one click payday, profit with our sites, article genie, League of Power all come to mind when I think of RPO and do you want to know what all of them have in common… they're all scams!
Thr other thing that also tips this off as being, more or less a scam is that you'll be redirected to a different product called "Money Sucking Websites" if for for some reason you decide to buy into the sales pitch.
==>Click Here To Access My FREE Make Money Online Guide!<==
---
WHAT DO YOU GET IF YOU BUY REAL PROFITS ONLINE?
Going off of what I've already stated, you'd think I'm firm on my belief that RPO is pretty much a full on scam but, maybe I'm being a little harsh on it, it's possible that the sales pitch is just poor, it's possible that that RPO might have some potential so, I guess let's actually see what you get if you were to buy in.
To be honest there's not much give away on what Real Profits Online is actually doing, in reality what they are doing is producing fake news articles to promote different variations of this supposed weird trick that can make you money.
In fact there are a bunch of testimonials, fake one's I might add, that claim they made money the day they started using the website.
I mean come on!
There's no way this system would be able to accomplish such a thing considering how vague the information is on RPO's product.
The claims of making $500+ really don't have any substance. The problem as a whole with what's claimed and what it's aiming to teach, which is affiliate marketing, the correlation between this particular marketing method and immediately making $500+ just isn't very realistic especially for a newbie.
Do You Want To Make A Full Time Income Just As Many Have Been Doing For Decades, If So Check Out My #1 Recommendation! 
---
WHAT IS AFFILIATE MARKETING?
Now the reason you somehow got yourself roped into this program was because of the use of affiliate marketing and on how it could supposedly make you a lot of money. The truth about what "Mark" says is that it genuinely is possible to make that kind of money with affiliate but, the strategies he's promoting just are completely outdated.
Back in the day, before Google made some major changes to their algorithm, one page websites probably would've been able to make a lot of money for you but, now that's just not the way to go.
Affiliate marketing, in my experience, is a lot more of a slow burner to make profitable, especially if you're trying to do it with a website and through whitehat SEO methods.
If you have money, there's definitely the option of speeding up the money making process through ads however, in general making $500+ with the click of a button is pretty unrealistic.
The basic premise of affiliate marketing, if you didn't know already, is basically promoting products for others in exchange for a cut in profits for every product you sell. Amazon actually have a very popular affiliate program where if someone purchases anything through your link within 24 hours, you'll make around 4-10% cut on the sales generated.
There are affiliate programs out there for more or less every kind of product you can think of, whether it be making affiliate commsions from luxury cruises, vacations, selling cat food you name it and it likely has an affiliate program.
Now imagine making a commission through a luxury cruise that's costs around $5000-$10000 to book, if the commission is say for example 10%, you could be banking $1000 for every sale and the great thing is that you don't need to anything else, all you need to do is recommend the cruise and if someone takes you up on that offer, happy days I guess.
There are people making 6-7 figures through affiliate marketing alone so there is undoubtedly a lot of potential using the system however, it's still very unrealistic to believe the strategies RPO claim to teach work especially considering how it's marketing alone is just so darn shady.

---
WHO IS REAL PROFITS ONLINE FOR?
The answer to this question is a no brainer, this is not a product that anyone should willingly purchase unless they want to conduct some research on it. I'm sure at this point you realise why I don't recommend it, it's just do darn shady and doesn't really offer much value not to mention the fake news article tactic that they're using.
---
THE NOT SO GOOD THINGS
Unrealistic Expectations
You don't need me to tell you anymore but, I'm sure at this point, you agree with me in believing that the expectations that "Mark" has layed out, as being achievable, is totally unrealistic.
$500 a day is possible, hell even $1000 is using affiliate marketing however, the manner in which Mark describes the actions that you'll need to take in order to achieve this goal is just not something a newbie will be able to achieve.
Besides, done for you website aren't going to make you any money unless you manage to bring traffic to your websites which will eventually result in commissions from any affiliate sales you make. To do that you actually need content of some form, sitting on your bottom with a beer in one hand an a mouse in the other isn't going to cut it
Fake Articles
RPO has been using fake articles to try and promote itself, in fact it's been doing the same for multiple other products such as fake articles for Amazon Cash Websites, Fast Income Generator, Prime Time Profits etc.
What I'm getting at is that the use of fake articles to promote itself as a good product is without a doubt a major red flag in my book.
Fake Testimonals
The testimonials brought up in the sales pitch are also fake, the people claiming to make whatever money through RPO are simply just paid actors or actresses found within Fiverr.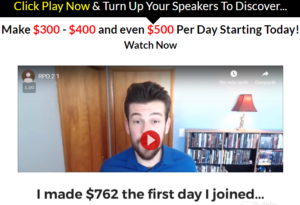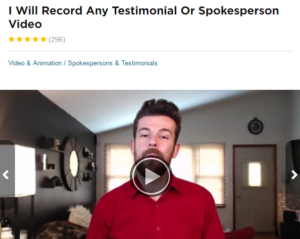 The people within the testimonials aren't speaking from experience, all they're doing is reading from a script that RPO probably only paid a few bucks for.
To me, this point clearly makes RPO a scam and along with the other points I've mentioned, there's no doubt to me that the product on sale is definetly NOT worth a single penny!
==>Click Here To Access My FREE Make Money Online Guide!<==
---
THE GOOD THINGS
It's Recommending Affiliate Marketing
The only real good thing about the course is that it's promoting a legitimate and in my opinion one of the best ways to make money online in the form of affiliate marketing.
Of course RPO doesn't really teach you how to make money using real affiliate marketing methods but, it's literally the only good thing about it.


---
IS REAL PROFITS ONLINE A SCAM?
Yes, Real Profits is 100% a scam, it's use of fake testimonials, fake articles and unrealistic expectations of success with minimal work are without a doubt signs that make RPO something you should avoid no matter what.
The only thing I kind of like about it is that it's business model is on affiliate marketing but, the product doesn't do much in teaching you the best way to grow your online business using it so it doesn't really mean much.
Avoid Real Profits Online! It's not worth a single penny out of you bank account.
---
MY PERSONAL RECOMMENDATION
I'd suggest you check out my personal recommendation if you still want to make money online, though I'll warn you right now, it isn't something through which money will come easy.
It is nonetheless a great business model for the online space in my opinion
So what is this method that I'm talking about?
This method I'm talking about is actually the method RPO is trying to teach, affiliate marketing.
The reasons as to why I recommend affiliate marketing is because:
– expectations toward success are a lot more grounded
– it is a legitimate method that has been working consistently and continues to grow as more businesses want individuals to promote products
– it is a very scalable business
– and because it is free to start up, no unnecessarily large start up funds needed.
The service I recommend is Wealthy Affiliate. It's free to sign up to and will get you set up and ready to start your affiliate marketing journey within minutes, as it did for me when I begun my journey.


If you have any questions that you would like to ask me regarding Online Profit System, feel free to do so in the comments section below and I will get back to you as soon as I can. If you have your own thoughts about Online Profit System and would like to talk about it, again feel free to do so in the comments below!
Thanks
Amhil