It's likely that you have come across Talk Fusion through an email list, on social media or got it recommended by a friend or family member.
Is Talk Fusion a scam? Is it a pyramid scheme in disguise? There's probably a reason as to why you're here right? You've probably been told how awesome an opportunity Talk Fusion is but, the skeptic in you just can't seem to openly accept these statements so you've taken matters into your own hands to see if it really is as good an opportunity as claimed.
First and foremost I must commend you for actually doing a bit of extra research before committing to purchasing or using Talk Fusion. For all you could have know, Talk Fusion may very well be a scam and rob you of your money so this review could help you suss out anything peculiar about it
To be totally transparent with you I don't own Talk Fusion so I can assure you that I will not attempt to sell you this product unless of course it's worth investing in.
What I will aim to do is provide you with an unbiased 3rd party review of Talk Fusion that will hopefully help you to make the correct decision in the end.
---
PRODUCT NAME: Talk Fusion
OWNER/S: Robert T. Reina
TYPE OF PRODUCT: MLM focusing on busines tools
PRICE: $30 to $1,500 + monthly costs
SUMMARY: Talk Fusion is not a scam or a pyramid scheme but to me it's just not a company worth joining. The first reason is because you've got to be really good at recruiting to succeed, the lack of training doesn't help you much here and secondly the success rate is abysmally low at around a 1% chance that you'll be making $1k+ a month.
The few good things are that they do provide a 30 day trial period for the products and the instant payment system is also pretty cool however, the low success really makes it clear that joining Talk Fusion isn't what I'd consider to be a good business opportunity to pursue.
FINAL RATING: 1.5/5
RECOMMENDED: NO


---
WHAT IS TALK FUSION?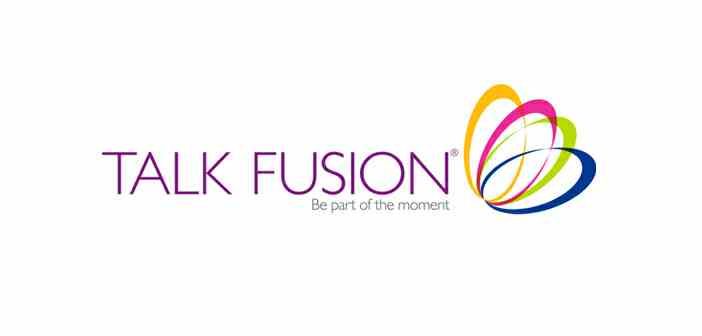 Talk Fusion is a MLM company that focuses on video conferencing and business tools for its clients and was founded by Robert T. Reina, who is also the CEO of the company, in 2007. Talk Fusion's base of operations is located in USA, Florida.
The reason as to why Talk Fusion came into the scene was because they found a little gap in the market. They found that video marketing was beginning to gain traction so they decided to utilise the influence of them through emails.
According to Talk Fusion the average person receives around 88 text based emails every day. Considering how everything more or less looks the same or is just bunched together with all the spam emails, they thought that one way to get around people's negative mindset on emails was through providing the option to send video emails.
I can't deny in saying that it's a pretty cool idea but, whether it's necessarily as good or better than text based emails will depend on who uses the premise in the end right?
Anyways, Talk Fusion for the most part focuses on products based around business communications so let's get into that.
==>Click Here To Access My FREE Make Money Online Guide!<==
---
TALK FUSION'S PRODUCT LINE
The products that Talk Fusion offer are generally within the realm of video conferencing and business communications tools and they include the following products :
Video Email : Using the Talk Fusion Back Office you upload and send email videos
Fusion on the Go : This is a Mobile app for email in order to do video messaging with nearly any tool
Video Newsletter : Similar to the Video email.
Video Auto Responders or Esubscriptions : This allows you toncreate custom pages and collect leads
The Fusion Wall : Posting Vidoes on the Talk Fusion wall apparently helps with ranking (not needed if you have the skills Job Killing teaches you)
Video Blog : Similar to You Tube basically
Video Share : Awesome feature that shares your video on over 200 social network sites. This is a great time saver!
TalkFusion Connect : Host webinars to a larger audience
The prices on these products will vary quite a bit starting from as low as $30 and some reaching in the regions of $1500+. 
I think the reason why they become so expensive is because the products they sell are more so business to business kind of deals and generally businesses are willing to pay more for products, even if they can find an alternative product for cheaper.
If You'd Rather Spend Less And Make A Full Time Income My #1 Recommendation Is Probably The Best Way To Go So Why Not Check It Out! 
---
ARE TALK FUSION'S PRODUCTS ACTUALLY GOOD?
As I am not a member and haven't actually tried any of Talk Fusion's products, I can't speak for their quality, but I did do a little research on what others thought of them and this is what I found.
From what I could find in bbb it looks as if people think that the products themselves are decent but, there's not much information to take away from them as they don't really have a really in depth comment on them.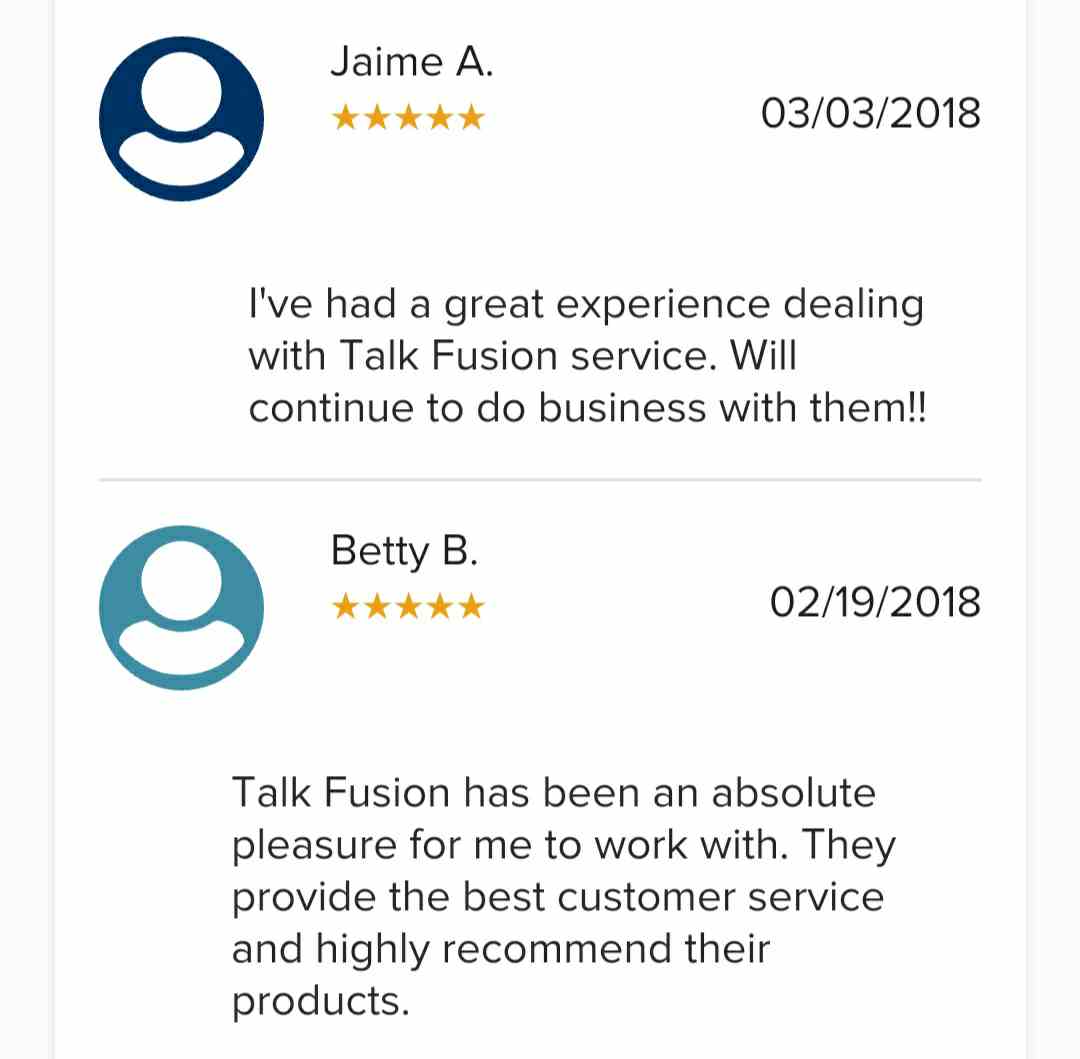 Another customer who actually used the products and services said that the recent renovations and change of staff were poor but, they didn't really complain about the quality of the services provided.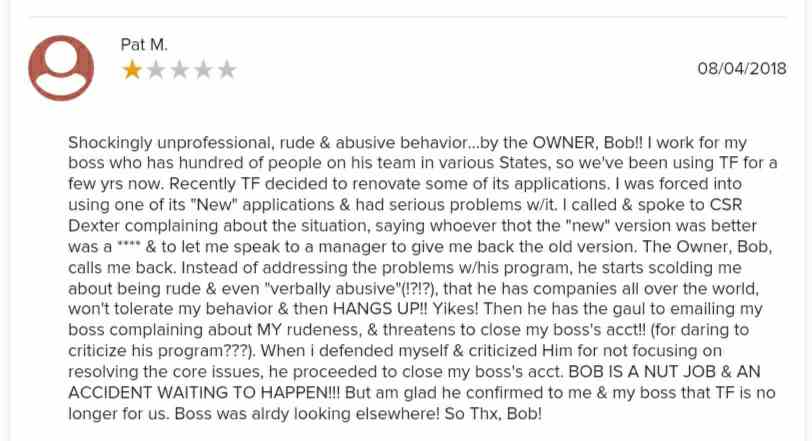 The only takeaway from this is that the services that Talk fusion offer are actually pretty decent so if you do decide to become a member, the quality of the services should at the very least be decent in quality.

---
HOW DO YOU MAKE MONEY THROUGH TALK FUSION
As is the case with pretty much all MLM businesses there are 2 ways to make money with them, Talk Fusion being no exception.
1. The first method is by directly selling the product to other individuals and in return make a commission for the sales
2. You make money through your recruits and downline, by getting residual income by following and meeting certain criteria as well as make money through bonuses and incentives due to meeting company set goals.
---
HOW TO GET STARTED
If you're planning to join Talk Fusion and become one of their active members or independent associates as they like to coin it, there will be a few steps that you'll need to take. The first step will of course be to sign up to them through an application form.
The second step that you will need to do is purchase the "Business Builder Package" as well as a one time fee for signing up at $30.
There are quite a few different packages to pick from 4 to be exact, these packages are :
1. Starter Package
Basic Commission
$500 Weekly Earning Potential
Video Email
Cost: $125 + $20/month
2. Executive Package
Additional $25/sale
$1,000 Weekly Earning Potential
Video Communication Suite (Limited Features)
Cost: $250 + $35/month
3. Elite Package
Additional $75/sale
$25,000 Weekly Earning Potential
Video Communication Suite (More advanced features)
Cost: $750 + $35/month
4. Pro Package
Additional $150/sale
$50,000 Weekly Earning Potential
Video Communication Suite (Most advanced features)
Cost: $1,499 + $35/month
As you can see, the packages themselves aren't very cheap even when you're just looking at getting the starter package. A $125 upfront cost along with the $30 sign up fee will set you back $155 your first month and then afterwards you'll still be required to pay 20 bucks everymonth.
The upfront cost for some may be a little much considering you probably only get the bare minimum.
This is why when you sign up you'll either be persuaded by your direct upline to purchase one of the 2 higher level packages or you'll just see how the potential jumps from $1k to $25k making it seem like it's the better choice to make.
Who knows maybe it is but, in order to check if it has potential you will be required to put forward $750+ and an extra $15 per month.
Now do you see how this model really just wants you to spend more yet draws you in with, what I'd say, a fairly reasonable price to start off at. This not only helps your upline make more money but the company as a whole.
Do You Want To Make A Full Time Income Just As Many Have Been Doing For Decades, If So Check Out My #1 Recommendation! 
---
COMPENSATION STRUCTURE
Much like every other MLM out there Talk Fusion also has its own compensation plan through which its independent associates will be able to make money. They use their own unique compensation plan called the instant pay compensation plan.
This is something that's definitely pretty cool in my opinion as what it aims to do is pay out whatever commission you manage to make through Talk Fusion immediately.
In fact they claim that it'll only take around 3 minutes to see the money come into your bank account. Compared to waiting a week or generally a month or two, this little perk is pretty awesome. Whether or not it works as it should in practise, I can't really say.
They use a fairly popular MLM structure called a binary structure where you have two legs in your downline, your left and your right leg, and then expand your team downwards from then onwards.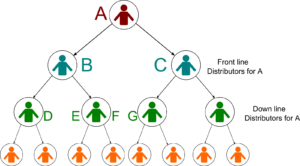 The compensation plan offers the following benefits :
Fast Start Bonus : You'll be able to make money for every product package your downline members or customers purchase. You can make upto $120 for selling a pro packages as well as a $10 monthly bonus. 
Team Commissions : This is where most of the money will be made. Basically what you want to do is maintain a high sales volume. The higher the sales volume the better your commission overall but  there are certain requirements you must meet in order to qualify. There's a hard cap here at $50k per month 
Mega Matching Bonus : You'll get an extra 10% in commission from your direct or personally sponsored associates team commissions. For example if they were making $300 a month you'd make an extra $30 due to this bonus. 
Customer Pool: Talk Fusion hold a cash bonus every month upto $1000.
Leadership Pool : This award is another pool but only blue diamond ranks and above can be eligible for it. 
Other Incentives and bonuses such as Rolex watches, vacations, Mercedes car bonus etc.
For a more detailed look at the compensation plan click here or check out the video below


---
THE NOT SO GOOD THINGS
You Need To Be Good At Recruitment To Succeed
If you really want to succeed within Talk Fusion, you've got be really good at recruitment or just have a way to reach lots of people, whether it be offline or online to sell the idea of becoming an independent associate to potential recruits.
The first hurdle you'll need to cross in order to actually start making residual commissions is recruiting at least 2 sponsored or direct members.
Where do you think most people will look in order to accomplish this task?
Yep you guessed it, family or friends but you see, there's actually a very big problem likely to oocur if you do this.
Imagine you signed a couple of your family members up and they don't succeed or after spending hundreds of dollars they realise that the business is lot harder than you pitched, who do you think they're going to blame?
They're going to blame you and at this point you'll have kind of strained your relationship with them, which is not something that you'd want to happen right?
This is why the most ideal strategy is to sell the idea to someone who wants to join and isn't related to you.
So either you've got to understand how to use Google or Facebook ads to help you with the recruitment process or just work on being a very good face to face salesman if you aren't already.
I don't think you need me to tell you that this path is probably going to cost you more than you initially bargained for to succeed in
No Real Training Provided
This kind of ties in with my first not so good thing about Talk Fusion, you're not really provided with any training to get you off your feet.
You'll need to look around to find some good resources on your own and considering you'll likely have spent a lot just to promote the product line, it should be a very important, in my opinion, to provide their associates with some training on how to do things.
Of course this is a massive negative in my eyes because most individuals will some form of training to figure out a way to make this opportunity work.
Most People Are Failing
To be honest with you, having reviewed so many MLM's like Xyngular, Lularoe, Ariix, Life Leadership and so on, I can't say it surprises me too much in seeing that most people are in fact failing through this model.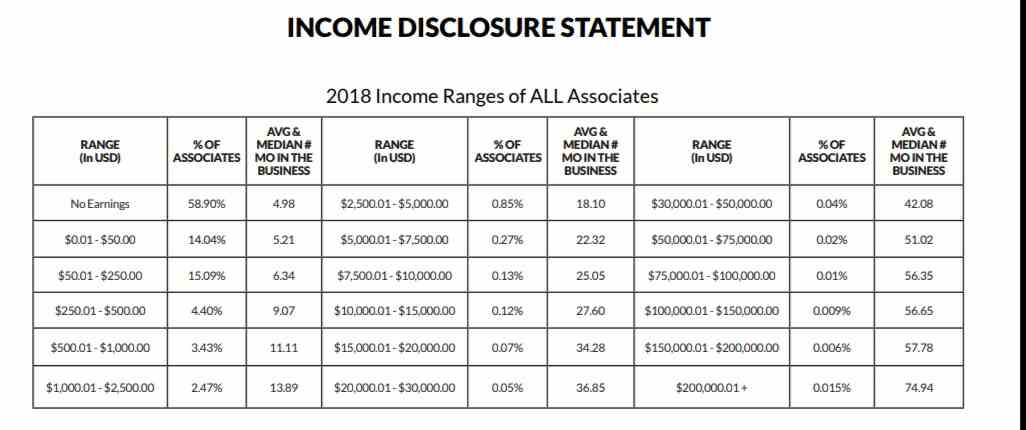 These stats in the income disclosure statement show that 58.85% of people are not even able to make any money with Talk Fusion and really only around 0.23% of membership were able to make a somewhat decent income in the range of $1k a month.
This obviously shows how difficult it is to succeed with this MLM. I can't make out for sure if the eranings displayed are monthly or yearly but, if they're yearly the possibility of actually making decent money with Talk Fusion is pretty much a pipe dream from what I can see.
Now if you want to be able to make a full time income of around $2k+ a month the chances are significantly lower at only around a miniscule 0.06% chance in achieving that goal. 
Do I really need to say anymore?
It's pretty clear to me that finding success with Talk Fusion is going to be very hard to do so don't get your hopes up if you do  decide take the plunge and become an associate.


---
THE GOOD THINGS
30 Day Free Trial
Talk fusion provide a 30 day trial period to try out there products which is nice. At least in this way you'll know what you're paying for if you eventually decide to buy one of their products.
Been Around A While
Talk Fusion has been around since 2007 so at this moment it's coming on at 12 years of being an active business. The fact it's been able to be around as long as it has to me, shows that Talk Fusion has credibility, after all, most businesses seem to fail within 5 years yet it has more than doubled that longevity.
The CEO Is A Respected Philanthropist
This doesn't really speak much about the quality of the company as a whole but it's definitely nice to know that the CEO is actually is a very giving person.
This means that not only has he created as big a company as Talk Fusion, on top of that he has used a lot of the wealth he's gained to help out the less fortunate.
To me, it seems like he's a pretty good leader and from the looks of it, he seems like he has a vision to take the company further.
The Instant Payment System Is Pretty Cool 
Instant payment is definitely very cool and quite innovative idea too. If you do decide to give Talk Fusion a shot, the implementation of getting the money you make more or less immediately is definetly nice, when it works that is.
==>Click Here To Access My FREE Make Money Online Guide!<==
---
IS TALK FUSION A PYRAMID SCHEME/SCAM?
The good news is that Talk Fusion is neither a scam or a pyramid scheme, I'd say that it is a legitimate MLM but that doesn't mean it is worth joining.
In order to succeed you'll need to be very good at recruiting or just good at marketing or online marketing in general, you're not provided with any real training on how you'll actually be able to achieve any form of success but worst of all, the chances of making decent income are baffling at a very low 1% chance.
It does have a few good points such as a 30 day free trial and the instant payment system is nice also but to me, the systems created within Talk Fusion just aren't a good enough reason to actually become a member.
The low success rate really puts the nail on the coffin here for me, which is why I personally recommend that you avoid this MLM, of course you can join if you still want to but be aware that it's amongst the harder MLM's to find success in.
---
MY PERSONAL RECOMMENDATION
I personally will always recommend against using a MLM business model to make money, not because you can't make money through it (you totally can) but, the system has always seemed shady to myself and is kinda synonymous with the likes of a pyramid scheme or scams (MOBE and Digital altitude).
Instead I prefer working with something created through ones own means and is ultimately dependent on yourself and your work ethic alone.
This method I'm talking about is affiliate marketing. 
The reasons as to why I recommend it over MLM based structures are because
– there is no need to recruit constantly
– it is a legitimate method that has been working consistently and continues to grow as more businesses want individuals to promote products
– and because it is free to start up, no unnecessarily large start up funds needed.
The service I recommend is Wealthy Affiliate. It's free to sign up to and will get you set up and ready to start your affiliate marketing journey within minutes, as it did for me when I begun my journey.


If you have any questions that you would like to ask me regarding Talk Fusion, feel free to do so in the comments section below and will I get back to you as soon as I can. If you have your own thoughts about Talk Fusionand would like to talk about it, again feel free to do so in the comments.
Thanks
Amhil