It's likely that you have come across Pampered Chef through an email list, on social media or got it recommended by a friend or family member.
Welcome to my Pampered Chef Review! Is Pampered Chef a scam or a pyramid scheme?
Maybe you have heard of the quality of the products Pampered Chef provides or possibly even own some of their products so you think that selling something that you like could be a decent opportunity.
This could very well be the case but, if you're here right now, you're probably a little skeptical right?
First and foremost I must commend you for actually doing a bit of extra research before committing to joining Pampered Chef. For all you could have known, the product could be a major scam so the fact you're here right now, researching whether or not that's the case is a pretty smart move on your part.
To be fully transparent with you, I am personally not a member of Pampered Chef so I can assure you that I will not attempt to sell you it unless of course it's worth investing in.
What I will aim to do is provide you with an unbiased 3rd party look at Pampered Chef that will hopefully help you to make the best decision you can in the end.
---
PRODUCT NAME: Pampered Chef
OWNER/S: Doris Christopher
TYPE OF PRODUCT: MLM (Kitchen products)
PRICE: One time payment of $109 for Starter Kit or $159 for Deluxe Kit or $249 for Ultimate Kit
SUMMARY: Pampered Chef is a legitimate MLM company that has a lot of credibility under it's name due to its 38 years in business and the fact Warren Buffet owns it.
The products they sell are of decent quality and the start up costs are also relatively cheap in comparison to other MLM's. However, as it is an MLM company, it's also pretty unlikely that you'll be able to generate anything half decent through them, in fact it's likely that less than 1% of people will even be capable of making $1000+ a month unless they have a massive team or if they're just amazing at selling.
If you're capable of making a massive team and are good at selling, maybe Pampered Chef is a good opportunity for you but, if you're not proficient at either, I'd recommend you look into something else.
FINAL RATING: 2.4/5
RECOMMENDED: NO

---
WHAT IS PAMPERED CHEF?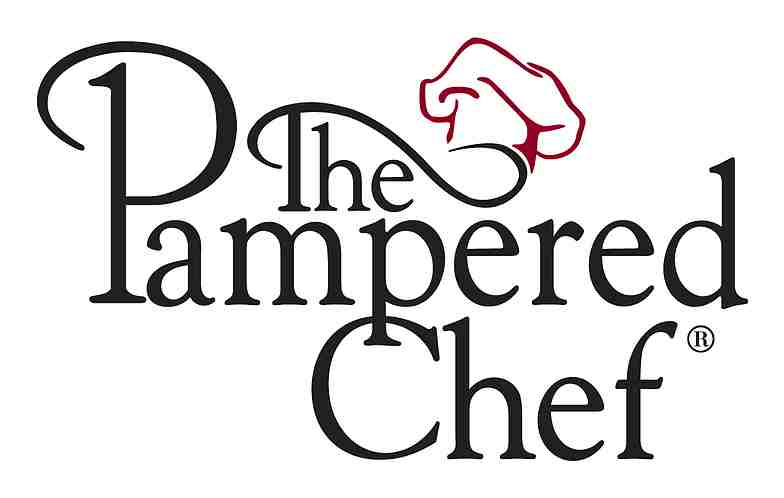 Pampered chef is an MLM company that focuses on selling kitchen ware to its consumers. These range from kitchen utensils to cookbooks.
Pampered Chef was founded by Doris Christopher in 1980  and since than has evolved from a national business all the way up to a global scale business. They do business in Canada, Mexico, USA, Germany and the UK.
In the year 2002 Pampered Chef was bought by Warren Buffets Berkshire Hathaway Corporation which to me gives the company a lot more reliability and catapults it to be one of the more authorative MLM's in the market.
==>Click Here To Access My FREE Make Money Online Guide!<==
---
PAMPERED CHEF'S PRODUCT LINE
As you probably already have figured out, Pampered Chef sells kitchen based products and the refreshing thing about them is that they're not super pricey like products from other MLM's such as Isagenix, Nucerity or Zija International.
The products that they sell include :
Emoji cookie cutter set: $10
Kids pizza making set: $45
Herb infuser: $10
Soups, stews, & chilis cookbook: $8.50
Manual food processor: $52.50
Small bamboo knife block set (4 pieces): $165
Beer bread mix: $11
Dutch oven & cookbook set: $139
These are actually some of Pampered Chefs favourites and as you can see, some products they sell won't actually break the bank when purchasing them. That's something that really stands out in a positive way to me but, I do also believe that if you do some extra research, you'll be able to find cheaper alternatives.
For what it's worth though, the prices aren't too bad.
Do You Want To Make A Full Time Income Just As Many Have Been Doing For Decades, If So Check Out My #1 Recommendation
---
ARE THE PRODUCTS ANY GOOD?
As I've never used any of Pampered Chef's products I can't speak on then personally but, through my own research this is what I found out.
It seems that people genuinely like the products that Pampered Chef sell. For example their nylon pan scrapers have an average rating of 4.7 stars out of 5 and the customers using them, one in particular named Bowdin states that it's really quite good at cleaning pans, which it should be.
On viewpoint the average rating on the cookware in general seems to be very high too at 4.5/5.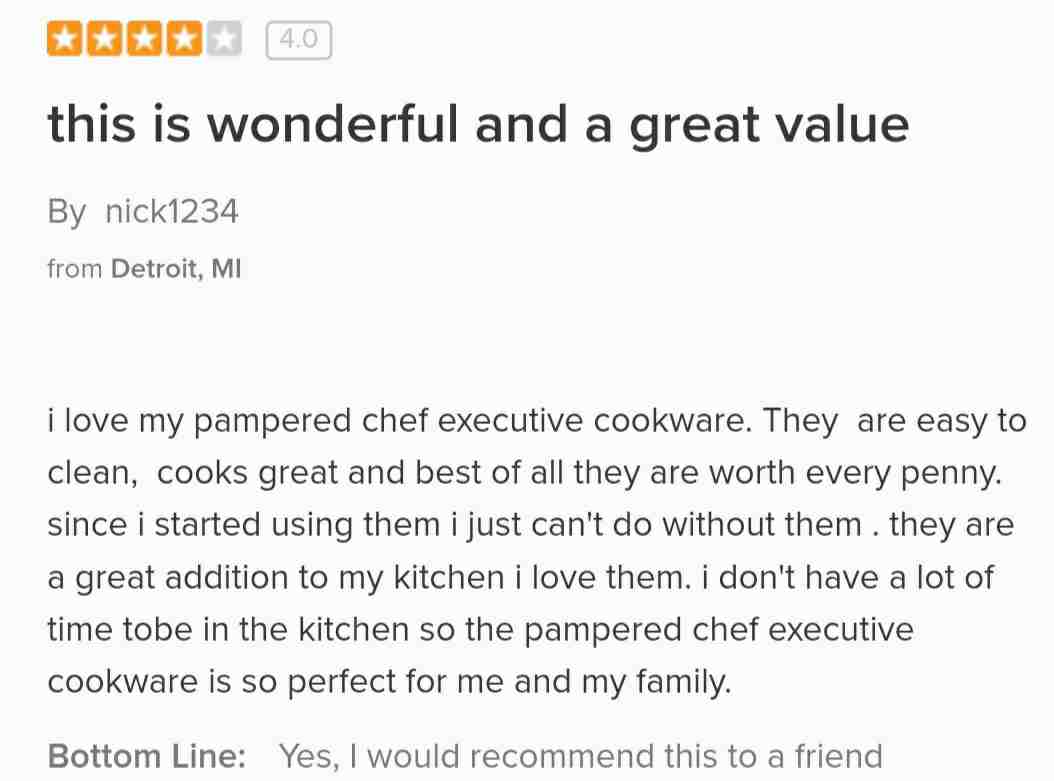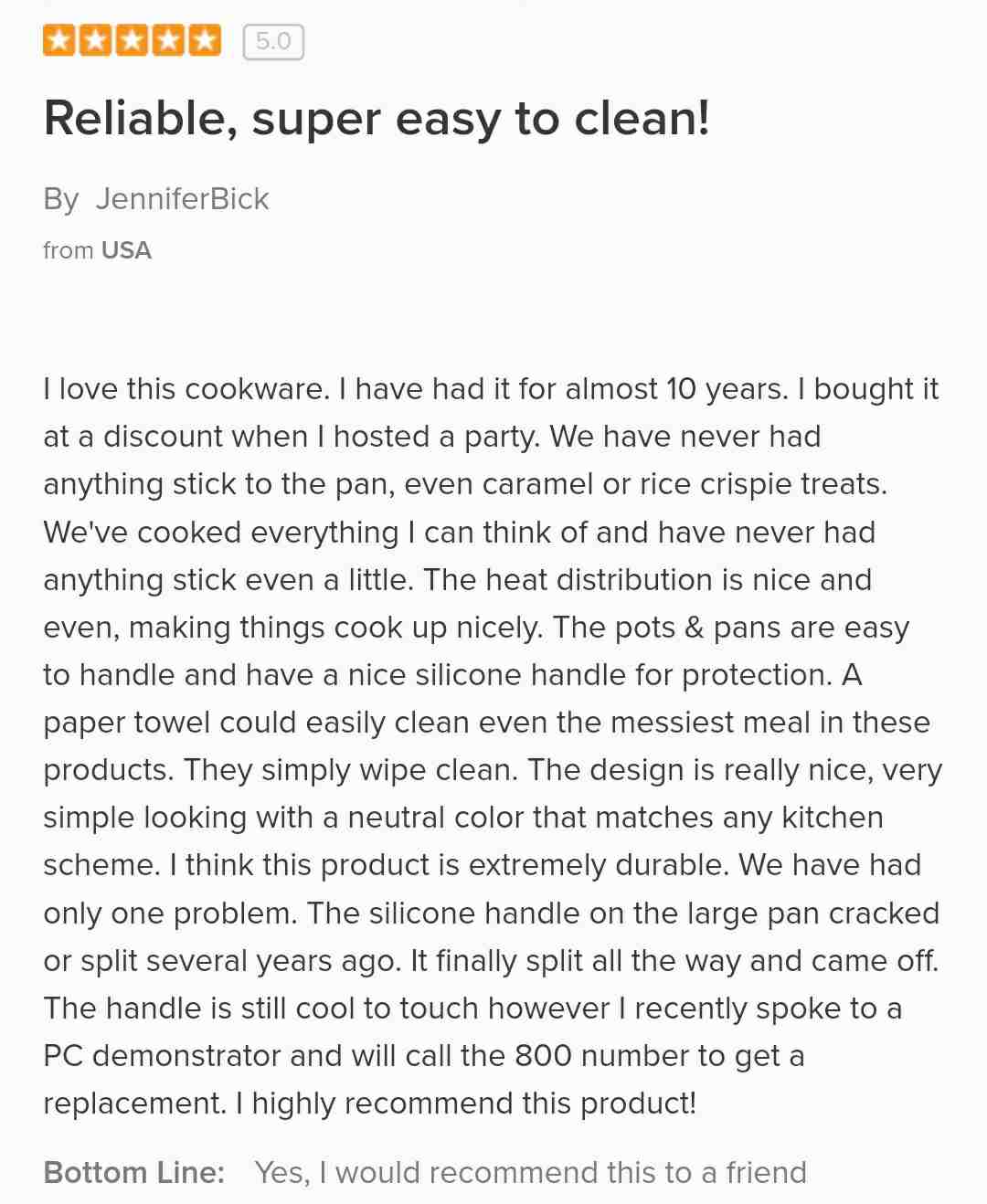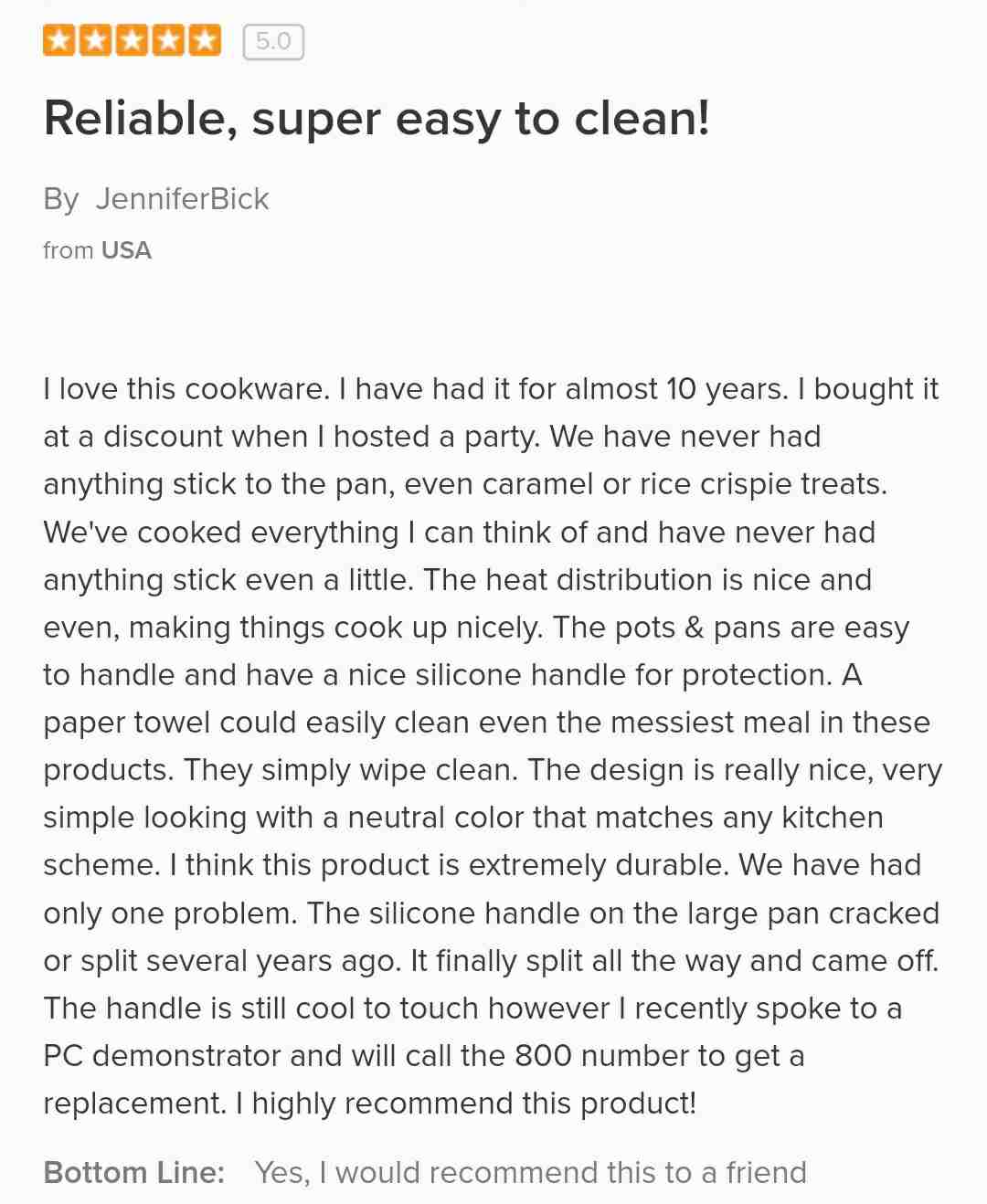 As you can see people really do like the products they buy and in general deem them to be reliable resources for cooking or cleaning in the kitchen.
However there are instances where the warranty that Pampered Chef claim to be a lifetime warranty, isn't quite as you'd expect it to be.
Customers have found that the warranty system for the kitchen ware isn't very good so when a product breaks within a year or so, these customers found it very hard to get the replacements through the supposed warranty.
This may be one reason why you might be deterred from purchasing or recommending Pampered Chef's products although I personally think it isn't the biggest of problems. Nonetheless, it's still a problem with the kitchen wares that does affect people and could potentially affect your personal customers.

---
HOW DO YOU MAKE MONEY WITH PAMPERED CHEF?
As is the case with pretty much all MLM based companies, there are 2 ways to make money with them and Pampered Chef is no exception.
1. You make retail sales and garner a commission for every sale you make
2. You make commissions through recruitments and other incentives and bonuses within the structure
---
HOW TO GET STARTED
If you're planning on joining Pampered Chef you'd probably want to know about the requirements needed from you to actually join them.
As is the first thing required with joining any MLM out there, you'll need to fill out an application form. After the form is filled in and sent off, the next thing you'll need to do is purchase one of their kits.
There are 3 different kits to choose from
1. The Starter Kit ($109) : The value of the products within this kit equate to around $450
2. The Deluxe Kit ($159) : The products in the kit equate to $650
3. The Ultimate Kit ($249) : This final kit is valued at $1000
As you can see relatively speaking to other MLM companies such as LuLaroe, Senegence, Ds Domination etc. Unlike these companies which can cost you thousands just to start, Pampered Chef is passive in it's costs.
Of course there will be other costs that will play a factor such as the hosting parties but, they're not really always necessary to sell the products.
Besides, Pampered Chef will also give you some host credits which can reduce the price of each kit by $25-$50 which should be able to help minimise the expenditure on the parties if you do decide to host them.
Are You Tired Of Working For A Boss? If So Why Not Take Your Job Into Your Hands And Work For No One But Yourself… If You Want To Do This Check Out My #1 Recommendation
---
COMPENSATION STRUCTURE
Pampered Chef utilises a commission based compensation plan through which you earn a certain percentage of the sales you generate.
Direct Retail Sales
The money you make from this will depend on how much revenue you generate within a given month.
– If you sell less than $750 you'll make 20% in commission 
– $750 – $1249 sales in a month = 22% commission 
– $1250 – $2499 sales in a month = 23% commission 
– $2500 – $3999 sales in a month = 24% commission 
– $4000+ sales in a month = 25% commission 
The commission rates aren't too bad but, getting to the $4000+ won't be very easy considering most of the products aren't even worth more than $100. This means you'll need to move 40-50 product at the very least to start making the decent sum of $1000 a month.
Making the average American salary at $3000 will obviously be a ton more work to achieve so I'm sure you can assume not many manage to reach that kind of income.
Team Commissions 
As Pampered Chef is an MLM company and the fact that MLM companies are primarily focused on the aspect of recruitment and team based commissions, it certainly makes sense that it's available here too.
You can make from 3% – 4% in commissions for the total sales volume from your team.
So this basically means the larger your team the better your chances in making good money through the commission.
Beyond the team commissions and direct sales, Pampered Chef also have a few other incentives that they offer to their consultants. These incentives include discounts on products as well as free products and the ability to earn points that will contribute to a vacation on your behalf from Pampered Chef.
As you can see making good money through Pampered Chef isn't going to be easy, managing to sell 40+ products worth 100 bucks isn't going to be easy and making decent money with the team commissions appears to be even harder. The fact that most people don't even manage to get above the 20% commission rate speaks for itself.
And even at a 4% team commission, your team would need to sell $25000 worth of products in a month to make $1000 so unless you have a massive team, the team based commissions aren't going to be generating much income for you at all.
Check out this video for a more in depth look at Pampered Chefs Compensation plan.

---
THE NOT SO GOOD THINGS
Hosting Parties Are A Hassle! 
If your aim is to get the word out there and sell the products that you purchase, hosting parties are something that you may need to do.
So if you're really a shy person or aren't really a fan of parties, this could be a little difficult for you. On top of that, hosting a party will cost you money and you're not guaranteed to even make any sales.
Generally with these hosting parties you will be showing off Pampered Chef's products by using them to cook and in the end of the night maybe hope to make some sales through your guests, then again that's in theory.
You'll need to purchase food and other miscellaneous items for your guests in order to have a good party, which will probably eat in to your profits. Yes Pampered chef does actually provide you with host credits which will help decrease the money spent but, even in such a scenario it's unlikely you'll cover everything.
For example if you somehow were able to sell everything within the starter kit which has a retail value of $450, if you take into account the 20% commission and the likely hood of a $25 discount via hosting points, you'll only really make around $20 in profit.
That's not much at all so you got to ask your self, is it really worth the hassle? I personally don't think it is.
The Products Can Be Expensive 
When compared to the prices MLM companies charge in general, Pampered Chef's are definitely modestly priced but when compared to their direct kitchen ware competitors, the prices aren't what I would call cheap.
From what I have seen they are generally higher priced than their direct competitors, probably due to their brand but, this doesn't excuse the fact that the products are more expensive.
I personally don't consider it that huge a deal but, if you look at it from your customers perspective, why should they spend more money on a product when they can buy something with the same quality at a cheaper price?
No income disclosure 
I couldn't find an income disclosure statement however, from my previous research on other MLM companies, I'm fairly certain that it's unlikely that you'll be succeeding through Pampered Chef.
Other MLM's that I've reviewed such as Xyngular, LuLaroe, Ds Domination, Market America etc. Have statistics that show generally over 90% of individuals fail whilst only like 1% of their members are making anything decent at $1000+ monthly.
I'm not saying it's not possible to make decent money through Pampered Chef, there's probably a possibility however, I do believes that it's pretty unlikely that you'll succeed through it even if it is a decent MLM in the grand scheme of things.

---
THE GOOD THINGS
Around For 38 Years 
Pampered Chef has been around for 38 years and is even owned by Warren Buffets Company so, it must mean that they're doing something right.
Being around for so long also gives the company a lot more credibility and certainly and in my eyes, puts it ahead of its competitors.
Relatively Cheap Start Up
Initial start up costs start at as low as $109. At this cost you're not looking to break the bank and if you purchase the starter kit and don't make any sales, at least the gear won't go to waste as you can use the kitchen wares in any future cooking endeavours.
So yeah I'd say it's relatively cheap when thinking about all the other MLM's out there.
==>Click Here To Access My FREE Make Money Online Guide!<==
---
IS PAMPERED CHEF A PYRAMID SCHEME/SCAM?
The good news is that Pampered Chef is neither a pyramid scheme nor a scam, in reality it's a legitimate MLM that does business within the kitchen ware space. There a fair few things that are good about the products such as the good quality and relatively cheap prices (when compared to other MLM's).
Moreover, the company has been around for so long as well, meaning that it's an aged and established company however, there are a few negatives about Pampered Chef which may deter you from getting involved with them. The profit margins are small due to the hosting parties you'd need to do as well as the fairly low commission and profits you'll make afterwards.
The fact that it's also an MLM company probably implies that it's pretty unlikely you'll be making a decent income let alone a full time income through Pampered Chef although to be fair, they do claim most people only promote Pampered Chef in a part time basis.
All in all I do think that Pampered Chef is a pretty solid MLM company but, I also think that the scaleable potential isn't all that great.
If you're a fan of kitchen appliances and don't really mind making little to no money unless you have a large team below you, maybe it might be worth joining otherwise, I'd recommend you look elsewhere.
---
MY PERSONAL RECOMMENDATION
I personally will always recommend against using a MLM business model to make money, not because you can't make money through it (you totally can) but, the system has always seemed shady to myself and is kinda synonymous with the likes of a pyramid scheme or scams (MOBE and Digital altitude).
Instead I prefer working with something created through ones own means and is ultimately dependent on yourself and your work ethic alone.
This method I'm talking about is affiliate marketing. 
The reasons as to why I recommend it over MLM based structures are because
– there is no need to recruit constantly
– it is a legitimate method that has been working consistently and continues to grow as more businesses want individuals to promote products
– and because it is free to start up, no unnecessarily large start up funds needed.
The service I recommend is Wealthy Affiliate. It's free to sign up to and will get you set up and ready to start your affiliate marketing journey within minutes, as it did for me when I begun my journey.

If you have any questions that you would like to ask me regarding Pampered Chef, feel free to do so in the comments section below and I will get back to you as soon as I can. If you have your own thoughts about Pampered Chef and would like to talk about it, again feel free to do so in the comments below!
Thanks
Amhil