Welcome to this MyPoints review!
It's likely that you have come across MyPoints through an email list, on social media or got it recommended by a friend or family member.
First and foremost I must commend you for actually doing a bit of extra research before committing to purchasing or joining MyPoints. For all you could have known, MyPoints may very well be a scam and rob you of your money so this review could help you find anything peculiar about it.
To be totally transparent with you I haven't used MyPoints so I can assure you that I will not attempt to sell you on it unless of course it's worth investing in.
What I will aim to do is provide you with an unbiased 3rd party review of MyPoints that will hopefully help you to make the correct decision in the end.
---
PRODUCT NAME: MyPoints
OWNER/S: United Online Inc.
TYPE OF PRODUCT: Get Paid To Site
PRICE: Free to join
SUMMARY: I don't think that MyPoints is a scam, I believe it's a legitimate GPT site that's probably worth getting into if you don't mind the low income potential and genuinely enjoy doing surveys.
Of course it's not going to get you to a position where you'll be making a full time income with it, but as a pass time and as a resource to make that extra bit of pocket change on the side, it's not a bad GPT site to join.
FINAL RATING: 3.5/5
RECOMMENDED: Sure


---
WHAT IS MYPOINTS?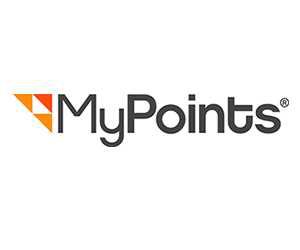 MyPoints is a get paid to site (GPT) that can make you money when you complete tasks, get points and redeem the points for rewards from the company, whether it be cash or otherwise.
The company's founder is United Online Inc. and it's actually considered a pioneer within the GPT sector so, it's atleast somewhat legitimate in that sense. This also means that MyPoints is only available in Canada and USA (unless you use a American VPN) so signing up to the company isn't going to be possible for everyone.
I've reviewed a lot of products on this site such as :
Which is why I think I have a solid grasp on what makes a good or a bad product.
==>Click Here To Get Access To My FREE Make Money Online Guide!<==
---
MYPOINTS MEMBERSHIP AREA
There are quite a number of ways that you can earn points and in turn money through MyPoints. Infact there are 7 different ways to generate points with the GPT site before you can cash out.
1. Surveys
This is the most basic way that you can get points. Like most other survey or GPT websites, you won't qualify for every survey that you do but, if you do qualify, you'll be able to make around 50 points for completion (roughly $0.35).
Surveys usually take anywhere from 5 – 15 minutes so, in terms of time invested and the money you make, it's not the greatest but it's also not very hard to do the job, which I guess is the trade off you'll need to make.
Even if you fail to qualify, MyPoints will still give you 10 points so it's not too bad in the end if you don't meet the criteria required.
2. Emails
You'll receive emails from MyPoints where if you click the link provided, you'll get 5 points for doing so. This task is very easy to do but, of course there's no way you'll be able to cashout just through clicking email links anytime soon.
3. Online Shopping
MyPoints is partnered up with a few online retailers where if you shop in their stores you'll be able to get cashback for doing so. You get paid out around 2 points for every dollar spent, which is far from great but, if you were planning to buy certain products anyways, the extra points isn't a bad thing by anymeans.
4. Watching Videos And Playing Games
You can also earn points by watching videos and playing games although, the reward for doing so aren't all that great. You get 1 point for every video you watch which is limited to 10 videos a day that average around 3 minutes each.
5. Coupons
You'll also be provided the ability to get coupons from the retailers that MyPoints partner with. You get around 10 points for every coupon you print.
6. In-store Promotions
Every so often MyPoints do a promotion with some of their retail partners. It could be something like purchasing a couple of products from the partnered retailers and so on.
If you buy the products that the promotion is asking you to buy, scan the receipt and upload it, you can earn 1750 points or so, which is equivalent to a  $10 gift card.
The problem is that these offeres are rare but, when they do pop up, they're definitely worth doing due to how good the rewards actually are.
7. Refferal Program
In terms of if you actually want to earn the most money with MyPoints, the refferal program is something that you'd definitely want to look into.
If can get someone to sign up to MyPoints through your unique refferal link, you'll earn 25 points for them signing up, 750 points if they spend $20 shopping and 10% of the points that they make from then on.
Do You Want To Make A Full Time Income Online Just As Many Have Been Doing For Decades, If So Check Out My #1 Recommendation
---
HOW DO YOU GET PAID OUT?
Before I talk about the payouts I think it's important to first discuss the value of the points you receive. 1 point is actually equivalent to only 0.0062 cents which obviously is a very miniscule amount. It means that you need around 1800 points to even make $10, which is not going to be easy considering the potential to earn points.
Anyways, as for the ways that you can cash out your points, there are 2 ways.
The first way is through PayPal transfer. This method has a threshold of $25 meaning you'll need around 4500 points before you can cash out. The transfer will take around 5 business days to hit your account.
The other method is through gift cards which start off at $10 and will only cost 1750 points.
---
WHAT DO CUSTOMERS THINK ABOUT MYPOINTS?
Within trustpilot it seems like the majority of individuals who are using MyPoints find that they do payout and it's actually easy to redeem your points.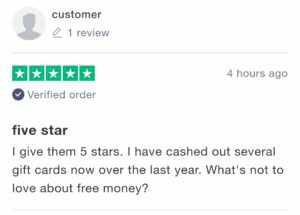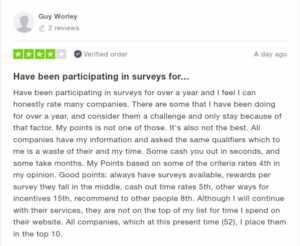 The main problem that most people have is with the low point rewards and how long it takes to accumulate enough points to redeem rewards.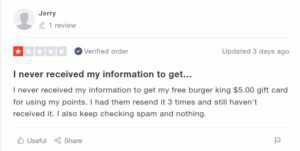 On Survey police it seems like MyPoints isn't paying out the points that members are making which is a pretty big problem as members actually need to talk to customer service to get their points.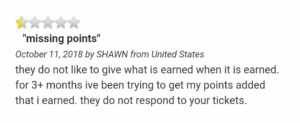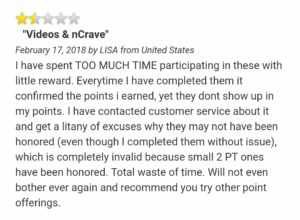 In general it seems like MyPoints provides a pretty solid experience for most most people but, there is a chance that it might not be amazing for certain individuals.


---
WHO IS MYPOINTS FOR?
Firstly as it's only available for individuals in USA and Canada it's already limited in terms of the market that it's targeting. As for everything else besides that, it does seem like a pretty decent and reliable GTP site to get involved with even though the payouts are really small.
If you're not concerned about the tiny rewards for completing surveys or the reasonably large threshold for PayPal payments, I can't say that MyPoints would necessarily be a bad GTP site to join.
Are You Tired Of Working For A Boss? If So Why Not Take Your Job Into Your Hands And Work For No One But Yourself… If You Want To Do This Check Out My #1 Recommendation 
---
THE NOT SO GOOD THINGS
The Income Potential Is Really Low
The income potential with MyPoints is abysmally small. As I discussed one point is equivalent to only 0.062 cents so the monetary value of a point isn't all that great.
Considering also that you receive around 10-50 points for completing the basic tasks, getting to a position where you'll be able to cash out will take quite a lot of time.
Unless you figure out the refferal program and manage to bring in tons of people to MyPoints, at best this GPT site is only going to help you generate a little bit of pocket change and pass a bit of time, if you enjoy doing surveys.
Some Members Are Not Being Credited Their Points
Memebers having been complain about not receiving their points as of late. This is obviously a big problem and something that you'd think MyPoints wouldn't have a problem with.
This is where you'll need to contact customer service to help you with your issue however, if you do bring this up to MyPoints' customer service, there's a possibility that they may accuse you of cheating and ban your account.
Only Available In Canada And USA
Only residents of Canada and USA are able to join the system. This isn't really the biggest of issues but, if you're not a resident of either country, it's kind of a bummer that you can't take advantage of MyPoints.

---
THE GOOD THINGS
It's Free To Join
As it is free, the potential was never really going to be too high anyways.. In the end of the day, although it's not going to make you a full time income, it's free to join so you won't be losing out on anything, besides your time, if you decide to join and commit to earning some points.
People Getting Paid (For The Most Part) 
The process of actually redeeming the points seem to be pretty solid so, if you ever manage to reach the threshold, it's highly likely that you'll be paid out.
==>Click Here To Get Access To My FREE Make Money Online Guide!<==
---
IS THE MYPOINTS A SCAM?
I don't think that MyPoints is a scam, I believe it's a legitimate GPT site that's probably worth getting into if you don't mind the low income potential and genuinely enjoy doing surveys.
Of course it's not going to get you to a position where you'll be making a full time income with it, but as a pass time and as a resource to make that extra bit of pocket change on the side, it's not a bad GPT site to join.
---
MY PERSONAL RECOMMENDATION
I'd suggest you check out my personal recommendation if you still want to make money online, though I'll warn you right now, it isn't something through which money will come easy.
It is nonetheless a great business model for the online space in my opinion
So what is this method that I'm talking about?
This method I'm talking about is affiliate marketing. 
The reasons as to why I recommend it is because:
– expectations toward success are a lot more grounded
– it is a legitimate method that has been working consistently and continues to grow as more businesses want individuals to promote products
– it is a very scalable business
– and because it is free to start up, no unnecessarily large start up funds needed.
The service I recommend is Wealthy Affiliate. It's free to sign up to and will get you set up and ready to start your affiliate marketing journey within minutes, as it did for me when I begun my journey.


If you have any questions that you would like to ask me regarding MyPoints, feel free to do so in the comments section below and I will get back to you as soon as I can. If you have your own thoughts about MyPoints and would like to talk about it, again feel free to do so in the comments below!
Thanks
Amhil