It's likely that you have come across NiceQuest through an email list, on social media or got it recommended by a friend or family member.
What is NiceQuest? Is NiceQuest a scam or legit?
You've probably heard of NiceQuest and the surveys they provide, you've probably also heard of how there's quite a bit of potential in it as it's exclusive and invitation only.
Of course you're here right as you're a little skeptical of the potential, which is certainly a fair enough reason to be here.
First and foremost I must commend you for actually doing a bit of extra research before committing to doing surveys on NiceQuest. For all you could have know, NiceQuest may very well be a scam and rob you of your money so this review could help you suss out anything peculiar about it
To be totally transparent with you I haven't used NiceQuest so I can assure you that I will not attempt to sell you on it unless of course it's worth investing in.
What I will aim to do is provide you with an unbiased 3rd party review of NiceQuest that will hopefully help you to make the correct decision in the end.
---
PRODUCT NAME: NiceQuest
OWNER/S: N/A founded in 2005
TYPE OF PRODUCT: Survey Taking Service
PRICE: Free to join (access by invitation only)
SUMMARY: NiceQuest is a decent Survey website but, as a survey website it's potential is also very limited. As a member you'll only really be getting around 3 surveys a month, which isn't a lot. Considering the cheapest reward is 100 shells and each survey is equal to 20 shells (unless you're a premium member) it'll take you at least a month to be able to trade the shells for something.
Moreover, NiceQuest also is an invitation only survey website which is pretty big problem for most people. If you are one of the lucky bunch who manages to become a member, I think NiceQuest would be a decent hobby kind of endeavour but, as a way to make anything worthwhile it's probably worth overlooking.
FINAL RATING: 3/5
RECOMMENDED: NO


---
WHAT IS NICEQUEST?

NiceQuest is a survey based website founded in 2005 where you provide your opinions through surveys within the website and in exchange for your opinions be rewarded with points called "shells".
The points can then be exchanged for gifts within NiceQuest. NiceQuest is a worldwide service however, the only way to join them is through invitation meaning, one it's a little annoying and two it's a lot more stricter to join than most other Survey sites online.
==>Click Here To Access My FREE Make Money Online Guide!<==
---
HOW DOES NICEQUEST FUNCTION?
The Registration Process 
I'm not a part of NiceQuest myself so I did a bit of research on how others managed to join NiceQuest and this is what they had to say.
As NiceQuest is an invitation only survey website, this means you need to get invited to join obviously. Now you're probably wondering exactly how do I do this, right?
What NiceQuest do to invite new people into the survey website ia by hosting monthly contests within their social media accounts (through Facebook, Twitter or their blog).
To participate all you'll need to do is follow their socials and you should automatically be entered into a draw to hopefully win an invitation.
I'm sure that as long as you remain following their accounts, you'll probably be entered into the draw every month although I could be wrong. If I am wrong then unfollowing and following back should do the trick (LOL).
The Process Of Taking Surveys 
Once you've registered your account and sorted out your profile, you should be ready to take survey's. On average NiceQuest's website states that you'll likely only receive 1-3 surveys a month with the potential of receiving more dependent on where you live and other factors.
Before qualifying for any surveys, NiceQuest requires you to answer a few questions. If you pass the questions, you'll be allowed to take the full survey however, if you fail the initial questions, you'll lose out in getting the maximum points by doing the survey
The good news is that even if you are disqualified from the survey NiceQuest will compensate you with some points.
If you do manage to qualify, you'll then have the opportunity to make around 20 shells from the survey which will generally take anywhere from 5-15 minutes. 
A Premium Membership Option 
If you're one of the lucky few, you'll actually be invited to NiceQuest's premium option. If you are in fact invited to the premium membership option, you'll be given the ability to download NiceQuest's app called NiceStats. 
Once you've downloaded NiceStats, the app will track what you do on your phone such as what you search for in Google and so on which gives information to companies looking for the right survey takers.
This of course increases your chances in landing a survey. On top of this NiceQuest will also increase the amount for completing a survey up to 100 shells as premium member. 
This means as a premium member you have potential to make 5 times more tham normal members, which is a pretty nice bump up if you ask me.
Do You Want To Make A Full Time Income Just As Many Have Been Doing For Decades, If So Check Out My #1 Recommendation! 
---
WHAT ARE THE AVAILABLE REWARDS?
They actually have quite a large store full of items and gift cards that you can exchange the shell points for.
The item range from tablets, headphones, calculators to amazon, tk maxx and iTunes gift cards. In fact the items within the store can cost as little as 100 shells so there are definetly some reasonably affordable items.
Of course with a limited number of surveys, it'll likely take a few months to save 100 shells up unless you're a premium member.
You can also decide to purchase some tickets for the prize draws that are held monthly, they are obviously going to be cheaper to purchase over a full item however, a prize draw is going to be a luck of the draw so it's a pretty wasteful way to go.
Although gift cards are available as rewards, you can't exchange shells for actual cash, an example being in the form of PayPal gift cards so that's a bummer.
All in all there are a decent amount of rewards available to members so that's pretty cool, it's unlike Spitball where amazon gift cards are the only reward available.

---
IS NICEQUEST ACTUALLY ANY GOOD?
As I've not been invited myself and personaly tried NiceQuest out, I can't speak from experience on whether it's good or not but, I did do a bit of research on people who have tried the service and this is what I found…
I looked at thoughts from trust pilot and for the most people really do seem to like the surveys provided and the multitude of rewards available.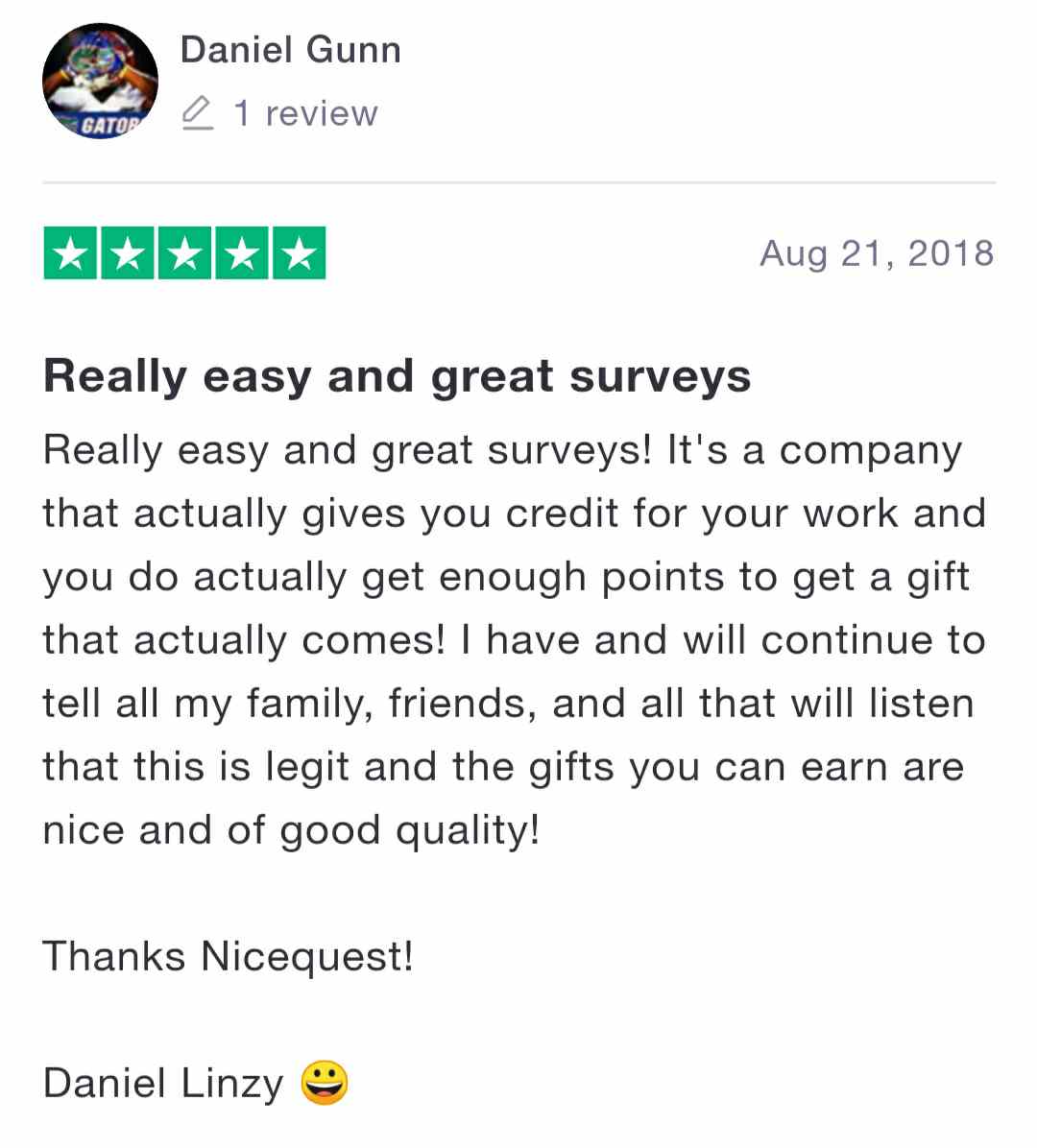 However, there have been issues with dispatchment and receiving gifts after trading them for the shells. This could be a turn off for you but, it's also worth noting that NiceQuest do try to resolve these issues. Another issue is the constant increasing of the minimum threshold for the amazon voucher, being at £50 and other vouchers always increasing the minimum threshold.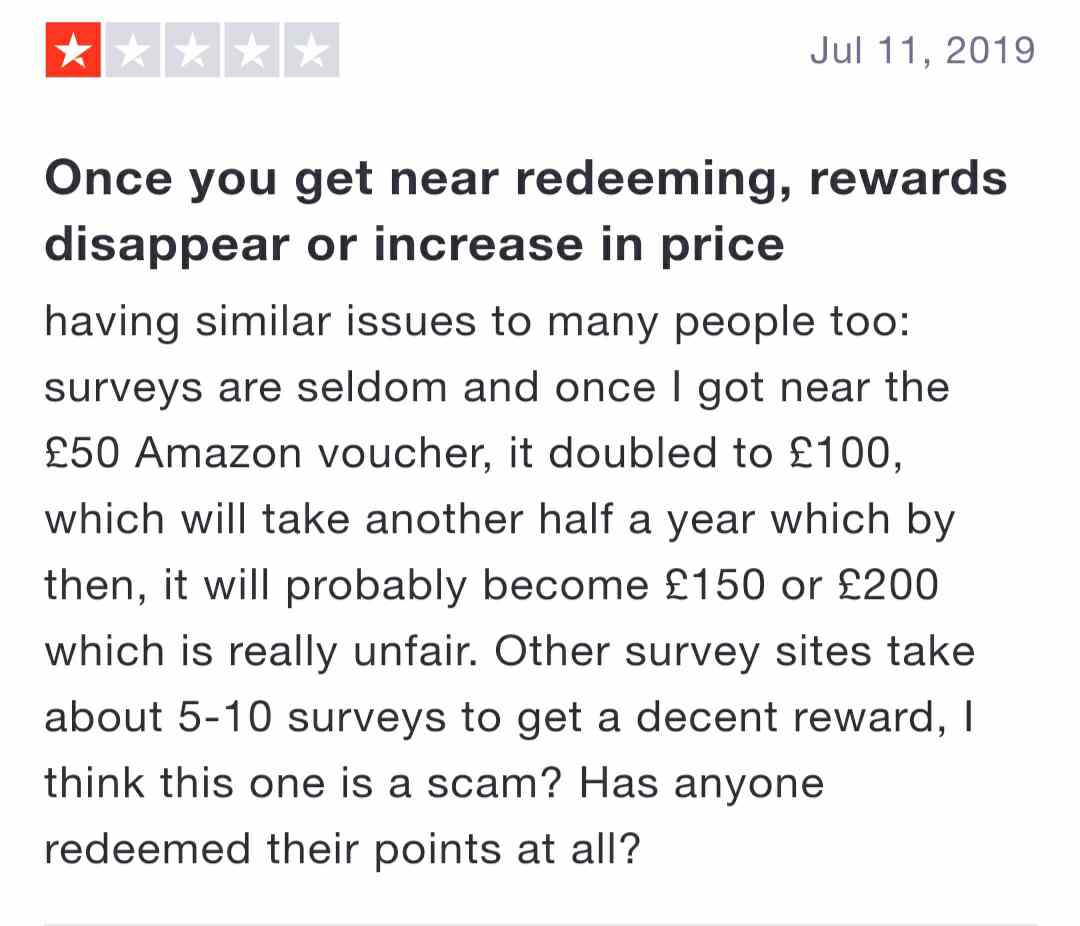 For the most part, it appears that they actually have a pretty decent survey website with the occasional issues with dispatchment of the rewards and of course complaints of not enough surveys as well. I personally don't see any major problems with NiceQuest at all.
Do You Want To Make A Full Time Income On Your Laptop? Do You Want The Freedom To Work Whenever You Want Wherever You Want? If That's What You Want My #1 Recommendation Might Just Help You Get There!
---
THE NOT SO GOOD THINGS
Issue With Dispatching Rewards
People have experienced issues with rewards not being received on its due date. This could be a problem if you don't like wasting your time and getting nothing in return by doing the surveys.
Although this issue isn't widespread it is definetly an issue that could potentially affect you therefore, I think it's definitely worth noting.
Invitation Only To Join 
As it is invitation only, it'll be a little tough to join. The only ways that I know you can fight for an invitation is by following NiceQuest's socials and hope to win the monthly draw.
This issue alone may mean you never get to join them so it's definetly a pretty big issue. Of course the fact it's exclusive also probably means that it's better than many other survey sites.
Limited Number Of Surveys A Month Which Means Limited Income Potential 
The potential for income is pretty limited as you don't really get too many surveys on a monthly basis. It's even possible to not be accepted to a survey meaning you may lose out on some points within a given month.
If this happens you'll probably make even less shells than you'd like and in turn would have to wait even longer to get enough shells to pay for any of the rewards.
As a premium member you'll have more potential but, it's still fairly limited. So that's why I feel that as a hobby NiceQuest is decent but definetly only as a hobby.
No Cash Rewards
Yes there are gift card rewards but they're not necessarily cash rewards. This means that you can't really make any withdrawable income through NiceQuest, which honestly sucks considering how plentiful their rewards are.


---
THE GOOD THINGS
It's Still Free To Join
It's free to join. Yes you've got to get invited to join but once you've been invited, you don't need to pay anything extra to remain a member
A Lot Of Rewards To Pick From
They have a vast selection of rewards that you can purchase with shells. This is nice as a the diversity at least means that you're able to purchase things at different prices that are cheap as well as other slightly more expensive rewards.
If everything were to be expensive then it'd be pretty impossible to save up enough shells to get the reward so having different items as rewards makes the system a lot more worth it for survey takers.
==>Click Here To Access My FREE Make Money Online Guide!<==
---
IS NICEQUEST A SCAM?
The good news is that NiceQuest is not a scam, it is in fact a legit survey website that does provide you with surveys and gives you the ability to actually get points to purchase rewards.
Nonetheless, there are a few setbacks to it too. Firstly it's invitation only to join, there are also a limited number of surveys every month so it's likely to take a few months to rack up enough shells to purchase rewards, there are customers who've dealt with dispatchment issues and finally there are no cash rewards available.
These issue might deter you from joining as well as the fact that the income potential is limited but, as a side thing or as a hobby I think it's a decent thing to try out, of course you've got to be invited first.
If you're actually more interested in making more than just a little side income I'd suggest checking out my personal recommendation as it's a pretty solid way to make a pretty decent income online.
---
MY PERSONAL RECOMMENDATION
I'd suggest you check out my personal recommendation if you want to make good money online, though I'll warn you right now, it isn't something through which money will come very easy.
It is nonetheless and in my opinion a great business model for the online space.
So what is this method that I'm talking about?
This method I'm talking about is affiliate marketing. 
The reasons as to why I recommend it over NiceQuest is because :
– There's a lot of potential to make money through it
– it is a legitimate method that has been working consistently and continues to grow as more businesses want individuals to promote products
– it is a very scalable business
– and because it is free to start up, no unnecessarily large start up funds needed.
The service I recommend is Wealthy Affiliate. It's free to sign up to and will get you set up and ready to start your affiliate marketing journey within minutes, as it did for me when I begun my journey.


If you have any questions that you would like to ask me regarding NiceQuest, feel free to do so in the comments section below and I will get back to you as soon as I can. If you have your own thoughts about NiceQuestand would like to talk about it, again feel free to do so in the comments below!
Thanks
Amhil