It's likely that you have come across Usercrowd through an email list, on social media or got it recommended by a friend or family member.
What Is Usercrowd? Do you think you'll be able to make money through it or are you skeptical that they aren't legitimate?
I'd say you have a right to be a little skeptical as there are quite a few survey sites that are full on scams out there.
First and foremost I must commend you for actually doing a bit of extra research before committing to purchasing or using Usercrowd. For all you could have know, Usercrowd may very well be a scam and rob you of your money so this review could help you suss out anything peculiar about it
To be totally transparent with you I don't own Usercrowd so I can assure you that I will not attempt to sell you this product unless of course it's worth investing in.
What I will aim to do is provide you with an unbiased 3rd party review of Usercrowd that will hopefully help you to make the correct decision in the end.
---
PRODUCT NAME: Usercrowd
OWNER/S: Usabilityhub
TYPE OF PRODUCT: Get Paid To
PRICE: Free to join
SUMMARY: Usercrowd is a pretty good get paid to site but, as is the case with most survey get paid to sites, the nature of the surveys provided are very sporadic so there's probably no guarantee you'll even reach the $10 threshold to be able to withdraw everymonth. So if you're thinking about making decent money through Usercrowd, then you'll probably not be happy with the limited potential but, if you're fine just doing the surveys as a hobby to make some extra pocket money, it's definitely a solid pick in my books.
FINAL RATING: 3.5/5
RECOMMENDED: Yes


---
WHAT IS USERCROWD?

Usercrowd is a get paid to website that provides surveys to people like you and I to distinguish whether you like a variety of things about Usercrowd's clients websites or stores, this can include :
How do you feel about the colors used on the website?
Is navigating through the website frustrating or intuitive?
Do you like the user interface?
What would you like to see added that isn't there already?
Basically surveys on whether or not a specific page is appealing to you. This might surprise you but a lot of super well known companies actually use Usercrowd's survey system some of which you more than likely know of.
Usercrowd provides surveys from :
Amazon
NASA
Groupon
HubSpot
Weebly
Trulia
Square
Sage
Deloitte
This basically (at least in my eyes) cements Usercrowd of being a legit survey website, this has to be the case otherwise, why would the likes of Amazon or even NASA associate themselves with this website right?
At first it was difficult to distinguish if Usercrowd was actually a legit website as it doesn't have an about us page but through doing a little digging I managed to find out that it is associated with a company called Usabilityhub
Usabilityhub is essentially the middle man that allows for Usercrowd to gain access to the big companies, in turn making this survey site a bit more legit.
==>Click Here To Access My FREE Make Money Online Guide!<==
---
HOW TO REGISTER
Registering with Usercrowd is very simple, all you need to do is go to their sign up page, put down your email address, name and so on into the registration template and then you should have access to the website.
There's no waiting list or refferal only scheme going on here so after registering, you're essentially good to go.
---
HOW TO DO THE SURVEYS
Once you've gotten into the members area, if you want to do surveys, you'll have to go to the "lobby" and check if any surveys are available there.
The problem that a lot of individuals have in this situation is that the surveys that you'll be offered will be sporadic in nature, so whether or not one of the aforementioned big companies will need any data will completely depend on their circumstances.
You could be waiting days before seeing one which obviously shows that there isn't much monetary potential in Usercrowd, the supposed ability to make $6-$10 per hour from Usercrowd is probably nothing more than a pipe dream because of this.
The good thing about the surveys is that they actually aren't very time consuming to do so if you do happen to be given a survey, it'll only really take between 1-2 minutes to complete.
In terms of what survey you'll receive, it'll depend on certain design elements that companies want reviewed. This can range from picking your favourite logo from a choice of a few and giving your reasons as to why you liked them or you'll be given surveys that ask of your opinion on certain elements of a website through multiple choice questions and so on.
Either way they won't take toonlong to complete as they're essentially quick fire surveys.

---
THE REWARDS
As for the rewards, they are only presented to you in the form of cash. This is much better than how NiceQuest and Spitball give out their rewards as both companies either pay in only amazon gift cards or other rewards that aren't actually withdrawable money.
The only thing that may be a little disappointing is that each survey will pay out a tiny $0.10 for completion. Some may pay more but they're less likely to pop up in the lobby so realistically you shouldn't expect to make more than $0.10 a survey.
In regards to when you'll be able to cash out, the threshold is positioned at $10. It's definitely better than the $20 it used to be but, when you take into account the sporadic nature of the design surveys within Usercrowd, it'll probably take many months before you can even think about cashing out.
So yeah, the one and only reward by Usercrowd is real money, which honestly I can't really complain about. The main thing of issue here is probably the difficulty of actually making enough money to cashout.
---
IS USERCROWD ACTUALLY GOOD?
Yes Usercrowd does work and you do make money through the surveys. The only  problem that most people have with the company is that there aren't nearly enough surveys provided.
Of course the reason as to why the surveys are so sporadic is because companies aren't always searching for new data from customers so they don't always create surveys. It's possible that certain months you get no surveys and in others more tgan than expected.
Either way the whole system is very sporadic so there's never a guarantee you'll be provided with a survey.
Personally I do think that Usercrowd is a good survey website but, the limited monetary potential and the sporadic nature of the tests may be a little annoying.
If you're well versed in multiple languages and can read and write in them, you'll probably have a bit more potential than myself and many other people out there who know only one language nonetheless, its monetary potential is limited.
If you're alright with that, Usercrowd definetly isn't a bad get paid to site, in fact I'd even say it's pretty good.


---
THE NOT SO GOOD THINGS
Limited Money Potential 
As it is a Survey website, the monetary potential is obviously going to be pretty low. At 10 cents a Survey you're going to need to get atleast 100 basic survey a month to cash out, which obviously isn't very likely to happen.
So let's assume that you did manage to make $10 or so every month, you'll only really be turning over $120 a year. This definetly isn't going to help you leave your full time job. At best, just using Usercrowd on its own definitely won't make much at all.
Sporadic Surveys 
The surveys aren't very abundant so you won't be able to make good money due to the lack of them. Of course this is going to be a problem because it's the whole reason you'll be using Usercrowd afterall right?
So the sporadic nature of the surveys isn't too great a thing.
Are You Tired Of Working For A Boss? If So Why Not Take Your Job Into Your Hands And Work For No One But Yourself… If You Want To Do This Check Out My #1 Recommendation
---
THE GOOD THINGS
Free To Join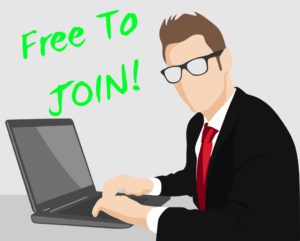 Well it's free to join, no payments necessary, no need to be referred by other people and no need to be invited to gain access, it's completely free!
This means whether or not you make anything with Usercrowd, the worst thing you'll lose is a bit of your time.
Has Large Companies Providing Their Design Surveys Through It
The surveys you're provided are from large and reputable companies as apposed to smaller more obscure firms. This way you should at least be guaranteed the money you make will be legit.
Quick And Easy Surveys 
The surveys themselves are pretty quick and easy to do. It only takes a couple minutes to get them done besides, if you're on computer for work anyways doing a few surveys when they pop up in the lobby for a little extra cash shouldn't hurt right?
If you like doing surveys then Usercrowd is definitely a decent platform to do them on in my opinion.
==>Click Here To Access My FREE Make Money Online Guide!<==
---
IS USERCROWD A SCAM?
Usercrowd is definitely not a scam in my eyes, in fact I'd say that it's a solid survey/get paid to site that shouldn't require too much effort on your part to make some money on.
However, the money potential is pretty limited due to the sporadic nature of the survey so, if for some reason you think it's possible to make full time income with this, sorry to burst your bubble but you can't to that.
However, as a little side thing, for a bit of extra locket money, I'd definitely recommend Usercrowd.
If you'd rather make money that'll actually be able to replace your full-time income continue reading on.
---
MY PERSONAL RECOMMENDATION
I'd suggest you check out my personal recommendation if you want to make good money online, though I'll warn you right now, it isn't something through which money will come very easy.
It is nonetheless and in my opinion a great business model for the online space.
So what is this method that I'm talking about?
This method I'm talking about is affiliate marketing. 
The reasons as to why I recommend it over Usercrowd is because :
– There's a lot of potential to make money through it
– it is a legitimate method that has been working consistently and continues to grow as more businesses want individuals to promote products
– it is a very scalable business
– and because it is free to start up, no unnecessarily large start up funds needed.
The service I recommend is Wealthy Affiliate. It's free to sign up to and will get you set up and ready to start your affiliate marketing journey within minutes, as it did for me when I begun my journey.


If you have any questions that you would like to ask me regarding Usercrowd, feel free to do so in the comments section below and I will get back to you as soon as I can. If you have your own thoughts about Usercrowd and would like to talk about it, again feel free to do so in the comments below!
Thanks
Amhil