It's likely that you have come across ZBlackCard through an email list, on social media or got it recommended by a friend or family member.
Is ZBlackCard a scam? The reasons why you're here is because you have want answers right so, that's what I'm going to provide for you within this ZBlackCard review.
First and foremost I must commend you for actually doing a bit of extra research before committing to joining ZBlackCard. For all you could have known, the product could be a major scam so the fact you're here right now, researching whether or not that's the case is a pretty smart move on your part.
To be fully transparent with you, I am personally not a member of ZBlackCard so I can assure you that I will not attempt to sell you it unless of course it's worth investing in.
What I will aim to do is provide you with an unbiased 3rd party look at ZBlackCard that will hopefully help you to make the best decision you can in the end.
---
PRODUCT NAME: ZBlackCard (Ztegrity)
OWNER/S: Troy Mason
TYPE OF PRODUCT: Prepaid card MLM
PRICE: $20/month – $70/month
SUMMARY: As far as I could find, ZBlackCard does not appear to function like a pyramid scheme or a scam although the pay to play system is a pretty shady aspect of it that you should definitely be catious about.
Furthermore, as a business opportunity it won't really be worth pursing either because you will need to be really good at recruiting to make the most out of the opportunity otherwise there's an 80 – 90% you won't break even. In fact making a full time income with ZBlackCard is probably going to be insanely small for most people too.
FINAL RATING: 1.5/5
RECOMMENDED: No

---
WHAT IS ZBLACKCARD?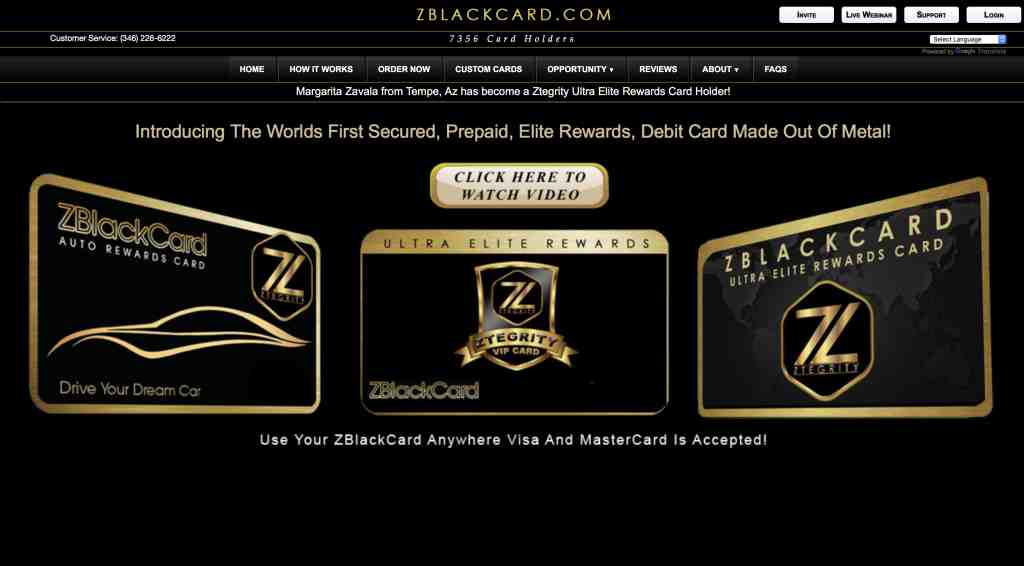 ZBlackCard is a MLM company founded by Troy Mason in 2018 and is quite a unique MLM. This is because consultants essentially sell this "elite prepaid card" to the masses who are interested and not any kind of physical items or supplements like so many other MLM establishments
However, before discussing the details of the card, let's have a bit of a discussion on the owner behind this opportunity, Troy. Before starting up this current business, in 2013 Troy was the CEO and president of another MLM called Gas Club of America.
But, it seems by 2015 he jumped ship from that business to another one called Zlicense. This website was later rebranded into Ztegriity and it is under this brand the the ZBlackCard was founded within.
Even before getting involved with MLM's Troy had always been an entrepreneur as he started a non MLM company all the way back in 1997 (Dreamstarters LLC), which I guess does show the owner behind Ztegriity isn't just your run of the mill owner, he's someone with a lot of experience in business.
Of course this doesn't mean this particular business opportunity is necessarily good but, at least the owner is a reasonably competent individual.
==>Click Here To Get Access To My FREE Make Money Online Guide!<==
---
 ZBLACKCARD PRODUCTS
The ZBlackCard is a product marketed as an "elite prepaid card for the masses" which as is described by Troy simply means it's a card that people can use and apply for without needing to invest a ton of money to gain access to.
He states that the ZBlackCard has the following benefits :
improves your credit score and finances
let's you drive your dream card
less fees than other cards
impress your associates and
"boss toss it on tables"
As for how the card works, it allows people to do the following :
Easy approval. No credit checks, and no fees
Withdraw from any bank teller fee, no account necessary.
Withdraw funds from over 70,000 ATMs in the network for $1, or even free.
Comes with a routing and account number with savings account.
Savings accounts are FDIC insured up to $250,000
But, even with the supposedly cheaper price tag for the card, it's still far from affordable for the majority of individuals looking into an "elite prepaid card". The ZBlackCard will set individuals back $60 to $500 upfront and then $60 to $840 a year.
There isn't much explanation on the really wide price range but that's just how it is.
There aren't any positive or negative reviews on the card itself so ,I'd have to assume that it works just fine but once again, this is hard to confirm as being factual.

---
HOW DO YOU MAKE MONEY WITH ZBLACKCARD?
As is the case with pretty much all MLM businesses there are 2 ways to make money with them, ZBlackCard being no exception.
1. The first method is by directly selling the product to other individuals and in return make a commission for the sales
2. You make money through your recruits and downline, by getting residual income by following and meeting certain criteria as well as make money through bonuses and incentives due to meeting company set goals.
---
HOW TO GET STARTED
If you want to join this company and IN turn earn from it, you will need to do a couple things. Firstly you'll need to sign up to Ztegriity under an already existing member and then you'd need to buy in at one of their 3 membership levels :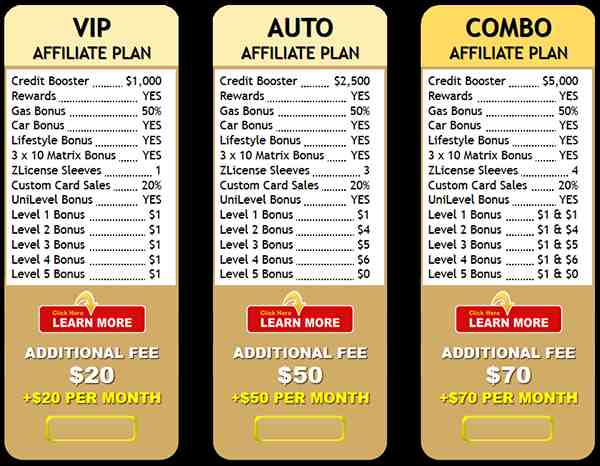 VIP Affiliate – $20 a month
Auto Affiliate – $50 a month
Combo Affiliate – $70 a month
The main difference between each of these membership levels is that at the highest levels, affiliates will be able to earn the majority of bonuses established in the company's compensation plan, which kind of makes the MLM a pay to play system.
This is a common red flag in the MLM scene so it is concerning however, I'll explain why a little later in the review.
Discover How I Made $173 Through A Single Sale Using This Online Business Model, Click Here To Read My Full Money Making Guide On How I Did It! 
---
COMPENSATION STRUCTURE
If you're serious about joining ZBlackCard, you'll need to study their compensation plan therefore, in this section I'll go over the elements of the plan so that you have a rough idea on how can earn with the company.
Matrix Commissions
This is the primary way through which affiliates will earn with ZBlackCard and it's via a 3 x 10 matrix structure. This means that every person within your downline will be eligible to recruit and earn from 3 people and the earning potential is capped till the 10th level within your team.
For example level 1 would be your 3 personally recruited members, level 2 will be be your personal recruits 3 recruits and so on untill the 10th level.
Individuals will be able to earn in the following manner through the matrix commissions
$1 for every sold ZBlackCard
1% on a custom card
50% on card design, style and elite upgrade.
Autoreward Matrix
This also uses a matrix system but this time it's a 5 x 4 matrix. This simply means every individual will be able to earn from 5 personally recruited members until the 4th level where the earning potential is capped.
Auto Rewards pay $1 to $6 upon recruitment of Auto and Combo affiliates.
The deeper your down line team gets, the higher you pay is :
Level 1: recruit 5 affiliates and get $1 per position filled.
Level 2: fill in 25 downline positions and get $4 per position filled.
Level 3: fill in 125 downline positions and get $5 per position filled.
Level 4: fill in 625 downline positions and get $6 per position filled.
VIP Rewards
VIP Rewards are basically the same as Auto Reward however, instead affiliates are paid out on 5 x 5 matrix structure instead. Affiliates will be paid $1 per position filled across 5 levels.
Lifestyle Bonus
The lifestyle bonus is a 100% match on Auto Rewards earned by personally recruited affiliates. There aren't any requirements for this bonus in the first 60 days however, after 60 days have passed, affiliates must recruit and maintain at least five monthly fee paying members to qualify.
If you want a more detailed look at the compensation plan, I'd suggest checking out the video below.

---
THE NOT SO GOOD THINGS
Recruitment Plays An Essential Role In Succeeding With ZBlackCard
The entirety of the compensation plan and business model behind ZBlackCard appears to specifically thrive when affiliates recruit others into their team and not really through any kind of retail sales.
This isn't very surprising when you consider most MLM's are completely reliant on an individuals ability to recruit in order to succeed but, this recruitment aspect is also the reason why the large majority of individuals fail to succeed with MLM's and ultimately will fail to succeed with ZBlackCard.
That's why I always say if you're not good at recruitment or aren't willing to invest the time and money to get good at it, joining ZBlackCard or any other MLM for that matter will not be worth your time.
Pay To Play System
The joining fees also make the opportunity a pay to play system which, in recent times does not seem like the greatest of business models to pursue.
This is taking into consideration the likes of Mobe and digital altitude which both used this pay to play system and were inevitably regarded as pyramid schemes.
So to me, a pay to play system within a MLM company is actually a very huge red flag.
Most People Will Fail
The truth is that the failure rates of MLM's are really high. Although I couldn't find an income statement from ZBlackCard, having checked many tens of MLM income disclosure statements from other MLM companies I've reviewed like my daily choice, Scentsy, it works etc, the chances of success are unlikely to be all that great.
In fact around 5% of all members will likely make around $1k/month whilst only the top 1% of all members would make a full time income.
Once again these aren't concrete numbers from ZBlackCard because for some reason they aren't transparent about how well their affiliates are doing however, I'm still pretty certain the stats I mentioned above are close to how it will be.

---
THE GOOD THINGS
The Cards Are FDIC Insured
You do get a sense of security in regards to using their card as your account will be fully protected through the FDIC insurance. This is standard procedure for all banks and other institutions that hold money for individuals.
What this means is the ZBlackCard will be insured in case you're defrauded or if money is stolen from your card.
==>Click Here To Get Access To My FREE Make Money Online Guide!<==
---
IS ZBLACKCARD A PYRAMID SCHEME/SCAM?
As far as I could find, ZBlackCard does not appear to function like a pyramid scheme or a scam although the pay to play system is a pretty shady aspect of it that you should definitely be cautious about.
Furthermore, as a business opportunity it won't really be worth pursing either because you will need to be really good at recruiting to make the most out of the opportunity otherwise there's an 80 – 90% you won't break even. In fact making a full time income with ZBlackCard is probably going to be insanely small for most people too.
---
MY PERSONAL RECOMMENDATION
I personally will always recommend against using a MLM business model to make money, not because you can't make money through it (you totally can) but, the system has always seemed shady to myself and is kinda synonymous with the likes of a pyramid scheme or scams (MOBE and Digital altitude).
Instead I prefer working with something created through ones own means and is ultimately dependent on yourself and your work ethic alone.
This method I'm talking about is affiliate marketing.
The reasons as to why I recommend it over MLM based structures are because
– there is no need to recruit constantly
– it is a legitimate method that has been working consistently and continues to grow as more businesses want individuals to promote products
– and because it is free to start up, no unnecessarily large start up funds needed.
The service I recommend is Wealthy Affiliate. It's free to sign up to and will get you set up and ready to start your affiliate marketing journey within minutes, as it did for me when I begun my journey.

If you have any questions that you would like to ask me regarding ZBlackCard, feel free to do so in the comments section below and I will get back to you as soon as I can. If you have your own thoughts about ZBlackCard and would like to talk about it, again feel free to do so in the comments below!
Thanks
Amhil