It's likely that you have come across Morinda through an email list, on social media or got it recommended by a friend or family member.
Is Morinda a scam? The reasons why you're here is because you have want answers right so, that's what I'm going to provide for you within this Morinda review.
First and foremost I must commend you for actually doing a bit of extra research before committing to joining Morinda. For all you could have known, the product could be a major scam so the fact you're here right now, researching whether or not that's the case is a pretty smart move on your part.
To be fully transparent with you, I am personally not a member of Morinda so I can assure you that I will not attempt to sell you it unless of course it's worth investing in.
What I will aim to do is provide you with an unbiased 3rd party look at Morinda that will hopefully help you to make the best decision you can in the end.
---
PRODUCT NAME: Morinda
OWNER/S: John Wadsworth, Kim Asay, Stephen Story, Kelly Olsen and Kerry Asay.
TYPE OF PRODUCT: health and wellness MLM
PRICE: $130 + autoship
SUMMARY: No, Morinda is neither a pyramid scheme or a scam, it's a legitimate MLM company which is further strengthened by the fact its been in business for well over 20 years.
However, the heavy reliance on recruitment for success, the issues with the law that Morinda has had and of course the abysmally low success rate that most members will achieve according to the income disclosure statement, are a few reasons why I'd suggest looking elsewhere if you're planning on making money and not spending a ton to do so.
FINAL RATING: 2/5
RECOMMENDED: No

---
WHAT IS MORINDA?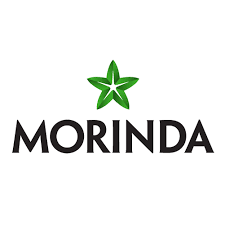 Morinda (formerly Tahitian Noni International) is a health and wellness company, mostly based around the CBD Oils market, that was co-founded in 1996 by John Wadsworth, Kim Asay, Stephen Story, Kelly Olsen and Kerry Asay.
The fact the company has been around for almost 25 years is a very good sign because most tend to collapse within that period and it also seems to legitimise Morinda too considering how competitive the health and wellness market is, with the like of amare global, my daily choice, Trevo, kannaway and a bunch others to compete with.
Then again, Morinda isn't a squeaky clean establishment either. This is because in the past they did deal with a few lawsuits put against them by the FTC regarding false claims on the benefits of their products, where the FTC didn't like the way Morinda marketed their products, where Morinda went to the extent of claiming their beverages were "miracle drinks".
This occurred in the 90's but another incident did happen in 2007. This situation was quite bizarre as one of their products actually killed a man as due to supposedly being contaminated with cocaine.
Anyhow, throughout the rest of the review I'll be going over the business opportunity offered as well as other elements of the company so that maybe, you can make a more informed decision on pursing the opportunity or looking elsewhere.
==>Click Here To Get Access To My FREE Make Money Online Guide!<==
---
MORINDA PRODUCT LINE
Morinda has a large variety of products within their line up, mostly due to expanding over the years so I won't be covering all them in major detail here.
Nevertheless, a few different categories within the line up include the following :
Noni Juice
Essential Oils
'Nhanced CBD
Temana
Collagen
Tru Age
Hiro
Mirinda Wellness
Apparel
And a bunch others.
I'd say that the number of products offered by Morinda are somewhere around the 100 mark so clearly this MLM is far from small minded when it comes to offering variety to its consumers. However, the line of products also aren't cheap either. On the lower end they sell Lip balms which cost $6 whilst some products can even reach $100+.
On average though, the majority of items fall within the $30 – $40 so yeah, if you do decide to become a distributor, you may find it hard to convince people to invest in Morinda's line up when they could just as easily find items from decently established corporate entities at a significantly lower price.
Anyways, if you want to check out the rest of Morinda's lineup in more detail, click here to go to their website

---
HOW DO YOU MAKE MONEY WITH MORINDA?
As is the case with pretty much all MLM businesses there are 2 ways to make money with them, Morinda being no exception.
1. The first method is by directly selling the product to other individuals and in return make a commission for the sales
2. You make money through your recruits and downline, by getting residual income by following and meeting certain criteria as well as make money through bonuses and incentives due to meeting company set goals.
---
HOW TO GET STARTED
If you want to join and earn via Morinda's compensation plan, there are a few steps you'll need to take. The first step would be to sign up under an already existing distributor for the company.
After this you'd need to purchase one of their starter kits, some of which include :
CBD Business Pack ($365)
TNJ + CBD ($375)
CBD Topicals ($145)
Tahitian Noni Juice Glass 1-Liter 4 Pack ($130)
Max 750ml 4 Pack ($165)
TNJ Starter Pack ($325)
Everyday Health Starter Pack ($310)
TeMana Foundation Starter Pack ($365)
Noni Collagen Starter Pack ($365)
TeMana Foundation + Collagen Pack Starter Pack
You should also keep in mind that the starter kits come with a 90 day money back guarantee meaning, if you don't get the results you're looking for you can a get a refund.
Lastly, eventually you will also need to purchase items on an autoship plan if you want to continue earning from the compensation plan. This will set you back around an extra $100.
Of course there are also other miscellaneous fees that come with running your own business so, you'll have to factor that in to the joining and general costs too.
Discover How I Made $173 Through A Single Sale Using This Online Business Model, Click Here To Read My Full Money Making Guide On How I Did It! 
---
COMPENSATION STRUCTURE
The compensation plan is the most important element for an affiliate to learn if they're serious about joining the company that's why in this section of the review I will cover it, although quite briefly.
Firstly you should know that there are 12 different ranks an affiliate can achieve within Morinda. This means that a new affiliate will need to recruit a ton in order to find the best success with Morinda because ultimately, group sales will be the main way to move up in rank
The ranks that are achievable include the following :
IPC
Coral
Coral Elite
Jade
Jade Elite
Pearl
Pearl Elite
Diamond Pearl
Diamond Pearl Elite
Double Diamond Pearl
Triple Diamond Pearl
Platinum Diamond Pearl
Retail Commissions 
These are commissions you'll earn for every sale that you personally make. You'll earn a 30% commission on every sale that that's personally made.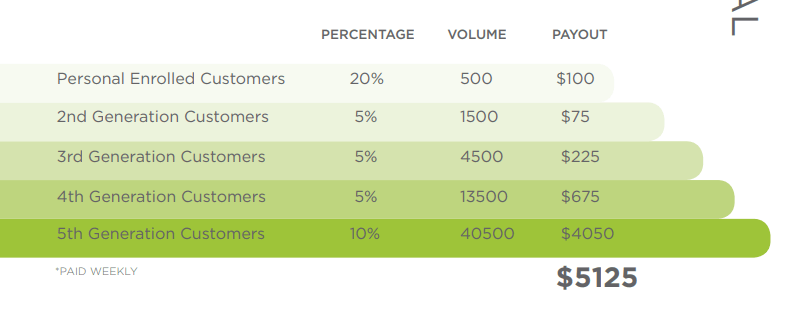 You'll also earn a percentage of the retail commission generated by your downline team too, up till the 5th level. The graph above basically shows the potential in that.
Residual Commissions 
Morinda pays its affiliates residually through a unilevel structure. This structure means that an affiliate will be able to recruit and earn infinitely horizontally but vertically the earnings will be capped. In this case the earning potential is capped at level 8.
The earning potential will be determined by how highly an affiliate ranks within Morinda. For example Coral and Coral Elites earn 1% of sales on level 1, 5% on levels 2 and 3 and 6% on level 4.
Whilst a Diamond Pearl earns 1% on level 1, 5% on levels 2 and 3, 6% on levels 4 and 5, 7% on levels 6 and 7 and 8% on level 8.
There are various other bonuses that Morinda offer such as a fast start bonus, True Performance Bonus, Infinity Bonus and a Black Pearl Shared Success Bonus however, I don't think that they're worth looking into as a beginner.
Nevertheless, if you still want to check then out, you can click here or watch the video below

---
THE NOT SO GOOD THINGS
Recruitment Is Crucial For Success
Recruitment will play a big role in whether you "comfortably succeed" within this MLM or if you'll fail and in turn be out of pocket thousands of dollars.
Firstly, I'm not saying it's impossible to succeed through just retail sales but, if you consider the average price per product and the 20% commission rate, you'd only really be making $6 – $8 per sale, which would mean you'd need to sell roughly 300 items every month just to achieve a minimum wage full time income.
You've also got to remember that you'd need to do this every month.
Recruitment on the other hand is equally as hard if not more so because you'd ideally want to sign up people up who are genuinely interested in the opportunity and will atleast attempt to make sales (although you'd still make money due to the mandatory autoship plan they'd be in) and you'd probably need to reach out to a ton of people just to get one recruit.
However, unlike retail sales where you'd need to constantly produce a certain amount of sales every month to maintain your income, through recruitment, eventually you'd be able to earn the same if not more money without doing much work at all.
Keep in mind that I'm not a fan of these business models and if it's pretty much the only way to make money, the company in question will often be regarded as a pyramid scheme however, in the end of the day recruitment generally tends to be the better method of making income with an MLM company.
Therefore, if you're not willing to get good at it, it's probably for the best that you miss out on joining Morinda.
They've Had Issues With The Law In The Past
In the past they've dealt with a fair few lawsuits, mostly regarding the false health claims made by their marketing team. They eventually settled this dispute for $100k.
There's also been other minor disputes between themselves and other ex members but, that's simply the norm with bigger establishments after all.
Nevertheless, the lawsuit is obviously a concerning matter and one that you definitely should not overlook if you're planning to join Morinda.
Most People Will Fail
I couldn't find a recent income disclosure statement from Morinda but, I'm sure the 2007 one isn't super far off the standard earnings individuals are making right now.

The image above basically shows how the majority of affiliates are in fact failing. It shows that less than 1% of members are making around $1k/month whilst only maybe 0.1% of all members are averaging $2k+/month.
You've also got to remember that this is 10 years after being in business, which is pretty bad when compared to the average income I've found within other MLM's.
There's probably a good chance that the earnings are better for affiliates now but, I highly doubt they'd be a ton better than the stats from Morinda's 2007 statement.

---
THE GOOD THINGS
It's Been Around A While
Being around since 1996 does give Morinda a lot of credibility, especially when you consider it's in the ultra competitive health and wellness niche.
The fact is that the majority of corporations tend to fail within the first 10 years of them being around so Morinda more than doubling that really gives it the edge over its competitors as a trustworthy company. Then again, talking about it as a business opportunity to pursue, that's a completely different case.
The 90 Day Refund Policy 
I do like the refund policy Morinda have in place, as in you can get a full refund if you don't achieve your goals. It's quite the unique policy so I've no idea if they always keep their word but, considering the offer is still on the table, I'm sure for the most part they do.
==>Click Here To Get Access To My FREE Make Money Online Guide!<==
---
IS MORINDA A PYRAMID SCHEME/SCAM?
No, Morinda is neither a pyramid scheme or a scam, it's a legitimate MLM company which is further strengthened by the fact its been in business for well over 20 years.
However, the heavy reliance on recruitment for success, the issues with the law that Morinda has had and of course the abysmally low success rate that most members will achieve according to the income disclosure statement, are a few reasons why I'd suggest looking elsewhere if you're planning on making money and not spending a ton to do so.
---
MY PERSONAL RECOMMENDATION
I personally will always recommend against using a MLM business model to make money, not because you can't make money through it (you totally can) but, the system has always seemed shady to myself and is kinda synonymous with the likes of a pyramid scheme or scams (MOBE and Digital altitude).
Instead I prefer working with something created through ones own means and is ultimately dependent on yourself and your work ethic alone.
This method I'm talking about is affiliate marketing. 
The reasons as to why I recommend it over MLM based structures are because
– there is no need to recruit constantly
– it is a legitimate method that has been working consistently and continues to grow as more businesses want individuals to promote products
– and because it is free to start up, no unnecessarily large start up funds needed.
The service I recommend is Wealthy Affiliate. It's free to sign up to and will get you set up and ready to start your affiliate marketing journey within minutes, as it did for me when I begun my journey.

If you have any questions that you would like to ask me regarding Morinda, feel free to do so in the comments section below I and will get back to you as soon as I can. If you have your own thoughts about Morinda and would like to talk about it, again feel free to do so in the comments below!
Thanks
Amhil