It's likely that you have come across LegalShield through an email list, on social media or got it recommended by a friend or family member.
Is LegalShield a scam? The reasons why you're here is because you have want answers right so, that's what I'm going to provide for you within this LegalShield review.
First and foremost I must commend you for actually doing a bit of extra research before committing to purchasing or joining LegalShield. For all you could have known, LegalShield may very well be a scam and rob you of your money so this review could help you find anything peculiar about it.
To be totally transparent with you I haven't used LegalShield so I can assure you that I will not attempt to sell you on it unless of course it's worth investing in.
What I will aim to do is provide you with an unbiased 3rd party review of LegalShield that will hopefully help you to make the correct decision in the end.
---
PRODUCT NAME: LegalShield
OWNER/S: Harland Stonecipher
TYPE OF PRODUCT: Prepaid Legal Services MLM
PRICE: $99 +$20/month or $249
SUMMARY: I personally do not consider LegalShield to be a pyramid scheme or a scam, I'd say it's a legit MLM company with quite a lot of credibility due to its age and the fact that it's a fairly affordable MLM to join helps its cause too.
However, there are a few problems that I have with it which may make you think otherwise, the need to recruit to succeed, the confusing compensation plan, the fact the company's been held guilty in a misleading advertising and misrepresentation of income lawsuit and the really low income potential and success rate are reasons why you might think about skipping out on LegalShield.
I personally would suggest skipping it but, in the end of the day the final decision is yours to make.
FINAL RATING: 2/5
RECOMMENDED: NO


---
WHAT IS LEGALSHIELD?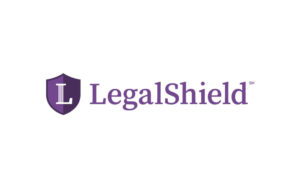 LegalShield is a MLM company founded in 1972 by Harland Stone Cipher, making it more than 40 years old at this point and it offers to individuals within the USA and Canada through their "affordable attorney access and legal services".
It actually spans across 49 different US states and 4 Canadian provinces but, it only started offering it's services around 1984 to the public, over a decade after it initially launched.
Most recently, in 2011 LegalShield was acquired by another company MidOcean Partners. To be honest with you, I've reviewed many MLM's on this website such as, herbalife, doTERRA, Amway, it Works, arbonne etc and LegalShield definitely is something very unique when compared to them, as far as I'm aware it's the only legal services focused MLM company.
==>Click Here To Get Access To My FREE Make Money Online Guide!<==
---
LEGALSHIELD'S PRODUCT LINE
Of course as is to expected, LegalShield only offered services and no physical products, which may be cause some concern because pyramid schemes, at least modern MLM's don't tend to offer physical products either however, considering LegalShield is now around 47 years old, I doubt it'll be exposed as a pyramid scheme any time soon.
Anyways, LegalShield offer a bunch of services for businesses, landlords etc. for a monthly fee.
What's included within this package is :
Landlord / Tenant
Consurmer Finance
Traffic
Estate Planning
Real Estate
Employment
Collection
Family Law
Civil Litigation
Criminal
In order to help out with this, LegalShield offers 3 different packages :
Personal Plans ($19.95/month) : This plan is for one person only and offers, consultation, automotive situations, tax problems regarding the IRS, assistance in document preparation and family matters like divorce, adoption and what not.
Small Business PLANS (The prices vary) : This plan helps small businesses with debt collection, with contract reviews and renewals, trial defence services and landlord based disputes.
Identity Theft Plans ($14.95-$29.95/month) : Finally identify theft of course aims to assist you in any situation where your identity is stolen. It provides you with 2 plans, the ID plan which covers you and your spouse for single credit monitoring and restoration services on top of unlimited consultations and ID premium which includes everything the normal plan has but adds triple credit monitoring, web watch, SS number skip trace etc.
So, as you can see LegalShield do offer quite a robust number of services for customers and if you want to, you can also add on other services that you want within the plan.
Once you do join the plan on your first month you will be billed an extra $10 fee and thereafter, the payments will be made automatically through your credit card until you decide to cancel it
Do You Want To Make A Full Time Income Online Just As Many Have Been Doing For Decades, If So Check Out My #1 Recommendation
---
WHAT DO PEOPLE THINK ABOUT THE SERVICES?
As I've never actually invested in LegalShield's services I can't speak for their quality, that's why I'd do a bit of research on what actual users thought and this is what if found.
It seems that on bbb quite a few people have a problem with what LegalShield is offering, whilst others have had a great experience. So it seems the whole outlook on the company is a mixed bag.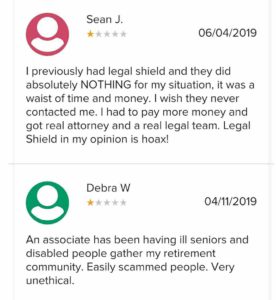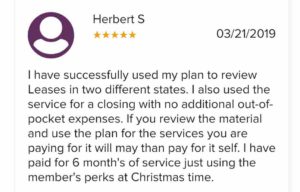 It doesn't seem like LegalShield provides a bad service per say, but there are quite a few individuals who haven't enjoyed their experience with the company, possibly because of the lack of reading the fine print in certain areas or LegalShield not making It clear to everyone that additional attorney charges may apply.
All in all, most cases seem to be dealt with reasonably well and the issues are more so regarding the costs not being as cheap as the customers thought they were.


---
HOW DO YOU MAKE MONEY THROUGH LEGALSHIELD?
As is the case with pretty much all MLM businesses there are 2 ways to make money with them, LegalShield being no exception.
1. The first method is by directly selling the product to other individuals and in return make a commission for the sales
2. You make money through your recruits and downline, by getting residual income by following and meeting certain criteria as well as make money through bonuses and incentives due to meeting company set goals.
---
HOW TO GET STARTED
There are 2 different ways through which you can actually get started with LegalShield
The first option will cost $99 and will cost $20/month afterwards for their legal shield advantage resource, the other resources included within this package are :
Associate Portal
Online Training
Weekly Newsletter
Support Center
Associate Perks
Help From Sponsor, Team and Local Leaders
The second option will cost you $249 and provides you 12 free months legal shield advantage along with everything else that the option package includes. It's essentially a $90 discounted price over option 1.
So, from what I can see, becoming an associate isn't a very expensive endeavour, so if you're serious about joining LegalShield, you won't be asked to invest too much.
Are You Tired Of Working For A Boss? If So Why Not Take Your Job Into Your Hands And Work For No One But Yourself… If You Want To Do This Check Out My #1 Recommendation 
---
COMPENSATION STRUCTURE
LegalShield's compensation plan is quite complex and can be a little confusing if you do decide to join them. If you're serious about joining them, it's imperative that you learn it to the best of you ability anyways, I'm going to try and break it down as best as I can.
Firstly you should know that there are 7 different ranks within the company, with associate being the lowest rank and Executive director being at the top. So this means the higher you rank within the company the better your benefits overall.
So basically what happens is that when one of your direct downline members purchases a monthly package, you'll receive an advance payment. For example if your refferal purchases something equivalent to $26 a month, as an associate you'll get an advance of $65.16 whilst as an executive directors advance will be $182.46.
Do keep in mind that if your refferal cancels their subscription, you'll be charged back.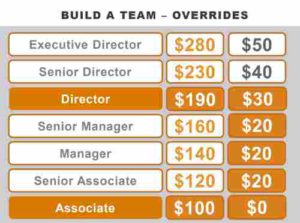 As I said the system is quite confusing and you will need to go over it quite a few times to understand the maths and mechanics behind this system.
Another way in which you can get paid is through override commissions which you get dependant on where you are within the upline.
Now as for the manner in which you'll make residual income that'll be through renewals. This money is paid out as long as a customer continues to remain subscribed to the service, of course the higher your rank within the company, the better your commissions.
If you want a better look at the compensation plan, click here or check out the video below.

---
THE NOT SO GOOD THINGS
Recruitment Is Necessary For Success
As LegalShield is a MLM there is a pretty huge emphasis on actually becoming more successful the more you recruit and the higher up you rank within the company.
Of course it's probably still possible to make decent money if you have sales funnels in place and can get regular subscribers into LegalShield's plans through your refferal links however, most of the potential is going to be realised the higher you rank within the company, for example the executive director makes 3 times more than an associate for purchasing a package.
So, if you're not good at convincing people to join or don't have a sales funnel in place to generate leads, becoming successful through LegalShield will be very difficult.
That's why if you're not willing to learn how to get better at 1 on 1 selling and the other skills associated with recruiting, succeeding with this company or any MLM for that matter is going to be nigh impossible.
Very Confusing Compensation Plan
I tried explaining the compensation plan as best as I could but, it's still pretty confusing. As you know learning the plan is very important for every member so the fact it's hard to understand what's being said is a not so good thing in my opinion.
This is a fairly minor issue but, I definitely do consider it to be a problem worth taking note of.
Hit With Lawsuits
This may be of major concern to you because as it turns out, LegalShield, ironically, have been hit with quite a few lawsuits since their start.
In fact at one point the CEO was even held guilty, according to the Mississipi jury, for false marketing and misrepresentation of income statements. This was back when the company was still a pre-paid legal institution but, it's definitely a major cause for concern regarding the company's legitimacy.
There are other lawsuits that the company has dealt with too but, the fact remains that LegalShield has actually been found guilty in a lawsuit in the past.
Most People Are Failing
This is perhaps the most shocking thing for some of you out there who are actually considering to become an associate, yes most people aren't doing to well within the company.
The image above shows the income disclosure statement from 2017 and outlines how it can take up to 2 years for associates who make atleast 1 sale to, on average, make $718 a year!
Theoretically that does cover the costs of remaining a member but, the potential with the company as you can see is very small, it'll take around 5 – 20 years before you start seeing solid results. This means that the potential with LegalShield is actually very very small and more so a very long term investment and probably more of part time kind of endeavour.
I guess the one good thing about the company is that the starting costs are relatively affordable however, in general the potential is miniscule at best especially when compared to other online money making opportunities like affiliate marketing.

---
THE GOOD THINGS
It's Been Around A long Time
Having been around since 1972, LegalShield is a very established business and something that has quite a lot of credibility, especially when you consider how most businesses tend to fail within 10 years.
A Fairly Affordable MLM
Onlu costing you around $249 a year, not including other costs such as for a website or advertising, LegalShield's a very affordable MLM company to join, as for whether it's worth joining, you'll just have to weigh the pros and cons.
Either way, being as affordable a business opportunity that it is, I can't say it's the worst MLM to consider
==>Click Here To Get Access To My FREE Make Money Online Guide!<==
---
IS LEGALSHIELD A PYRAMID SCHEME/SCAM?
I personally do not consider LegalShield to be a pyramid scheme or a scam, I'd say it's a legit MLM company with quite a lot ofbcredibility due to its age and the fact that it's a fairly affordable MLM helps its cause too.
However, there are a few problems that I have with it which may make you think otherwise, the need to recruit, the confusing compensation plan, the fact the company has been held guilty in a misleading advertising and misrepresentation of income lawsuit in the past and the really low income potential/success rate are reasons why you might consider skipping LegalShield.
I personally would suggest skipping out on it but in the end of day the final decision is yours to make.
---
MY PERSONAL RECOMMENDATION
I personally will always recommend against using a MLM business model to make money, not because you can't make money through it (you totally can) but, the system has always seemed shady to myself and is kinda synonymous with the likes of a pyramid scheme or scams (MOBE and Digital altitude).
Instead I prefer working with something created through ones own means and is ultimately dependent on yourself and your work ethic alone.
This method I'm talking about is affiliate marketing. 
The reasons as to why I recommend it over MLM based structures are because
– there is no need to recruit constantly
– it is a legitimate method that has been working consistently and continues to grow as more businesses want individuals to promote products
– and because it is free to start up, no unnecessarily large start up funds needed.
The service I recommend is Wealthy Affiliate. It's free to sign up to and will get you set up and ready to start your affiliate marketing journey within minutes, as it did for me when I begun my journey.


If you have any questions that you would like to ask me regarding LegalShield , feel free to do so in the comments section below and I will get back to you as soon as I can. If you have your own thoughts about LegalShield and would like to talk about it, again feel free to do so in the comments below!
Thanks
Amhil