It's likely that you have come across Club Shanghai through an email list, on social media or got it recommended by a friend or family member.
If you've found yourself on this Club Shanghai review, you're probably a little skeptical about the product right? Is Club Shanghai a scam? Honestly if you actually thought that the product was 100% legit, I'd be a little surprised.
First and foremost I must commend you for actually doing a bit of extra research before committing to purchasing Club Shanghai. For all you could have known, Club Shanghai may very well be a scam and rob you of your money so this review could help you suss out anything peculiar about it
To be totally transparent with you I haven't used Club Shanghai so I can assure you that I will not attempt to sell you on it unless of course it's worth investing in.
What I will aim to do is provide you with an unbiased 3rd party review of Club Shanghai that will hopefully help you to make the correct decision in the end.
---
PRODUCT NAME: Club Shanghai
OWNER/S: Jermain Jones
TYPE OF PRODUCT: WeChat Training Course
PRICE: $7 + upsells
SUMMARY: it's hard to say if Club Shanghai is a scam but, what I can say is that it does have a lot of red flags that may make it not worth your time. The good things about the product are that it's cheap and that it has a 60 day refund policy however, the bad in my opinion outweigh the good.
The overhyped product, the lack of any earning disclaimers, the false scarcity and the fact $7 probably doesn't even cover anything worth your while especially when you consider that there are upsells once you've bought the product too.
The red flags are probably going to be the biggest reason to avoid this product, if you want a more realistic and more sustainable way to make income, my #1 Recommendation is definitely the way to go.
FINAL RATING: 1/5
RECOMMENDED: NO


---
WHAT IS CLUB SHANGHAI?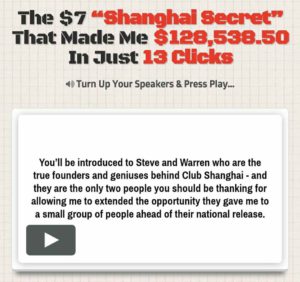 Club Shangai is a product that supposedly provides you with a way to make $128538.50 from just 13 clicks of a button… 
Let that sink in, over $100k through just 13 clicks of a button, I mean come on is this Jermain fella being serious, there is absolutely no way that this is possible right?
Would you only charge $7 for a product that could do this? Probably not right because there's no way it's possible to reach such ludicrous amounts with essentially no work on your part.
In the sales video Jermain tries to come off as relatable saying how he used to be a journalist that reviewed scams in the past or how he's dealt with hundreds of scams so this product is obviously different, it's genuinely legit.
The image really shows off how overhyped the whole idea behind Club Shanghai, the fact it's so overhyped and tries to play itself off as being an achievable monetary goal is pretty ridiculous don't you think?
It's not really clear from the sales video what Shangai Club actually is but just going off the sales page, I'm sure you've got to agree with me that something shady is going on behind the scenes with this product.
==>Click Here To Access My FREE Make Money Online Guide!<==
---
WHAT DO YOU GET IN CLUB SHANGHAI'S MEMBERS AREA?
The methods that Club Shanghai aims to provide you with is the use of a messenger app called WeChat to somehow make sales through.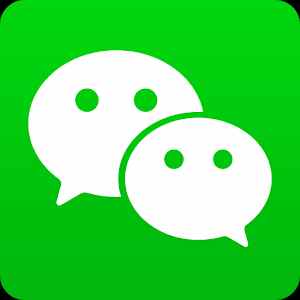 It's not made abundantly clear exactly how this messaging app will be able to make you that $100k in 13 clicks but, then again that whole sales pitch should've already been a red flag to you anyways.
WeChat is a Chinese messaging app that was founded back in 2011 and truth be told, WeChat does have a bit of potential to make some money through, in fact there are probably quite a few individuals and online marketers out there who have made quite a lot of money through such apps.
Generally these messenger apps use automated chat bots to target as many people as possible and hopefully get a few leads.
The only problem with just this chatbot kind of system is that it's unlikely to be a very consistent method to actually earn money. Even at the $7 price tag (which is definitely a cheap price), it's also unlikely to be your only expense in trying to make this work.
However, there's really not much information to go off so it's pretty difficult to understand Club Shanghai's realistic potential
---
THE NOT SO GOOD THINGS
No Idea Who Jermaine Is
Jermaine is the speaker behind the whole product but, we actually have no idea who he is, we have no idea if this person is actually being genuine with you or trying to scam you.
$7 isn't very expensive at all but is it worth risking even that small amount when you don't know who the face behind the product is. I've reviewed a lot of products such as Real Profits Online,Rapid Profit System, CashCrate, Revival CPA Unicorn, 4CAG and generally when it is difficult to discern who the creator behind the product is, it's pretty hard to trust them and the authenicty that they claim to be showing.
False Scarcity
This is a pretty old trick but a trick that tends to actually work. I'm not actually completely bashing Club Shanghai for using this trick but, it does give a bit of a disingenuous vibe about Club Shanghai don't you think?
The fact that they think it's worth putting a false scarcity kind of deal with a $7 product to me, shows that Jermaine isn't too confident in what he's offering so striking the emotions of potential buyers through this false scarcity tactic is the best way to go for him.
I can't say it's a bad technique but, it does come off as a red flag in most cases.
A Rebranding Of Different Product
Before the product was named to Club Shanghai, it used to actually be called Club365. The fact the product had to change its name should also once again be regarded as a red flag because if it was a legitimate product, why would the creators change the name soon after releasing it.
No Terms And Earning Disclaimer
No earning disclaimer is another big red flag in my opinion. Usually products that claim something is possible should also put a disclaimer at the bottom saying that "these results aren't possible for everyone" or that "most people are expected to only make so and so". This way atleast the company is somewhat realistic with potential buyers.
The lack of one with Club Shangai means that their unrealistic expectations are supposedly true and in turn this falsely represents the potential with Club Shanghai.
There also doesn't seem to be a privacy policy so that's one other red flag to take note of.
Unrealistic Expectations
This is probably the biggest red flag that Club Shanghai shows and is a major reason as to why most people should be wary of the product. The claim that if you spend $7 you can make $128538.50 from just 13 clicks of a button is absolutely absurd and honestly wishful thinking especially when it's supposedly possible to achieve it through such a cheap product.
In reality the reason they say this is to rope in the few people who see big money and think "only 13 clicks to make that much, of course I'm going to buy it!" and they probably buy it and regret their decision because the claims are absolutely false.
Although I do think that there is potential within the messenger section or even in WeChat… I mean come on, these expectations are a bit too extreme don't you think, especially for a newbie in the internet marketing circle.
On top of that, the price tag of 7 bucks is probably there so that Jermaine and his crew can upsell you on their other products, It's probably unlikely that the front end package will do it for you in the end of the day.


---
THE GOOD THINGS
60 Day Refund Policy
The 60 day refund is a nice touch so at the very least if you don't like what's on offer, you should be able to ask for a refund although I can't guarantee that they'll honour it.
Anyways, it's still nice that it actually is being offered
It's Pretty Cheap To Buy
Although I'm not necessarily a fan of the product and the fact that they are likely a lot of expensive upsells in the members area, the $7 price, in my opinion, is still very cheap. It's pretty much the same price as a Starbucks coffee as Jermaine says in the video so you won't be losing out on much if you do go for it.
Of course I'm not saying you should buy it but, you've got to agree that it is a cheap product.
==>Click Here To Access My FREE Make Money Online Guide!<==
---
IS CLUB SHANGHAI A SCAM?
This one is a little hard to judge but going off all the red flags I've listed, it is quite possible that Club Shanghai actually is a scam?
The overhyped product, the lack of any earning disclaimers, the false scarcity and the the fact $7 probably doesn't even cover anything worth while when you consider that there are upsells once you've bought the product.
I personally don't think it's worth investing Club Shanghai even though the WeChat methods probably has potential because. If you actually want to be able to earn a sustainable income, I just don't think Club Shanghai will do it for you
In the end the decision's up to you.
---
MY PERSONAL RECOMMENDATION
I'd suggest you check out my personal recommendation if you still want to make money online, though I'll warn you right now, it isn't something through which money will come easy.
It is nonetheless a great business model for the online space in my opinion
So what is this method that I'm talking about?
This method I'm talking about is affiliate marketing. 
The reasons as to why I recommend it is because:
– expectations toward success are a lot more grounded
– it is a legitimate method that has been working consistently and continues to grow as more businesses want individuals to promote products
– it is a very scalable business
– and because it is free to start up, no unnecessarily large start up funds needed.
The service I recommend is Wealthy Affiliate. It's free to sign up to and will get you set up and ready to start your affiliate marketing journey within minutes, as it did for me when I begun my journey.


If you have any questions that you would like to ask me regarding Club Shanghai, feel free to do so in the comments section below and I will get back to you as soon as I can. If you have your own thoughts about Club Shanghai and would like to talk about it, again feel free to do so in the comments below!
Thanks
Amhil