It's likely that you have come across Retailpay.org  through an email list, on social media or got it recommended by a friend or family member.
In this Retailpay.org review I'm going to to find out if the company, Retailpay.org is a scam or something worth investing in
First and foremost I must commend you for actually doing a bit of extra research before committing to purchasing or using Retailpay.org. For all you could have know, Retailpay.org may very well be a scam and rob you of your money so this review could help you to figure out anything peculiar about it.
To be totally transparent with you I don't own Retailpay.org so I can assure you that I will not attempt to sell you this product unless of course it's worth investing in.
What I will aim to do is provide you with an unbiased 3rd party review of Retailpay.org that will hopefully help you to make the correct decision in the end.
---
PRODUCT NAME: Retail.org (aka Real Profits Online)
OWNER/S: Not Revealed
TYPE OF PRODUCT: Done for you affiliate marketing website
PRICE: $47 + up sells
SUMMARY: I can wholeheartedly say that Retailpay.org is 100% a scam and it should be something that you must avoid at all costs. All the red flags I've pointed out such as the overhyped promises, fake testimonials, the awful parent company behind it and the fact that it's essentially a rehashed product. These are the reasons why you should undoubtedly skip this product and, if necessary, let your friends and family know about skipping it too.
FINAL RATING: 0/5
RECOMMENDED: NO!!


---
WHAT IS RETAILPAY.ORG?
Retailpay.org is basically a product that aims to promote itself through fake articles much like another product I've reviewed called real profits online.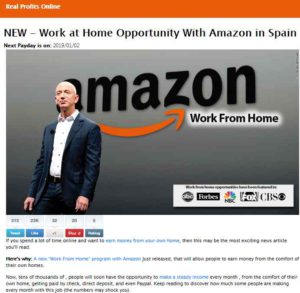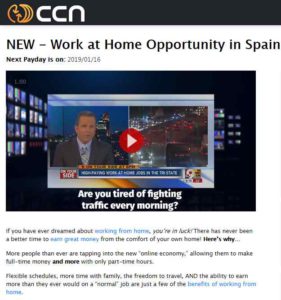 In fact when you actually click on the link you literally get redirected to an article promoting real profits online which is a little stupid considering how that specific program had been exposed countless times.
As for what real profits online actually is, it's a course that promises a helluva a lot for little to no work and it aims to do this through affiliate marketing. The thing is that affiliate marketing is a real and legitimate way to make money through but, there is a limitation to how fast you can actually make money through it.
There are quite a few red flags present in the article and the sales video. For some reason the narrator states that you'll be able to make $500 without doing any work, he states how you'll be able to make a lots of income with no strings attached, just with the push of a button.
I mean come on, if you believe this crap then you've probably not gone out much.
I've reviewed many products such as :
So I think I've got a pretty good idea on what makes a solid product and what just doesn't cut it.
==>Click Here To Access My FREE Make Money Online Guide!<==
---
WHAT IS AFFILIATE MARKETING?
Because the course is actually talking about affiliate marketing and aiming to help you make money through it,  why not give a brief explanation of why and how this specific online earning method works right?
Affiliate marketing is basically a form of marketing where you promote other people's products and earn a commission when anyone purchase the product you're promoting through a personal tracking code.
Of course the code notifies the company that you've actually made a sale and are therfore entitled to the set amount of commission.
Commissions vary depending on the company, they can be as low as 1% and sometimes be on the very high end of 60%-70%. They can be paid as one time fees or be paid in monthly residual installments depending on the company you're working with.
So you may be thinking if it's possible to make $500 a day through it?… Yes it absolutely is but, Retailpay.org's claims of providing you with a done for you "Money Sucking Website" that can make you that much money with the push of button are absolutely ludicrous!
In my experience, affiliate marketing isn't super easy to become successful through, you will need to be putting in the work or if you're in a somewhat profitable yet less competitive niche, just putting in conssitent weekly work or around a couple blog posts a week.
Just keep in mind that affiliate marketing is a legit way to make money but, the claims of instant money made within the sales video for Retailpay.org is absolutely overhyped not to mention false.
Check out the video below if you want a video based explanation on affiliate marketing
---
WHO IS RETAILPAY.ORG FOR?
This question at this point should be self explanatory but, if you're serious about making money online and don't want to fall in to this rabbit hole of burning your finances into the wind, Retailpay.org is definitely not for you, in fact as far as I am concerned it's not for anyone whatsoever.
Although affiliate marketing is something that most can make money through if they have the right training and actually follow through with what's taught, making $500 a day with just the push of a button is a bit of a stretch don't you think?
Maybe eventually you could get to such a level but, if your serious about following through with affiliate marketing (it's also my recommended method for beginners) then Retailpay.org is definitely not the way to go.

---
THE NOT SO GOOD THINGS
Overhyped Sales Page
The overhyped sales page is definitely a big red flag along with the false claims. A done for you money sucking website that somehow is able to make $500 a day with the push of a button is definitely not something that is so easy to accept.
But you know what, people still somehow manage to fall for these overhyped and false promises crap over and over again either due to desperation in terms of the needing money quick or just pure naivety.
I'm sure that at this point you're on the same boat as me right? I'm pretty sure you see where I'm coming from and why this overhyping strategy is a massive red flag.
The Company Behind Retailpay.org Are Definitely Not Reliable
The company who is actually behind Retailpay.org is regarded as not very good which probably explains why all the products that are being released through them, I guess you could say, are absolutely horrible!
The company is called easykits.org and it seems like their support and everything about the company is just a bunch of red flags which of course explains why Retailpay.org have a pretty awful product on offer.
Fake Testimonials
Real profits online had fake testimonials on their website so it would make sense that Retailpay.org have fake images or testimonials too right?
So do keep this in mind when looking at the testimonials
A Rehash Of Multiple Other Products
This is basically a Rehash of multiple other products promoting the same thing. If you look at the fake news article for Retailpay.org you'll realise that it pretty much uses the same kind of layout as Real Profits Online although the content is a little different.
The links all redirect you to the same sales page with the same sales video. Besides just Real Profits Online, the other rehashes include retailrecruit.org, amazonwealth.org, amazonmoney.co and I'm sure that there are plenty of other different names for the same product.


---
THE GOOD THINGS
To put it bluntly, there is absolutely nothing good about this company, about this product… so yeah, that's all I can add to this section.
==>Click Here To Access My FREE Make Money Online Guide!<==
---
IS RETAILPAY.ORG A SCAM?
I can wholeheartedly say that Retailpay.org is 100% a scam and it should be something that you avoid at all costs. All the red flags I've pointed out such as the overhyped promises, fake testimonials, the awful parent company behind it and the fact that it's essentially a rehashed product.
These problems all represent the poor quality of the product and is the reason why you should absolutely skip this. If you're still serious about making money online, my #1 Recommendation should provide you with a solid platform to do affiliate marketing the right way and eventually make the money you want to make.
---
MY PERSONAL RECOMMENDATION
I'd suggest you check out my personal recommendation if you still want to make money online, though I'll warn you right now, it isn't something through which money will come easy.
It is nonetheless a great business model for the online space in my opinion
So what is this method that I'm talking about?
This method I'm talking about is affiliate marketing. 
Retailpay.org does mention affiliate marketing but it doesn't necessarily show you how it works or the benefits of it. The reasons as to why I recommend it is because:
– expectations toward success are a lot more grounded
– it is a legitimate method that has been working consistently and continues to grow as more businesses want individuals to promote products
– it is a very scalable business
– and because it is free to start up, no unnecessarily large start up funds needed.
The service I recommend is Wealthy Affiliate. It's free to sign up to and will get you set up and ready to start your affiliate marketing journey within minutes, as it did for me when I begun my journey.


If you have any questions that you would like to ask me regarding Retailpay.org , feel free to do so in the comments section below and I will get back to you as soon as I can. If you have your own thoughts about Retailpay.org and would like to talk about it, again feel free to do so in the comments below!
Thanks
Amhil