Welcome to my Secret Profit Club review!
It's likely that you have come across Secret Profit Club through an email list, on social media or got it recommended by a friend or family member.
First and foremost I must commend you for actually doing a bit of extra research before committing to purchasing or joining Secret Profit Club. For all you could have known, Secret Profit Club may very well be a scam and rob you of your money so this review could help you find anything peculiar about it.
To be totally transparent with you I haven't used Online Innovations so I can assure you that I will not attempt to sell you on it unless of course it's worth investing in.
What I will aim to do is provide you with an unbiased 3rd party review of Secret Profit Club that will hopefully help you to make the correct decision in the end.
---
PRODUCT NAME: Secret Profit Club (SPC)
OWNER/S: "Jack Robertson"
TYPE OF PRODUCT: MMO course
PRICE: $9 + Upsells
SUMMARY: You may disagree with me but, in my experience with products like SPC, the red flags would indicate that the product is a scam and something you should definitely avoid.
The overhyped and unrealistic expectations, the use of fake testimonials and the lack of the owner genuinely showing are all pretty solid reasons, in my perspective at least, to distinguish SPC as a scam.
FINAL RATING: 0/5
RECOMMENDED: NO!!

---
WHAT IS SECRET PROFIT CLUB?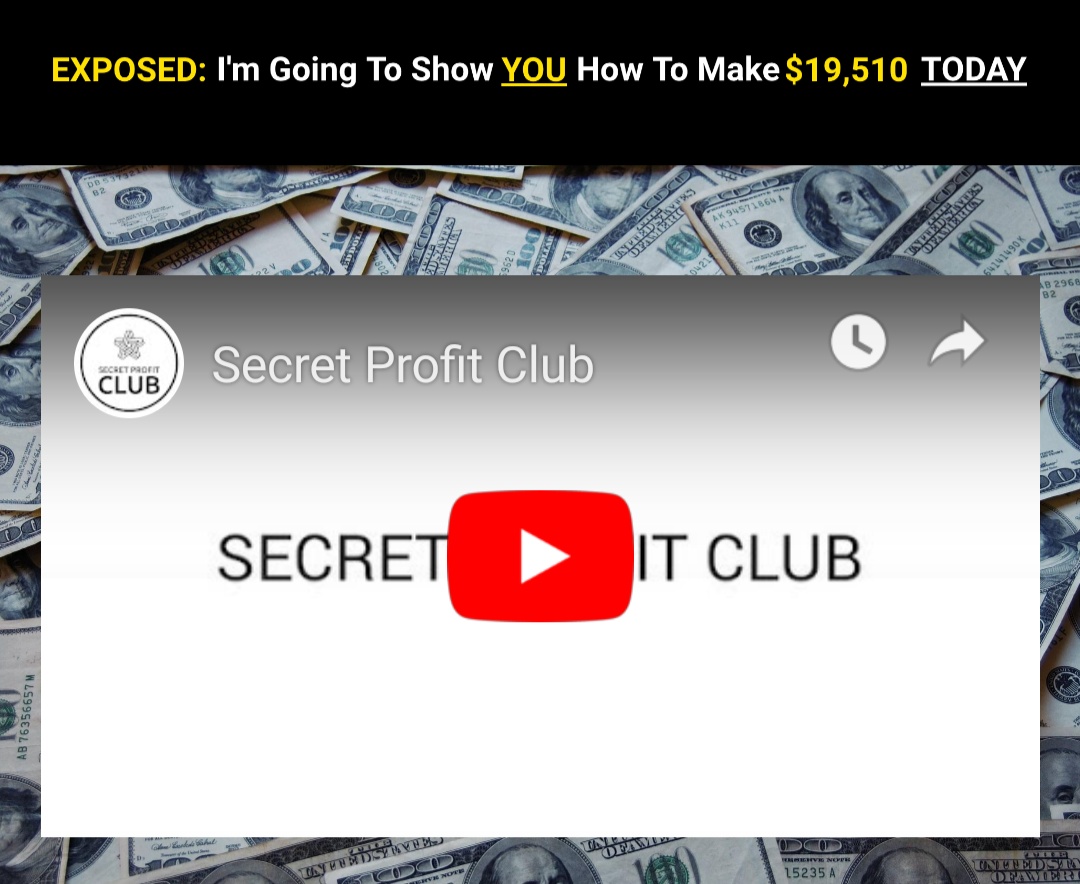 My first impressions of SPC definitely weren't good, firstly the headline already stuck out as a red flag with the ridiculous claim saying you can make $19.5k today with the system in question.
The second element that stuck out that reminded me of other low quality products was the layout of the system, with just a video and no other written copy within the page describing the elements of SPC.
However, although I have found this layout among the hundreds I've reviewed to represent a more low quality product, I didn't want to make a decision just based on those 2 points so, I decided to dig a little deeper.
The first things you're told within the sales video is that SPC is a secret done for you money making website that can make you $45k within your first 30 days.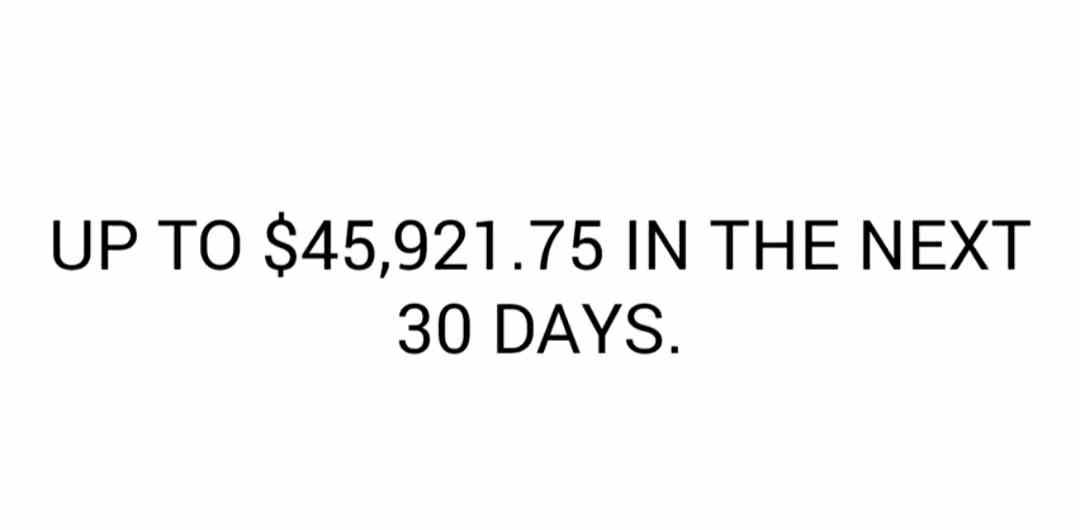 This statement alone by the spokesperson, Jack Robertson, is not only insinuating that making money with SPC will be easy but, it also basically paints it as get rich quick scheme. He then goes onto claims people have managed to make $9k in a week, $1k in a day and so on.
In reality the whole sales pitch is only telling you what you want to hear, as in it not being a scam, no experience being required, how SPC can improve your lifestyle and statements along these lines.
If you know anything about online business opportunities, you should know that making big money in very short time frames is highly unrealistic, in fact it's practically impossible especially if you don't have money or the skills already.
So, I can tell you right now that SPC is not going to live up to whatever it claims however, I'm still going to go over why it's not worth it as well as what you'll see in the members area if you decide to pay that initial $9 for some reason.
I've reviewed a lot of products on this website such as :
Which is why I believe I have a pretty good grasp on what makes a solid system to invest in.
==>Click Here To Get Access To My FREE Make Money Online Guide!<==
---
HOW DOES SECRET PROFIT CLUB WORK?
From the signs I've noticed, I can tell you now that SPC isn't designed to make you money, the truth is that the product is purely made so Jack can benefit from your naivety.
Just judging the system in perspective, it seems like SPC is a affiliate marketing business model which basically is a model where you earn commissions for promoting other people's products.
Theoretically and even practically, there are people out there that genuinely have made lots using this method but, making $45k within the first 30 days is highly improbable.
I personally do affiliate marketing and I can tell you now that if you want to go about learning the methods in a free manner or through just cheap training, you shouldn't expect to get solid training let alone a done for you system that claims it can make you money without even trying.
The truth is that making money online isn't easy, if you're consistent and have the right training available (my #1 recommendation) it's very possible to make money online but, even then it can take anywhere from 6 months to multiple years before you start making decent consistent income let alone achieve it within a month.
So expecting SPC to be the right product, the product that'll get you out of this rat race is just very naive. SPC pretty much claims that it can help you print money without necessarily trying, if this whole thing was actually true, wouldn't all these  individuals who bought into the ridiculous monetary claims made by a $9 product be rolling in money, including yourself?
The Upsells
Besides the front end package, SPC also has a bunch of other upsells that you'll be recommended to buy if you decide to buy the initial package.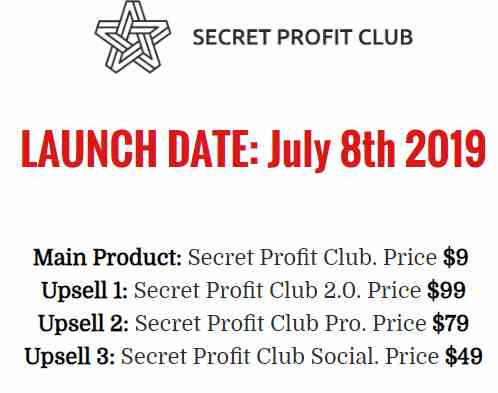 This means that the core information will be found within these upsells meaning the real cost off the system will be a few hundred bucks at the very least. The $9 package is merely to get you into Jack's sales funnel so that he can make as much money as he can from you in the members area.

---
WHO IS SECRET PROFIT CLUB FOR?
I'd say that SPC isn't a product that anyone should buy considering all the very obvious red flags it shows, from the overhyped and unrealistic expectations to the fake testimonials and so on.
So yeah, in my eyes SPC isn't worth investing in, especially if you're looking to make any kind of money, legitimately, online
Are You Tired Of Working For A Boss? If So Why Not Take Your Job Into Your Hands And Work For No One But Yourself… If You Want To Do This Check Out My #1 Recommendation
---
THE NOT SO GOOD THINGS
Overhyped And Unrealistic Claims
Of course the whole sales pitch and the sales page as a whole make a lot of unrealistic claims such the $45k in 30 days or even the $19k in a day claim.
This very overhyped approach to marketing a product, in my experience, tends to lead to products that are get rich quick schemes (scams) or just very low quality.
All in all it's a red flag that you definitely should take into account before jumping the gun and investing in SPC.
Fake Testimonials
There are a few testimonials within the sales video which claim how this 21 year old or 68 year old are making a lot of money however, the fact that it's just a written thing makes it very hard for me to believe that these individuals are genuinely making whatever's being claimed.
Therefore, it's quite hard to trust SPC as being credible with their claims beacause not only are they over hyping the potential behind the system, they're also trying to convince you through the use of some generic names that SPC uses.
To me this comes of as a red flag because there's no way to confirm the testimonials are real.
Who Is Jack Robertson?!
Although we do get to hear a voice and even learn the name of the vendor, Jack Robertson, the lack of him actually showing up makes it, once again, hard to trust that it's the real name of the vendor and not just a pen name.
Usually, when a product uses just a name and doesn't actually show up, the product in question tend to not be all that great. I'm guessing the reason why the vendor doesn't show himself is because he can escape any kind of backlash if SPC was to receive any as no one knows who the con artist is.
So yeah, this yet another red flag you should be aware of before buying into SPC.

---
THE GOOD THINGS
There's literally nothing good I can take away from SPC therefore, it's clear to my SPC is unlikely to be of any use to you if you decided to go through with the purchase. The $9 price tag may look good but, the reality is no product worth $9 is suddenly going to make you $20k in a day or $45k in a month without doing any kind of real work.
==>Click Here To Get Access To My FREE Make Money Online Guide!<==
---
IS SECRET PROFIT CLUB A SCAM?
You may disagree with me but, in my experience with products like SPC, the red flags would indicate that the product is a scam and something you should definitely avoid.
The overhyped and unrealistic expectations, the use of fake testimonials and the lack of the owner genuinely showing are all pretty solid reasons, in my perspective at least, to distinguish SPC as a scam.
---
MY PERSONAL RECOMMENDATION
I'd suggest you check out my personal recommendation if you still want to make money online, though I'll warn you right now, it isn't something through which money will come easy.
It is nonetheless a great business model for the online space in my opinion
So what is this method that I'm talking about?
This method I'm talking about is affiliate marketing. 
The reasons as to why I recommend it is because:
– expectations toward success are a lot more grounded
– it is a legitimate method that has been working consistently and continues to grow as more businesses want individuals to promote products
– it is a very scalable business
– and because it is free to start up, no unnecessarily large start up funds needed.
The service I recommend is Wealthy Affiliate. It's free to sign up to and will get you set up and ready to start your affiliate marketing journey within minutes, as it did for me when I begun my journey.

If you have any questions that you would like to ask me regarding SPC, feel free to do so in the comments section below and I will get back to you as soon as I can. If you have your own thoughts about SPC and would like to talk about it, again feel free to do so in the comments below!
Thanks
Amhil