It's likely that you have come across Nature's Sunshine through an email list, on social media or got it recommended by a friend or family member.
Is Nature's Sunshine a scam?
You've probably been hearing about how amazing their products are and that if you join them you have limitless income potential as a distributor.
But, there's a reason why you're here right? There's probably a bit of skepticism behind these claims, is it really possible to make a lot of money by becoming a member or are you being played?
First and foremost I must commend you for actually doing a bit of extra research before committing to purchasing Nature's Sunshine.
For all you could have known, Nature's Sunshine may very well be a scam or something completely illegitimate like a pyramid scheme or a complete scam so taking your time to do an extra bit of research can save you from quite a bit of financial heart ache.
To be transparent with you I am not a member of Nature's Sunshine so I can assure you that I will not attempt to sell you this product unless of course it's worth investing in.
What I will aim to do is provide you with an unbiased 3rd party look at this system that will hopefully help you make the correct decision in the end.
---
PRODUCT NAME: Nature's Sunshine
OWNER/S: Gene and Kristine Hughes
TYPE OF PRODUCT: Health and Wellness MLM
PRICE: $40-one time joining fee (waived after purchasing products of the same amount) + Optional costs ($549 for IN.FORM Coach certificate + $399 various online certification programs)
SUMMARY: Nature's Sunshine is a mature MLM and amongst one of the first health and wellness MLM's out there due to the fact it's 46 years old.
From my research I've found that they produce high quality supplements which is a good thing and are supplements worth trying if you're into that but, if you want to become a distributor, it's not a very likely scenario that you'll be making anything decent or even breaking even. 81.11% of distributors within the company are making a loss whilst only around 5% in terms of average commissions are making anything half decent at $1000+.
So unless you are very good at recruiting or just want to give Nature's Sunshine a go, I'd recommend you pass this one.
FINAL RATING: 2.4/5
RECOMMENDED: NO

---
WHAT IS NATURE'S SUNSHINE?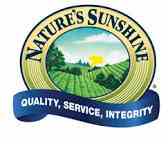 Nature's Sunshine is a MLM company that deals with natural health and wellness supplements. It is owned by Gene and Kristine Hughes and was founded way back in 1972.
The owners were inspired to create this company in order to help solve problems regarding health and through their journey, they actually become one of the first few people to make herbs in capsule form for consumption.
Obviously, now Nature's sunshine has been around for almost half a century and have in turn also created a research facility, called Hughes Center for Research and Innovation, to make sure the supplements they bring into the market are actually of decent quality.
It's definitely nice that Nature's Sunshine is adamant in producing high quality products for their customers.
==>Click Here To Access My FREE Make Money Online Guide!<==
---
NATURE'S SUNSHINE'S PRODUCT LINE
It's no secret that Nature's Sunshine is a very old company, it's been around for over 40 years and has in the time even created their own research center to help with researching new products.
Due to their over 40 years of open business, they have  managed to amass 13 specific categories with 600+ products. That's a lot of supplements and health and wellness stuff to satisfy anyone for a lifetime.
These 13 categories include
Childrens Health

Enzymes 
Daily Essentials 
Flower Essences 
Herbs
Personal Care 
Probiotics
Sales Aids
Traditional Chinese Medicine 
Vitamin And Mineral
Women
I'm not going to list every product within their store because that would take forever to do so, if you really want to check them all out click here, instead I'll just give you a brief look at some of their best selling products.
Here are their top-selling products to date:
Paw Paw Cell-Reg™ (180 caps): Helps boost immune system
Dieter's Cleanse (14 Day): Cleanses the body within a14 day period
Food Enzymes (120 caps): Boosts the body's ability to digest proteins, carbohydrates, and fats
Heroes Probiotic Power (90 Chewable Tablets): Probiotic tablets for children
Liquid Cleanse (16 fl. oz.): Supports intestinal, bowel, and liver health
Love and Peas (675 g):  Contains 20 grams of vegetable protein and 75% of the daily value of 18 Vitamins and Minerals
I feel like maybe Nature's Sunshine have too many products, don't you think that as one of their distributors it would be hard to always recommend the ideal product for your customers?
For one it's likely that a lot of products have a similar or even the same function as each other, so why create so many different supplements when a few more focused products would appear to consumers that maybe Nature's Sunshine takes their time in creating products.
However, to me it seems like they're just trying to create as many products as they can in order to maximise their profits, as opposed to maximising their consumers satisfaction.
That's where the next part of this review comes in.
Learn How To Make A Full Time Living Online Without The Hassle Of Dealing With Customers Through This Method
---
ARE NATURE'S SUNSHINE'S PRODUCT ANY GOOD?
As I don't personally own any of Nature's Sunshine's product I can't speak from personal experience however, I did do some research and I found that the reviews were mostly positive.
This is what I found within best company :
The first customer I came across called Allen stated that he had issues with his blood sugar but, once he used one of Nature's Sunshine's products, it cleared out his intestines and in turn made him feel better in general.
Mary Reed, who is supposedly a Naturopath, says that these are some of the best herb and supplements created by any company.
Another Naturopath named Jodi has also seen her patients see positive results after using the products.
From the looks of it, it appears Nature's Sunshine has had an overwhelming positive opinion on it's supplements, which I guess does make sense considering how long it's been around and been innovating.
I can't say for sure personally if they're good but in general I don't think they'd be the worst MLM company to purchase supplements from.

---
HOW DO YOU MAKE MONEY THROUGH NATURE'S SUNSHINE
As is the case with all MLM there are 2 main ways through which you can make money.
1. You make retail sales and garner a commission for every sale you make
2. You make commissions through recruitments and other incentives and bonuses within the structure.
---
HOW TO GET STARTED
First thing you'll need to do is sign up to them by submitting an application form. After that you'll need to pay certain fees in order to become an official distributor.
The only mandatory fee you'll be needing to pay is the joining fee, which will only cost you $40. Compared to a lot of other more expensive MLM's Likes Nucerity, Ds Domination, Isagenix or even LuLaroe, the costs you're looking at to start with Nature's Sunshine is pretty small if you ask me.
Beyond the mandatory fees, you'll also have the option to purchase some of their optional programs that may be beneficial to you, these programs are:
IN.FORM Coach certificate: This will cost you $549 to attend and be given a certificate. 
Training Online: You can opt for another cheaper certification program online if you want to, which goes for $399.
The training is quite a bit more expensive than the joining fees but, it's not necessary for you to actually purchase it and attend, if you do your due diligence and research how to succeed with Nature's Sunshine online, you'll probably be alright. This doesn't mean that I think you should join though.
Find Out You Can Start Making Real Passive Using The Methods Taught Within My #1 Recommended Product
---
COMPENSATION STRUCTURE
Nature's Sunshine uses a Unilevel MLM structure. This structure works in a level like format, quite similar to few other MLM's I've reviewed like Xyngular and Senegence International.
In this case Nature's sunshine goes 7 levels deep before it's cut off point however, as it is a unilevel compensation plan each level theoretically have potential for an infinite number of referrals.
There are two routes you can take with Nature's Sunshine if you want to become a member.
1. Classic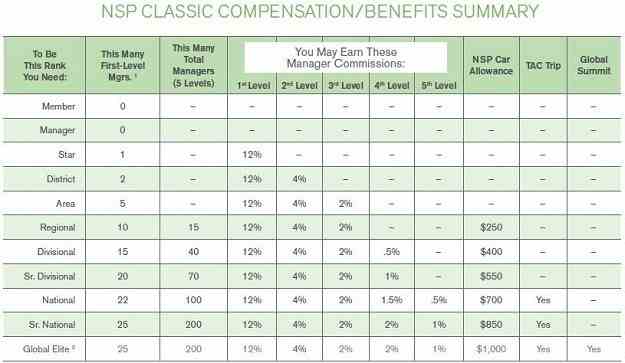 2. Legacy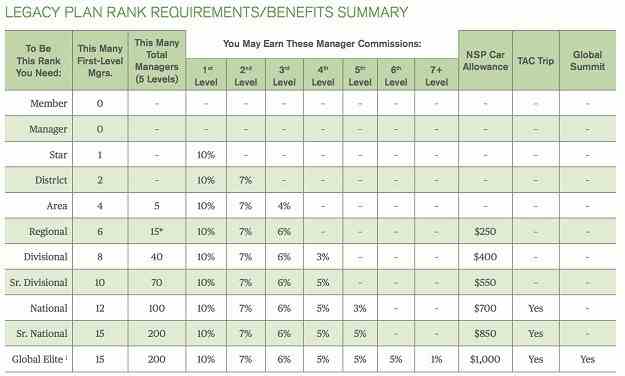 The differences between the two types is just that you have potentially more earnings with the legacy as it pays out commissions up till the 7th level as opposed to just the 5th level
As can be seen within the images above, there are 11 different distributor ranks for members. They start from the lowest rank of a member and peaking at the global elite rank.
Distributor Rebates
Nature's Sunshine offers its members distributor rebate dependant on how much they ordered within a month. The rebate calculated is qualifying volume (qv) and also varies depending on the plan you're on.
If you are within the classic plan, these are rebates you'll be eligible for if you meet the following requirements :
0-99 QV   = no rebate
100-299 QV  = 10%
300-599 QV = 12%
600-999 QV = 18%
1000-2999 QV  = 27%
3000+ QV = 30%
If instead you're within the Legacy plan, the following rebates are what you'll be eligible for:
0-99 QV = no rebate
100-499 QV = 10%
500-999 QV = 15%
1000+ QV = 20%
It's a bit weird to me how you're only eligible for only upto 20% on the legacy plan whilst you can get a rebate of 30% on the classic plan. To me in this scenario, especially if you're more inclined in wanting rebates the classic should be the better choice.
Smart Start Bonus 
These are bonuses you'll receive from newly recruited distributors who's first order is above 100qv.
The direct upline to this referral who is within the classic plan will make 30% in commission from this first order whilst the 2nd upline will make 10% and anyone 3+ levels above will make 5%
If you're on the legacy plan, the commissions will be a little different. The direct upline will make a 40% commission , whilst the 2nd level commissions and 3rd level plus will have the same commission rate as the classic plan at 10% and 5% respectively.
For a more in-depth look at both plan check out the videos below
Classic plan video 
Legacy plan video

---
THE NOT SO GOOD THINGS
No Income Disclosure Statement 
Nature's Sunshine doesn't appear to have a income disclosure statement which to me suggests that maybe the whole MLM program isn't as easy as could be suggested by others to succeed within.
I've reviewed quite a few MLM products myself and the ones that do have an income disclosure almost certainly show that you'll fail. In fact within Isagenix, nucerity, LuLaroe and Xyngular to name a few, less than 5% are generally succeeding or profiting more than they're spending.
And on top of that generally less than 1% of people are usually making anything decent running their MLM business. By decent I mean around $1000+.
To me this implies that it's probably going to be the same case with Nature's Sunshine, in the sense that it's pretty unlikely you'll be one of the very few who make anything decent out of Nature's Sunshine's compensation plan.
Commissions And Rebate Commissions Are Hard To Reach
For distributors to claim distributors rebates and commissions from their downline, they're required to purchase or sell a bottom line of $100 per month.
If they can't manage to reach that amount, they won't be able to make anything at all from Nature's Sunshine's compensation plan.
So if individuals want to rely on Nature's Sunshine to create a full time income, they'll need to recruit a ton and have an extensive downline to comfortably benefit from the system.
This document shows how most people within each one of the levels are actually doing.

As you can see, this document actually tells how much in commissions is being paid out in total to each rank each month and what is most shocking but not really surprising is that 81.11% of the members are within the manager rank and the average commission is only $25.98.
That's only a quarter of the minimum bottom line to be eligible for the commissions which shows to me that most people running a Nature's Sunshine business are operating at roughly a $74 loss.
Only as a Manager rank within Nature's Sunshine will you really be averaging above the amount needed to be profiting a little at $270.48.
This implies to me that most people just won't be making enough to cover their required fees and if you don't believe you're good at recruiting and making your way, at the minimum to the manager rank, there's a high chance that you'll be in the negative too.
They've Run Into Some Legal Trouble 
Nature's Sunshine have run into some legal trouble before. I guess it makes sense that they would considering they've been around for so long and have probably made a couple of stupid mistakes.
In 2009 they ran into legal trouble because.they were bribing Brazilian officials to import some of their unregistered nutritional products into the country between 2000 and 2001.
The allegations stated that Nature's Sunshine Products falsified accounting books to hide their illegal payments and the SEC stated that NSP violated the Foreign Corrupt Practices Act.
The outcome of this lawsuit actually significantly impacted their sales within Brazil so to solve this they doled out undocumented cash and recorded them in their books as "importation advances".
So if you would rather get involved in a company that's completely squeaky clean in the way they've done business since the day they were founded, Nature's Sunshine is definitely something to avoid.

---
THE GOOD THINGS
It's Been Around A While 
Being around for the last 46 years must mean that Nature's Sunshine are doing something good right?
Well at least to me it implies that it's at the very least a decent MLM company that seems to have figured out a system that works and continue to work for years to come.
Of course this doesn't mean I'll recommend you join but, if you were to join any, Nature's Sunshine might be a good one to start with.
The Products Are Good
They actually make some good quality products that even Naturopaths seem to think are solid supplements for their patients.
This is a very important factor and component to any companies success out their and to me, it seems like Nature's Sunshine has nailed this element.
This is probably due to their quality and research institution which has done a fine job in satisfying customers pretty soundly at least, in the quality of the product.
==>Click Here To Access My FREE Make Money Online Guide!<==
---
IS NATURE'S SUNSHINE A PYRAMID SCHEME/SCAM?
No Nature's Sunshine is neither a pyramid scheme or a scam, the good news is that it is actually a legitimate MLM company with some very crucial good quality to it.
Quality products is essential to any health and wellness company to be good and Nature's Sunshine certainly seems to deliver in this area. This means that if you want some high quality supplements, Nature's Sunshine is a decent place to purchase from however, there are a few reasons as to why I'd recommend against joining them.
The biggest reason as to why I'd avoid becoming a distributor is because it's a business that you're most likely to fail in and are even more unlikely to make anything decent through. The only people that I believe can be successful using Nature's Sunshine and make a sustainable income are people who are good at recruiting.
If you don't think you'll be able to recruit and create a big team, it's highly unlikely you'll be able to make anything at all, in fact it's more likely that you'll fail.
So if you don't think you'll be able to create a team, my recommendation below may be another path you could take.
---
MY PERSONAL RECOMMENDATION
I personally will always recommend against using a MLM business model to make money, not because you can't make money through it (you totally can) but, the system has always seemed shady to myself and is kinda synonymous with the likes of a pyramid scheme or scams (MOBE and Digital altitude).
Instead I prefer working with something created through ones own means and is ultimately dependent on yourself and your work ethic alone.
This method I'm talking about is affiliate marketing. 
The reasons as to why I recommend it over MLM based structures are because
– there is no need to recruit constantly
– it is a legitimate method that has been working consistently and continues to grow as more businesses want individuals to promote products
– and because it is free to start up, no unnecessarily large start up funds needed.
The service I recommend is Wealthy Affiliate. It's free to sign up to and will get you set up and ready to start your affiliate marketing journey within minutes, as it did for me when I begun my journey.

If you have any questions that you would like to ask me regarding Nature's Sunshine  feel free to do so in the comments section below and I will get back to you as soon as I can. If you have your own thoughts about Nature's Sunshine and would like to talk about it, again feel free to do so in the comments below!
Thanks
Amhil