It's likely that you have come across myEcon through an email list, on social media or got it recommended by a friend or family member.
Is myecon a scam? Is it possible Pyramid Scheme? These questions are probably stuff you want answers to right, so that's why you haven't jumped head first into this opportunity. Honestly that's a smart move on your part.
For all you could have known, myEcon may very well be a scam or something completely illegitimate like a pyramid scheme or a complete scam so taking your time to do an extra bit of research can save you from quite a bit of financial heart ache.
To be transparent with you I am not a member of myEcon so I can assure you that I will not attempt to sell you this product unless of course it's worth investing in.
What I will aim to do is provide you with an unbiased 3rd party look at this system that will hopefully help you make the correct decision in the end.
---
PRODUCT NAME: myEcon
OWNER/S: Ivey Stokes, Larry Gates, Alvin Curry, Carliss Curry
TYPE OF PRODUCT: Health, wellness & personal Finance MLM
PRICE: $19.95 one time fee + $34.95/month
SUMMARY: myEcon is a legit MLM and isn't a scam or a pyramid scheme. It has good products and is a cheap MLM business to start too. However, because of the nature of an MLM and the necessity to be good at recruiting, unless you're a good recruiter I'd advise against joining. For more details on myEcon read the rest of the review but, in my opinion although myEcon is a good MLM company as whole, I can't recommend it due to the pretty low success rates of only 5%.
FINAL RATING: 2.4/5
RECOMMENDED: NO


---
WHAT IS MYECON?
myEcon was founded in 2005 by Ivey Stokes, Larry Gates, Alvin Curry, Carliss Curry and is an MLM that focuses on personal finance and the health and wellness sector.
It was actually founded in Georgia in the United States and although myEcon dabbles in two different Niches it's focus is still mainly on the financial sector.
So for the most part what it aims to do is show others how to implement their financial success formula which includes the the likes of minimising taxes, growing your collection of assets and making business income to put you in a better financial position.
==>Click Here To Access My FREE Make Money Online Guide!<==
---
MYECON PRODUCT LINE
myEcon (it stands for "My Economy") has quite a few products that they sell which of course span across the finance and health & wellness niches.
Within their finance sector they have the following products :
ID Defender ($7.99/month individual plans or $14.95/month family plans) : An identity protection service. 
CashFlow Manager ( $10.95/month or $19.95/month for CashFlow Manager Pro) : An online cashflow management system that tracks both your income and tax deductible expenses in order to minimize taxes. 
Smart Credit Repair System ($99.95) : This program aims to increase your financial knowledge in the areas of credit and debt. 
750 Credit Monitoring ($23.95 every 6 months) : A service that monitors credit. 
Roadside Assistance ($7.99/month) : An emergency roadside assistance service. 
CashBack Mall – As a member you'll be able to gain access to the Cashback platform where you'll be able to access different stores and buy any kind of product/service within the stores. myEcon's affiliated with many of these stores which means that that the company will earn a commission when you buy something through their link, a percentage of which will be shared with the members. In turn this means that you will get some money back if you purchase something through the CashBack mall. 
The second sector of the product line is the health and wellness section, this area of myEcon offers the following products :
Coffees : Black coffee costs between $16.49 and $127.99 depending on the amount of boxes you buy. NuviaTrim coffee costs $19.99-$169.99 depending on the amount of boxes.
Health & Nutrition : Daily Ultimate costs between $36.95 and 329.95, Body One MSM capsules $19.95-$179.95 and Body One MSM lotion costs $24.95.
The products do look like they can be useful, in fact most of them attempt to automate and control some of the more mundane tasks that could potentially affect you negatively if not monitored, so I do see some potential in them.
But as I've said previously, I'm actually not a member and haven't had the opportunity to try out either one of the lines so I guess it's best I actually show what others who've actually used the products thought of them.

---
ARE MYECON'S PRODUCTS ACTUALLY ANY GOOD?
I found within bbb that for the most part it seems as if people who are using myEcon's services seem to be having a good experience with them.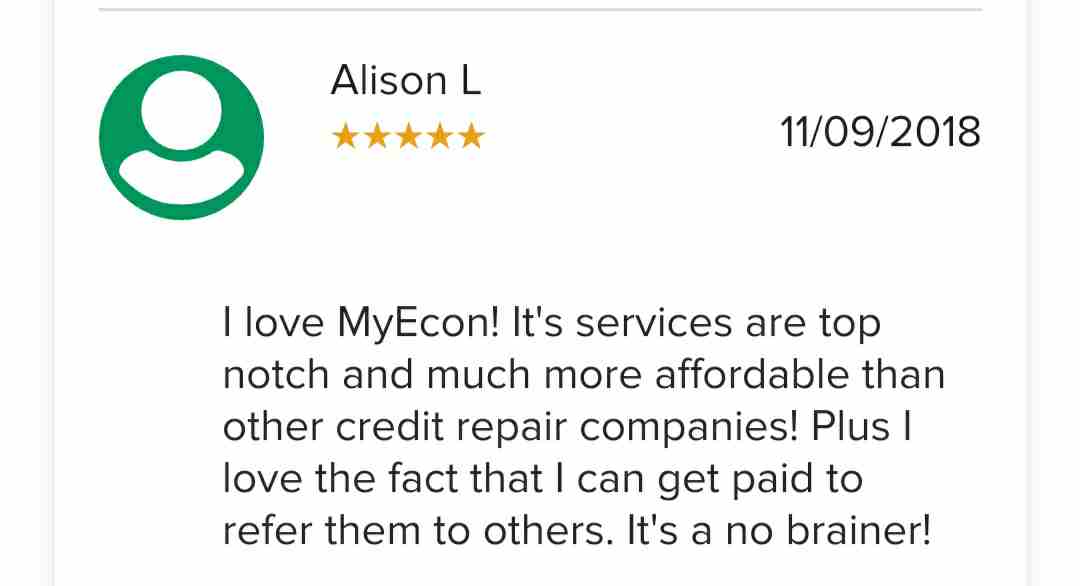 This is probably also because the members are trying to promote the idea of joining the MLM nonetheless, the services seem to overall be pretty good.
It's likely possible to find the offered services for cheaper through other means that won't lock you down into becoming a member so, if you'd rather not join a MLM just to try the services, you can definetly avoid it by finding something else.
Of course for the most part the products aren't necessarily that expensive so I can't really say that what myEcon offers is expensive or bad overall.
Do You Want To Make A Full Time Income Just As Many Have Been Doing For Decades, If So Check Out My #1 Recommendation! 
---
HOW DO YOU MAKE MONEY WITH MYECON?
As is the case with pretty much all MLM businesses there are 2 ways to make money with them, myEcon being no exception.
1. The first method is by directly selling the product to other individuals and in return make a commission for the sales
2. You make money through your recruits and downline, by getting residual income by following and meeting certain criteria as well as make money through bonuses and incentives due to meeting company set goals.
---
HOW TO GET STARTED
The first thing you'll need to do in order to sign up to myEcon is find someone who is already a member of myEcon, go to their website and sign up through them.
After you have managed to find the application form you'll then need to pay a few mandatory fees.
The first fee is a one time set up fee that'll only cost you $19.95 after which you'll need to pay a further $34.95 a month to keep your membership active.
After paying for the membership costs, you'll be given access to the following resources :
Income Shifting Strategy : This is basically training that'll teach you how to be financially responsible so it's cool little addition for members who aren't really that 
CashFlow Manager System
Identity Theft Protection
Free & Discount Legal Services
Credit Education Services
Discount Travel & Corporate Perks
A Website : This is where you'll be selling the product line to customers
The getting started and the upkeep prices for a myEcon business is honestly very cheap in comparison to many other MLM's that I've reviewed such as ARIIX, LuLaroe, Nucerity, Atomy so on.
In terms of a business in the network marketing side I genuinely think that this MLM is definitely one of the easiest ones to get into.
Do You Want To Make A Full Time Income On Your Laptop? Do You Want The Freedom To Work Whenever You Want Wherever You Want? If That's What You Want My #1 Recommendation Might Just Help You Get There!
---
COMPENSATION STRUCTURE
myEcon's compensation plan is pretty robust which weirdly isn't located within myEcon's website nonetheless, I did a little research and discovered that there are actually 3 different ways through which you can earn through this MLM.
1. Income Shifting Membership Sales 
Once you've signed up and qualified as a marketing director(MD) , you'll be eligible to make $10 for your first two refferals who purchase the income shifting membership and become Marketing directors also.
Beyond this, from the third refferal and onwards whom also become MD's, you'll make $35 instead. When you've recruited your third refferal, you'll move up in rank and become an Executive Vice President (EVP) which represents a new "baseshop".
Furthermore, from here on out every new refferal you sign up will produce a new baseshop for you.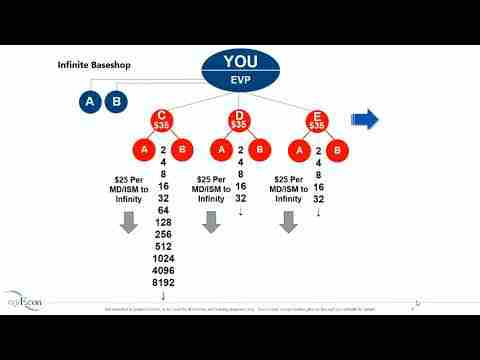 I get that this is a little tough to get your head around but, all you've got to know is that now everytime you recruit a new MD within your baseshop you'll make $25
The amount you get will depend on the retention rate of your MD's everymonth meaning if you don't have an 80% retention rate, the money you make will drop from $35 and $25 down to $17.50 and $7.50 respectively.
2. Retailer Commissions 
The commission rates for every product is based on the commission volume (cv) which means that the percentage for each product you sell will vary.
As a MD you'll make 15% of everything you sell whilst as an EVP you'll make a 25% commission.
However, as the commission value of a product is actually less than the full purchase price of a product for example ID Defenders commission value is on $2 meaning you'll make commissions on the $2 cv as opposed to the $7.99 full price.
This ultimately means you'll make anywhere from $0.30-$0.50 at the MD and EVP commission rates
You'll also make anywhere from 3%-17% on commissions from your refferals dependant on which "generation" they are within your downline team.
3. Dream Team Residuals
This is a commission that's paid to any associate within any given generation, who have paid for their ISM for a minimum of 5 months. The payout for this is anywhere from $1-$8 per month, depending on your rank.
If you want a more indepth look at myEcon's compensation plan check out the video below.

---
THE NOT SO GOOD THINGS
You Need To Do A Lot Of Recruiting 
As is the case with more or less every single person MLM out there, you'll need to be very good at recruitment to get anything out of them.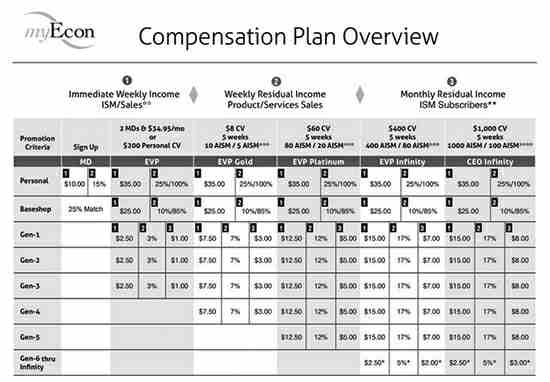 As you can see in this image, in order move up in rank you'll need to recruit a fair few individuals and everytime you manage to do this, you'll be eligible for a higher commission for every sale you make.
Moreover, the larger your team the better you ability to make money through the residual income your downline member's generate.
This is more so general knowledge in regards to the way the earning potential cumulatively increases the more you recruit however, recruiting isn't what I'll call easy to do.
You've got to have a way that you can actually create leads that will convert into your refferals but, this isn't something that'll be possible without traffic.
This means that you've either got to bide your time and create a free traffic source like a website that gets a lot visitors from search engines or even attempt to create a social media page that gets traffic.
Both these ways are free but will require a lot of upfront work, the other method you could use is paid traffic. This method will definitely be quicker but, it's likely you'll waste quite a bit of money testing to see what works or not. You'll need to have a decent amount of capital you're willing to invest in hopes of generating leads.
The other method is face to face marketing. As this isn't the Internet, the number of people you'll be able to promote myEcon to will be quite limited.
The other issue I find with face to face marketing is that, let's be honest, the first people you'll try to promote to will be either your family or friends.
Say for example that you were successful at bringing them in and it didn't work out for them, they'll probably blame you for wasting their time right?
So to me going this route to get refferals does have a much higher chance at messing up your relationship with them so that's why I'd probably take this option off the table.
So this means you'll either need to use paid or free traffic methods.
Overall it's just not going to be easy to recruit for most individuals, if you happen to already be good at recruitment, the idea of joining and prospering in this MLM isn't going to be insanely difficult but, for the rest of you, let's just say it won't be a walk in the park (then again nothing ever is).
CV System Makes Commissions Small In Value 
The CV system is a little underwhelming. Although the commission rates for selling a product is between 15-25% on the lower 2 ranks, which is pretty decent, the fact that the actual maximum commission you're able to make isn't the true value of the service but another significantly smaller value is ridiculous.
I get why myEcon do this, it's so that they can give you the impression that you're making a larger commission even if it's a lie.
As I've mentioned already ID Defender has a market value of $7.99/month and commission value of $2. This means the true maximum commission you'll theoretically be able to make is $2 which is around 25% of the products value.
However, although the EVP rank states you'll make 25% commission of every product you sell, that in actuality is not even close to the truth.
Instead you'll only make $0.50.
This equates to around a 6.25% commission rate for ID defender and not 25%.
This doesn't look as good now does it?
That's why I think the CV system is a little weird and possibly will be annoying once someone who's interested finds out that the commissions advertised are actually false.
Lack Of Transparency 
When doing my research I was unable to find stats to back how well members were actually doing with myEcon but, based on my research on other MLM's like max International, xyngular and scentsy, I'm pretty sure it's not great.
Usually in MLM's, most people tend to fail in making anything decent (around $1000), in fact a lot of the time less than 5% of members manage to accomplish this.
Of course, $1k is only a decent part time income and certainly won't be able to replace your full-time job if that's what you're looking to do. In reality only the top 1% of members are able to do make a sustainable full time income.
The MLM model is very hard to succeed in and judging from my deductions, it's pretty darn likely that you'll fail too unless you're highly driven and willing to spend a large chunk of your time aiming to make it work.


---
THE GOOD THINGS
Been Around A While 
myEcon is a company that's been around for 13 years now so the fact it's still here gives a little more credibility in my eyes to it, afterall no company can continue to exist for decades if it was poor right.
Its longevity definitely gives it an edge over other MLM's in my opinion.
Cheap Starting And Upkeep Fees
It's actually a very affordable MLM company to join in my opinion only setting you back a fairly modest $439.35 to run within your first year.
Compared to other MLM's that generally tend to cost you $1k+ to run for an entire year, you've got to admit that $440 really is quite cheap in comparison.
People Like The Product Line
One of the biggest issues with many MLM's out there is the fact the products themselves tend to not be so great. Well this isn't the case with myEcon.
On the contrary the products that are on offer within this MLM are genuinely liked by it's customers and actually pretty good, which obviously can't be said for a fair few other MLM's out there.
At least now if you do decide to join myEcon you don't have to be too worried about the product line being bad.
==>Click Here To Access My FREE Make Money Online Guide!<==
---
IS MYECON A PYRAMID SCHEME/SCAM?
myEcon is neither a scam or pyramid scheme, it's actually a legitimate MLM that works but, I do have a few problems with it that may deter you from joining.
In terms of the things I like about myEcon, it's affordable to start up, it's been around a while so it's got a lot more credibility than some of the newer MLM's out there and, for the most part the products are actually liked.
The issue I have with this company is not so much the products and so on but more so an issue with the business model it uses. The network marketing model is notoriously difficult to succeed in due to its members needing to recruit tons of people to succeed and of course myEcon isn't an exception to this rule.
Because of this necessity to recruit a lot to be successful, generally around 95% of people are unable to make a decent income with them.
The CV thing regarding the commissions is also pretty bad too nonetheless, even though the lack of transparency makes it hard to accurately point out if you'll succeed within myEcon, going of off other MLM's income statement, I'd say it's pretty unlikely.
All this being said, I still do think it is one of the better MLM opportunities out there due to it's good services and products but, I personally can't really recommend joining myEcon as it's an MLM. If you still want to join though, it's definitely not the worst you could do.
---
MY PERSONAL RECOMMENDATION
I personally will always recommend against using a MLM business model to make money, not because you can't make money through it (you totally can) but, the system has always seemed shady to myself and is kinda synonymous with the likes of a pyramid scheme or scams (MOBE and Digital altitude).
Instead I prefer working with something created through ones own means and is ultimately dependent on yourself and your work ethic alone.
This method I'm talking about is affiliate marketing. 
The reasons as to why I recommend it over MLM based structures are because
– there is no need to recruit constantly
– it is a legitimate method that has been working consistently and continues to grow as more businesses want individuals to promote products
– and because it is free to start up, no unnecessarily large start up funds needed.
The service I recommend is Wealthy Affiliate. It's free to sign up to and will get you set up and ready to start your affiliate marketing journey within minutes, as it did for me when I begun my journey.


If you have any questions that you would like to ask me regarding MyEcon , feel free to do so in the comments section below and I will get back to you as soon as I can. If you have your own thoughts about MyEcon and would like to talk about it, again feel free to do so in the comments.
Thanks
Amhil