It's likely that you have come across iCoinPro through an email list, on social media or got it recommended by a friend or family member.
Is iCoinPro a scam?
Have you been looking at the cryptocurrency market lately and been hearing of bitcoin and other alt coins' rise and fall?
Maybe you recognise that this pattern means that it still is possible to make money with cryptos so getting some training on it as well as making a few extra quid from the MLM side wouldn't hurt right?
First and foremost I must commend you for actually doing a bit of extra research before committing to joining iCoinPro. For all you could have known, the product could be a major scam so the fact you're here right now, researching whether or not that's the case is a pretty smart move on your part.
To be fully transparent with you, I am personally not a member of iCoinPro so I can assure you that I will not attempt to sell you it unless of course it's worth investing in.
What I will aim to do is provide you with an unbiased 3rd party look at iCoinPro that will hopefully help you to make the best decision you can in the end.
---
PRODUCT NAME: iCoinPro
OWNER/S: Paul De Sousa and Justin Clark
TYPE OF PRODUCT: MLM Cryptocurrency Training Platform
PRICE: Choice of 3 subscriptions: $39.95 per month or $229.65 every 6 months or $449.95 every 12 months + $39.95 for the Distributor Fee
SUMMARY: iCoinPro has some good knowledge regarding cryptocurrencies but, in the current day and age I don't see the value in joining a cryptocurrency training program due to how volatile prices can be. I just think it'll be too hard to make money with crypto trading alone nevermind from the recruitment aspect too from it being an MLM company. Because of how truly unlikely it is you'll make anything worth while from iCoinPro just puts me in a position to tell that it probably isn't worth joining.
FINAL RATING: 1.2/5
RECOMMENDED: NO

---
WHAT IS ICOINPRO?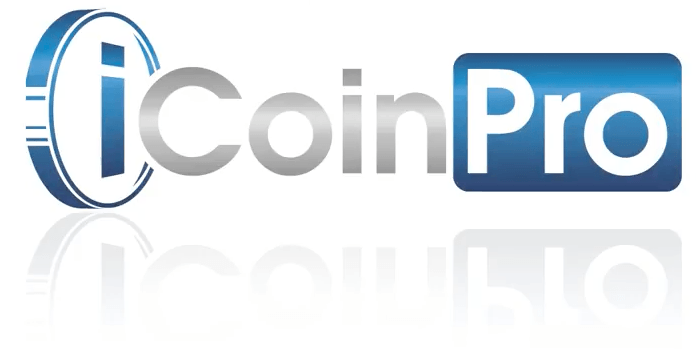 There was a moment in the end of 2017 and beginning of 2018 where it seemed cryptocurrencies were jet set on getting to the moon, thousands of people invested money on certain block chain technologies (myself included) in hopes of making some decent bucks in the process.
Paul De Sousa and Justin Clark both saw an opportunity in this space and in turn decided on creating a training program to teach people about cryptocurrencies and how to invest in them. However, unlike normal training programs, they decided that maybe an MLM based commission plan may fit their ideal business best.
I honestly can't say that the choice they made in doing so was a good thing but this isn't about me, this review post is for you to make your ultimate judgement in the end.
==>Click Here To Access My FREE Make Money Online Guide!<==
---
WHAT DO YOU GET IN ICOINPRO'S MEMBERS AREA?
So iCoinPro is an MLM cryptocurrency training program which means that everything found within iCoinPro will be video tutorials and pdf guides at most.
Core Training 
This basic/core training that you'll be given access to will have 20 different modules, these will cover the introduction of cryptocurrencies, what ICO's are, the benefits of cryptocurrency wallets etc.
This picture shows what is covered within the core training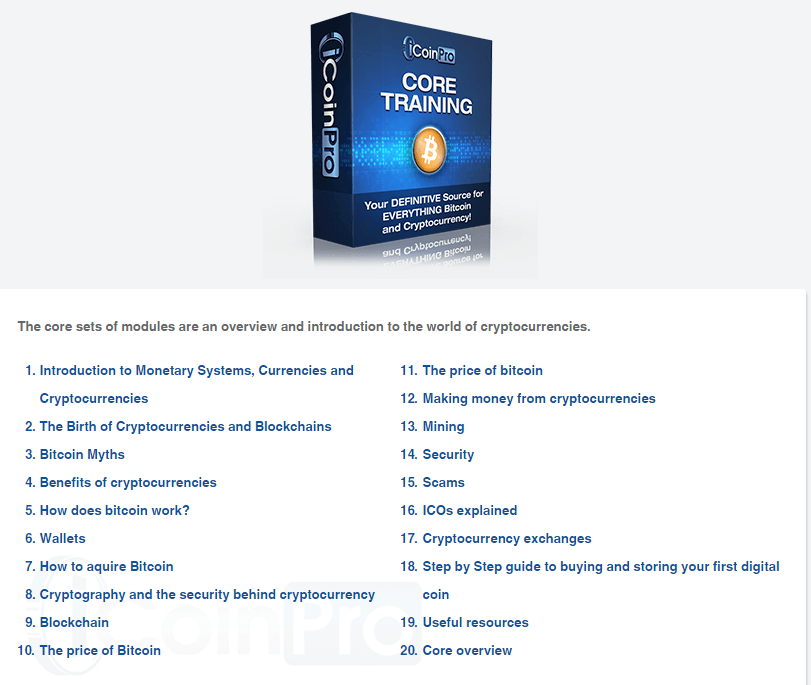 Advanced Training 
After the basic training has been covered, you will then be moved into the advanced training. The advanced training will cover some of the more technical aspects of cryptocurrencies such as what blockchain technology is as well as a more in depth look at some popular cryptocurrencies within the market.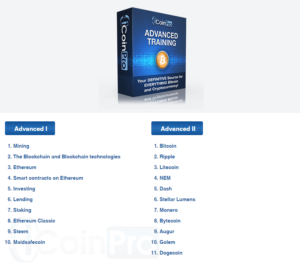 Micro Profits System
The third thing that you will also receive within iCoinPro is their micro profits systems. This systems aim as the name suggests is to use certain strategies to build up your crypto portfolio income by making less volatile and more secure smaller gains when trading cryptos.
If followed to the tea and with the help of someone good at predicting the market, these small profits will definitely have the potential to exponentially grow over time but obviously getting to making the big bucks will rely on you being very disciplined in your approach.
Weekly Webinars
Beyond the normal crypto training, there will also be two tutorial webinars on a weekly basis teaching you about cryptos and essentially aiming to keep you up to date with knowledge regarding cryptos.
In my opinion I see the potential behind cryptos and blockchain technology in general but, what I can't completely get behind is that other fairly new people themselves within the crypto scene trying to teach others about how to make money with an insanely volatile and bubble like space.
I personally feel that the training may be pretty decent but the overall purpose, which is to help you make money trading cryptos isn't going to be achieved very easily if at all but that's just my two cents.
Find Out How 100's Of People Are Making A Full Time Using The Method Taught In My #1 Recommendation
---
HOW DO YOU MAKE MONEY THROUGH ICOINPRO?
As is the case with pretty much all MLM products out there, you will find that there are 2 ways through which you can make money through iCoinPro
1. The first method is by directly selling the training to other individuals and in return make a commission for the sales
2. You make money through your recruits and downline, by getting residual income by following and meeting certain criteria as well as make money through bonuses and incentives due to meeting company set goals.
In this case you can also say that you can make money through trading cryptos as well but I feel due to its volatility and the lack there of a consistent looking income, I won't include it as a way to make money through iCoinPro (although technically you can make some money in this manner).
---
HOW TO GET STARTED
As is the case with all MLM companies and products in general, you'll need to pay certain fees.
In iCoinPro's situation in order to access all of the training material and tid bits within the members area, you'll also be required to pay a fee. There are actually 3 ways you can go about praying these fees:
1. The first is a monthly subscription fee at $39.95 per month 
2. The seconds option is a 6 month membership fee which will cost you $229.95
3. The final method of payment is a yearly payment plan which will set you back $449.95 per year
On top of this in order to be eligible to distribute iCoinPro to others for your own retail benefits you will also need to pay a one time fee $40
The course isn't really something I'd consider expensive, it's more akin to a monthly subscription to a service that has regular information updates in the form of weekly webinars.
At the yearly price I don't think the course material is the most expensive out there, even if you didn't want it for a year, you can just sign up for a month, learn as much as you can and leave so worst case scenario you may have wasted 40 bucks.
Although bad, I can't say that this is the worst situation possible.

---
COMPENSATION STRUCTURE
The course is what in my eyes appears to be the main attraction for iCoinPro however, I'm sure that the MLM business structure and the compensation structure may be another reason why someone may want to join too.
There are 4 ways through which you can make money through iCoinPro:
1. Powerline Commissions
The first method is something iCoinPro coins as Powerline commissions. These commissions are given out when affiliates and retail customers purchase the monthly subscription.
What this does is place them in a straight line queue. This straight line queue actually gets filled up whilst retail customers and affiliates both continue purchasing the subscription.
The commission rate is 3% for every person who subscribes within your straight line queue. This equates to roughly $1.20 per customer and is paid out on a monthly basis.
2. Fast Start Bonus 
This is a bonus commission that is paid out for every person that you refer to iCoinPro.  The image below explains how much you get paid for this within each level.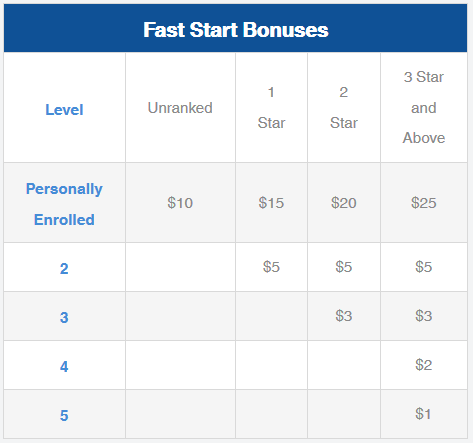 3. Residual Commissions
These commissions are paid on a 2×14 matrix compensation plan. This matrix or downline as I more commonly refer to it as is consistent of members that you have personally referred as well as whom your referrals have had join iCoinPro.
The residual income that you will receive within this matrix ia is a 2.5% commission. This isnfrom every one within your matrix whether it be you or someone else within your matrix who has referred someone.
As there are ranks distinguishing members within iCoinPro, it's worth noting that unranked individual only have a matrix 10 levels deep, 2 star members earn on 12 levels whilst 3 stars can earn the 2.5% on all 14 levels.
Although the 2.5% may look small from a distance, when you look at the whole prospect at a birds eye view it's pretty easy to see the potential. However, recruiting isn't something that's easy to do so I doubt many will ever maximise their residual commissions.
4. Matching Bonus
A matching bonus is a bonus commission you recieve dependant on how much your referrals are making. So the more money your referrals make, the larger the commission you'll receive from your recruits.
Once again this is another area where recruitment skills will be the difference between making nothing to making a full-time income.
This image breaks down the percentage you'll be eligible for in regards to your matched bonus. Of course as should be the case the better your rank the better your commission.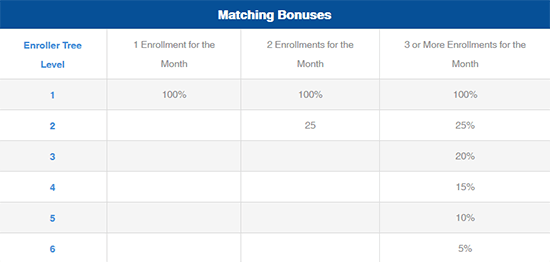 For a more in depth look into the compensation plan check outh the video below

---
THE NOT SO GOOD THINGS
Cryptocurrencies Are Way To Volatile To Invest In? 
One of the main reasons I wouldn't even bother investing in this training and in turn trading crypto is because of how volatile the whole market is.
Right now even, it's going through a make or break phase and although I do see potential in cryptos and the block chain eco system, I'd highly recommend against trying something soo risky when you have access to other less risky money making practices such as through the training found within my #1 recommendation. 
No Income Disclosure
iCoinPro don't have an income disclosure form which probably means that their members aren't doing as well as is probably advertised. In my research of reviewing multiple MLM companies, I have found out that pretty much every time, even with an income disclosure present, that less than 1% of people are actually doing well.
By doing well I mean making $1000+ a month which isn't that much but I'd say is reasonable amount to be making.
Just through my own judgement and the case studies of companies like Isagenix, LuLaroe, Ds Domination etc. It's quite clear to me that you likely won't succeed either.
High Emphasis On Recruitment
Just from the way the compensation plan is structured and the commissions and bonuses you're eligible for, it looks to me like iCoinPro have a fairly high emphasis on recruitment.
I guess you could say the same applies to all MLM companies out there but the difference is that iCoinPro only really sells a digital products just like 25 dollar 1up and no physical products like Market America, Javita etc.
When a company is only selling digital goods, it usually has an air of a pyramid scheme in disguise to it. I believe MOBE and Digital Altitude also only sold digital products and were in turn shut down by the FTC, iCoinPro seems to be in a similar kind of bracket to these two.
Wouldn't it have made more sense being an affiliate program instead of an MLM company? To me it just seems like a better way to promote the subscription service over an MLM business.

---
THE GOOD THINGS
Weekly Webinars Meaning Updated Regularly
The fact that iCoinPro has regular updates to the crypto knowledge they provide to their audience in the form of a weekly is a pretty cool thing that's being done.
At least by doing these weekly webinars we know that iCoinPro cares about providing quality training to its members as opposed to just putting a product onto the market and never updating it.
==>Click Here To Access My FREE Make Money Online Guide!<==
---
IS THE PRODUCT A PYRAMID SCHEME/SCAM
No I do not believe that iCoinPro is a scam or a pyramid scheme. It may have some elements that could lead you to assume that a pyramid scheme is being run but from the research I've conducted on it, it doesn't seem like it is.
The yearly subscription fee isn't super expensive and the weekly webinars are a nice little addition but, in my opinion the whole crypto scene just isn't a good place to go right now so I can't really recommend it. The fact that it is also an MLM opportunity also bugs me a little too as they tend to have an extremely high failure rate.
So if both the crypto side and the MLM sides fail, you'll be looking at a sizeable loss overall which is why I'd recommended against becoming an iCoinPro member.
---
MY PERSONAL RECOMMENDATION
I personally will always recommend against using a MLM business model to make money, not because you can't make money through it (you totally can) but, the system has always seemed shady to myself and is kinda synonymous with the likes of a pyramid scheme or scams (MOBE and Digital altitude).
Instead I prefer working with something created through ones own means and is ultimately dependent on yourself and your work ethic alone.
This method I'm talking about is affiliate marketing. 
The reasons as to why I recommend it over MLM based structures are because
– there is no need to recruit constantly
– it is a legitimate method that has been working consistently and continues to grow as more businesses want individuals to promote products
– and because it is free to start up, no unnecessarily large start up funds needed.
The service I recommend is Wealthy Affiliate. It's free to sign up to and will get you set up and ready to start your affiliate marketing journey within minutes, as it did for me when I begun my journey.

If you have any questions that you would like to ask me regarding iCoinPro, feel free to do so in the comments section below and I will get back to you as soon as I can. If you have your own thoughts about iCoinPro and would like to talk about it, again feel free to do so in the comments below!
Thanks
Amhil