It's likely that you have come across Snowball Profits through an email list, on social media or got it recommended by a friend or family member.
Welcome to my Snowball Profits review!
The prospect of making $8000+ a month definitely seems appealing and I can see why you'd be both intrigued and skeptical about such a prospect, I know for sure that I am.
Membership websites or services definetly do have a lot of potential and have made many people very rich (Netflix, amazon, even your local gym) so training on how to make a website that could can make you reccurring monthly earning looks very very appealing right?
But let's be real here, there's probably more to the story here than you are aware of.
First and foremost I must commend you for actually doing a bit of extra research before committing to purchasing Snowball Profits. For all you could have know, Snowball Profits may very well be a scam and rob you of your money so this review could help you suss out anything peculiar about it
To be totally transparent with you I don't own Snowball Profits so I can assure you that I will not attempt to sell you this product unless of course it's worth investing in.
What I will aim to do is provide you with an unbiased 3rd party review of Snowball Profits that will hopefully help you to make the correct decision in the end.
---
PRODUCT NAME: Snowball Profits
OWNER/S: Michel Sirois & Reed Floren
TYPE OF PRODUCT: Creating Membership Websites Training
PRICE: $17
SUMMARY: Snowball Profits is a fairly average course without too many things inside that you can't find on Youtube for free. It seems that most of the real knowledge is locked behind an upsell named Advanced training and at $197 for that, I don't know if it'll be worth spending you're money. I'd recommend something else as at best Snowball Profits is an average training course.
FINAL RATING:1.7/5
RECOMMENDED: NO
---
WHAT IS SNOWBALL PROFITS?
Snowball Profits is a training guide created by Michel Sirois & Reed Floren. There intention is to teach you a way in which it'll be possible for you to make heaps of money, we're talking $8000+, as long as you implement the training that they teach you.
However, although it's supposedly it can make that kind of money, Snowball Profits also claim that it isn't going to be an easy thing to accomplish ; fair play to the owners for not trying to insinuate making lots of money online is easy because at least  at present times, it definetly isn't.
==>Click Here To Access My FREE Make Money Online Guide!<==
---
WHAT IS THE TRAINING WITHIN SNOWBALL PROFITS?
Once you have paid the upfront fee you will be taken into the members area where you will be given access to 7 of their modules. These tutorials will be presented to you as an over the shoulder video format. The modules you'll receive within the training are the following:
Module #1 Determining The Membership Site You Want: This tutorial aims to teach you and go over the 5 types of membership models you can use to mold your site around.
Module #2 Your Membership Skeleton Cheat Sheet: This is essentially a cheat sheet that shows you the road blocks to start the foundation of your membership site
Module #3 Recommended '1 Time Offers': Module 3 will disclose some of the recommended upsells that you should invest in, in order to better your experience and knowledge before you start making your membership site. 
It may be useful but it is also essentially a promotional video for some of the upsells within Snowball Profits, it's probably worth skipping as it won't really add much value. 

Module #4 Hack To Use When Making Video Presentations In Your Member Area : This area within the training will teach you how to copy the transcript of any YouTube videos you make and placing the text underneath the video
Module #5 Creating A 'Menu' Bar, Your 'Member Area' : This training will teach you how to create menu bars from the back office of your WordPress websites. It also states that you're allowed to copy Snowball Profits layout if you really want to do so.
Module #6 Payment Processing & Affiliate Program Set-Up : This tutorial will aim to give you the knowledge in using Warriorplus as your middle man website to deliver your product as well as teach you how to make an affiliate program using Warriorplus for your website.
Module #7 Tracking And Traffic: The final module within the training will teach you to get traffic to your website. It appears that their method of choice is solo ads, which certainly does have potential but can also really dig a hole in your wallet.if you're not careful or smart about how you do things.
So yeah that's all the training you'll receive within the upfront product Snowball Profits has to offer and from what I can see, besides the fact membership sites may be a little complicated to create, most of the other trainings are really just talking about the basics of building a website in general.
If you want to build a website and attempt to make a membership site on your own, besides maybe the difficulty of finding good training on solo ads, you could literally learn everything from free sources.
I don't know about you but, to me it seems pretty obvious that the basic training guide they offer isn't the main attraction within this course, the third module literally trys to upsell you on what Snowball Profits would consider their headline packages.
Snowball Profits actually has a massive 6 upsells so just from that you should be able to see their strategy. These are the Upsells that they are selling:
Upsell #1 $27 – 45 Done For You email swipes
Upsell #2 $47 – 30 High Ticket email swipes 
Upsell #3 $67 – 1,500 PLR/MRR products
Upsell #4 $97 – Resellers License
Upsell #5 $197 – Advanced training
Upsell #6 $1 – Easy Profits Makers 
I don't really know the true value of these upsells but considering they're within the program and how more or less all of them cost more then the upfront training provided, they must be somewhat decent right?
Honestly I don't think that most of these will really be of much benefit, maybe the advanced training maybe be beneficial but that will set you back $200.
If you do decide to go for the advanced package, judging by the quality of the basic training, you may not like what it teaches you and again be disappointed on how easily you could potentially learn it through free sources.
Once again I can't give a true verdict on this matter but I'd still recommend avoiding the upsells.

---
IS SNOWBALL PROFITS A GOOD TRAINING COURSE?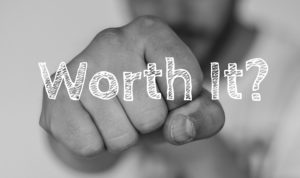 This area is debatable, to me the training seems to be very generic and basic and as I have mentioned already it's probably something you could find for free on youtube or another service that actually offers a free trail. 
I do see potential in membership websites but would I recommend a complete beginner to start one? Honestly I wouldn't as it will require a lot more work and interacting with your customers to a stage where it could become overwhelming.
$8000+ a month through this model is definetly possible heck even $100k+ is possible but the fact the training is basic and that Snowballe Profits is pretty much an upsell for their other products and their own membership site, at best I'd regard the training as average.
Find Out How 100's To 1000's Have Made A Full Time Living Using The Methods Taught In My #1 Recommendation… If You Want To Learn Their Stratergies, Click This
---
THE NOT SO GOOD THINGS
The Training Is Very Average 
I've stated this a few times within the review but the training that you receive within Snowball Profits is generally focused on the realms of building a website.
Honestly if you do a little bit of research on how to start up your first website you'll find that learning how to build a website is essentially free anyways. In reality the only thing that may be worth buying the course for the training on solo ads.
But even with that you could probably search on YouTube on how to use them and you should at least have a basic grasp on them.
At best the training you'll receive within Snowball Profits is average if not sub par and of course, I'd even say learning how to build a membership site definitely isn't worth doing as a beginner. Maybe if you gain some success elsewhere first, a membership site may be fine to look into but for the meanwhile I'll suggest you look elsewhere.
They Really Just Want To Make Money Of The Upsells 
Another thing I definitely dislike is that they just want to sell you their upsells because that's where the profits are for them. Even within one of the basic training videos, Snowball Profits has a video dedicated to promoting a couple of their products.
I understand if they want to make as much money as possible but, atleast have a training primarily dedicated to teaching the course instead of dedicating a video to promoting their other products. I guess that's what the advanced trainings for but I can't say much about that specific course as I don't really have much knowledge on it.
No Money Back Guarantee
They don't have a money back guarantee meaning if you don't like the product you'll have to deal with it. I'm always of the belief that a money back guarantee for both cheaper and expensive products should be common place so the lack of it here might annoy you.
It definitely kind of annoys me.


---
THE GOOD THINGS
There honestly aren't many things if at all that I would describe as good withim Snowball Profits, in general I'll have to say it's average and it does get you going and teach you a few necessary tips to get going.
The Price 
This is pretty much the only thing that I can say is good for certain about Snowball Profits. At $17 you're not paying an arm and a leg for a course unlike affiliate marketing mastery but at the same time you're also not quite getting the same quality of training as affiliate marketing mastery too.
At 17 bucks I'd say the price is fairly cheap, it doesn't mean that I recommend you buy it though.
==>Click Here To Access My FREE Make Money Online Guide!<==
---
IS SNOWBALL PROFITS A SCAM?
No Snowball Profits is not a scam, it is a legitimate training course that does have some helpful things within it however, from what I have researched, it doesn't provide a high enough value for you to purchase it.
I mean the things it teaches minus a couple of things are very simple things you coul learn on Youtube alone so, even at the fairly cheap offering of $17 I just don't think it's the right investment for you.
Creating a Membership site in general is something I don't think you should delve into quite yet, as it may involve dealing with a lot more stress than you'd like especially as a newbie.
If on the other hand you aren't a newbie within Internet marketing and have already seen some good success online, Snowball profits might give you some decent knowledge to play around with.
But if you aren't an experienced Internet marker, instead I'd recommend you check out my #1 method in making money online…
---
MY PERSONAL RECOMMENDATION
I'd suggest you check out my personal recommendation if you still want to make money online, though I'll warn you right now, it isn't something through which money will come very easy.
It is nonetheless a great business model for the online space in my opinion
So what is this method that I'm talking about?
This method I'm talking about is affiliate marketing. 
The reasons as to why I recommend it over Snowballs Profits is because
– expectations toward success are a lot more grounded
– it is a legitimate method that has been working consistently and continues to grow as more businesses want individuals to promote products
– it is a very scalable business
– and because it is free to start up, no unnecessarily large start up funds needed.
The service I recommend is Wealthy Affiliate. It's free to sign up to and will get you set up and ready to start your affiliate marketing journey within minutes, as it did for me when I begun my journey.


If you have any questions that you would like to ask me regarding Snowball Profits, feel free to do so in the comments section below and I will get back to you as soon as I can. If you have your own thoughts about the course and would like to talk about it, again feel free to do so in the comments below!
Thanks
Amhil