Welcome to my Commission Shortcut review!
It's likely that you have come across Commission Shortcut through an email list, on social media or got it recommended by a friend or family member.
First and foremost I must commend you for actually doing a bit of extra research before committing to purchasing or joining Commission Shortcut. For all you could have known, Commission Shortcut may very well be a scam and rob you of your money so this review could help you find anything peculiar about it.
To be totally transparent with you I haven't used Commission Shortcut so I can assure you that I will not attempt to sell you on it unless of course it's worth investing in.
What I will aim to do is provide you with an unbiased 3rd party review of Commission Shortcut that will hopefully help you to make the correct decision in the end.
---
PRODUCT NAME: Commission Shortcut (Cs)
OWNER/S: Glynn Kosky
TYPE OF PRODUCT: done for you system
PRICE: $39.95 + upsells
SUMMARY: I personally don't consider CS to be a scam because firstly the actual vendor of the product does show up and it may have some decent content within it's members area however, I also can't reccomend that you buy it either.
This is because the overhyped and unrealistic expectations along with the really expensive overall price of the product don't make it a very appealing system to buy in my eyes.
FINAL RATING: 1.5/5
RECOMMENDED: NO


---
WHAT IS COMMISSION SHORTCUT?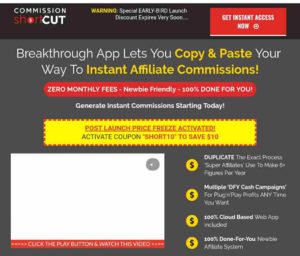 When I landed on Commission Shortcut's sales page, the first thing that stuck out to me was the headline that was being used to promote whatever was being offered. The headline stated that a breakthrough app can help you copy and paste your way to instant affiliate commissions…
The fact it tries to tell you that copy and pasting can result in you getting instant results, comes off to me as something that's trying to sell you on unrealistic hype but, I didn't want to judge the whole system from my first impressions so, I decided to take a deeper dive to see exactly what CS offered.
The landing page seems to make quite a lot of get rich quick scheme like remarks and how it's super easy to make $200 – $300 daily by just copy and pasting what's being offered or using the done for you campaigns.
Glynn Kosky claims that by using his app, you can achieve upto 6 figures a year and not need to worry about creating content or spending a lot of time figuring out what to do but, instead become a super affiliate in record time.
Although I can agree that affiliate marketing can be very profitable, a lot of what's being said here is just trying to hype up CS for being a tool that can help you "get rich quick."
There are elements within the landing page that are true, such as promoting products that are genuinely great and using bonuses, to an extent, to entice buyers to buy an affiliate offer you're promoting.
However, a lot of things said and marketed within the sales page make it look like this app is the answer to pretty much getting rid of doing all the work that comes with affiliate marketing.
There is no done for you system that can help a newbie in the affiliate realm achieve results "fast" like CS is trying to sell you which is why, atleast within the landing page, CS doesn't come off as being worth your time
I've reviewed a lot of products on this website such as :
Which is why I believe I have a pretty good grasp on what makes a solid system to invest in.
==>Click Here To Get Access To My FREE Make Money Online Guide!<==
---
HOW DOES COMMISSION SHORTCUT WORK?
From what I have gathered, it supposedly provides you with done for you assets whether it be campaigns and other stuff, which you can use to grow your own affiliate marketing business and inadvertently become a super affiliate making 6 figures or more within a relatively short period of time…
When a product tries to make you believe it's super easy to make lots of money with it, that's usually when my red flags light bulb tends to light up.
CS claims that you need to follow 3 easy steps to make passive income daily, they include :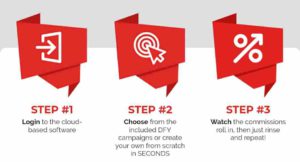 Login to the cloud based software
Choose from their included done for you campaigns or create your own from scratch, supposedly in seconds
And lastly watch the commission roll in and rinse and repeat.
I understand that affiliate marketing, in general, is a very simple concept but CS makes it seem like you can literally put in like 10 minutes of work and get to a position where money is just flowing into your bank account, like a magic button that once pressed can start making you money beyond your wildest dreams.
I mean come on, really..?! Do you honestly belive that pushing a couple buttons will suddenly help you achieve financial goals that so many people work tirelessly to achieve?
Okay firstly, I do want say that it is definitely possible to make money online, in fact making 6 figures if not 7 figures is certainly achievable however, you've got to consider online marketing much like an offline business, in the end of the day making money through affiliate marketing or freelancing is going to be a lot harder if you just consider it a hobby.
You've got to understand that making a full time income online will take time, it can be anywhere from 6 months to 2 years before you'll see the thousands of dollars that you want to achieve and probably a few more years to see 5 or even 6 figures on a monthly basis.
The bottom line hear is that CS is just promising you unrealistic things in hopes of getting you invested in it. Even if in the off chance the campaigns are actually decent, you've still got to be willing to invest cash to run them so there's a lot of financial risk you'll be taking if you bought into the hype.
Beyond just the front end package at $39.95, you'll probably also have to purchase a bunch of upsells too. In fact there are 6 different upsells in the members area that add upto between $632 – $942 and this is without the price of the front end package included therefore, do expect to pay a lot more money if you want to learn everything.
Of course this isn't very surprising considering how much hype the landing page has.


---
WHO IS COMMISSION SHORTCUT FOR?
CS may provide some decent value in it's members area however, in my perspective it does seem like a bit of a stretch considering the way it tries to market itself as being an easy and quick way to make money online.
The vendor himself may be able to make some decent money through what he's doing but, it's quite easy to see how's he's bringing in $100+ days when this product alone can cost at the very minimum, $700 for everything.
Of course, even in terms of affiliate marketing training I don't think it's the greatest place to start which is why I personally don't think it's all that great and not something beginners should go to if they want learn how to make money online.
Are You Tired Of Working For A Boss? If So Why Not Take Your Job Into Your Hands And Work For No One But Yourself… If You Want To Do This Check Out My #1 Recommendation
---
THE NOT SO GOOD THINGS
Overhyped And Unrealistic Expectations
The sales page, as I've said many time within this review, tries to make you believe it's possible to make 6 figures a year by just copy and pasting, using a done for you system and so on when in reality this just isn't true.

I can admit that clicking a button (to an extent) may work for Glynn but as a beginner within affiliate marketing, having your expectations as high as CS makes it will leave you sorely disappointed when you find out that it's just not how online business work .
Sucess takes time, actual work ethic and is highly unlikely to be achieved through copy and pasted campaigns.
Moreover, if you do decide to try out the campaigns, it'll also cost you fair bit of money to run them so, if you're not up for spending more money on ads and doing some more advanced Internet marketing strategies, CS probably isn't going to be the right fit for you.
Really Expensive Upsells
Although the front end package isn't insanely expensive, the upsells on the other hand add up to be very much so. You'd be looking to spend atleast $700 just so you can get access to everything, which isn't something that anyone can scoff at.
Although upsells themselves aren't inherently bad, the fact it ultimately costs around 20x the value of the front end package can be argued as being somewhat of a cheap move (ironically).
All in all this isn't bad per say but, the truth is that there are definetly better value for money affiliate marketing training courses out there which include everything within a monthly fee instead of being locked behind multiple pay walls so, if you do decide to invest in CS, it definitely wouldn't be the best choice you could make.

---
THE GOOD THINGS
Affiliate Marketing Is Legit
The fact affiliate marketing is a legit way to make money online is a good aspect in my opinion and although I don't necessarily recommend you purchase CS, the fact it does utilise affiliate marketing is something that I will give the vendor credit for.
30 Money Back Guarantee
Another positive is that because CS is a jvzoo product, it's highly likely that the money back guarantee will be honoured so, if you don't like what you see on the inside, you can always apply for your money back without too much of a hassle.
==>Click Here To Get Access To My FREE Make Money Online Guide!<==
---
IS COMMISSION SHORTCUT A SCAM?
I personally don't consider CS to be a scam because firstly the actual vendor of the product does show up and it may have some decent content within it's members area however, I also can't reccomend that you buy it either.
This is because the overhyped and unrealistic expectations along with the really expensive overall price of the product don't make it a very appealing system to buy in my eyes.
---
MY PERSONAL RECOMMENDATION
I'd suggest you check out my personal recommendation if you still want to make money online, though I'll warn you right now, it isn't something through which money will come easy.
It is nonetheless a great business model for the online space in my opinion
So what is this method that I'm talking about?
This method I'm talking about is affiliate marketing. 
The reasons as to why I recommend it is because:
– expectations toward success are a lot more grounded
– it is a legitimate method that has been working consistently and continues to grow as more businesses want individuals to promote products
– it is a very scalable business
– and because it is free to start up, no unnecessarily large start up funds needed.
The service I recommend is Wealthy Affiliate. It's free to sign up to and will get you set up and ready to start your affiliate marketing journey within minutes, as it did for me when I begun my journey.


If you have any questions that you would like to ask me regarding CS, feel free to do so in the comments section below and I will get back to you as soon as I can. If you have your own thoughts about CS and would like to talk about it, again feel free to do so in the comments below!
Thanks
Amhil