Welcome to my Online Innovations review!
It's likely that you have come across Online Innovations through an email list, on social media or got it recommended by a friend or family member.
First and foremost I must commend you for actually doing a bit of extra research before committing to purchasing or joining Online Innovations. For all you could have known, Online Innovations may very well be a scam and rob you of your money so this review could help you find anything peculiar about it.
To be totally transparent with you I haven't used Online Innovations so I can assure you that I will not attempt to sell you on it unless of course it's worth investing in.
What I will aim to do is provide you with an unbiased 3rd party review of Online Innovations that will hopefully help you to make the correct decision in the end.
---
PRODUCT NAME: Online Innovations
OWNER/S: Teo Vee
TYPE OF PRODUCT: dropshipping course
PRICE: $97 + upsells
SUMMARY: This depends on what you consider to be a scam, technically OI does offer a real product that may prove useful to you but, in my opinion the red flags that it displays kind of sway my thoughts of OI to be more in line with a scam than something that's worth investing in.
Overhyped sales page, the fake testimonials, the really expensive upsells and business and the fact that OI is basically a front for Teo's actual product, my ecom club, make it hard for me to comfortably recommend that you purchase it.
FINAL RATING: 1/5
RECOMMENDED: NO


---
WHAT IS ONLINE INNOVATIONS?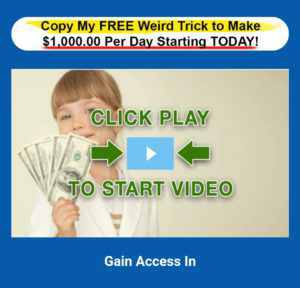 The second that I landed on Online Innovations landing page, it instantly reminded me of a couple scams that I've reviewed quite recently but, I didn't want to jump to conclusions right off the bat that's why I also decided to take a deeper dive and look into what the program actually offered.
Watching the sales pitch, I realised that this was another Teo Vee product which also meant that this whole sales pitch was just another front, which I'll discuss in more detail a little later.
Anyways, in the last 2 months I've come across multiple Teo Vee landing pages such as Broken Dishwasher, Ecom Cash code etc. that have been doing and using very similar sales pitches to try and entice people to join.
The headline above saying how "this free weird trick can make you $1k starting today" already came off as a get rich quick like scheme but, the sales video really went above and beyond this trying to entice you into joining.
You're shown these testimonials (fake ones which I'll prove later in the review) where people are claiming to be making $5k a month or what not using the system.
This is before Teo recites his typical rags to riches story, it's something that I've seen happen a million times and definitely doesn't make a product any more legitimate when rags to riches stories like Teo'a are told.
After the sob story, Teo explains that all you need to do in order to make money with his system is by putting in his special "ecom cash code", select go and everything should start working on its own, no computer skills or technical skills needed, OI is essentially marketed as a click and go get rich quick system.
I've reviewed a lot of products on this website such as :
Which is why I believe I have a pretty good grasp on what makes a solid system to invest in.
==>Click Here To Get Access To My FREE Make Money Online Guide!<==
---
HOW DOES ONLINE INNOVATIONS WORK?
OI is only designed to make you sign up to a different program called my ecom club but in terms of the general premise, Teo Vee says that you need to
Find a website you're interested in
Plug in the Ecom cash code
Hit go, Sit back, relax and watch the code do its thing.
This is a very simple procedure and just based of off its simplicity,  a lot of people probably are going to be drawn to it but, it's very unlikely to be as simple as just plugging in a code to make a hundred dollars or even a thousand bucks through a done for you, automated system.
Just to clarify if you didn't know, the method that OI or my ecom club (whatever you want to call it) uses is called dropshipping, which is a genuine way to make money online however, it's not something that can so easily be automated as a beginner.
If you don't know how dropshipping works, the basic premise is that first you find a niche that you want to focus on like wolf mugs or penguin pendants, you then source these products from third party retailers like Alibaba, aliexpress etc, create a website that sells the products you've chosen, run ads for your store and hopefully generate sales.
For a better look at how dropshipping works, check out the video below.
Although you can make money using dropshipping, it's definitely not as easy as Teo would make you believe. The truth is that there is a lot of things you'll need to deal with and a lot more money that you will need to spend once you buy the course.
You've got to have a a decent bank to fund your advertising needs, you'll need to purchase a shopify membership, you'll also need to learn how to deal with customers and probably a bunch of other things that's come with dropshipping. I doubt a code will be able to simplify this process.
The Upsells
Along with purchasing the $97 front end package, you'll likely be spending more on the upsells because they're probably going to cost well over $1k each.
That's a massive investment that you may naively make if you were to join my ecom club. Even if the packages did turn out to be great, the fact there are multiple upsells worth $1k+, it definitely doesn't seem like eveything that you'd need to know would be in one package.
Besides, the overhype is also a major red flag that leads me to believe that the product isn't as good as it's made out to be.


---
WHO IS ONLINE INNOVATIONS FOR?
From what I've seen of this product and from my previous experience with the other rehashed landing pages that it has and the red flags (which I'll discuss in a bit) it shows, makes it pretty hard for me to consider that it'll be beneficial to anyone.
That's why I personally don't think OI is for anyone therefore, you should skip it.
Are You Tired Of Working For A Boss? If So Why Not Take Your Job Into Your Hands And Work For No One But Yourself… If You Want To Do This Check Out My #1 Recommendation 
---
THE NOT SO GOOD THINGS
Overhyped And Unrealistic Claims
The sales pitch and a lot of what's shown on OI's landing page does show quite a few elements of overhype. The headline alone is quite overhyped claiming that you can make $1k on the day you start.
The video pitch goes on to show multiple testimonials from people who claim to be making thousands daily and so on. There's no denying that Teo is trying to sell you unrealistic expectations, making you think that it's possible to make lots of money at the click of a button, which obviously isn't realistic at all.
Businesses, whether online or offline, all take effort and time to see results, even if online businesses do have the potential of seeing success a lot quicker than brick and mortar establishments, in general, the average person will likely take a fair bit of time before they start generating good money, or they'll invest a lot of money to hopefully see results quicker.
All in all, I think this unrealistic expectations and overhyped nature of OI is something that I personally consider to be a red flag.
Fake Testimonials
This is probably the biggest red flag out of the bunch, the truth is that the testimonials being shown in the video are not real, they're actually just people, that Teo has probably paid to read a script, from fiverr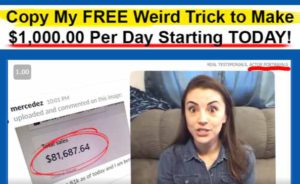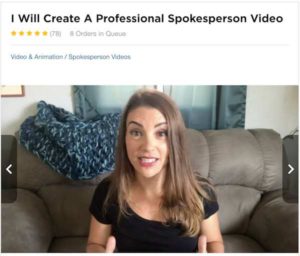 This is something that so many scam products I've reviewed tend to do and it's blatantly obvious why I consider fake testimonials to be a red flag and a big reason as to why you should probably skip out on OI.
It's Very Expensive!
The upsells as well as all the other elements that OI promotes, is a lot more expensive that you may have initially thought. You'll have to pay for shopify on a monthly, have a decent amount for your advertising costs as well the right training to show you how everything is done.
This could easily cost you a few thousand within a year even if dropshipping doesn't necessarily require you to have any stock, of course this probably will be evened out by any profits you make so the advertising costs probably won't be horrible however, the other costs may start to add up over time.
I don't consider this element to be the worst section, although the upsells that OI sell are way too overpriced, it's still worth taking note of.
It's A Landing Page For A Different Product
I've reviewed multiple different variations of this Teo Vee product such as Ecom Freedom Blueprint, ecom cash code, broke dishwasher and I'm sure there are a few other ones too but, the common factor between all of these landing pages is that they all point towards another program called My Ecom Club.
I can understand why Teo is creating a multitude of different landing pages for my ecom club but, the fact that he is actually doing so proves that maybe my ecom club isn't the most reliable of systems to look into.
I mean if it were actually reliable, why would there be so many different named landing pages for the some product right?
So yeah, to me this is a red flag and a big reason to skip OI.

---
THE GOOD THINGS
Dropshipping Is A Legit Business Model
The only good thing that I can say about OI is that the methods it teaches or tries to teach you is a legitimate online business model and it does work, a friend of mine has actually manged to make it work however, doing so didn't happen by just pushing a button.
The bottom line is that dropshipping is legitimate and making good money through it is also possible however, I personally don't believe OI is the right place to learn it from.
==>Click Here To Get Access To My FREE Make Money Online Guide!<==
---
IS ONLINE INNOVATIONS A SCAM?
This depends on what you consider to be a scam, technically OI does offer a real product that may prove useful to you but, in my opinion the red flags that it displays kind of sway my thoughts of OI to be more in line with a scam rather than something that's worth investing in.
Overhyped sales page, the fake testimonials, the really expensive upsells and business and the fact that OI is basically a front for Teo's actual product, my ecom club, make it hard for me to comfortably recommend that you purchase OI.
---
MY PERSONAL RECOMMENDATION
I'd suggest you check out my personal recommendation if you still want to make money online, though I'll warn you right now, it isn't something through which money will come easy.
It is nonetheless a great business model for the online space in my opinion
So what is this method that I'm talking about?
This method I'm talking about is affiliate marketing. 
The reasons as to why I recommend it is because:
– expectations toward success are a lot more grounded
– it is a legitimate method that has been working consistently and continues to grow as more businesses want individuals to promote products
– it is a very scalable business
– and because it is free to start up, no unnecessarily large start up funds needed.
The service I recommend is Wealthy Affiliate. It's free to sign up to and will get you set up and ready to start your affiliate marketing journey within minutes, as it did for me when I begun my journey.


If you have any questions that you would like to ask me regarding OI, feel free to do so in the comments section below and I will get back to you as soon as I can. If you have your own thoughts about OI and would like to talk about it, again feel free to do so in the comments below!
Thanks
Amhil