Welcome to my The Fearless Momma review!
It's likely that you have come across The Fearless Momma through an email list, on social media or got it recommended by a friend or family member.
First and foremost I must commend you for actually doing a bit of extra research before committing to purchasing or joining The Fearless Momma. For all you could have known, The Fearless Momma may very well be a scam and rob you of your money so this review could help you find anything peculiar about it.
To be totally transparent with you I haven't used The Fearless Momma so I can assure you that I will not attempt to sell you on it unless of course it's worth investing in.
What I will aim to do is provide you with an unbiased 3rd party review of The Fearless Momma that will hopefully help you to make the correct decision in the end.
---
PRODUCT NAME: The Fearless Momma
OWNER/S: Tammy Montgomery
TYPE OF PRODUCT: Done For You Affiliate Program
PRICE: $250 + upsells in the $1000's
SUMMARY: I don't think that The Fearless Momma is a scam but I also don't think it's that great a product either. This is because there are a whole lot of problems with it that I found such as the overpriced front end package and upsells, the annoying pay to play affiliate program, no refund policy and the fact that the training as a whole isn't very versatile, makes it quite a hard model to use in order to make a full time sustainable income.
Even if there is potential to make some good money with the system, it's just not that good a training course as a whole therefore, I really can't recommend it unless you're fine with joining a product that just wants to promote itself.
FINAL RATING: 2/5
RECOMMENDED: NO


---
WHAT IS THE FEARLESS MOMMA?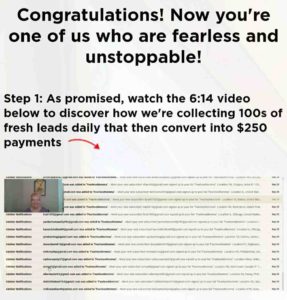 The first thing you'll see once you land on The Fearless Momma sales page is some screen shots of people making money with the system and then just below that you'll be asked to put in your email address to proceed.
After you've put in your email address you'll be taken to another page and this is where you'll find the face of the product, Tammy Montgomery and a sales pitch trying to sell you on the idea of joining The Fearless Momma system.
Within this videoTammy claims that you can make $250 within 72 hours. Although she also says that it's "based on your efforts", the claim made here is quite a big one that I highly doubt newbies can achieve.

In the pitch Tammy continues to show how she's getting regular leads and then saying how the system can work on "autopilot", using all these terms and statements that people who really want to make money online want to hear.
Usually over hyping makes it seem as if a specific product is a scam but, I'm not going to judge The Fearless Momma in the same light as that for now, mostly because unlike a scam the vendor behind this product actually does show their face.
==>Click Here To Access My FREE Make Money Online Guide!<==
---
HOW DOES THE FEARLESS MOMMA WORK?
Judging from the the sales pages and videos, it seems as if the main purpose behind the system as a whole is to first purchase the $250. After doing this you gain access to the tools and training to help you generate email leads through which you can promote The Fearless Momma.
The commission you receive per sale is 100% so if you manage to make 1 sale, you'll make $250. This does seem very appealing because 1 sale equals money back and considering how there isn't a refund policy at hand, if you can't figure out how to reimburse the initial investment, you'll be out of luck.
Anyways, the good news is that the product does actually provide you with training on how to build the system and it's laid out in 7 modules and 5 bonuses.
These modules include :
Module #1 How To Go From $0 to $100k+ : This first module basically covers mindset and how you should shift your mindset in order to achieve the results you want 
Module #2 You Can't Be Serious? You Really Make That Much? : This is once again another a mindset based module that basically covers how you should deal with the negative influences of your friends and family. 
Module #3 My Magic Transformation From Couch To 5k Runs : This module aims to teach you how to manage your time better so that  you can effectively use this time to work on your business. 
Module #4 The "New" Office : According to the sales copy, this is going to take you through your new online office and how you're going to use ads and so on to benefit your business. You'll also be shown how you'll receive your payments
Module #5 When The Shit Hits The Fan : This modules aim is to show you multiple different ways to generate leads for The Fearless Momma system, whether it be by using newly created ads and so on, in the case your business has a rough patch. 
Module #6 If I Had To Start Over : This module basically explains to you how all the systems found with The Fearless Momma are actually done for you so, if somehow you were to lose all your progress, the system you'd be needing will still be available to you, at least the tools needed to promote The Fearless that is. 
Module #7 5 Keys That Unlock Big Ticket Sales : The 7th module will show you, as the title suggests, 5 methods that Tammy uses and has used to generate big ticket sales 
Besides the 7 modules, there are also 5 different bonuses :
Bonus #1 How To Make Your First $250 In Just 72 Hours (Live Training) 
Bonus #2 Can This Simple 3 Part Equation Really Make You A Millionaire? 
Bonus #3 Amateur Vs Professional – Who Wins The Pot OF Gold? 
Bonus #4 How To Leverage Other People's Money To Your Favour 
Bonus #5 How To Travel The World, Live In 5 Star Villas And (STILL) Collect Big, Fat Checks In The Mail
All of these bonuses and modules basically show you how to create a sustainable business by just selling The Fearless Momma itself so that you can make money. So how does the commission plan work?
As the product is actually an affiliate program, the way that you make money will be by sending your customers to leads, which if done as suggested in product will be through an email list, and when someone decides to purchase The Fearless Momma, you'll make a 100% commission on the sale.
The High Ticket Upsells 
Besides the mainline product, there are also some ludicrously expensive upsells available too. These upsells will set you back $1000, $3000 and $5000 so yeah, they're far from cheap.
These products follow a 20% affiliate commission scheme however, you'll only be able to make money through them if you've also purchased them.
This means that in order to get the maximum potential with The Fearless Momma, you will need to spend $9250 otherwise you may risk not making these high ticket sales when an affiliate refferal, for some reason, decides to take the plunge and decides to purchase one of these high ticket upsells.
Also this pay to play element isn't something that I'm very fond of mostly because of companies such as mobe and digital altitude who hot shut down for following this method.


---
CAN YOU ACTUALLY MAKE MONEY WITH THE FEARLESS MOMMA?
The short answer is yes you can but, there are a lot of factors that will come into play in order to make the most out of this business opportunity. Firstly you'll need to invest, at the very minimum, $250 to be able to promote the affiliate program.
After this you'll need learn how to generate leads to whom you can aim to promote The Fearless Momma to, which of course will cost you a fair bit of money on ads because you will need to test to see what works and what doesn't.
If you can figure all these things out along with some of the help that the training itself provides, there's definitely potential to make money here however, there are quite a few things that are still annoying, which is what I'm going to get into now.
Are You Tired Of Working For A Boss? If So Why Not Take Your Job Into Your Hands And Work For No One But Yourself… If You Want To Do This Check Out My #1 Recommendation
---
THE NOT SO GOOD THINGS
It's Quite Expensive
At the $250 asking price for the initial front end package, I personally do think it's a little expensive to get into especially when you consider that the training and resources you're receiving only have limited functions.
Of course if you want to make the most money with The Fearless Momma, the amount of money you'll need to spend will skyrocket, at which point you'll need to spend over $9k.
The upsells aren't obviously a necessity nevertheless, considering there are programs out there that actually teach you how to create sustainable long term online businesses out there for around the same price, to me, the whole system is definitely quite expensive.
When you also take into account how you will need to spend money on ads and possibly on an email list builder, the costs will add up way beyond the $250 range.
The Training Isn't Very Versatile
The training within the course is mostly mindset stuff and also mostly focused on the aspect of promoting The Fearless Momma system and so much other affiliate programs. To some degree the training is somewhat versatile but, for the most part, the done for you elements are only applicable to promoting The Fearless Momma system.
You're not going to be taught how to generate free leads or even how to create your own website through which you can promote other products besides just Tammy's front end package.
All in all in my opinion the training isn't really very versatile.
No Refund Policy
If you decided to buy the product and afterwards want a refund, you won't be able to get one. It doesn't really make much sense to me because most programs, whether they believe themselves to be the best thing in the world or not, in my eyes, should always have a refund policy for the sake of being somewhat trustworthy and reliable.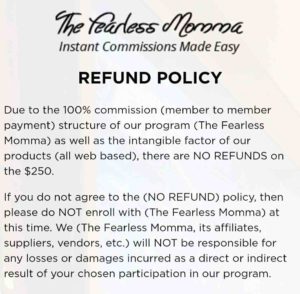 Some might argue that the reason for the lack of a refund policy is because when a sale is made through an affiliate link, 100% of the commission goes to the refferer and not to the company itself therefore, Tammy can't really do anything about it.
However, this doesn't really prove anything because most products have affiliate programs where they give a cut to affiliates yet when the customer decides to get a refund before the end of the specified date they still can get all the money back.
So yeah, I don't know why a refund policy isn't available and it's may be a problem that individuals will likely face when they realise the product in question in question isn't what they thought it would be.
Pay To Play System 
The affiliate program is a "pay to play" system where you need to actually purchase all of the products just so that you can earn commissions. This is pretty similar to 25 dollar 1up, Six Figure Mentors, Legendary Marketer and isn't really a system that I personally like.
This means if one of your affiliates were to buy, let's say the $5000 upsell, you wouldn't make a single penny if you hadn't bought the upsell yourself.
Of course you don't really ever need to purchase any of the other products but, it's definitely annoying to know that unless you buy everything within The Fearless Momma, there's a chance you could miss out on high ticket commissions from reffereals that you personally worked so hard to get.
Pay to Play systems are without a doubt very annoying for affiliates.

---
THE GOOD THINGS
It Is Possible To Make Money
Although the core concept of the course is to have you promote the course itself, there still is actual potential to make money with it, it's just that you've got to be willing to invest a fair bit into it to see results.
It's far from being the best or even just a course that teaches you a legitimate sustainable business model but, it does have some potential.
==>Click Here To Access My FREE Make Money Online Guide!<==
---
IS THE FEARLESS MOMMA A SCAM?
This depends, if you think that the claims being made in the sales pitches and pages are not true and unachievable, then I guess you could say that this product is a scam although, I personally do consider it to be legitimate.
Nevertheless, there are a whole lot of problems with it that I found such as the overpriced front end package and upsells, the annoying pay to play affiliate program, no refund policy and the fact that the training as a whole isn't very versatile making it quite a hard model to use in order to make a full time sustainable income.
Even though I do think it's possible to make money with The Fearless Momma, it's personally not something that I recommend you actually purchase or get involved in.
---
MY PERSONAL RECOMMENDATION
I'd suggest you check out my personal recommendation if you still want to make money online, though I'll warn you right now, it isn't something through which money will come easy.
It is nonetheless a great business model for the online space in my opinion
So what is this method that I'm talking about?
This method I'm talking about is affiliate marketing. 
The reasons as to why I recommend it is because:
– expectations toward success are a lot more grounded
– it is a legitimate method that has been working consistently and continues to grow as more businesses want individuals to promote products
– it is a very scalable business
– and because it is free to start up, no unnecessarily large start up funds needed.
The service I recommend is Wealthy Affiliate. It's free to sign up to and will get you set up and ready to start your affiliate marketing journey within minutes, as it did for me when I begun my journey.


If you have any questions that you would like to ask me regarding The Fearless Momma, feel free to do so in the comments section below and I will get back to you as soon as I can. If you have your own thoughts about The Fearless Momma and would like to talk about it, again feel free to do so in the comments below!
Thanks
Amhil