Welcome to my NextCash review!
It's likely that you have come across NextCash through an email list, on social media or got it recommended by a friend or family member.
First and foremost I must commend you for actually doing a bit of extra research before committing to purchasing or joining NextCash. For all you could have known, NextCash may very well be a scam and rob you of your money so this review could help you find anything peculiar about it.
To be totally transparent with you I haven't used NextCash so I can assure you that I will not attempt to sell you on it unless of course it's worth investing in.
What I will aim to do is provide you with an unbiased 3rd party review of NextCash that will hopefully help you to make the correct decision in the end.
---
PRODUCT NAME: NextCash
OWNER/S: N/A
TYPE OF PRODUCT: GPT System
PRICE: free
SUMMARY: Yes NextCash is a scam and there a bunch of reasons for this verdict of mine
The use of false, unrealistic and overhyped claims, the lack of any legal disclosures and privacy policy, the owners not showing up, the multiple different variations of this exact scheme and the fact NextCash is a data harvesting scheme, are the reasons why I cannot and will not recommend you waste your time on NextCash as you won't ever get paid.
FINAL RATING: 0/5
RECOMMENDED: NO!!

---
WHAT IS NEXTCASH?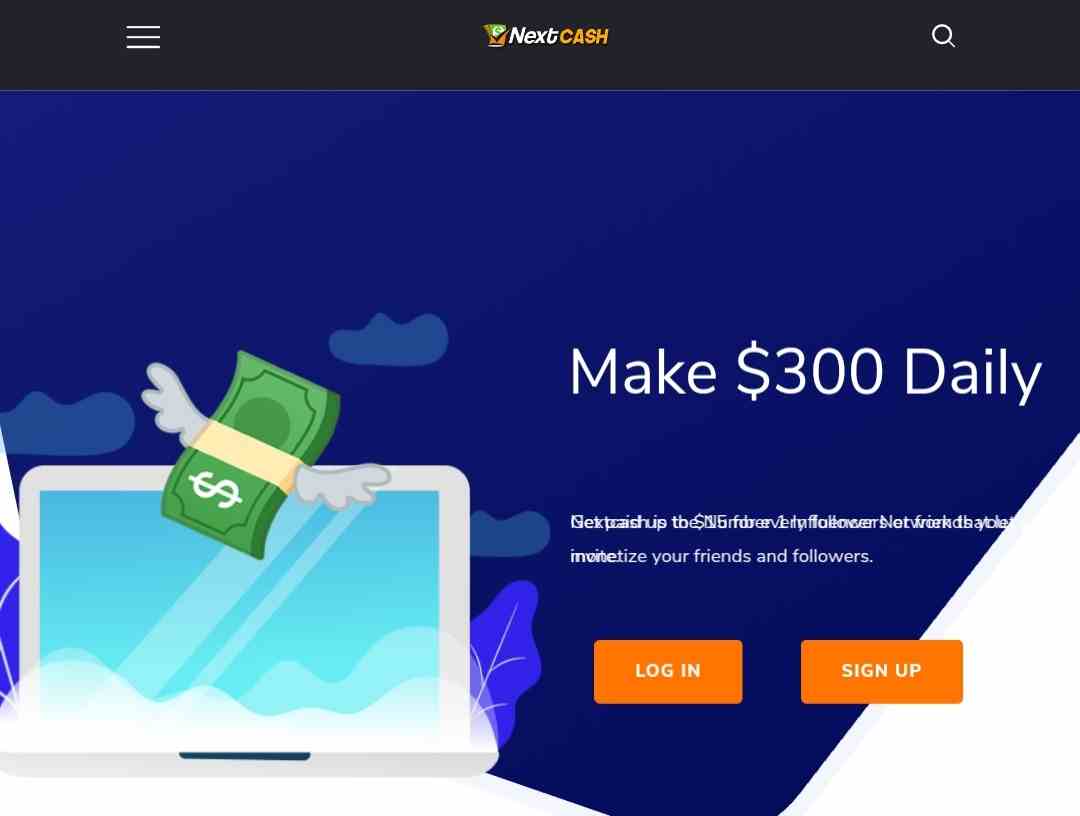 NextCash claims to be the #1 Influencer Network around, suggesting you can make $300 with it daily, make $25 for just signing up, $10 for referrals along with a bunch of other ludicrous payments.
On the surface NextCash would definitely come across as enticing and I can see why so many individuals would be drawn to it's large numbers and supposedly high status as an influencer Network however, I know for a fact that all of these stats are fake and I also know NextCash will not deliver on anything they say on the front page.
This is because NextCash isn't the first site of its kind that I've exposed over the years, I've actually seen well over 30 at this point and probably will continue to do so more for many months to come.
Some of these other #1 Influencer Network sites I've exposed include :
All or these sites obviously follow or followed (if they've been shut down) the same formula which I'll basically go over in the next section of this review
==>Click Here To Get Access To My FREE Make Money Online Guide!<==
---
HOW DOES NEXTCASH WORK?
If you've come across NextCash through a family member or friend, they'd probably have told you that it's super easy to make money with the system, saying how they earned capital simply by signing up and doing a few tasks, saying that you could do the same.
This is something that could very well entice someone to sign up, probably due to blind faith in their family member or friend and in the beginning you probably would be a little excited seeing the numbers on your dashboard increase. This in turn would push you further to reach the "cashout threshold", which likely will be $200+.
However, the fact is you will never actually be paid out!
The real reason why NextCash is providing you with these insane offers, as in $40+ for signing up for a gift card, is just so they can make money by using your data and have you continue doing CPA offers for them until you reach the threshold.
Furthermore, as your data isn't actually protected by NextCash due to the lack of disclaimers and disclosures, the owners will likely also spam your email with other offers or sell your data to third parties who may send emails with malicious viruses, spyware, malware etc.
In short NextCash's true purpose is to exploit a members naivety by collecting their data, potentially to sell it to third parties, whilst completing CPA offers on their behalf to profit from a member's bold desires to make $40 for completing very basic tasks.
The data harvesting side of things can also result in the undisclosed owner hacking into your important accounts, like PayPal for example so, if you've already signed up using your real details, I really would suggest you get to changing your passwords for your accounts as soon as possible just to be safe.

---
WHO IS NEXTCASH FOR?
NextCash is not a system that anyone should get involved with because it cannot and will not pay any of its members. The only individuals who could sign up are those using fake emails aiming to expose it to others but, for the most part I would suggest everyone else stay well clear of NextCash.
Discover How I Made $173 Through A Single Sale Using This Online Business Model, Click Here To Read My Full Money Making Guide On How I Did It! 
---
THE NOT SO GOOD THINGS
Overhyped, Unrealistic And False Claims
All the claims made by NextCash whether it be the money potential or the crazy stats of having 89k+ members or paying out over $2 million, are false and quite frankly unrealistic.
The claim of NextCash being the #1 Influencer Network also doesn't add up when you take into account the websites domain age being less than a month old at the writing of this review.

On top of that NextCash claims it was founded in 2008 yet the domain age would suggest otherwise.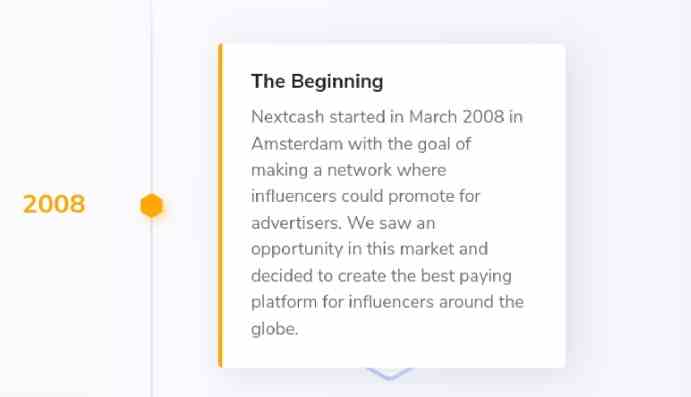 All of these claims are just not true in the slightest and in turn the overhyped, unrealistic and ultimately fake nature of NextCash are obvious red flags to me.
No Legal Disclosures Or Statements
The website doesn't seem to offer any kind of disclaimer discussing results that may or may not occur and NextCash doesn't seem to have a privacy policy either.
The lack of any of these documents suggest to me that NextCash's owners aren't even trying to come across as legitimate therefore, this is red flag and another reason to be careful of this system.
The Owners Don't Show Up
I've found that whenever a product or service is unable to purposely associate their name or face with a company, the service or product more often than not turns out to be a scam.
Of course there are also companies where the owners do show themselves but, at the very least, unlike NextCash's owner/s, they're actually willing to accept any form of backlash if people do genuinely have a problem with their product.
I personally consider this lack of transparency a red flag and yet another reason to be suspicious of NextCash.
There Are Multiple Different Variations
As I mentioned above, I've seen and exposed similar schemes to NextCash multiple times over therefore, I knew right off the bat it was shady but, what you don't know is that there is likely upwards of 100 different variations of this exact scam.
Of course the name and the way in which they're all structured will generally be slightly different but, when you take away all the fluff, these GPT sites work in pretty much the same way.
It's A Data Harvesting Scam 
Whether it be using your data to generate income through CPA offers or if it's selling your data to third parties, who will spam your email address, it all just goes to show that the real purpose behind NextCash is to exploit your data for their own gain and not at all to help you make any money.

---
THE GOOD THINGS
There is literally nothing positive about NextCash, it's simply a scam that you absolutely must avoid.
==>Click Here To Get Access To My FREE Make Money Online Guide!<==
---
IS NEXTCASH A SCAM?
Yes NextCash is a scam and there a bunch of reasons for this verdict of mine
The use of false, unrealistic and overhyped claims, the lack of any legal disclosures and privacy policy, the owners not showing up, the multiple different variations of this exact scheme and the fact NextCash is a data harvesting scheme, are the reasons why I cannot and will not recommend you waste your time on NextCash as you won't ever get paid.
---
MY PERSONAL RECOMMENDATION
I'd suggest you check out my personal recommendation if you still want to make money online, though I'll warn you right now, it isn't something through which money will come easy.
It is nonetheless a great business model for the online space in my opinion
So what is this method that I'm talking about?
This method I'm talking about is affiliate marketing. 
The reasons as to why I recommend it is because:
– expectations toward success are a lot more grounded
– it is a legitimate method that has been working consistently and continues to grow as more businesses want individuals to promote products
– it is a very scalable business
– and because it is free to start up, no unnecessarily large start up funds needed.
The service I recommend is Wealthy Affiliate. It's free to sign up to and will get you set up and ready to start your affiliate marketing journey within minutes, as it did for me when I begun my journey.

If you have any questions that you would like to ask me regarding NextCash, feel free to do so in the comments section below and I will get back to you as soon as I can. If you have your own thoughts about NextCash and would like to talk about it, again feel free to do so in the comments below!
Thanks
Amhil