In the making money business a lot of people tend to go into things or opportunities blind. By doing that they also make a lot of mistakes that could have otherwise been avoided. I know for a fact that I've made a ton of mistakes myself but, thankfully I've also seeked to avoid them and been willing to pay to fix these issues if necessary.
The same apllies for affiliate marketing, without a mentor or a course, even if you think you know what you're doing, you're still likely to make a helluva lot of mistakes. Just so you can avoid this I'm going to give you a heads up on the best affiliate marketing training course around (in my opinion) and hopefully put you in a position to get on the right track to achieve success in the affiliate marketing business.
WHAT IS AFFILIATE MARKETING?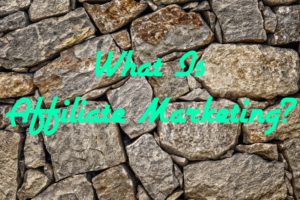 if you don't already know what affiliate marketing is, allow me to elaborate on it. If you already have a solid grasp on what it is then just skip this section. Alright then, so for everyone who's still reading this section it's time for the elaboration.
Affiliate marketing is a form of marketing that business' implement to help improve the sales of their products. This increase is influenced by people who review a product and either recommend it or not to consumers who may be interested in it.
The consumers are redirected to buy a product through an affiliate link. If a consumer buys through an affiliate link, the person to whom the link belongs to will recieve a commission for the sale of the product.
Commissions can vary but, for the most part commissions as high as 50%+ of a products value can be given to an affiliate for every sale they generate through their link.
Essentially affiliate marketing is an incentive for the ordinary man to make money off of businesses, it doesn't seem all that complicated right?!
Hopefully now that you've got the gist of it, you're ready for this acrticles actual purpose, what is this supposedly best affiliate marketing course?
WHAT IS THIS SUPPOSEDLY AMAZING AFFILIATE MARKETING COURSE?
My choice of words may make you a little skeptical, which is fair enough, I am kind of using all these sales tactics to entice you too buy it (even though you don't know what it is yet).
First of all I just want to make it clear that buying this course or not is completely up to you, of course I'll give you some good reasond as to why you should buy the product but the final decision will ultimately rest on you!
Alright cool… Now that the pep talks out of the way it's time to sell you this course (lol im just kidding…). So the name of the course, what is it?
This course I'm talking about is wealthy affiliate and what it aims to do is guide its consumers into making the right decisions when starting up a website.
This guide will help you in promoting affiliate products on your website that you believe in to your readers. In the future, if you're up for it, you could start selling your own products or services too but, what wealthy affiliate mainly does is show you a streamlined and concrete path to assist you on your affiliate marketing business.
HOW DOES WEALTHY AFFILIATE GO ABOUT TEACHING YOU THIS?
So how is all of the material streamlined and in turn easy to follow?
The structure is as follows.
-The first part of the training will help you start and get the basic setting of your website up and running, this part will also give you the basics on how to write content within your website as well as a gameplan that shows what can be possible if you follow through with the training and write consistently.
-The second part of the course will go more in depth on content creation, keyword research to generate traffic to your website and how to ultimately produce better affiliate slaes (conversions) through your content.
-Part three will teach you how to leverage social media to further improve the traffic that comes to your site.
-The fourth part will teach you how you should implement media within your website, media meaning imbedded videos and images etc.
-Part five will enlighten you about your audience and improving your referrals for the program or product you promote.
-Part 6 will teach the importance of ppc marketing through google ad words and bing ad words.
-And finally part 7 will teach you how to successfully scale a ppc campaign.
As you can see wealthy affiliate does have a fairly robust training program. It covers everything that you need in order to build a successful affiliate website.
On top of that, they also have a weekly live webinar that teaches you many other things about affiliate marketing which will aid you further in actually monetizing your efforts in the future.
IS WEALTHY AFFILIATE WORTH YOUR TIME AND MONEY?
Well that depends, are you willing to put in the work or if you have capital, are you willing to use your money to grow your online business to a level where you can live the laptop lifestyle?
If you are in fact willing then I don't see why this isn't a decent opportunity for you. I won't say that it's easy or even the fact that you'll succeed in the end but, what I can say is that if you have the work ethic and character to persistently and consistently work on this venture, there is no doubt in my mind that you will achieve success.
Wealthy affiliate isn't a magic pill that will make all of your dreams come true, it isn't a "get rich scheme", it is a resource that will guide you in the right direction if you are willing to put in the work.
If you aren't certain about purchasing it, at the very least you can sign up to the free membership and create a free niche website /blog and learn from the free section of the training program available to you.
If you're not feeling it and don't see any reason to purchase the full product, that's perfectly fine however, if you see the opportunity in front of and are willing to put in the work (or invest capital), then I believe this opportunity may be just the thing you're looking for!
==>Click Here To Sign Up To Wealthy Affiliate's Free Memberahip!<==
FINAL WORDS
There are a lot of ways you can legitimately make money through and one ofbthose many ways includes affiliate marketing. Wealthy affiliate has certainly helped me and through it I've made £299.04 (-$350-400) within a year so. I know that this figure may seem small to you but, the figure also represents for a fact that the training works.
Others have made a helluva lot more than I have and from what I have personally seen, hard work and consistency had a major part to play in all of their success'.
If you decide to take further action into wealthy affiliate, at the very least work hard, cause as we all know, if you work hardband smart, success is but a footstep ahead.
If you have any questions you would like for me to answer, feel free to leave it down below in the comments section and I wil be sure to answer your queries as soon as possible!
Thanks
Amhil