Welcome to my Auto Online Sites review!
It's likely that you have come across Auto Online Sites through an email list, on social media or got it recommended by a friend or family member.
First and foremost I must commend you for actually doing a bit of extra research before committing to purchasing or joining Auto Online Sites. For all you could have known, Auto Online Sites may very well be a scam and rob you of your money so this review could help you find anything peculiar about it.
To be totally transparent with you I haven't used Auto Online Sites so I can assure you that I will not attempt to sell you on it unless of course it's worth investing in.
What I will aim to do is provide you with an unbiased 3rd party review of Auto Online Sites that will hopefully help you to make the correct decision in the end.
---
PRODUCT NAME: Auto Online Sites (AOS)
OWNER/S: "Paula Shaffer"
TYPE OF PRODUCT: Done for you get rich scheme
PRICE: $77 + upsells
SUMMARY: Yes AOS is 100% a scam, the money making method and all the ludicrous claims it has are all tell tale Red flags that AOS just isn't what it's shaped up to be.
The overhyped nature of the system, the false scarcity elements, the really over exaggerated and fake testimonials and the fact that Paula's identity is hidden, prove that AOS has way too many red flags visible to make it be anything other than a scam therefore, you should absolutely skip AOS
FINAL RATING: 0/5
RECOMMENDED: NO!!


---
WHAT IS AUTO ONLINE SITES?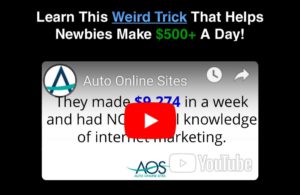 The first thing you'll notice once you get onto Auto Online Sites is the bold claim that you'll be able to make "$500+ a day using this weird trick".
Yeah… This doesn't really strike me as being realistic at all. Also the layout of the whole sales page has the feeling of the many scams I've reviewed.
The second I heard the spokesperson, Paula Shaffer in the sales page, I almost realised that this person doesn't really sound real and when she made the claims that she has "already created you a website", a ready to go done for you website that's making you money right now, honestly it was clear as day that the system wasn't trustworthy whatsoever.
Paula makes a lot of claims saying you can make money online without doing any work and she even has the nerve to say that you can make $750 – $1000 a day immediately after you've bought the product and saying that it's actually "realistic" to make that kind of money, are hard words to believe don't you think?
The sales pitch in general is just trying to tell you what you want to hear and you don't really get too much knowledge on what the product is besides the fact you'll be given a done for you websites that'll generate lots of money. Supposedly if you buy into the $77 product, there will $1k waiting for you on the other side…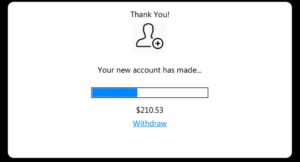 I don't know what to say about AOS other than the fact that at this point it's almost certainly clear that AOS is a scam but, I guess it's still worth going into a little more detail as to why I think this.
I've reviewed a lot of scams and legitimate products on this website such as :
That's why I believe I have a pretty good grasp on what makes a good or a bad product.
==>Click Here To Access My FREE Make Money Online Guide!<==
---
HOW DOES AUTO I LINE SYSTEM WORK?
Truth be told AOS only really works for its vendor, the aim for this website is to convince desperate or naive individuals that it's actually possible to make lots of money without really putting in any effort.
As Paula says "you can kick back, relax and watch the money roll in".
These kind of statements resonate with people who are in dire financial situations and want to make money quick so, they invest their income and then find themselves within the sales funnel, which they think continue to go deeper and deeper into before realising that all they're doing is wasting money.
The worst part here is that a lot of the times the upsells on the sales page aren't refundable so all these people will have been scammed.
So the whole system just works to make money for the vendor, any customer who invests this pretty ridiculous amount of $77 is not going to be able to benefit at all from this copy and paste system.
Although it's possible to make $1k or more online, making this kind of money requires that you think of online business as similar to a normal brick and mortar business, you have got to put in the work to bear the fruits of your labour.
It's true that since the rise of the Internet the number of millionaires being created have increased exponentially but, over time it has become harder to get there through just get rich scheme's or through copy and pasted methods that AOS advocates.
There may still be those 1 or 2 oddballs that somehow make $1k-$2k on their first day but, that doesn't mean that they're creating a sustainable business.
99% of everyone who's successful on business and online business have put in the work to get there, some may achieve success sooner than others but, making $1k a day or more using Paula's copying method isn't going to get you anywhere besides into more debt, I mean come on, the testimonials and money screenshots are so clearly fake too!


---
WHO IS AUTO ONLINE SITES FOR?
At this point, you should know where I stand with AOS, so you should already know that AOS isn't something you or anyone should get unless they like getting scammed or if they want to just check the insider membership just for fun or research.
At $77, the program would be very cheap if its claims of being able to make over $9k a week were true but, obviously it isn't so the asking price of $77 is way too much to spend on a clear as day scammy product. So in short, whoever you are don't buy this product and don't be so dragged in by the ludicrous money making claims.
Are You Tired Of Working For A Boss? If So Why Not Take Your Job Into Your Hands And Work For No One But Yourself… If You Want To Do This Check Out My #1 Recommendation
---
THE NOT SO GOOD THINGS
It's Overhyped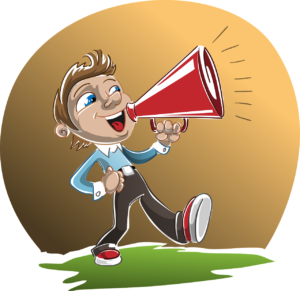 The entire product is overhyped throughout the sales page and pitch. Usually when a product claims you can make $1k the second you buy the product, as in withdrawable income, it should be considered a major red flag and a resason to avoid the scam.
The other claims of being able to make money with little to no effort because the method will be copied for you and even the statements Puala make about other scams and how it's not realistic to be able to make "$30k a day" but $1k a day is completely reasonable, to me, suggests AOS really isn't a program that outlines realistic expectations.
False Scarcity
In the beginning of the video Puala states how the sales pitch is only accessible to a select few people, trying to make it seem as if the product is special and even that you're special for having actually gained access to AOS.
Of course all this limited number or selected group of people and the limited time line mumbo jumbo is just a marketing ploy to try and convince the few naive individuals out there that AOS really is for a select group of people, otherwise why would the spokesperson so easily claim you can make hundreds a day.
The reality is that this is a false scarcity kind of deal so, nothing that's being said about only a select group people gaining access is true. This is another red flag I found about AOS.
Fake Testimonials
The testimonials by the supposed customers are obviously fake, they all seem to show how they've made hundreds or thousands using Paula's system. Even Paula's screenshots are equally ridiculous showing how she's made millions through this weird trick of hers.
This is another red flag to take note of.
Who's Paula Shaffer? 
All the knowledge we're given regarding Paula is her name and nothing more, we aren't even shown a picture so we actually know if the person is real. It's quite likely that Paula Shaffer is just a pen name and I'm also willing to bet that the reason why Paula doesn't show her face is because the spokesperson isn't even the real vendor.
I'm pretty sure that the vendor behind AOS knows that the product in question doesn't work but, in order to make money and line her pocket, like a wolf in sheep's clothing, the vendor tries using these tactics to rope in desperate or naive individuals trying to make a quick buck.
I think that when a vendor doesn't show their face to attach themselves to the product they've created, it's usually a sign that the product in question isn't legitimate, afterall if the vendor isn't willing to show their face why should you trust them right?

---
THE GOOD THINGS
60 Day Money Back Guarantee
As the refund is available within a legitimate retailer in Clickbetter, getting the refund for the front end package shouldn't be too difficult to do but, I can't speak the same for the upsells so do be wary about this.
All in all besides the refund policy, there's nothing good about AOS, at all in my opinion.
==>Click Here To Access My FREE Make Money Online Guide!<==
---
IS AUTO SITES ONLINE A SCAM?
Yes AOS is 100% a scam, the money making method and all the ludicrous claims it has are all tell tale red flags that AOS just isn't what it's shaped up to be.
The overhyped nature of the system, the false scarcity elements, the really over exaggerated and fake testimonials and the fact that Paula's identity is hidden, prove that AOS has way too many red flags visible to make it be anything other than a scam therefore, you should absolutely skip AOS
If you still want to learn how to make legitimate and real money online, continue reading on…
---
MY PERSONAL RECOMMENDATION
I'd suggest you check out my personal recommendation if you still want to make money online, though I'll warn you right now, it isn't something through which money will come easy.
It is nonetheless a great business model for the online space in my opinion
So what is this method that I'm talking about?
This method I'm talking about is affiliate marketing. 
The reasons as to why I recommend it is because:
– expectations toward success are a lot more grounded
– it is a legitimate method that has been working consistently and continues to grow as more businesses want individuals to promote products
– it is a very scalable business
– and because it is free to start up, no unnecessarily large start up funds needed.
The service I recommend is Wealthy Affiliate. It's free to sign up to and will get you set up and ready to start your affiliate marketing journey within minutes, as it did for me when I begun my journey.


If you have any questions that you would like to ask me regarding AOS, feel free to do so in the comments section below and I will get back to you as soon as I can. If you have your own thoughts about AOS and would like to talk about it, again feel free to do so in the comments below!
Thanks
Amhil