Welcome to my Ad Code review!
It's likely that you have come across Ad Code through an email list, on social media or got it recommended by a friend or family member.
First and foremost I must commend you for actually doing a bit of extra research before committing to purchasing or joining Ad Code. For all you could have known, Ad Code may very well be a scam and rob you of your money so this review could help you find anything peculiar about it.
To be totally transparent with you I haven't used Ad Code so I can assure you that I will not attempt to sell you on it unless of course it's worth investing in.
What I will aim to do is provide you with an unbiased 3rd party review of Ad Code that will hopefully help you to make the correct decision in the end.
---
PRODUCT NAME: Ad Code
OWNER/S: Not disclosed
TYPE OF PRODUCT: Affiliate Marketing Course
PRICE: $250 – $25k+
SUMMARY:
FINAL RATING: 1/5
RECOMMENDED: NO

---
WHAT IS AD CODE?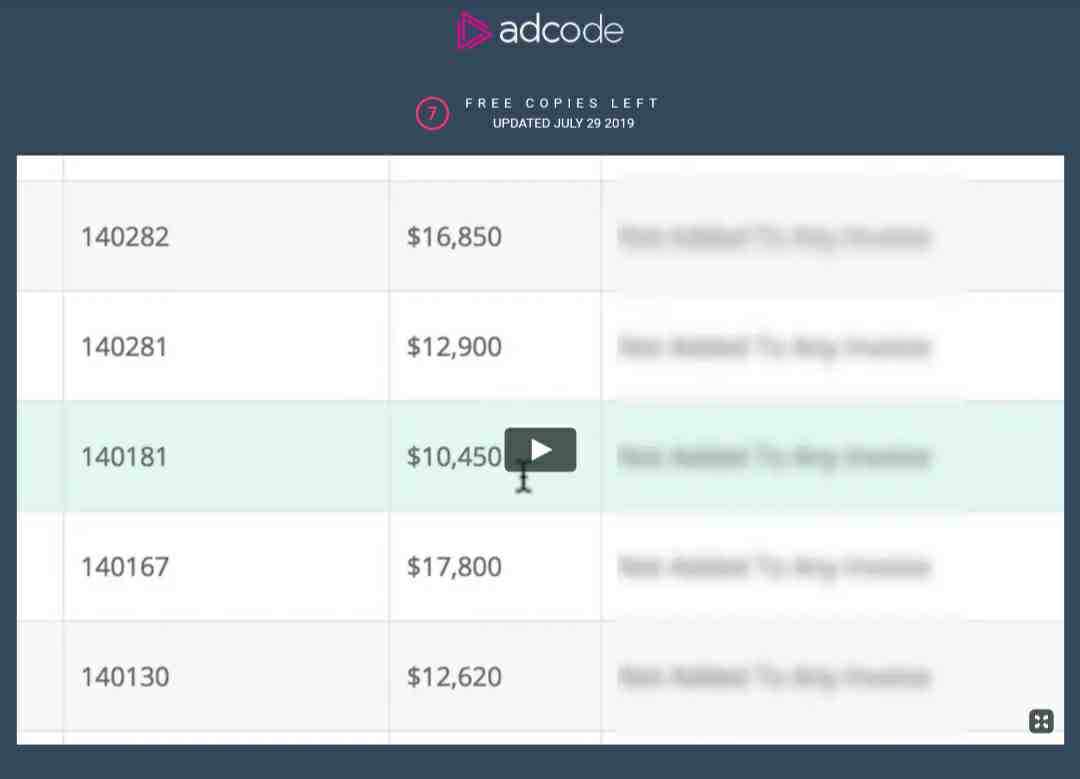 When you land on AC's page you're met with a video, an image of the supposed creator and a statement claiming you can make upto $5k a day. This isn't the most obvious scam like systems I've reviewed but, the $5k a day didn't give off the best of first impressions, and I'm sure you can agree with me on that.
Anyways that was just my initial impressions and I didn't want to immediately judge AC through just that so, what I did was analyse the sales pitch and did some extra research to see exactly how AC lived up to its claims aimed.
The sales pitch starts off by hyping up the potential of AC through showing people making $20k to $90k through affiliate marketing and what not.
When a sales pitch starts off by showing you these ridiculous results, it gives of the impression that the system in question is somewhat like a get rich quick scheme and as you know, get rich quick systems more or less never work.
The rest of the video continues to hype up the system and claims many things that just aren't realistic for newbies in interenet marketing so, I'll be blunt with you in saying AC probably isn't going to be all that great a course let alone a very good affiliate marketing course to invest in.
Just so you know, I've reviewed a lot of products on this website such as
Which is why I believe I have a pretty good grasp on what makes a solid system to invest in.
==>Click Here To Get Access To My FREE Make Money Online Guide!<==
---
HOW DOES AD CODE WORK?
The truth is that AC is basically a sales funnel for a website called Click2sell (C2S) . This particular system requires you to invest lots of money just to get access to its functions
The plans can range from $250 to $25k,  primarily so you can get access to all of the affiliate commission available once you buy it.

Anyways, once you get to C2S' packages page and if for some reason you were to invest in it, you'd get access to the training on offer, such as ebooks, online training and so on.
Technically speaking you will get access to training however, when you take into account the prices for the packages as well as the fact you will also need a further few thousand dollars just so you can implement the strategies in question, to me, it doesn't seem like a very good deal.
This along with the claims of you being able to make $5k today and the overhyped sales pitch do not give C2S a very credible and trustworthy appearance, for me at least.
Although I won't argue with the fact affiliate marketing through ads can genuinely help individuals achieve the ludicrous results stated, C2S ultimately doesn't come off as a system to put your trust or money in to help achieve this.

---
WHO IS AD CODE FOR?
Considering AC is a promo site for C2S and also not the first promo site I've come across, it's hard to say it's something worth trusting.
There's also a bunch of other red flags it presents in the sales pitch as well as on the actual C2S website (I'll show you below) which makes it very easy for my to say that C2S definitely isn't for anyone, especially for people looking to learn how to make money online in an affordable
Are You Tired Of Working For A Boss? If So Why Not Take Your Job Into Your Hands And Work For No One But Yourself… If You Want To Do This Check Out My #1 Recommendation
---
NOT SO GOOD THINGS
Overhyped And Unrealistic Claims
A characteristic I find to be very common among low quality or products that are scams is the use of overhyped claims. The fact of the matter is that when a system claims you can make $5k easily usually aren't very reliable or trustworthy products.
I'm sure you've heard the saying when somethings to good to be true, it usually is, well whenever a product makes such ludicrous statements, even if the method being taught within the product can achieve such results, in my experience it tends to imply the training is only going to be sub par.
It's Very Expensive
The product at the very least will cost you a few grand every year or so to actually partake in as well as the upto $25k price for the best training package… Obviously this will be a very heavy burden for anyone, so yeah, It's not really a package I would recommend very many people, if any, to invest in.
In terms of finding affiliate marketing training which doesn't cost thousands to partake in, my #1 recommended training course is worth looking into but, yeah I consider the really expensive investment a very big red flag when it comes to online based training.
This is especially the case where the owner isn't already a very established entrepreneur within the field being taught and even then, I'd be hard pressed to recommend purchasing such a course.
It's Just Another Promo Site For Click2sell
This isn't the first promo site that I've seen promoting C2S, another system that did this exact thing was a product I exposed not too long ago called digital payday.
This in my eyes means that the reason C2S does this, as in hide behind different promo sites, is beacause the quality of the system is likely subpar and probably won't deliver on what it claims.
Of course this is another red flag and pretty big reason to skip out on AC, in my perspective atleast.

---
THE GOOD THINGS
I honestly can't think of anything good when kt comes to AC, I guess the only positive is the fact that affiliate marketing is a legit way to make money however, besides that, there's just too many problems with AC that it's pretty much impossible for me to reccomend it to anyone genuinely wanting to make money online.
---
IS AD CODE A SCAM?
Although I can't say AC or more so, C2S is a scam, there are a few elements that don't make it a completely reliable system to put your trust in when it comes to making some money online.
The reasons include the overhyped and unrealistic claims used, the fact that the packages are very expensive and lastly the fact that AC is one of, likely many, promo pages for C2S, implies that C2S probably isn't a very trustworthy system to learn about affiliate marketing from.
Of course, there may be a small chance that C2S could work but, it's pretty hard for me to picture that and besides, experimenting to find out will be way too expensive. That's why I highly suggest you skip out on it.
---
MY PERSONAL RECOMMENDATION
I'd suggest you check out my personal recommendation if you still want to make money online, though I'll warn you right now, it isn't something through which money will come easy.
It is nonetheless a great business model for the online space in my opinion
So what is this method that I'm talking about?
This method I'm talking about is affiliate marketing. 
The reasons as to why I recommend it is because:
– expectations toward success are a lot more grounded
– it is a legitimate method that has been working consistently and continues to grow as more businesses want individuals to promote products
– it is a very scalable business
– and because it is free to start up, no unnecessarily large start up funds needed.
The service I recommend is Wealthy Affiliate. It's free to sign up to and will get you set up and ready to start your affiliate marketing journey within minutes, as it did for me when I begun my journey.

If you have any questions that you would like to ask me regarding AC, feel free to do so in the comments section below and I will get back to you as soon as I can. If you have your own thoughts about AC and would like to talk about it, again feel free to do so in the comments below!
Thanks
Amhil