Welcome to my Paycate.com review!
It's likely that you have come across Paycate.com through an email list, on social media or got it recommended by a friend or family member.
First and foremost I must commend you for actually doing a bit of extra research before committing to purchasing or joining Paycate.com. For all you could have known, Paycate.com may very well be a scam and rob you of your money so this review could help you find anything peculiar about it.
To be totally transparent with you I haven't used FastRewards.co so I can assure you that I will not attempt to sell you on it unless of course it's worth investing in.
What I will aim to do is provide you with an unbiased 3rd party review of Paycate.com that will hopefully help you to make the correct decision in the end.
---
PRODUCT NAME: Paycate
OWNER/S: Not disclosed
TYPE OF PRODUCT: GPT System
PRICE: free
SUMMARY: I personally consider Paycate a scam and there are a few reasons that backup my view point.
The unrealistic and unreasonable claims made within the sales page, the lack of some major pages, the identity of the owner being undisclosed, the issue with it essentially being a data harvesting scheme and the fact it's a rehash of another similar systems makes it hard to consider Paycate a legitimate source to make money from.
FINAL RATING: 0/5
RECOMMENDED: NO!!

---
WHAT IS PAYCATE.COM?
Paycate claims to be a a system that pays you for completing simple tasks and getting referrals. In fact it's even claimed that Paycate will pay $1 for any clicks your referral links generate let alone through only getting a full referral.
Supposedly you can even get paid from your referrals referral too, kind of like how an MLM structure works and to top it all of, Payacate is a free to join system.
Paycate being a free to join get paid to (GPT) must mean that you won't be risking anything right?
Well, the truth is you probably will be risking something however, it's not exactly what you would think it is like money for example but your data that's being risked.
What I mean by this is that Paycate is a data harvesting scheme so it's main purpose is to collect your data, send you junk email and sell your data to third parties who'll do exactly the same thing with the data
There are also few other issues with Paycate that I believe exposes it as being a full on scam which I'll break down throughout the rest of this review.
==>Click Here To Get Access To My FREE Make Money Online Guide!<==
---
HOW DOES PAYCATE.COM WORK?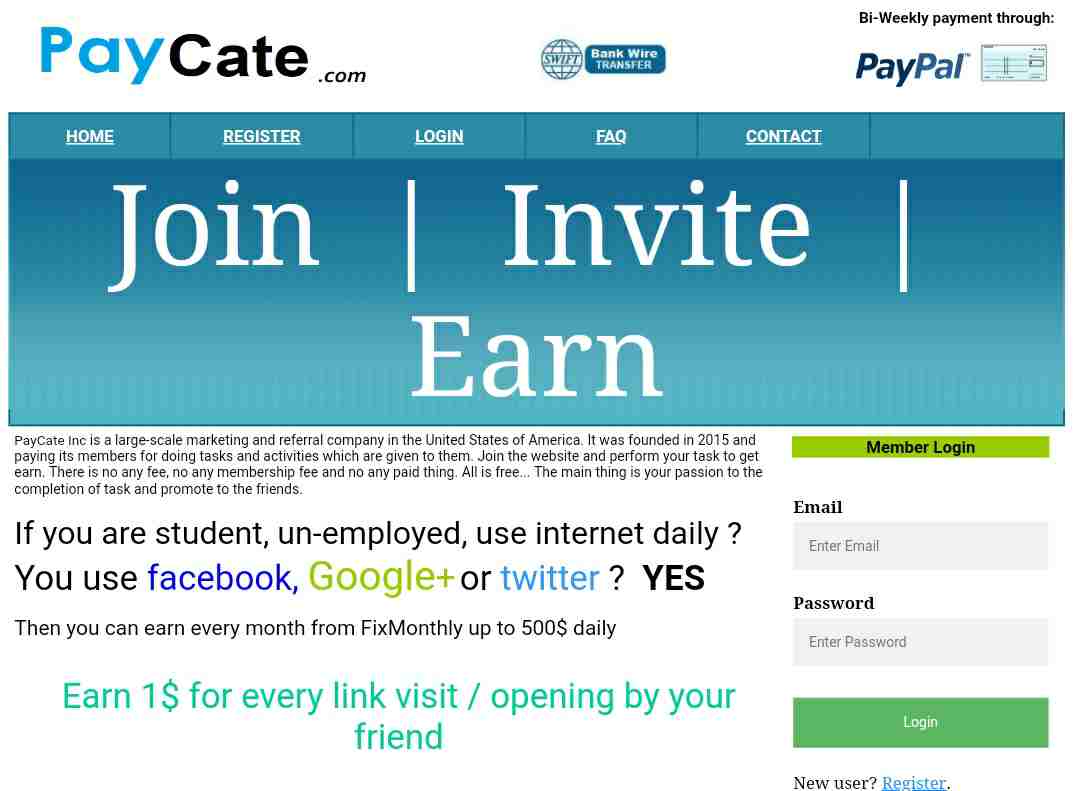 Paycate is very similar to other GPT scams that I've exposed, where the main purpose behind it is to gather data, data being your email address and password and with that data, sell it to third parties so they can profit from your naivety.
The biggest give away to this being the situation for Paycate, for me at least, is the heavy push of getting referrals. There's actually a few inconsistencies that I noticed regarding the graph they use to show how their referral system works and how you get paid.
Firstly, Paycate states that you earn $1 per click on your referral link yet the graph and other areas within the page imply that you get paid $1 for getting a referral and not just for a click.
The lack of a FAQ page didn't make it easy for me to figure out what Paycate was trying to explain but, one thing I'm sure off is that Paycate at the very least doesn't look like a very reliable system.
In the contact us page, there supposedly are some conversations between Paycate and a few "members" who've supposedly made thousands and withdrawn money from the site. I honestly doubt this is the case, in fact the screenshot that they use to prove the $4.8k paycheck isn't even in dollars so it's hard to belive the validity of it.
Okay let's say that at this point you're not convinced by my veiw point, how about we even consider that you've already joined the website and are actually seeing gains within your dashboard. You could be thinking that Paycate is a good system as it seems like your earnings dashboard is increasing right?
Moreover, I'm sure that the threshold for getting paid out from Paycate will be pretty high too. The reason for the high threshold and seeing the money increase on your earnings dashboard is purely psychological and let me tell you why.
Think about it like this, say you were involved in another GPT system and within this system you had money in your account, wouldn't you try your best to reach the threshold level so that you could eventually cash out?
The reason why Paycate does all of these things, including the overhyping and showing your earnings increase, is beacause this way you'll be able to bring in more referrals for them which in turn will allow the unrevealed owners to make more money from you getting fooled by the numbers expressed on your dashboard.
Infact by taking your details, there's even a chance they could hack into your important credit card accounts or even your PayPal.
Anyways, one thing I'm sure of is that Paycate isn't a legitimate GPT website. By signing up to it and willingly providing them with your details, you'll be risking a lot more than you'll ever gain from them.

---
WHO IS PAYCATE.COM FOR?
From the design of the sign up page to all the claims and other issues Paycate shows, it definitely doesn't come off as a system that anyone should join, especially if you're serious about wanting to make money online.
Are You Tired Of Working For A Boss? If So Why Not Take Your Job Into Your Hands And Work For No One But Yourself… If You Want To Do This Check Out My #1 Recommendation 
---
THE NOT SO GOOD THINGS
A Lot Of Unrealistic Claims
The sign up page makes quite a few unrealistic propositions and tends to contradict itself quite a bit. Firstly, Paycate claims it's been around since 2015 however a quick check on its domain age would show that it's barely a few months let alone. So of course why exactly will you trust them if Paycate can't even be honest about there age.

Secondly, if you go to the contact us page, there's a lot of generic falsified conversations made by Paycate which shows you how some of their members have made thousands from them and even managed to cash out.
Frankly speaking, Paycate makes tons of unrealistic and contradictory claims, the fact is that you won't be making $1 per click on your link, you won't receive tasks that legitimate, make money from your referrals referral and you certainly won't be getting paid.
Where Are The Owners?! 
I tried looking for the owners but I couldn't find who they were, in fact the FAQ page which ideally should have some form of information on them didn't even work so, this sort of opens up another red flag on the argument against paycate being legitimate.
In reality a legit system wouldn't have broken links, especially not links that are crucial for potential customers to understand how the company works, which of course in this case is the FAQ.
In my experience with other low quality products and pure scams, whenever there's a lack of an identifiable owner, the money making opportunities in question don't tend be very good so, this is pretty much where I would place Paycate because the lack of an owner honestly does make it a very approachable or trustworthy gig to invest in despite being a free to join GPT.
It's A Data Harvesting Scheme
Paycate has a high liklihood of being a data harvesting system considering all the red flags it shows regarding the earnings potential, the free to join aspect of it and even the low quality design element of it.
This means that if you decided for some reason to use your details to sign up, you wouldn't come out in a better position even after investing tons of time trying to succeed. The only person who wins in this deal is the undisclosed owner who'll just sell your valuable data for some easy cash . You most certainly won't be laughing at the checks hitting your PayPal.
It's A Rehash Version Of Another System
The fact that paycate is pretty much a rehash of another program called getrealpaid.com makes it hard to trust the. Furthermore, the company behind paycate is also the same as another system I exposed not to long ago called WorkingMob.com so, this further dampens Paycate's credibility in my eyes.
So yeah, at this point I can't say there's anything going for this site, then again considering how the presentation of the site alone isn't very appealing, unless you were desperate and believed paycate to be your answer to finally making money online, it's unlikely that you wouldn't already have figured our that Paycate just isn't the one.

---
THE GOOD THINGS
Paycate has nothing good going for it, the fact the website isn't even mobile friendly and the design and layout are, well… very poor, doesn't put Paycate in a very credible position.
Therefore, I'd highly recommend you skip it.
==>Click Here To Get Access To My FREE Make Money Online Guide!<==
---
IS PAYCATE A SCAM?
I personally consider Paycate a scam and there are a few reasons that backup my view point.
The unrealistic and unreasonable claims made within the sales page, the lack of some major pages, the identity of the owner being undisclosed, the issue with it essentially being a data harvesting scheme and the fact it's a rehash of another similar systems makes it hard to consider Paycate a legitimate source to make money from.
Don't get me wrong, making money online isn't easy, nothing that requires you to invest time or even money will be more than just a short trek. You'll have to deal with problems such as fixing landing pages or simply finding offers to do so you can begin increasing your capital.
One thing I can tell you is that GPT sites certainly do have potential and can become very profitable ventures, especially if the referral system pays well however, it's absolutely guaranteed that paycate will and cannot make you excel in any type of money making venture no matter how much you believe in it therefore, I highly suggest you skip it. Avoid it like the black plague!
---
MY PERSONAL RECOMMENDATION
I'd suggest you check out my personal recommendation if you still want to make money online, though I'll warn you right now, it isn't something through which money will come easy.
It is nonetheless a great business model for the online space in my opinion
So what is this method that I'm talking about?
This method I'm talking about is affiliate marketing. 
The reasons as to why I recommend it is because:
– expectations toward success are a lot more grounded
– it is a legitimate method that has been working consistently and continues to grow as more businesses want individuals to promote products
– it is a very scalable business
– and because it is free to start up, no unnecessarily large start up funds needed.
The service I recommend is Wealthy Affiliate. It's free to sign up to and will get you set up and ready to start your affiliate marketing journey within minutes, as it did for me when I begun my journey.

If you have any questions that you would like to ask me regarding Paycate, feel free to do so in the comments section below and I will get back to you as soon as I can. If you have your own thoughts about Paycate and would like to talk about it, again feel free to do so in the comments below!
Thanks
Amhil